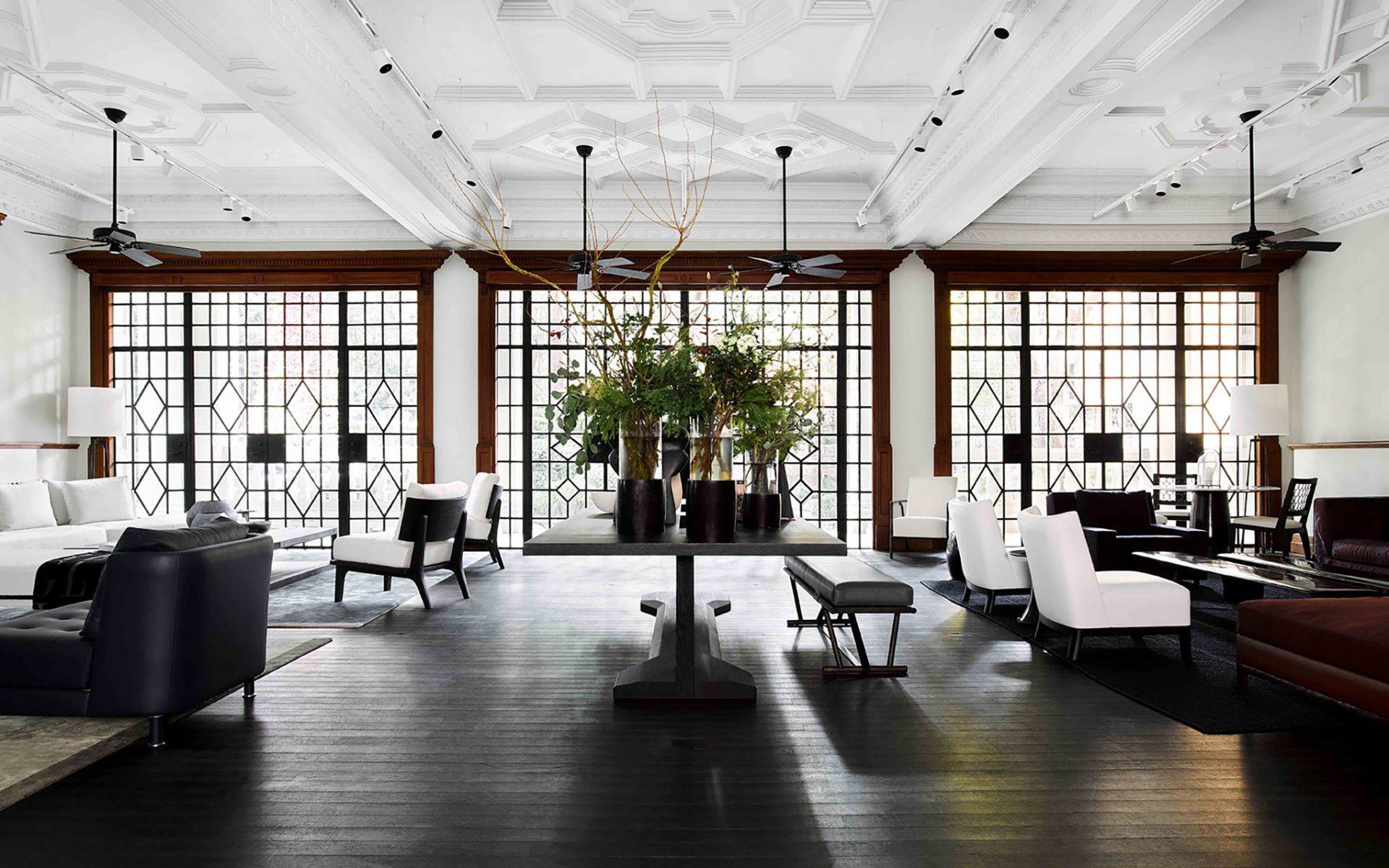 Liaigre Opens Majestic Flagship in Shanghai
Located in a restored government complex, the showroom features a sophisticated mix of furniture, lighting, and design items as well as a curated collection of art
Just past the neoclassical façade of Liaigre's new Shangai flagship, a series of carefully curated vignettes showcases the brand's most iconic designs alongside new introductions, like the Oka sofa and Inca bronze cocktail table.
"Each of our 29 showrooms bears a specific identity, anchored in the local culture and geographical environment of the city where it is located," Liaigre creative director Frauke Meyer tells Galerie. "We approach our showrooms both in their architecture and in their layout (which we renew twice a year) as interior design projects conveying the feeling of a private home."
Following the 1949 formation of the People's Republic of China, the building—nicknamed the Twin Villas—housed the Civil Aviation Administration and later the Shanghai Film Administration. In 2006, the stone structure was purchased by Switzerland's Richemont Group, which recruited architect Filippo Gabbiani to restore the timeworn gem to its former glory. His work helped lead to the site receiving a UNESCO Asia-Pacific Cultural Heritage Protection Award in 2009. "The location is exceptional, with a strong character, preserved from the hustle and bustle of the city," notes Meyer. "It was perfect for us. Its extent makes it a real flagship for Liaigre in Asia."
Recommended: Liaigre Debuts Elegant Flagship in the Heart of Paris's Most Fashionable District
To provide the space with a residential feel, Liaigre's design team gave the historic house a light makeover. "The first step was to remove quite a few things that had been added during the past decades by the successive occupants," says Meyer. "We renovated the ceilings while preserving the fans, which bring a lot of charm. We tinted the floors in dark brown and renovated the wood paneling and the lighting. We wanted to show the patina of time, which creates a fruitful conversation with our furniture."
Today, the interior masterfully melds Liaigre's sophisticated French aesthetic with Chinese influences. "We've combined Occidental- and Chinese-inspired vignettes, reflecting what is Liaigre's interpretation of today's Chinese lifestyle," Meyer says of the store's offerings. "For instance, there is in China an important gap between today's upcoming generation and its parents. Youngsters do not want to live with the same furniture as their parents. Young people feel different about colors so we felt confident to use it for the upholstery of sofas and lounge chairs."
Recommended: Liaigre Showcases Stunning Ceramic Sculptures by James Oughtibridge
Visitors to the showroom—Liaigre's fourth location in Asia—will discover a mix of the brand's iconic pieces plus its latest designs. Two striking pieces exclusive to this showroom in particular are the Aspre armchair, in a never-before-seen yellow velvet, and the Rocco sofa in a red silk jacquard. Other special additions include Liaigre's Bogota dining table in an exclusive white ebony. A bar area offers a welcoming space for tea or cocktails.
Adding warmth to the rooms is a selection of art, co-commissioned with Galerie Thaddaeus Ropac, which works with more than 60 contemporary artists. "Since its creation in 1985, Liaigre's relationship with art and antiques has been a way to share experiences, and we believe in this art of living surrounded by architecture, furniture, art, and objects," says Meyer. "For this first opus in Shanghai, the public will discover works from Thaddaeus Ropac, which has galleries across Europe, in London, Paris, and Salzburg, and an expanding team in Asia. This art selection embodies Liaigre's European identity, including works from Robert Rauschenberg and photographs by Irving Penn, Robert Mapplethorpe, and Erwin Wurm, presented in dialogue with the interior architecture and furniture designed by Liaigre."
Next Post