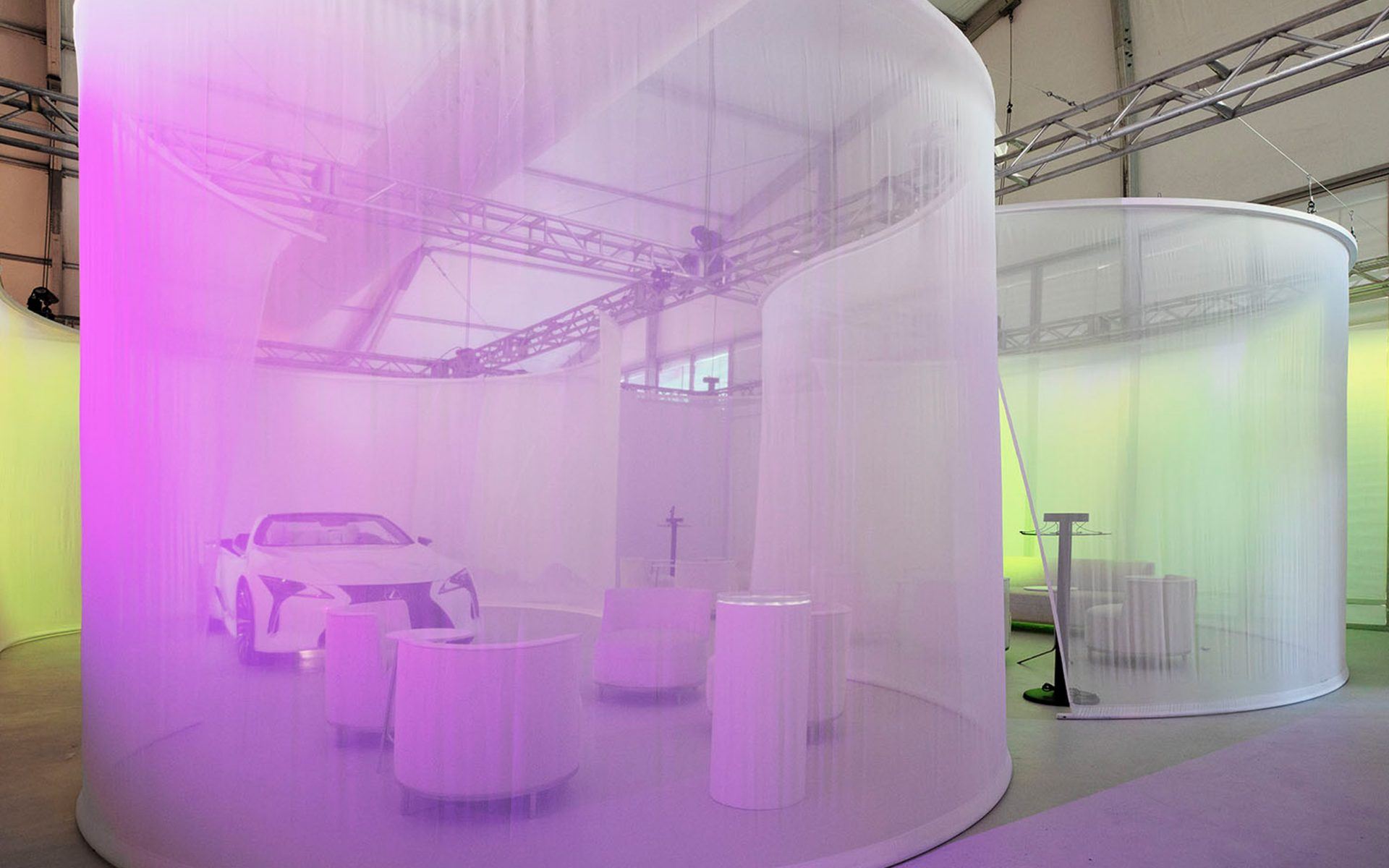 Lexus Debuts Custom Installation by Nao Tamura at Design Miami/
Sunshower showcases the luxury car brand's new LC Convertible Concept in an immersive setting
Known for its innovative brand of luxury, Lexus also sets itself apart with an unparalleled commitment to the design world. Since 2013, it has hosted the annual Lexus Design Award in Milan as a way to foster emerging creatives who seek to make an impact through innovative craftsmanship and outside-the-box thinking.
Now, as the official automotive partner of Design Miami/ for the second year, Lexus has tapped designer Nao Tamura to create Sunshower, a custom on-site installation that showcases the new LC Convertible Concept. Slated to go into production in 2020, the luxury model is based on the brand's LC high-end coupe, boasting seductive contours that car designer Tadao Mori says were crafted to "evoke an emotional response."
The exhibition, curated by Milan-based Maria Cristina Didero and Design Miami/ curatorial director Aric Chen, dovetails nicely with the theme of this year's fair, which is all about the ways in which designers are rethinking materials and resources—particularly water.
"With Lexus being from Japan, we looked at different ways in which water has been seen in Japanese culture," Chen tells Galerie. "There's the traditional folk tale of the fox wedding, which supposedly takes place during this magical phenomenon of rain during sunshine. It's considered a good omen, so we thought that would be a nice way to include a contemplative space in the fair."
Recommended: An Exclusive First Look Inside the New Rubell Museum in Miami
New York–based Tamura, who has experience mining the natural world for inspiration, was an organic fit to design the display. (She also created Lexus's 2014 exhibition during Milan Design Week.) "When I was little, my grandmother told me the story of the fox wedding," the Japanese-born talent tells Galerie. "The fox has the power to make illusion, which I took in a very positive way for this installation."
Featuring ethereal curves of veil-like fabric and projections of cotton candy–colored raindrops, Sunshower embodies the Japanese philosophy of engawa (the blurring of indoors and outdoors). "The concept of convertible cars is that you experience outside while you're inside," says Tamura. "When I heard the word sunshower, I thought about the sky moving and light hitting the rain—I wanted to capture that dynamic movement."
Lexus's commitment to omotenashi (hospitality) is also present, courtesy of plush seating areas with phone-recharging stations, as well as the inclusion of Ooho, water droplets packaged in a squishy, edible seaweed-based casing. A finalist for the 2014 Lexus Design Award, Ooho was also handed out during this year's London Marathon. "It worked really well with the sustainability theme that we wanted to push, and it worked conceptually since they're these beautiful edible raindrops," says Chen. "Lexus wanted the installation to have a strong element of hospitality, so it was great to be able to serve people something. It checked all the boxes."
Recommended: Daniel Arsham Shares the Story Behind His Showstopping Installation at Design Miami/
In addition to Sunshower, Lexus is demonstrating its commitment to sustainability by providing an all-hybrid fleet for the fair's VIPs and staging a series of panels with prominent art and design leaders tackling global issues, including urbanism, climate change, and ocean plastics.
Sunshower is open through December 8 at Design Miami/, across from the Miami Beach Convention Center. 
Next Post