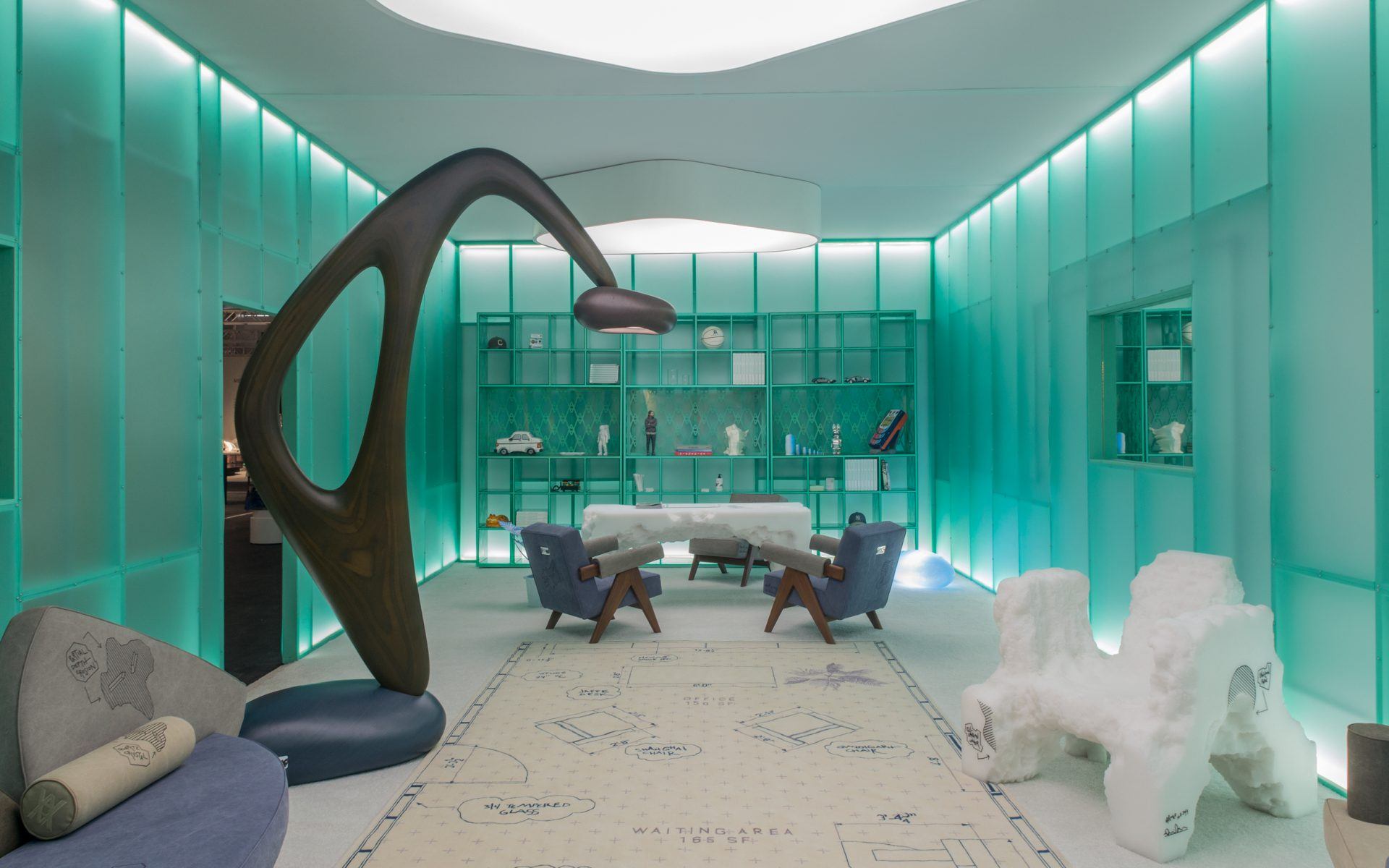 Daniel Arsham Shares the Story Behind His Showstopping Installation at Design Miami/
The artist presents a striking new body of work inspired by midcentury architect Norman Jaffe
The New York–based artist Daniel Arsham is no stranger to causing a stir with his wildly imaginative presentations. And at this year's Design Miami/, which opened to VIPs on Tuesday, December 3, he presented one of his most ambitious projects yet, transforming the traditional booth space into a Kunstkammer. 
Among the usual design fair installations, Arsham's creation is hard to miss—visitors enter a light-filled, mint-green room filled with futuristic furniture. Inside the dreamy space, fossilized sofas seemingly from thousands of years ago appear to have been dug out of the ground while Jeanneret-style side chairs and lounge chairs feature Arsham's visuals scribbled on the upholstery in Sharpie—marking a brand new series. On the back walls are bookshelves containing an odd assortment of objects and knickknacks; a rug crafted in Nepal features a blueprint of the space.
The fantastical installation is inspired by Arsham's own home in Long Island, designed by the pioneering modernist architect Norman Jaffe, which he shares with his wife and two children. "I originally made all this furniture for practical needs to furnish my own house," Arsham tells Galerie on the opening day. "It's a fictional depiction of the office from my house and my living room. There's the desk that I have in my living room, for example."
The pieces would never had made it into the public arena, however, had they not caught the discerning eye of Marc Benda, the cofounder of Friedman Benda. "Marc visited my studio and suggested we do something big in Miami," Arsham says. "I had never done anything in this kind of scenario before."
A standout item is the rug that covers the floor of the space. "The rug is just so awesome! I knew I wanted to make a rug for the project," says Arsham, who admits to never having designed one before. "I had been sitting in my studio, staring at the blueprint, and at a certain point I thought, I am just going to do the floor plan!"
Recommended: 9 Must-See Artworks in Art Basel's New Meridians Sector in Miami Beach
Celebrating the legacy of Jaffe was a key element to the project. "I really wanted to put some shine onto his work," the artist says. "He was rather overlooked because of two things that worked against him—firstly, he died very young, and then secondly, all the amazing houses he built in Long Island were bought by bankers from Wall Street who tore them down and turned them into mega-mansions. We are now seeing a new appreciation for his designs. He was such an icon for the time."
The room at Design Miami/ reveals Arsham's comfort and masterful ability to straddle the line between art and design. Along with his art practice, Arsham is one part of Snarkitecture, a New York–based collaborative practice founded with Alex Mustonen. "The true story is that I really wanted to study architecture; I didn't get in so I went to art school," Arsham explains. "A lot of my early work manipulated architecture and I felt I could do whatever I wanted in a gallery or museum, but when I worked in a public space, I needed an architect to help. The partnership with Alex has since grown into its own universe and aesthetic. I kept my art and architecture separate for a very long time. I wouldn't have ever dreamed I would do something like this."
Design Miami/ is on view through December 7. 
Next Post