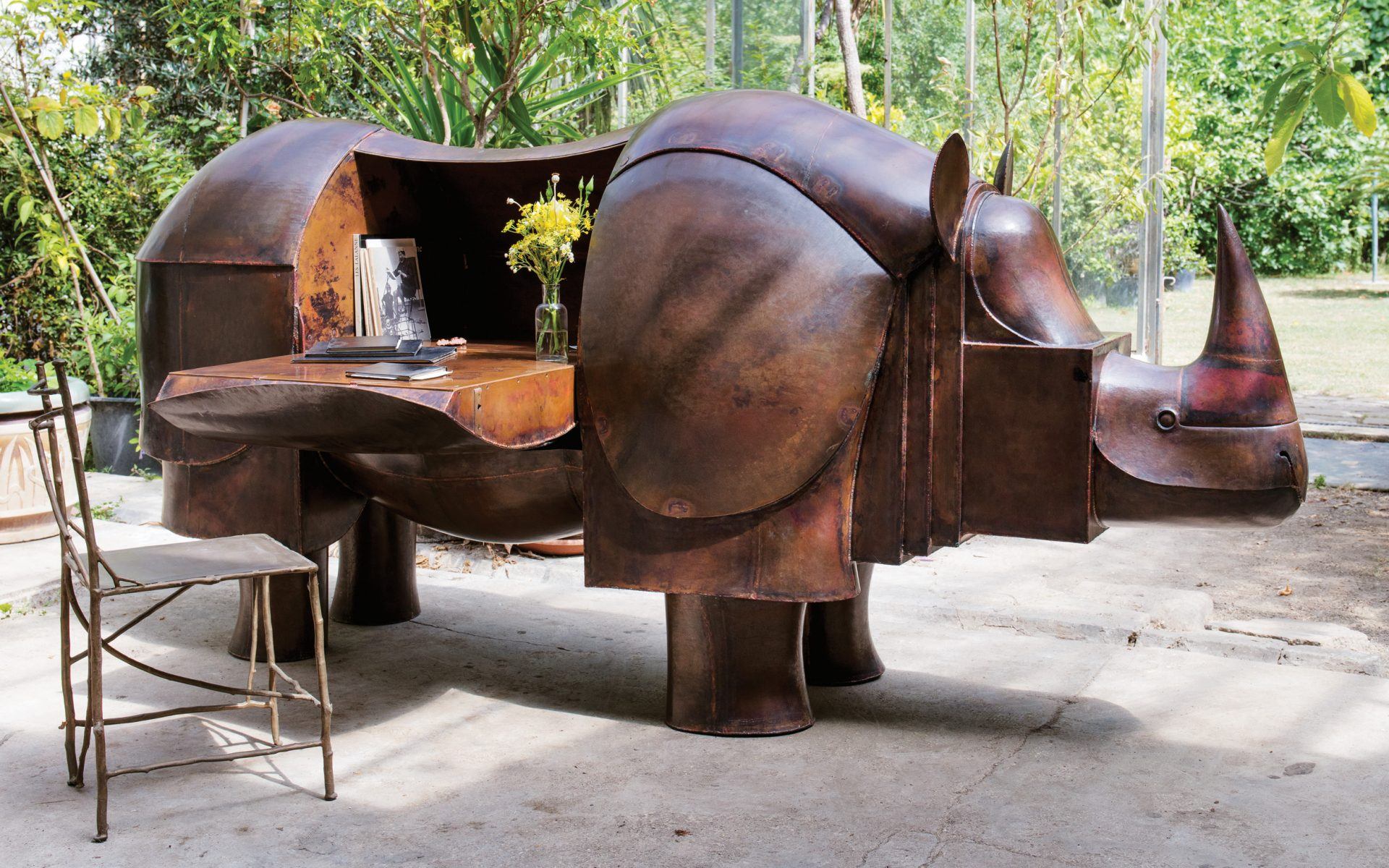 Why Prices Are Soaring for Les Lalanne and Diego Giacometti
Julian Treger explores the recent record-shattering sales of spellbinding works made of metal
Last October, when Sotheby's in Paris held a landmark auction containing some 250 works of art from the extraordinary collection of pioneering artists Claude and François-Xavier Lalanne, the sale made over $100 million. It was a breakout moment in the history of decorative arts. The feeding frenzy can mostly be credited to the remarkable provenance such as Yves Saint Laurent, Jacques Grange, Peter Marino, and all the groovy 1960s and '70s French tastemakers who collected works by the French duo, who went by their combined alias "Les Lalanne." In all, 26 works sold for over $1 million, including a rhinoceros that transforms into a writing desk, which sold for $6 million, or five times the high estimate, and a hollowed-out mouflon from 2008 that doubles as a bar fetched $2.7 million.
The feverish interest in Les Lalanne was somewhat reminiscent of the previous rise in the Diego Giacometti market, during which the Hubert de Givenchy estate sale at Christie's in 2017 smashed numerous records. Key lots included a gorgeous lantern for €2.3 million ($2.5 million) and the €3.8 million sale of a caryatid-adorned round table, which now sits in Tory Burch's Hamptons home. This was followed by a beautiful coiffeuse by Giacometti auctioned by the same house for £1.8 million ($2.3 million) in 2018.
Together, these visionaries have come to dominate the design sales, representing more than 40 percent of the value at Sotheby's worldwide in 2019, excluding the actual Lalanne estate sale, which would have skewed the numbers even more. The rise of Lalanne and Giacometti represents the seepage of the art market and sculpture into the design space, as their furniture contains elements that major art collectors can relate to—aspects of classicism, surrealism, sculptural shapes easily lived with, and nostalgia for the past.
Recommended: Incredible Trove of Works by Alberto and Diego Giacometti Fetches $11 Million
And their great success has sparked a rush for their successors. Some think that André Dubreuil and Hervé Van der Straeten could be it. The auction houses in Paris have been trialing collections of these, with interesting results. For instance, last September a Dubreuil cabinet sold for €112,000, a Venise table lamp for €106,000, and a chest of drawers for €162,000 in a Paris sale at Sotheby's, while in November a pair of Hervé Van der Straeten volubile sconces made €16,000. Laetitia Contat-Desfontaines of Sotheby's says she is encouraged by the prospects for this second wave.
There are also more contemporary versions of Giacometti who have ridden the trend for metal design recently, with Paul Kasmin's David Wiseman—one of Galerie's Creative Minds—being a great example of this. (Kasmin also represents Lalanne, which helps in identifying metalwork-friendly collectors.) His prices are already not low but are still way below the Lalanne level.
Personally, I have been exploring and reinvesting in some of the 1980s British metalworkers, whose prices remain ridiculously in the doldrums. Pioneers like Tom Dixon and Mark Brazier-Jones, who aren't really represented by design galleries these days, aren't marketed much and thus are largely ignored by collectors. Their salvaged and welded works, creating baroque neoclassical pieces in tune with postmodernism at the time, were important in moving the design world forward in the '80s and early '90s, and could well be due for a revival. Many of Dixon's designs sell for less than $5,000, and Brazier-Jone's Olympia table lamp could be picked up recently for €4,000, so they represent a happy hunting ground. That's my hunch in any event, but time will tell!
Next Post