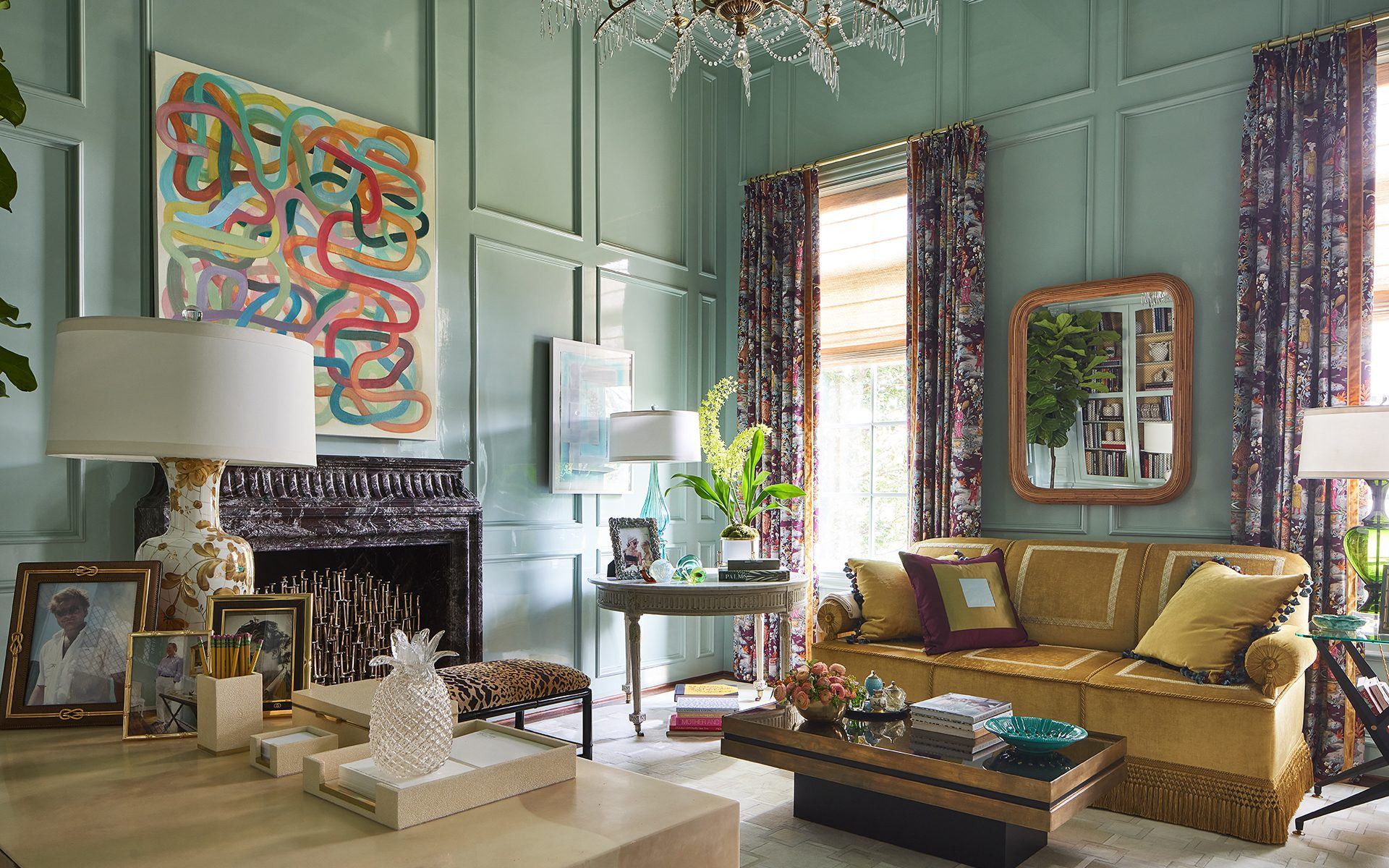 The Inaugural Kips Bay Decorator Show House in Dallas Dazzles with Interiors, Art, and More
Designers from across the country mix art and design in a spectacular setting
For nearly five decades, the annual Kips Bay Decorator Show House in New York has been a highly anticipated event showcasing the most exciting talents in the world of interior design. Two years ago, the show house, which raises money for the Kips Bay Boys & Girls Club, expanded to Palm Beach. Now, it has grown once again launching the Kips Bay Decorator Show House Dallas, which can be visited either in person or through an experiential virtual tour.
Running through October 25, this massive show place brings together 27 designers from across the country, who have curated unique living spaces featuring striking examples of lighting, furniture, wallcoverings, and textiles. Additionally, a large number of rooms are enlivened by unique works of art—from modern paintings to Old Masters—sourced from area galleries such as David Shelton Gallery and Hiram Butler Gallery as well as New York art-and-design staples Maison Gerard and Cristina Grajales Gallery.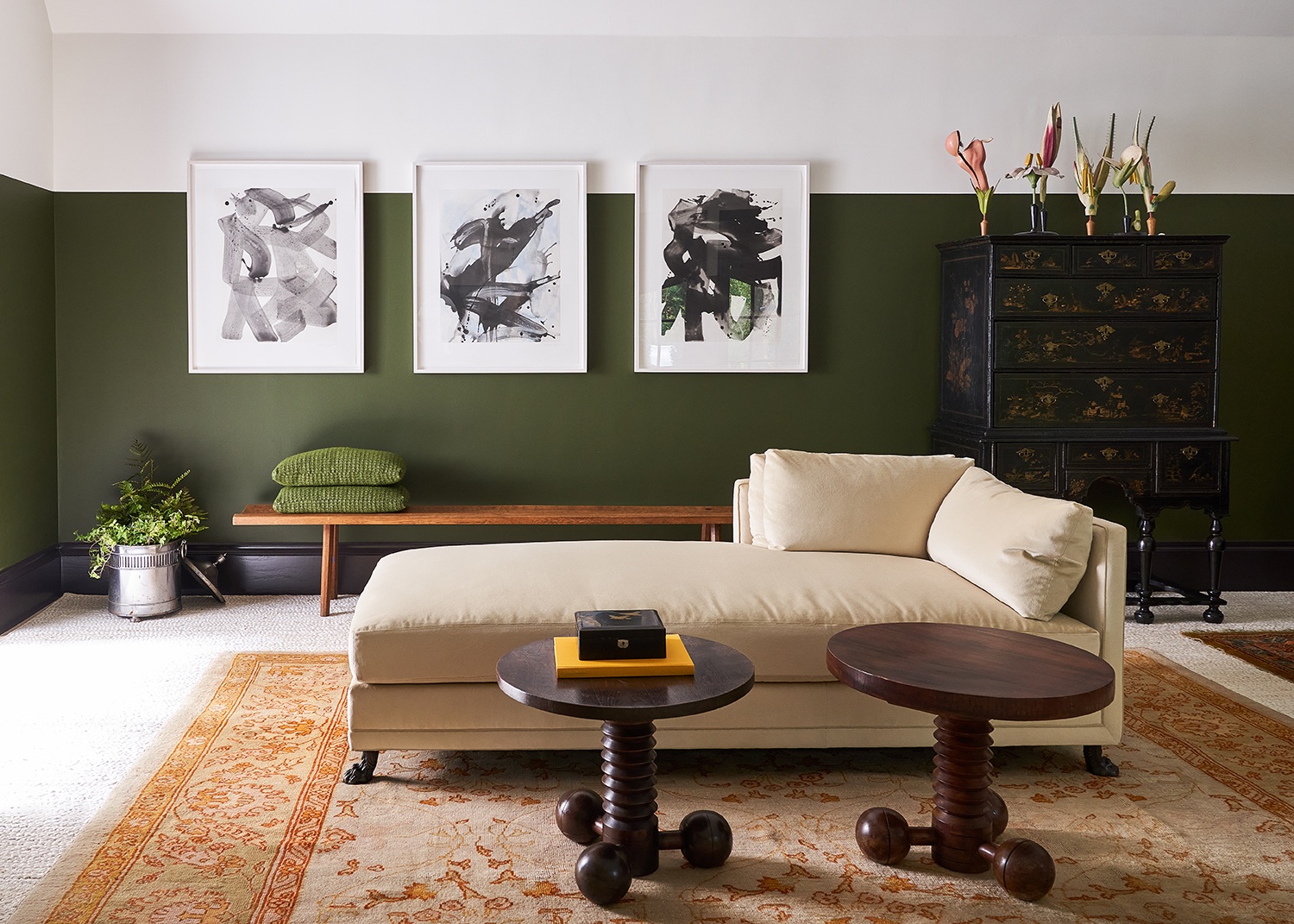 The home, located in the city's prestigious Woodland Estates neighborhood, opens with a foyer evoking a modern wonderland by Houston-based Lauren Rottet of Rottet Studio, who drew inspiration from Dallas's botanical gardens. "I had seen Page Kempner's work at a friends home and later went to see her show at Moody Gallery. I thought it so clever and enticing that it has stayed in my mind," Rottet tells Galerie. "When I decided to create the entry hall as if one were still outside, I immediately thought of her work." 
The designer installed the artist's interpretive botanicals alongside sculptural topiaries and an oversize magnolia rug which leads into a creamy gallery by Margaret Naeve Parker of M Naeve. Here, Apparatus Studio pendants surmount a Black Creek Mercantile table, while art by Paul Lee and Amanda Martinez from David Shelton Gallery add texture and contrast. "I played with the scale of the art, at times opting for a small yet powerful piece on some of the larger walls of the gallery," says Parker. "The art as a whole is a fabulous collection of materials, textures, and composition."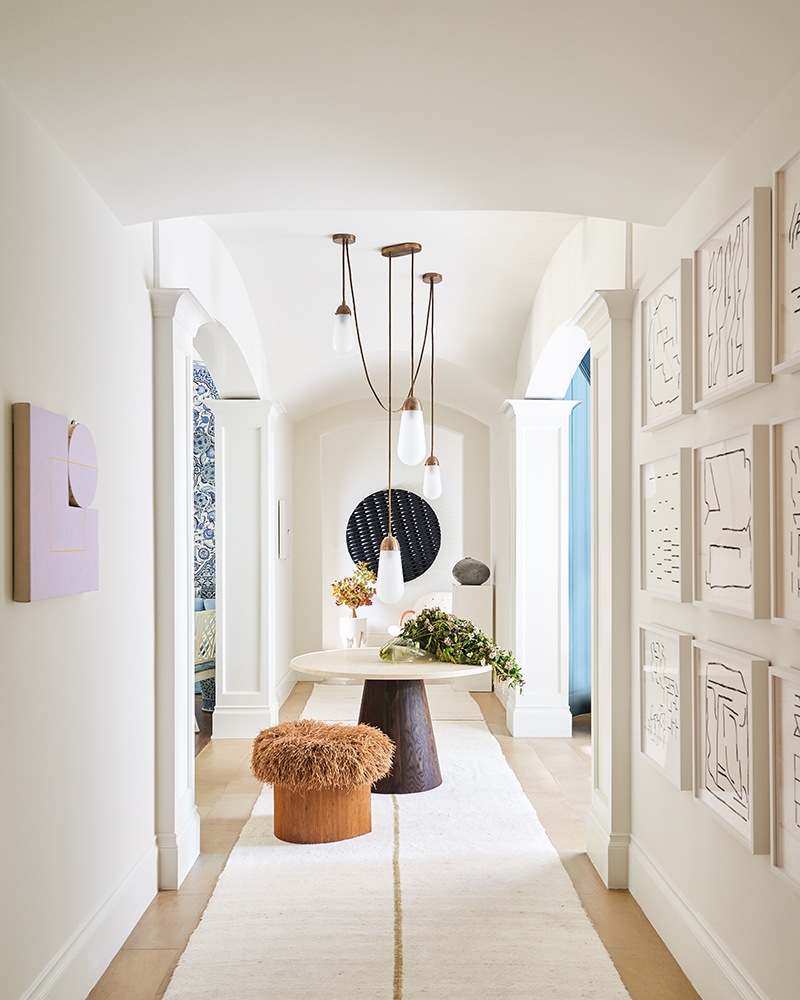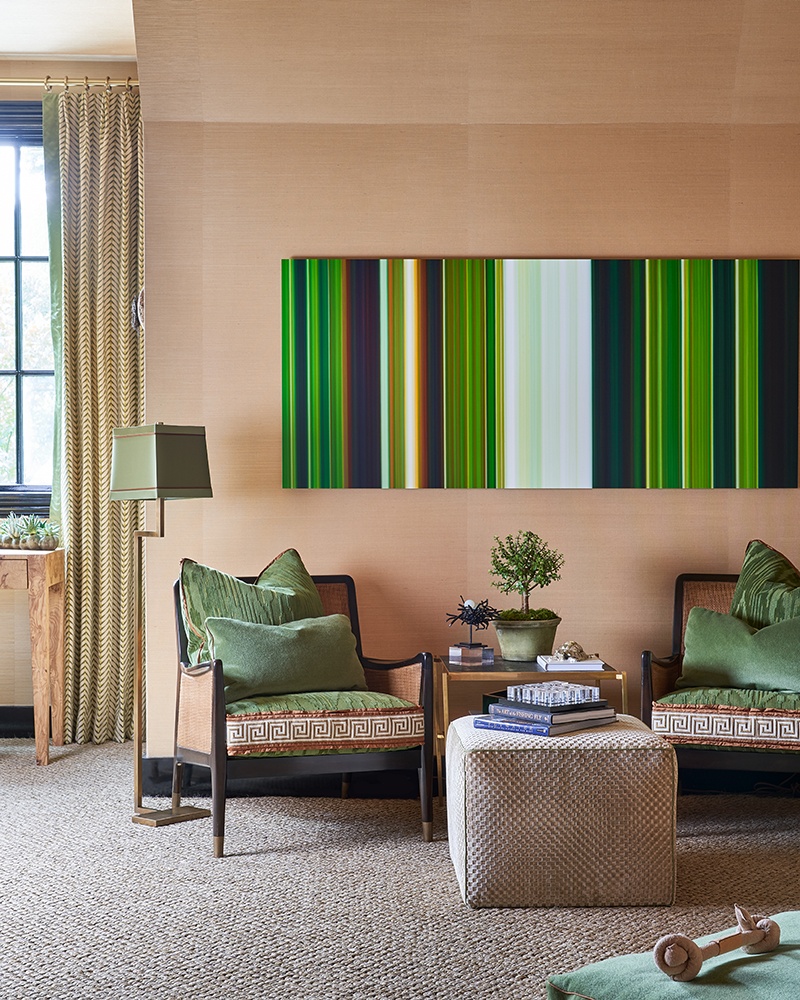 In a family room by Viviano Viviano, Texas's C2 Art Advisors helped cultivate a collection that ranges from Surrealist-inspired works to an abstract Mary Weatherford triptych to a vintage tapestry. "We incorporated elements, both joyous and macabre, of the fantastical and the sublime in our space, and the art really established a dialogue around that," says Michael Viviano. "We pulled together a collection of works that encourage the mind to wander. The Anne Deleporte behind the sofa plays with the idea of disappearance, while the Louise Bourgeois explores the notion of woman as edifice with its caryatid motif. Meanwhile, the dream-like quality of the room is driven home by a rainbow rendered against a night sky in the Kent Dorn canvas."
A masculine upstairs living room by Dallas firm Ten Plus Three, artfully adorned with Porter Teleo's handmade Kintsugi wallcovering, Liaigre furnishings, and an Achille Salvagni light fixture, boasts a global array of pieces, including works by Mexico-based Peruvian artist Aldo Chaparro, American artist Jesse Mockrin, Korean-born artist Chul Hyun Ahn, and Japanese artist Yongjin Han.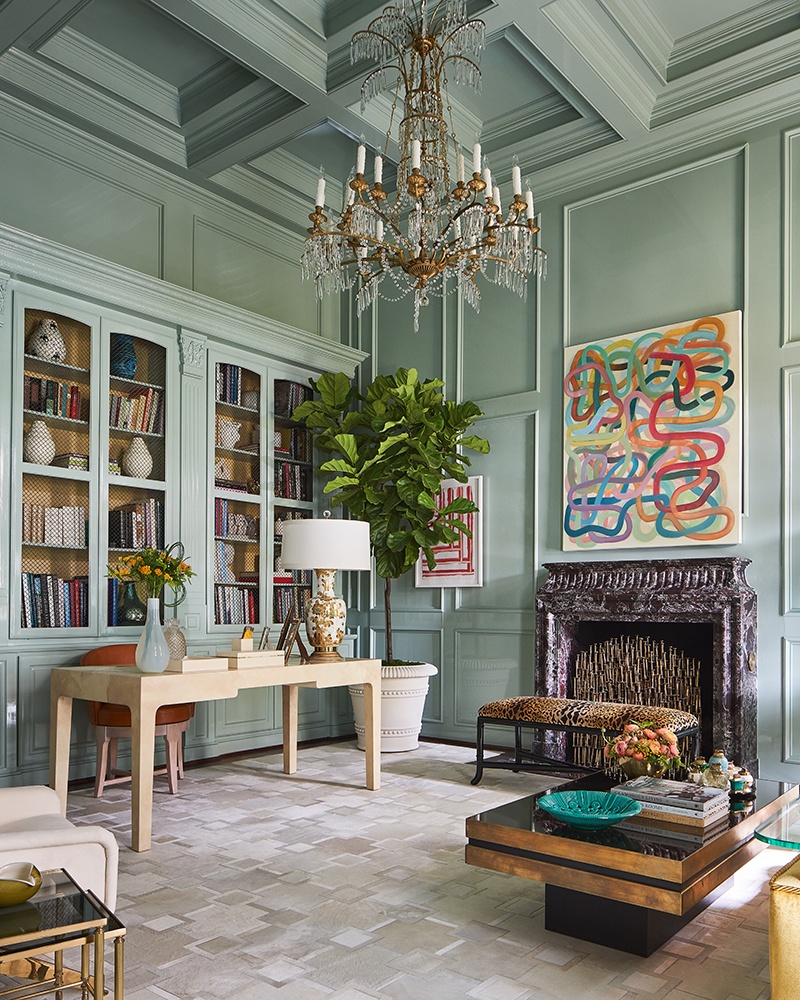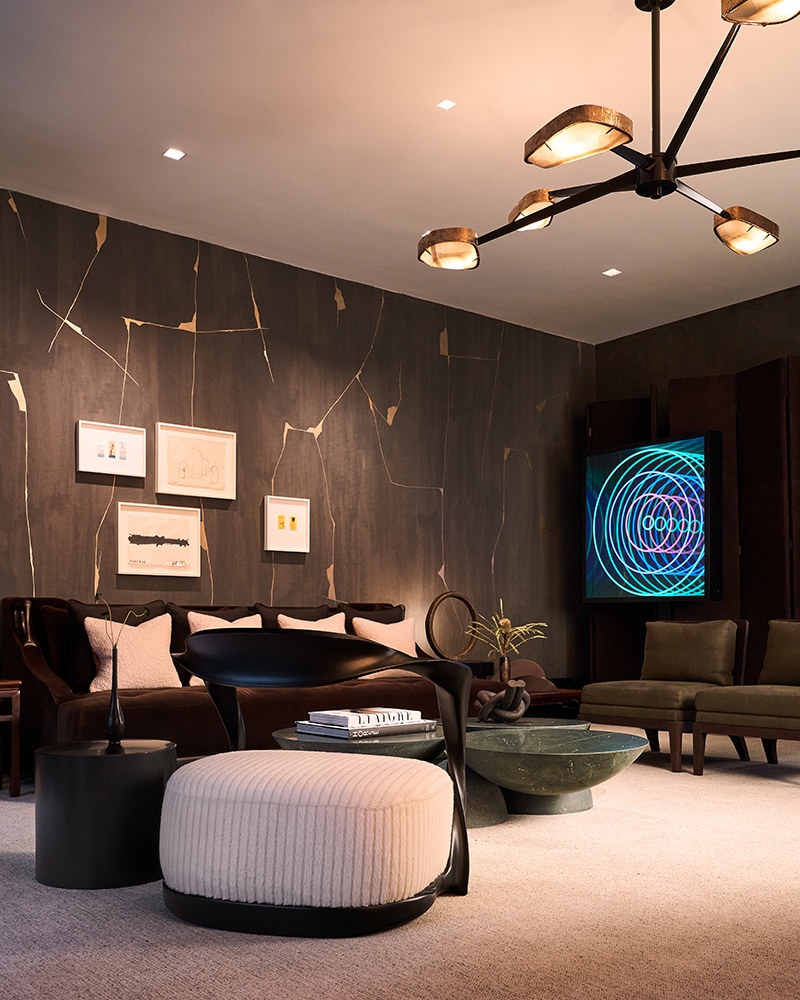 A bedroom suite collected by Trish Sheats brought in the colors and textures of nature, which is reflected in artworks by John Holt Smith, Joey Lancaster, Sarah Gentry and Richard Thompson. A guest room by Wells Design combined works by Dorothy Hood, Elaine Reichek, and Karin Broker. "We didn't want the art to overpower the room, but we needed it to be contemporary yet calming at the same time especially since our theme was a guest room for a sophisticated traveler," Wells Design's Lauren Hudson tells Galerie.
One of the home's most art-filled spaces is a first-floor study with coffered ceilings, designed by Jan Showers, who serves as the house's design chair. Imagined as a space for Jackie Kennedy Onassis, it's appropriate for writing letters, editing books, and even enjoying a cocktail. Illuminated by a dazzling 18th-century German chandelier, the room, painted a high-glass Wythe Blue by Benjamin Moore, houses a striking mix of antiques and contemporary art, including an abstract work by Robert Jessup whose colorful swirls are echoed in the Shade Store drapery custom made using Brunschwig & Fils's Lohdi Garden fabric.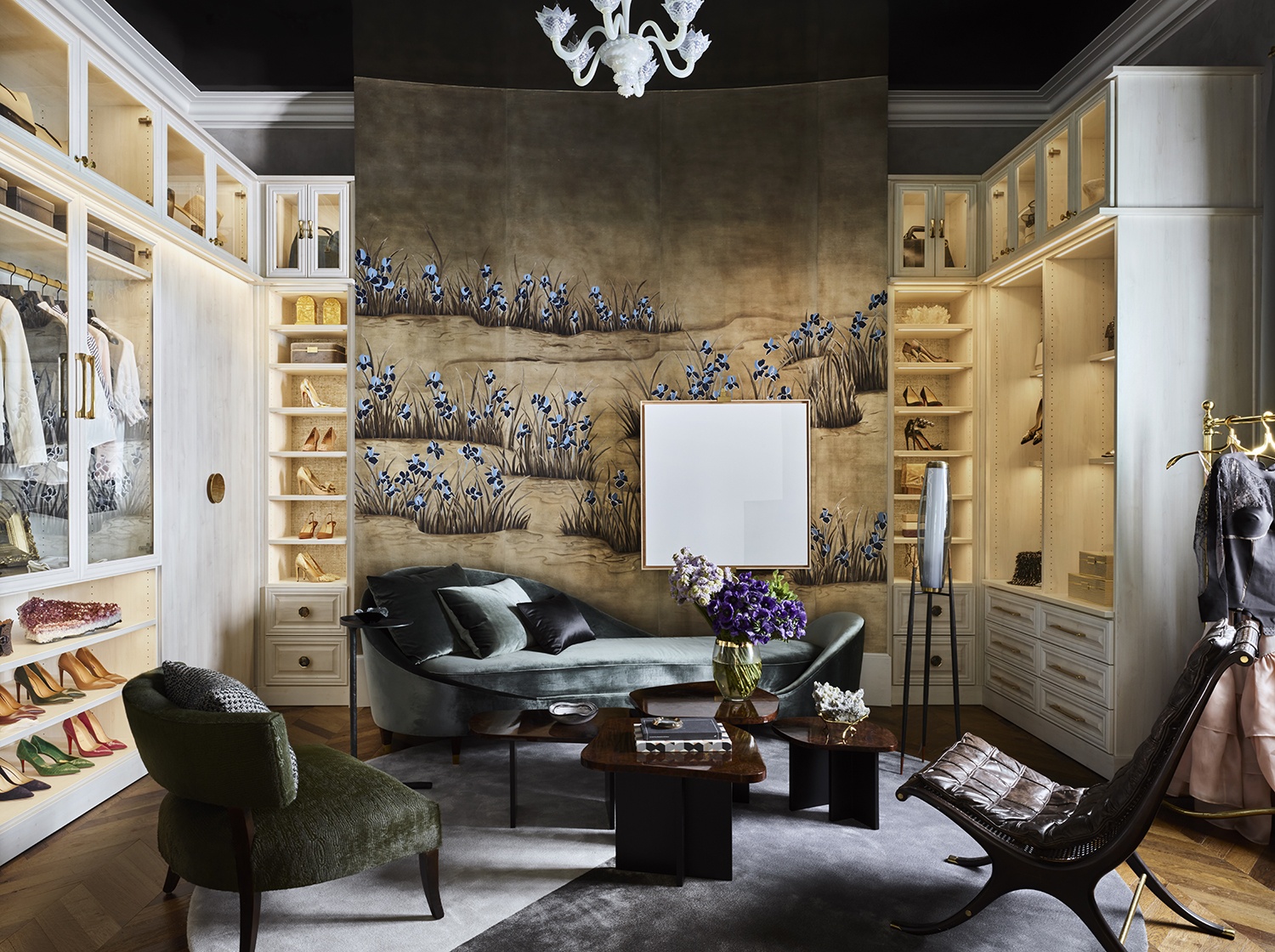 Works on paper, paintings, and sculptural objects abound as do artisan works from dealers like Cristina Grajales Gallery and Maison Gerard. Fort Worth artist Letitia Huckaby's work Sister Rebecca from her "Bayou Baroque" series overlooks the staircase. From a sexy music room composed by Cravotta Interiors to a main bath and adjoining dressing closet that channels the gilded accents of Gustav Klimt conceived by Doniphan Moore, art influences are everywhere.
"For the dressing suite, it was important to allow the de Gournay mural to take center stage, but I felt art was important for an added layer," says Moore, who worked with art adviser Ryan Campbell-Garrett, who selected a work by Sara Genn. "Overall, I chose art that I felt would add to the overall narrative I was trying to create around the imagined homeowners. The art is intended to feel collective, not just decorative. They are intentional artifacts from a well-lived life."
The Kips Bay Decorator Show House Dallas, located at 5828 Woodland Drive, Dallas, is on view through October 25.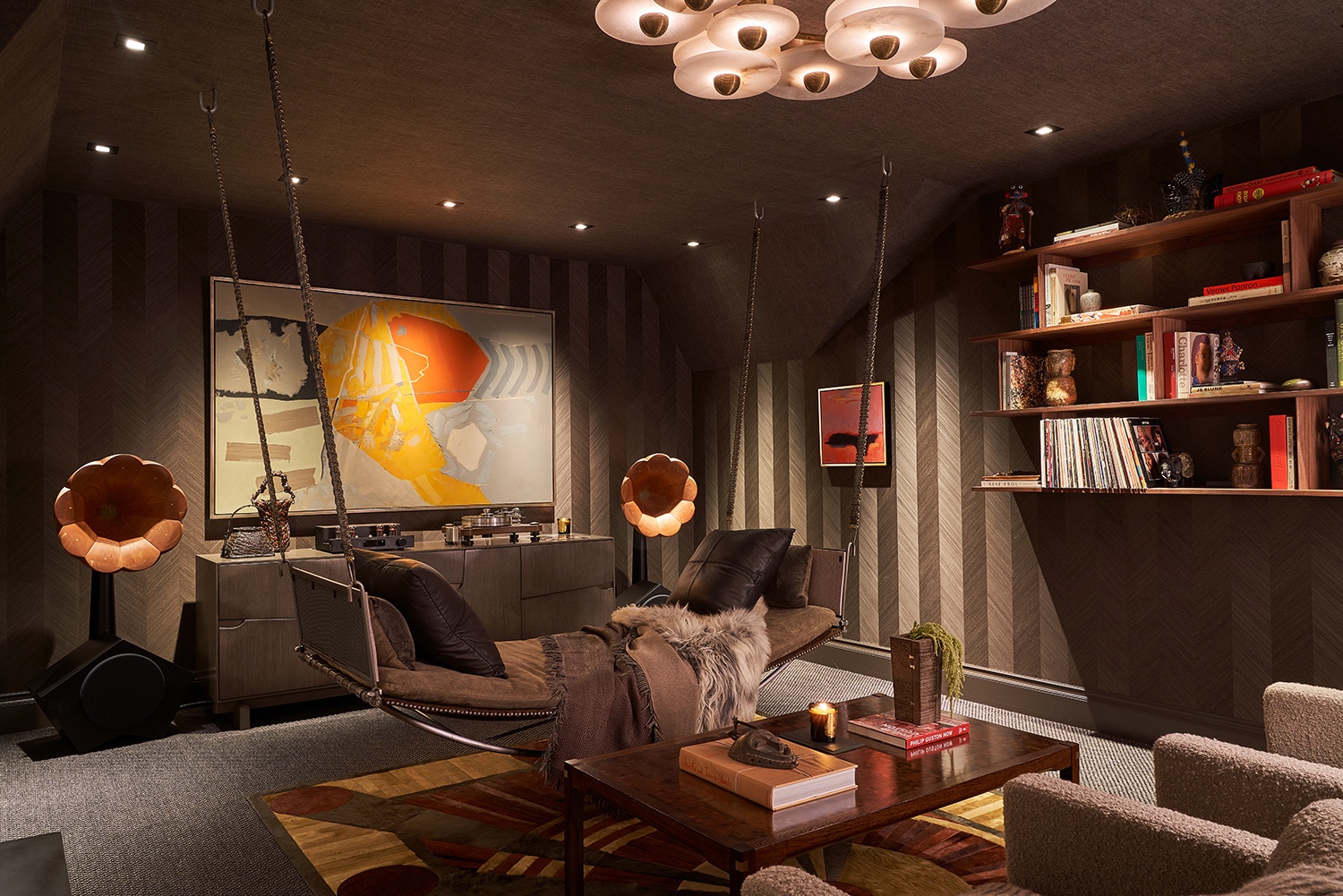 Next Post