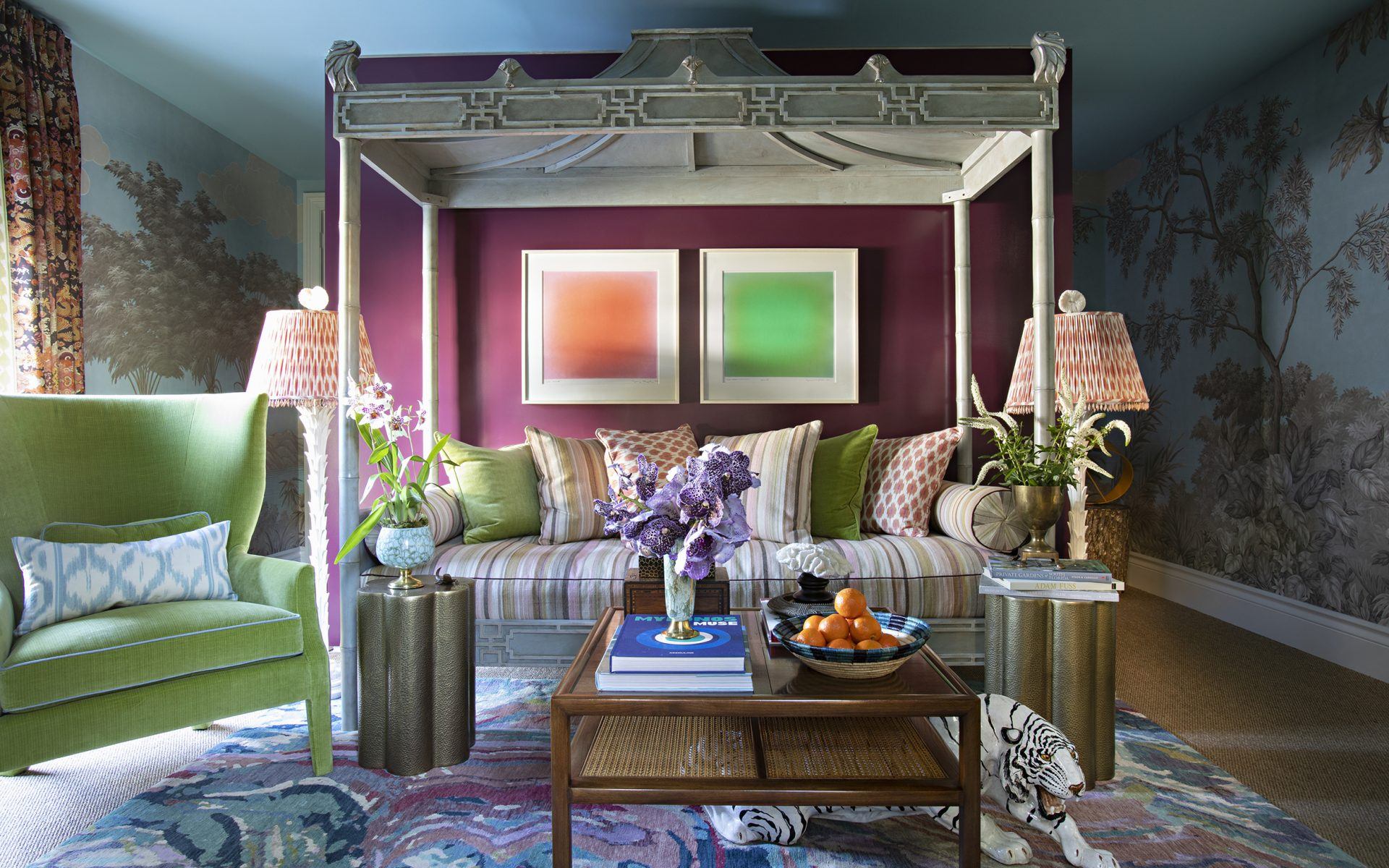 Tour the 2020 Kips Bay Decorator Show House Palm Beach
Galerie spoke to several of the 19 award-winning designers, including Suzanne Kasler, Joe Lucas, Alessandra Branca, and Kevin Isbell
In just three short years, the Palm Beach iteration of New York's famed Kips Bay Decorator Show House has grown to become one of Florida's top design events, offering a rare chance to see the work of 19 leading interior design firms all in one place. Taking over a Dutch Colonial–inspired residence in West Palm Beach, this year's edition features the work of esteemed talents like Suzanne Kasler, Joe Lucas, Alessandra Branca, and Kevin Isbell.
Originally built by prominent Swedish designer Lars Bolander, the four-bedroom estate boasts French doors, vaulted ceilings, poolside loggia, separate guesthouses, and a pool house set amid lush gardens brimming with tropical flora. As with its Manhattan counterpart, sales from the event support programming for the more than 17,000 children served by the Kips Bay Boys and Girls Club and the Boys and Girls Clubs of Palm Beach County.
Galerie spoke to many of the 19 designers who reenvisioned the home's multiplicity of spaces—from the massive double-height great room overlooked by a pair of loftlike studies to an array of covered exterior dining and lounge areas as well as a pool pavilion and a spa-inspired outdoor oasis.
"What's great about the space is the volume, but that's also what presented the biggest challenge," explains Suzanne Kasler of the great room, which she transformed into a classically inspired yet invitingly fresh central gathering space. Since the double-height room gets very little natural light and lacked architectural character, she started by introducing molding and round, mirrored faux windows to give it some architectural strength, then lacquered all the walls in Benjamin Moore's Dove White to brighten the room.  The lower portions of the walls were wrapped with a custom de Gournay wallpaper to add color and character.
Recommended: Tour the 2019 Kips Bay Decorator Show House
Kasler anchored one end of the unbalanced room with a custom bookcase coated with Benjamin Moore's Custis Salmon high-gloss paint, which contributes to the refreshing palette. Rattan and vintage furnishings from a Paris flea market mixed with new pieces from her own collection for Hickory Chair create intimate conversation areas. A white sisal rug by Stark and a pair of fanciful white Water Lilies chandeliers by Paul Ferrante complete the room's enchanted sun-kissed ambience.
A main-floor corner guest suite was reimagined by Los Angeles designer Kevin Isbell into his vision of a writer's retreat. "It's my homage to Hemingway and his love of travel and South Florida," says the designer, who started by wrapping the room in a tropical custom wallpaper he developed with Gracie Studio. Next, Isbell introduced elements like a vintage writer's desk and typewriter and a Ceylon et Cie pagoda-style daybed.
Strong works of art, including a piece by Gunnar Thiel from the 1970s, selected with assistance from New York art consultant Cynthia Byrnes, contrast with classic window treatments created by the Shade Store using fabrics by Schumacher. Reflecting the designer's knack for mixing old and new, an antique Biedermeier chest is topped with a new rock 'n' roll–inspired mirror by McGuire. An en suite bath received a masculine refresh using Eternal Noir Silestone by Cosentino and Kohler fixtures.
Javier Fernandez, Transitional Designs
"Diana Vreeland once said, 'Every room should have a bite,'" notes designer Javier Fernandez, who used the mantra as the springboard to design a trio of adjoining spaces—a hallway, vestibule, and powder room—on the main floor. As such, Fernandez used pops of color to amp up the black-and-white palette that characterizes the setting. Strong forms and rich textures, such as a light gray pony-hair console from Bernhardt in the vestibule; patterned flooring inspired by the Mark Hotel lobby in New York; and a quintet of fringed and tasseled linen poufs by V Rugs & Home in the hall, inject extra depth and dimension. Adding some sparkle are brass light fixtures by Circa Lighting and a crystal doorknob by Emtek.
For Leta Austin Foster's intimate second-floor study, the designer found inspiration in the railings surrounding the loft-style space overlooking the great room and created a charming Asian-infused sitting area brimming with the feel of a comfy jungle treehouse. "The railings looked like the railing in Jim Thompson's house in Thailand," she says. "I decided I would do an homage to him. We know he revived the Thai silk industry, and we know that he disappeared in 1968 and that his two houses are museums. We also know he loved Asian art."
Foster filled the room with a variety of Asian furnishings and objects, as well as several Hawaiian Mission furnishings and upholstered chairs, Palm Beach lamps by Oomph, and Mecox Gardens baskets. She also wrapped the room with a teal-and-cream tiger-patterned China Seas "Nairobi" wallpaper by Quadrille, complemented by Benjamin Moore's Calypso Blue. The designer finished off the space with pillows covered with Fortuny with Bennison fabrics, including one in a jungle motif.
In the loftlike aerie floating over the other end of the great room, New York–based Sarah Magness also relied on Asian influences, in this case a bevy of antique Japanese textiles, baskets, and objects, to transform the space into a serene meditation room. "I wanted to create what I call a mindfulness retreat that feels like the essence of calm," says the designer. To set the soothing tone, she began by enveloping the space in Benjamin Moore's Symphony Blue and topping the ceiling with Gracie's Koi Pond wall covering.
Recommended: See Inside the Dazzling $21 Million Penthouse at 111 West 57th Street
At the center of the room, a meditation bed covered with a patchwork of vintage Japanese textiles sits beneath a beautiful light fixture by Jeff Zimmerman for R & Company. And in true wabi-sabi spirit, discarded paper templates used to create indigo patterns on fabrics were framed and mounted over the windows. A pouncing-tiger runner by Sacco Carpet stretches up the steps leading to the room. "I like the sense of power it gives you as you enter the room or leave it at the beginning and end of the day," says Magness.
With only one window, positioned off-center on the only wall suitable for a bed, designer Robin Gannon saw an opportunity to turn a negative into a positive. "I had to make the bed and the window be part and parcel of one another," Gannon explains of her second-floor guest bedroom. The designer created a headboard topped with a broken pediment to add an architectural element while still letting light into the space. Inspired by the bougainvillea climbing the terrace just outside the room, she also included decorative items that would coalesce into what she calls a "colonial African scene," including a leafy wallpaper, a plethora of drapery from the Shade Store, and chartreuse rug. A Currey & Company light fixture dripping with glass beads brings a luxe touch overhead.
"I'm a traditionalist at heart, but I always try to add modern elements so a room never feels tired," says Gannon, who had the interior of a hutch from Hickory Chair custom-colored in Benjamin Moore's Neon Red, situated a midcentury bench upholstered in white shearling at the foot of the bed, and used a vintage Plexi-Craft waterfall Lucite table as a nightstand.
"We really wanted a very fresh, elegant kitchen," says Andrea Piacentino, a senior designer with Sarah Blank Design Studio, of the classic space the firm redesigned with an updated twist. "And we love Benjamin Moore's Blue Dragon color, so we used it on all the custom millwork to give the room a pop of color without being too overwhelming and remain timeless." A long French antique tailor's table used as an island anchors the room, while durable marblelike Dekton by Cosentino counters add function. "The same material was cut into a brick pattern and runs along the wall for a nice clean look," says the designer. A lively pendant fixture by Remains Lighting injects a contemporary touch and linen-jute wall covering by Carlisle adds warmth. Atop oak floors original to the space are custom rugs from Sacco Carpet.
"I wanted to create a place for people to come to take a nap, read a book, or quietly entertain," says designer Joe Lucas of his "Palmetto Snug" trifecta of indoor and outdoor spaces. An exterior seating area boasts vintage French rattan furnishings set beneath a tableau of handmade seashell-shaped painted ceramics. The adjacent guest bedroom is wrapped in an abstract Fromental wallpaper. Enhancing the space is a curated mix of custom contemporary pieces and midcentury furnishings, including a small slipper chair upholstered in the same bold Martinique pattern that enlivens the Beverly Hills Hotel. An en suite bath features a terrazzo and tile shower, Hector Finch lighting, and a playful fish-flecked wallpaper by C. W. Stockwell.
"My inspiration for this room was a deep need for peace," says designer Alessandra Branca of the master bedroom suite she designed using textiles from her new line of fabrics and home accents, Casa Branca. "I believe that where you start and end your day should be a very important place in your life." To set the tone, the designer enveloped the space with Portuguese-inspired wallpaper from one of her seasonal collections with de Gournay. An antique Venetian settee from Casa Gusto and vintage pieces from Iconic Snob Galeries meld with contemporary lighting by Serena & Lily. "We also included contemporary art," says the designer of a painting by Gabriele Evertz, displayed among other works from Sponder Gallery. "I always feel you should have a little bit of 'now' with a little bit of 'then' to pull a room forward."
Kips Bay Decorator Show House Palm Beach is open through March 1. 
Next Post