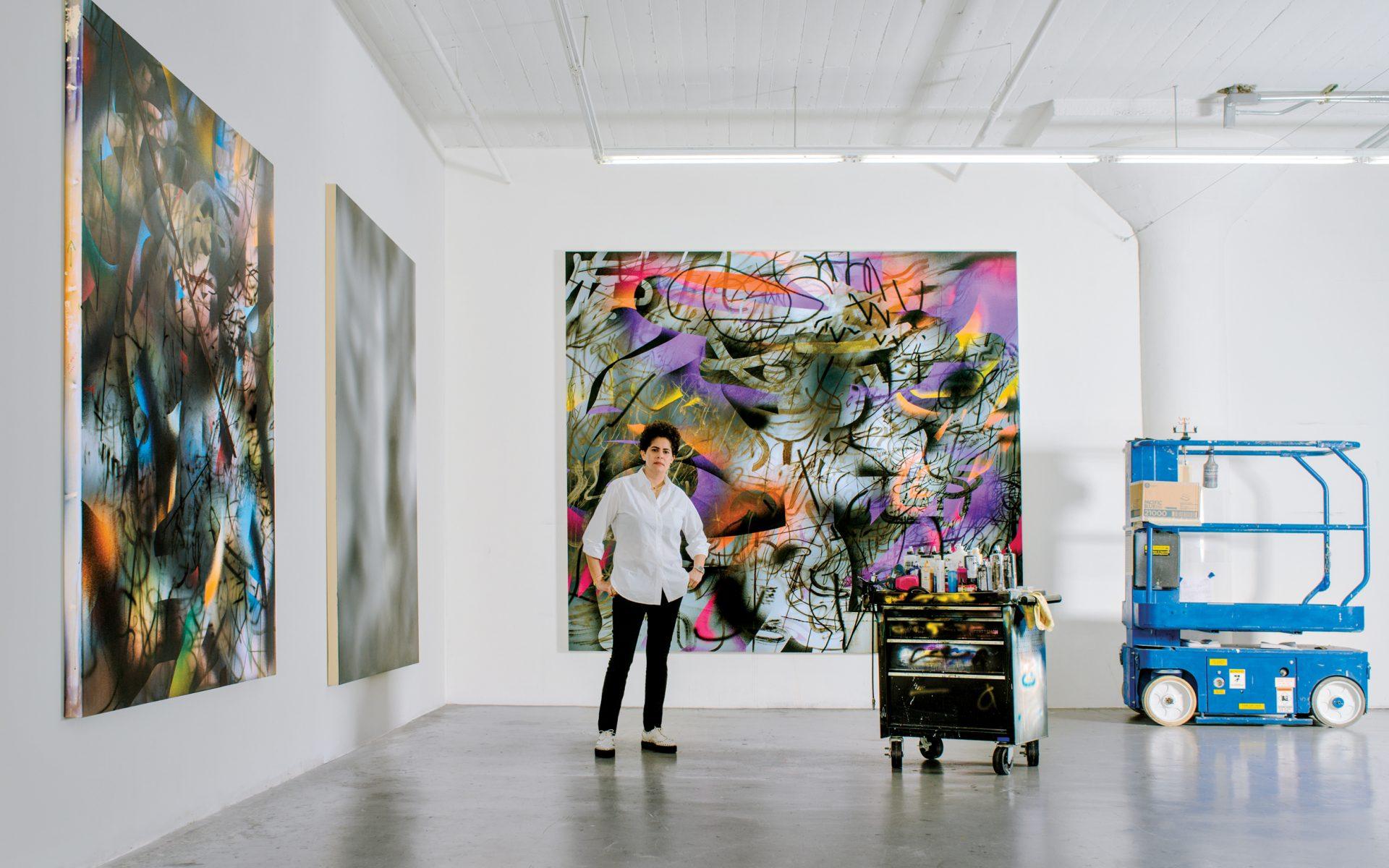 An Exclusive Look Inside Julie Mehretu's New York Studio
With a major midcareer survey exhibition traveling the country, the artist is painting with more urgency than ever
When artist Julie Mehretu broke out in a big way in the early 2000s, curators and collectors avidly embraced her dynamic, occasionally immense paintings in which maps and architectural drawings were overlaid with explosions of squiggles, graphic shapes, and arcing ribbons of color in mesmerizing visual thickets. In these bravura works, Mehretu seemed to capture the speed, the anxiety, the never-ending barrage of media, and the simultaneous interconnectedness and fragmentation that characterize life in the 21st century. Born in Ethiopia and raised from age 7 in the U.S., the artist was hailed as a kind of Jackson Pollock for the global digital age—and one of the most significant painters of her generation.
Turns out, it was only a first act.
Over the years, Mehretu has continually pushed her (mostly) abstract language in new directions, the full sweep of which is on display in a midcareer survey that opened at the Los Angeles County Museum of Art in the fall and moves to the Whitney Museum of American Art in June. "When something starts to feel like it loses its potency, I don't want to keep working with that," she says.
Arrayed around Mehretu's New York studio are nearly a dozen paintings in various stages of progress that reflect the latest turn in her process. These works—many of which will be part of a fall show at the Marian Goodman Gallery in Manhattan—show some of the hallmarks of her earlier paintings but conjure a palpably different mood. The bewitching layers have grown darker and denser, the application of paint more expressive and graffiti-like, while the maelstrom of intense colors speaks not to exuberance but to disquiet, outrage, defiance. "The paintings are informed by really terrible things," Mehretu explains. "Wildfires, the neo-Nazi march in Charlottesville, people trying to cross a border or being pulled away from a protest."
Working with a small team of trusted assistants, Mehretu begins by painting or printing digitally manipulated and blurred photographs onto canvas. Selected from her archive of news photos of conflicts, protests, and environmental disasters, these images—distorted and obscured beyond recognition—serve as a first layer that the artist repeatedly builds upon using an airbrush, ink, screen-printing, and hand-painting.
Recommended: The Most Exciting Emerging Artists Spotted at Frieze L.A.
Mehretu's foundational imagery, whether it's maps and buildings or photos of current events, has always referenced complex and sometimes ugly histories. Her celebrated 23-by-80-foot Mural (2009), created for the lobby of the Goldman Sachs building in Lower Manhattan, is a tour de force history of not only capitalism and finance but also, implicitly, its excesses. Her 2017 commission for the lobby of the expanded San Francisco Museum of Modern Art—a pair of 27-by-32-foot paintings titled Howl, Eon (I, II) (2017)—combines 19th-century Hudson River School landscapes with images of crowds protesting police brutality in Baltimore and Ferguson, Missouri. But her recent works are her most overtly political and humanist. "Where these paintings are coming from, they're difficult content-wise," says Mehretu. "But they have, I think, aspects of open possibility."
In her studio earlier this winter, one of the most vibrant and arresting works was a large painting with only its first layer, a hauntingly blurred image of deep blue and black forms placed against a background of searing orange hues. It derived from a photo of fires set in Myanmar to drive Rohingya Muslims from their homes. But the resonance for Mehretu extends to the devastating recent wildfires in California and Australia. The image is one she'd been contemplating for a while, and she was taking her time before starting work on the subsequent layers. "I've shied away from getting drawn into this one," Mehretu confesses. "I have spent a lot of time just looking at it. I really don't know what it's going to look like, but all of that time definitely informs my intuitive ways of working. It'll happen when I get there. The process gets really dirty at times, really messy. You can always erase, you can always sand out, and you can always build up. And it's trusting that process."
Looking ahead, Mehretu says her focus is on remaining immersed in "making, reading, thinking, being engaged in the world." While certainly not taking for granted the significance of a big survey exhibition, she says, "having done the show, I feel like, Oh, there's all this work I've made, and then I realize, like, so? Frank Stella did this how many times? To think about that is really humbling."
A version of this article first appeared in print in our 2020 Spring Issue under the headline "Depth of Focus." Subscribe to the magazine.
Next Post