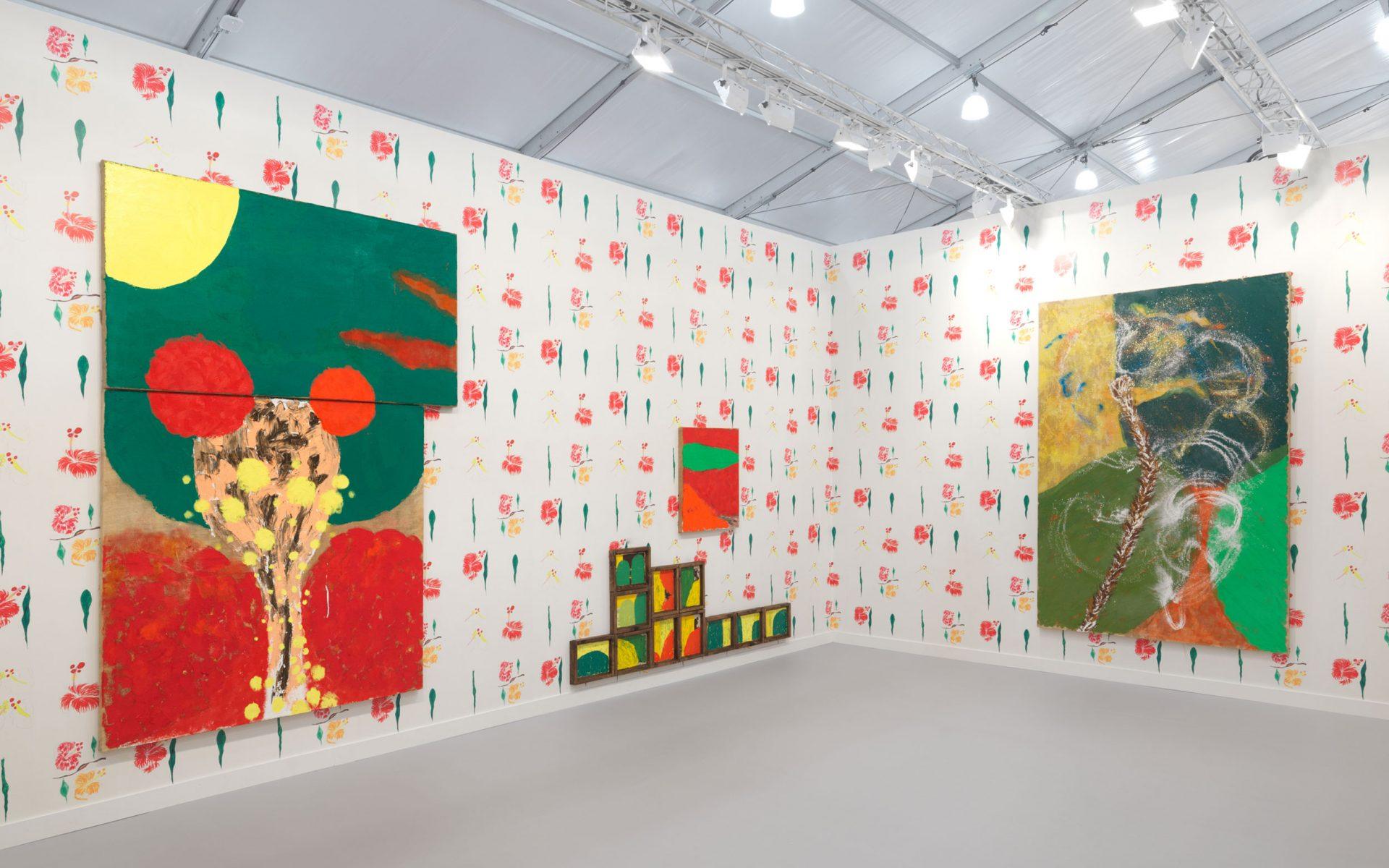 The Most Exciting Emerging Artists Spotted at Frieze L.A.
Keep an eye on these breakthrough talents, including Avery Singer, Calida Rawles, and Gabriella Sanchez
The art world descends on Tinseltown this week for the slew of art fairs taking place across the city, anchored by the sophomore edition of Frieze Los Angeles, held at Paramount Pictures Studios from February 14–16. The VIP preview day of the fair had a sunnier start than the rain-soaked debut edition last year, and the mood was buoyant as collectors streamed into the tent under the Blue Sky Lot in Hollywood. Inside, celebrities such as Jennifer Lopez and Usher were spotted wandering the aisles along with art-world power players like Cecilia Alemani, who was recently announced curator of the 2020 Venice Biennale.
A decidedly smaller affair than Frieze's New York and London editions, the Los Angeles version brings together just 70 galleries including heavyweights Gagosian, which installed a full-scale Richard Prince car sculpture in the booth, Pace and Kayne Griffin Corcoran, who teamed up to present a series of mesmerizing James Turrell light works, and Salon 94, whose booth was transformed into a carnivalesque party featuring works by Derrick Adams. In the backlot, guests could check out performances, site-specific installations, and videos curated by Rita Gonzalez, head of contemporary art at the Los Angeles County Museum of Art, and Pilar Tompkins-Rivas, director of the Vincent Price Art Museum. While there was a plethora of dynamic art on view, the fair also provides an unmissable opportunity for new discoveries.
Below, find seven artists who should be on your radar.
1. Avery Singer
In-the-know collectors made a beeline for Hauser & Wirth, which has new works by Avery Singer, the young New York artist causing a stir for challenging the definition of what painting can be. Her idiosyncratic, large-scale pieces are a kaleidoscope of airbrushed waves and droplets, as she mixes cutting-edge digital technology with the classical language of painting to masterful effect. "Are painters to be confined by others' current understanding of the medium?" she asked in a recent interview with Galerie. It's been a buzzy few years for the artist, who was invited to participate in the prestigious Venice Biennale, curated by Ralph Rugoff, last year, before signing with the juggernaut gallery in December. This new series of heavily layered process paintings on view at the fair depict a young artist in various states of loneliness and inebriation. She is planning her first show with the gallery in New York this year.
2. Alvaro Barrington
Just three years after graduating from London's renowned Slade School of Art, the 36-year-old talent is already a darling of the art world. Represented by six galleries around the world, Barrington makes bold, thickly layered paintings on burlap that contemplate on a romanticized view of the Caribbean. At Frieze L.A., his work transformed the booth of London dealer Sadie Coles into a riot of color and pattern, incorporating large and small-scale abstracted paintings and drawings in an immersive space complete with hibiscus-dotted wallpaper. Titled "Garvey loves flowers too–yah punani heaven sent," the project explores themes of sexuality, identity, and community through the life of Jamaican activist and writer Marcus Garvey (1887–1940). His first show in the Garvey series was presented at the gallery's London space last fall. Up next are solo shows at Corvi Mora and Thaddeus Ropac Paris in the fall.
Recommended: Jonas Wood and Ann Craven Transform Children's Hospitals With Whimsical Art
3. Calida Garcia Rawles
Los Angeles painter Calida Rawles's mesmerizing, poetic depictions of black bodies submerged and floating in pools of turquoise water were a hit at the booth of Various Small Fires. Typically associated with play and ideals of leisure, the water also represents racial exclusion for the artist—from the way black people were transported into slavery, to being places of segregation during the Jim Crow era in the South. Renowned author Ta-Nehisi Coates recently commissioned Rawles to paint the cover of his 2019 novel The Water Dancer. Don't miss her first solo L.A. show at the gallery, on view through March 14, featuring works drawn are drawn from the mythological figure of Lilith, who was thought to be Adam's first wife.
4. Pat Phillips
Already well known in the underground graffiti world, the U.K.–born, Louisiana-based Pat Phillips is now making a splash among collectors and curators with striking canvases that explore race, class, labor, and Americana to challenge time-worn narratives from a black perspective. Last year, he was a standout at the prestigious Whitney Biennial with a floor-to-ceiling tableau that includes a sign reading "Don't Tread On Me" and a real picket fence that covered a canister of tear gas. At Jeffrey Deitch's booth, Phillips is showcasing a new painting depicting NFL star Lester Hayes with a pop aesthetic. Outside the tent, don't miss his solo show at M + B Gallery in L.A., "Summer Madness," which is on view through March 14.
5. Naama Tsabar
The Israeli artist Naama Tsabar uses feminist theory to challenge the gendered nature of performance, rock'n'roll, and music nightlife in her supremely elegant work. In the Projects section of the fair, visitors climb the faux New York stoop to find a shiny double-headed guitar installed with a photograph of two women attempting to play it above. The artist performs with a collaborator at various times throughout the day, bringing the work to life. On view at Shulamit Nazarian's West Hollywood space, her large-scale monochrome felt wall instruments are embedded with mics and attached to amplifiers, awaiting musicians or curious gallery-goers to activate them. Last winter, Tsabar performed at ELEVATION 1049 in Gstaad, Switzerland, and she has exhibited at Tel Aviv's Center for Contemporary Art, the Kunsthaus Baselland, Prospect New Orleans, and the Palais de Tokyo.
6. Anne Libby
The young L.A. talent broke onto the scene a few years ago with her enigmatic sculptures and installations that call to mind metropolises of an unknown, futuristic world. Inspired by architecture, mechanics, and decorative styles, her works are crafted with an assortment of manufactured and organic materials including everything from window blinds to unpeeled garlic skins. At Night Gallery's booth, a group of new works reveal an exciting direction with stitched satin wall reliefs depicting reflections of glistening modern buildings—an interesting juxtaposition of powerful architecture and a crafty, handmade aesthetic.
7. Gabriella Sanchez
With a background in graphic design, Gabriella Sanchez worked on projects with the likes of Nike and Toyota before turning her attention to full-time artmaking a few years ago. Sanchez's vibrant canvases utilize acrylic, graphite, sharpie, and oil stick with archival pigment printing and photo collage to explore Chicanx and barrio culture, as well as idealized versions of masculinity. By closely cropping photographic images of body language and of historical events, such as the Zoot Suit Riots of 1943, the works on view at Charlie James Gallery's booth attempt to rewrite the story. In the backlot, visitors are greeted by an enormous towering mixed media piece Hommes, Homes, Homes. The three banners feature photographs from the artist's family archive and the Los Angeles Public Library, hung with chains down the side of the building.
Frieze Los Angeles is on view through Sunday, February 16 at Paramount Pictures Studio. 
Next Post