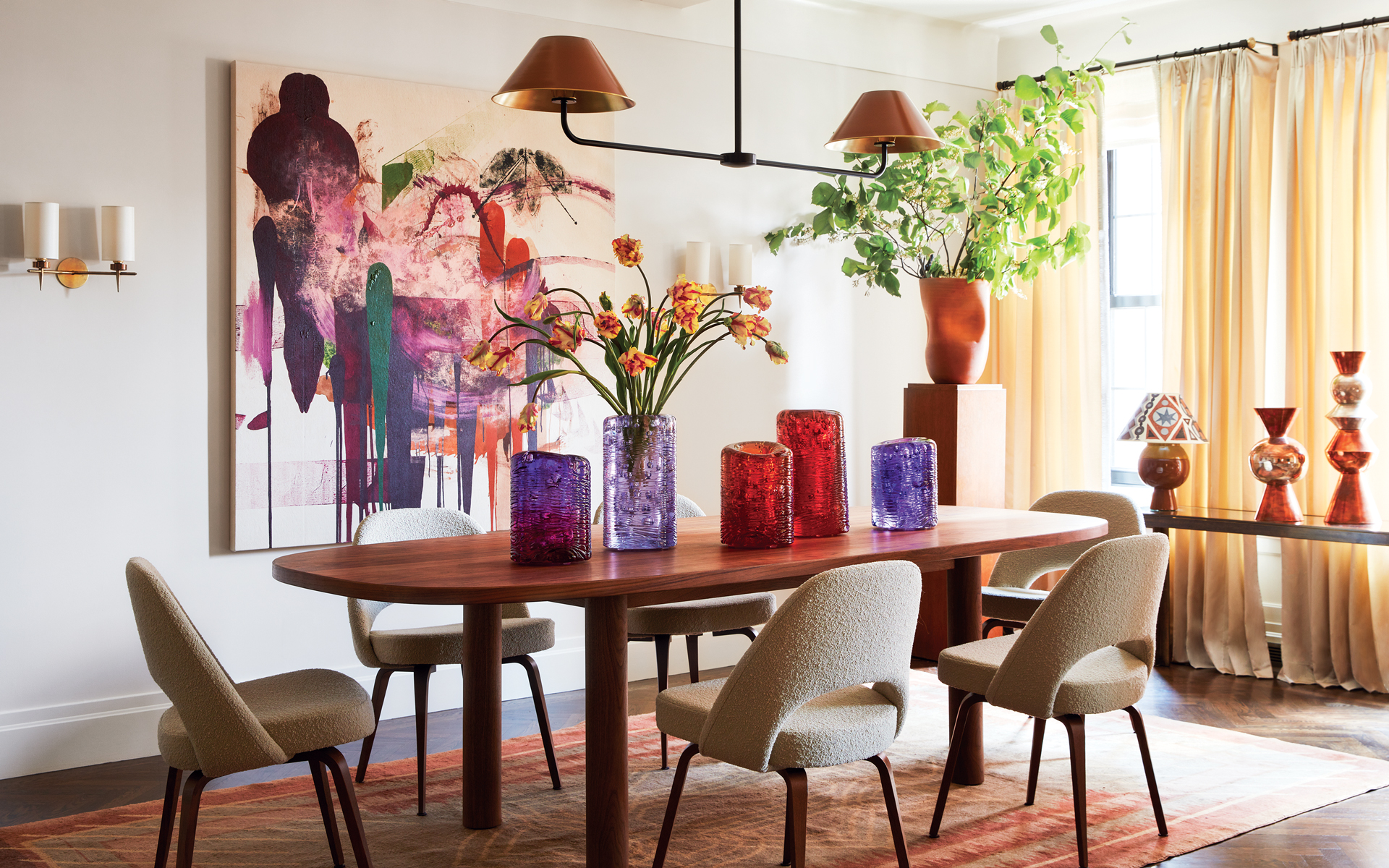 Josh Greene Crafts a Chic Manhattan Apartment for an Art Adviser's Spirited Collection
Margot Bram's Greenwich Village home showcases works by Elizabeth Neel, Franck Evennou, Robert Polidori, and Vaughn Spann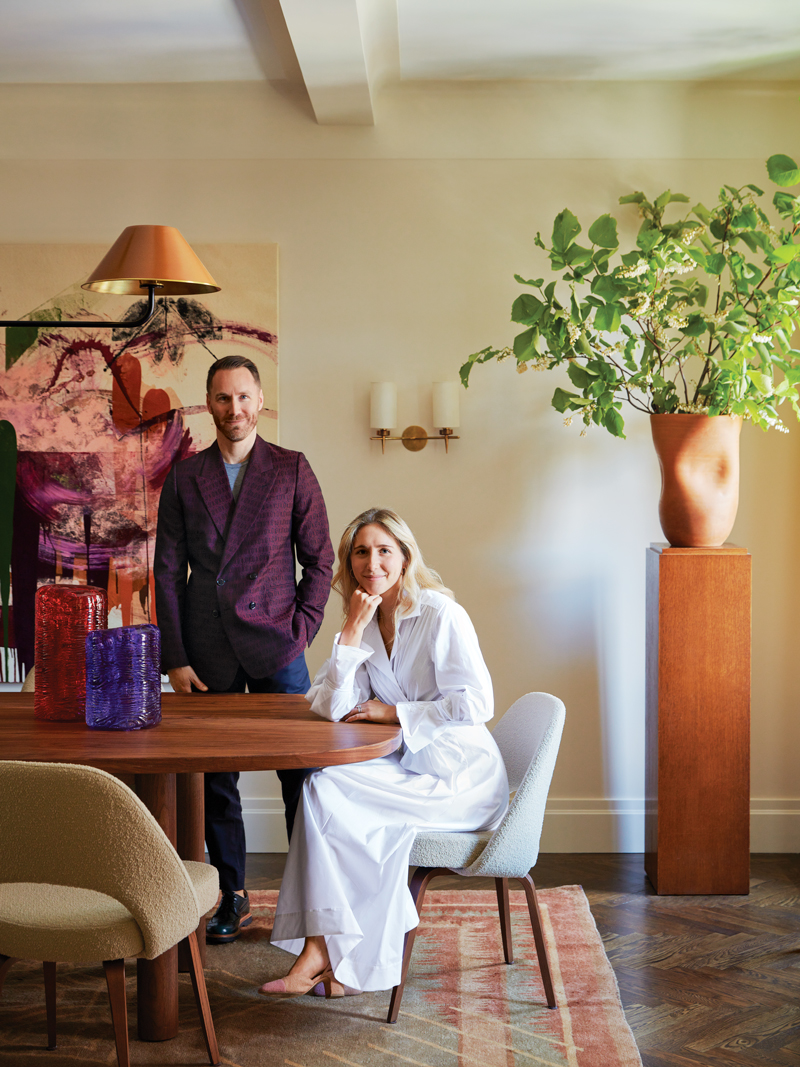 As an up-and-coming art adviser, Margot Bram knows a lot about displaying artwork, but when it came to curating her new home around her growing collection of contemporary pieces, she was determined not to live in a residential version of a white-box gallery. "I wanted my apartment to feel like home," she says. The charming three-bedroom in New York's Greenwich Village occupies a coveted corner that provides the residence with tons of natural light. In response to the pandemic, a spare bedroom became a cozy living space; another was repurposed as a home office.
To help achieve her vision for a dream apartment, Bram reached out to another rising star, designer Josh Greene, who is known in the industry for bridging the gap between a comfortable American style that attracts a clientele of young and enterprising creatives with contemporary tastes. "We instantly connected," Bram says of Greene, whose clever mix of warm colors and vintage-looking materials she first spotted in the pages of a magazine. "I could almost feel the textures of his work through the photos."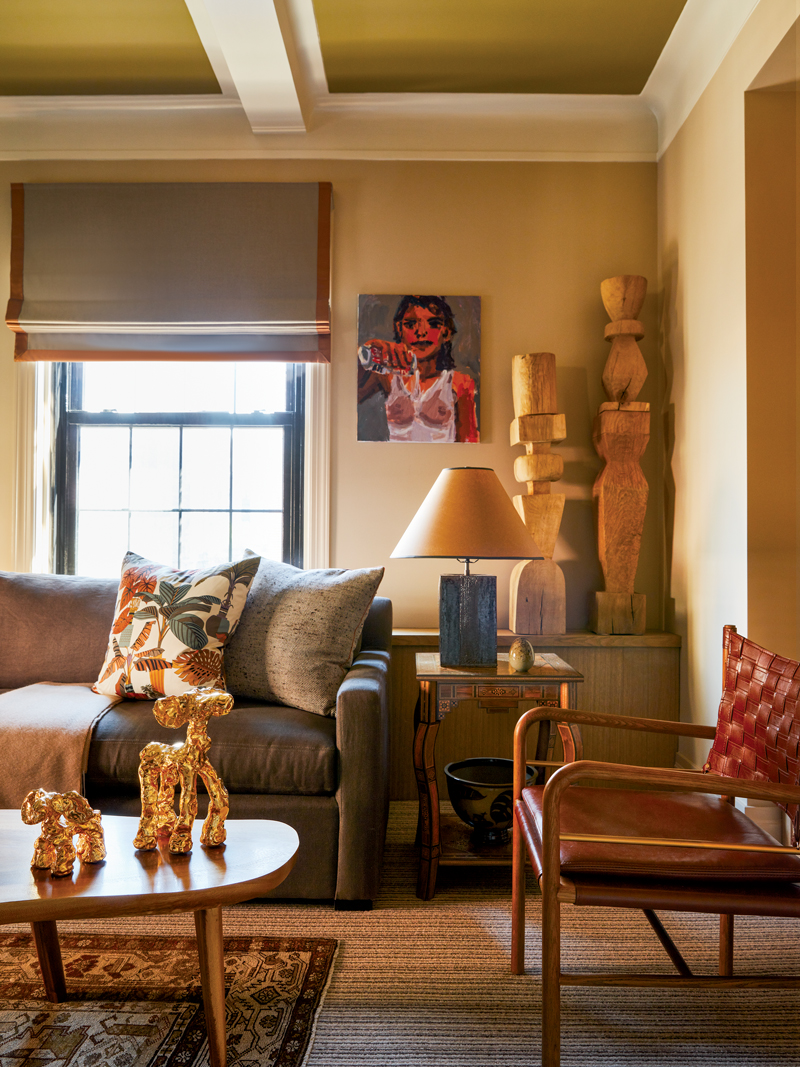 "Design is about creating an environment around the art that enhances it"

Margot Bram
Greene, for his part, saw the appeal of a client with an art background. "Margot brought a point of view," he says. With the directive to avoid "anything ostentatious or showy," the designer selected rough-hewn wood totems by Franck Evennou from Maison Gerard for the living room and an unobtrusive dining table surrounded by midcentury-style chairs by Design Within Reach, which help direct attention to a large and colorful Elizabeth Neel painting from Salon 94. "I'm drawn to work that teeters between abstraction and figuration," says Bram, an adviser at Allan Schwartzman's firm, Schwartzman & Associates; previously, she worked at Skarstedt Gallery, which represents blue-chip talents such as Cindy Sherman and Eric Fischl, as well as the estate of Martin Kippenberger. "Art and design have to work in tandem."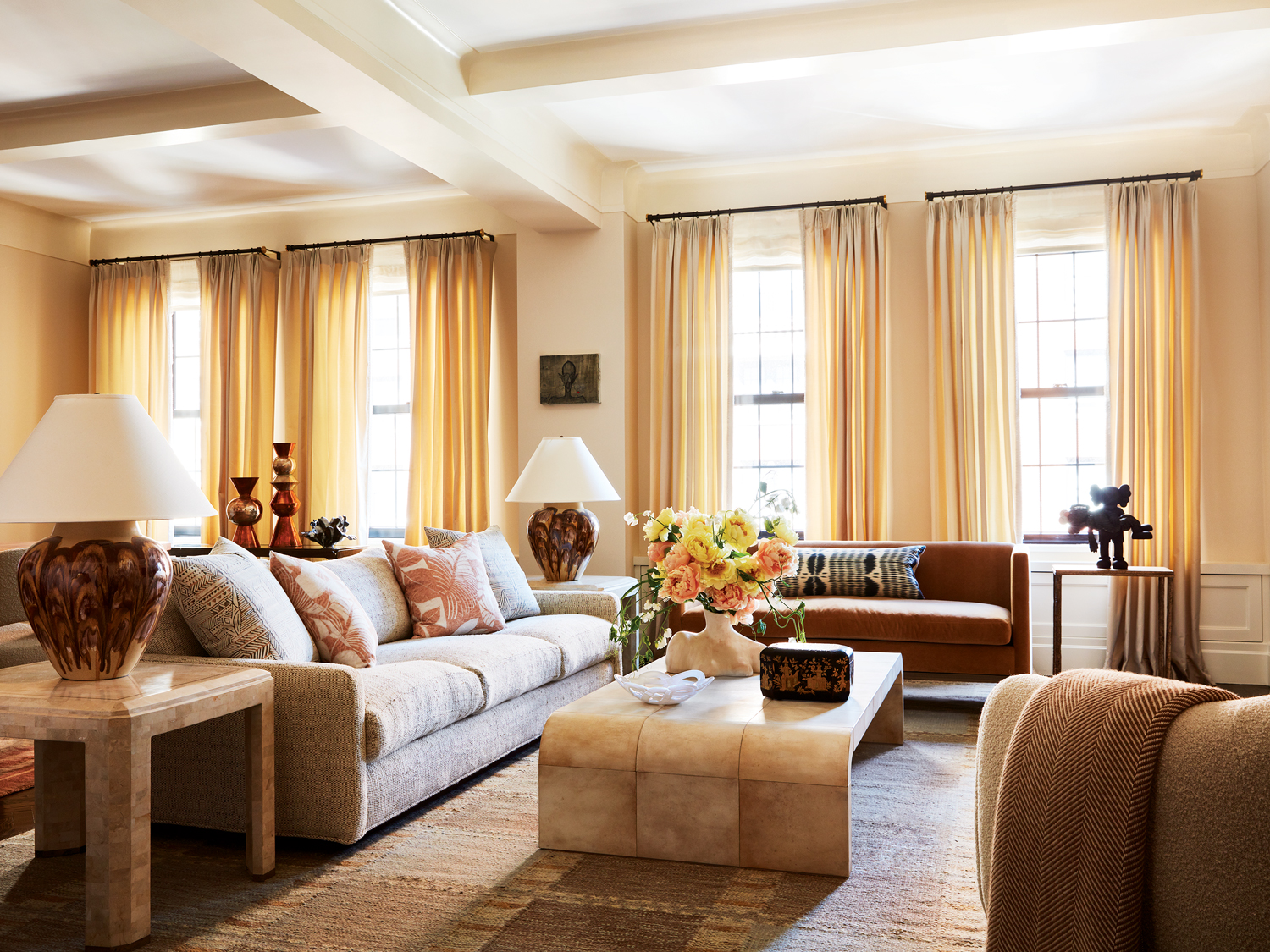 In the living room, a small KAWS sculpture (an artist Bram has represented) in all black looks perfectly at ease next to a vintage Milo Baughman sofa and a curvy, parchment-covered coffee table from RH. While much of the interior skews soft and neutral, Bram wanted to greet visitors with something "interesting and fun, and maybe a little bit shocking" in the entryway—a design decision her husband was initially against. Greene won him over by developing a subtly dramatic scene with a Deco-like wallpaper from Cole & Son paired with a black, hammered-cast-iron console surmounted by an ornate traditional mirror.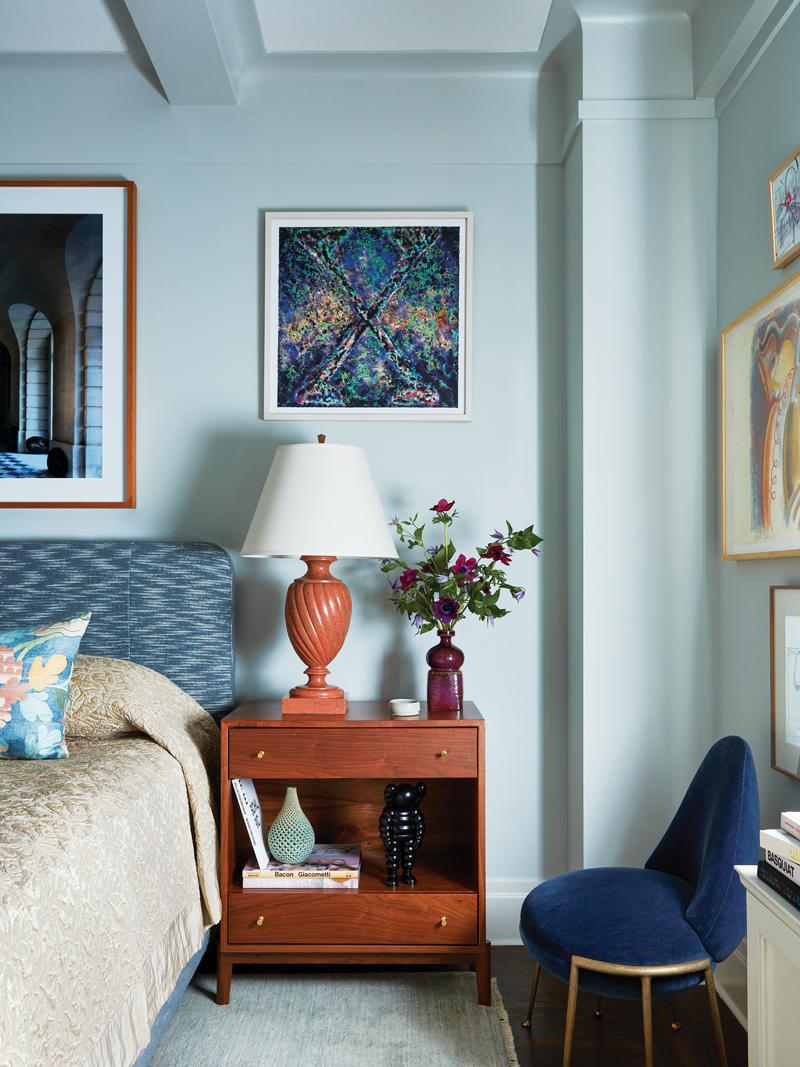 Some of the bedroom colors—a light blue-gray and teal—also sounded a bit strong at first, but Greene offset the walls with a crisp white ceiling and trim in a different level of sheen. "It's spectacular but was hard to imagine initially," Bram says.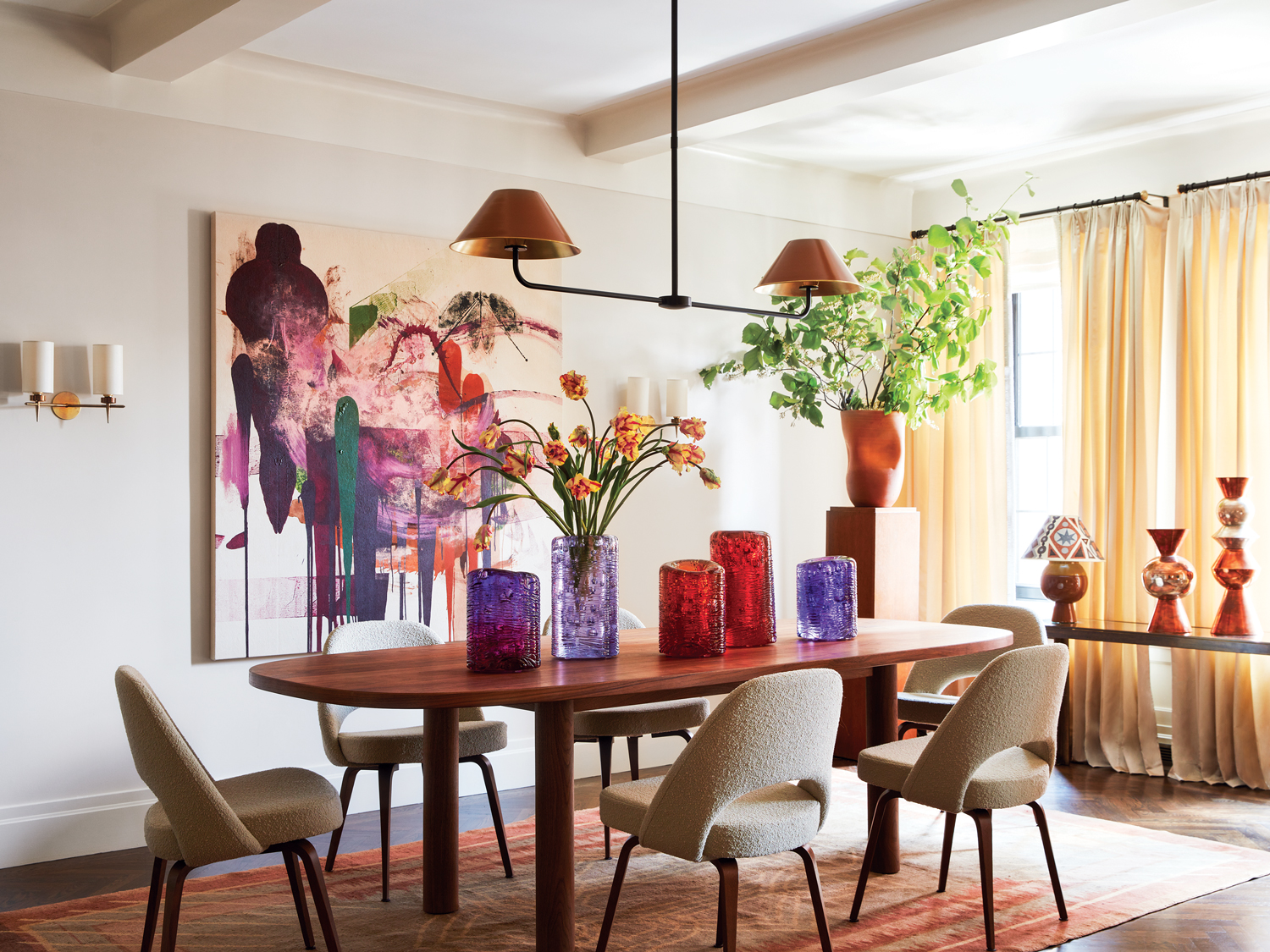 The homeowner's first experience with an interior designer has helped her better understand and advise her clients on building collections, including to stress patience in the fast-paced art world rather than buying something just to fill a blank wall. "People don't appreciate how important design is," says Bram, whose collection grew during the project. "It's about creating an environment around the art that enhances it."

A version of this article first appeared in print in our 2021 Fall Issue under the headline "Environmentally Friendly." Subscribe to the magazine.
Next Post