When Joseph La Piana debuted his yellow-banded "Tension" sculptures along Park Avenue in March 2019, he had no idea just how relevant they'd be just one year later. To evoke the many pressures we as a society and country are facing, the New York–based artist erected monumental steel beams in various formations, each with taut elastic bands between them to give the illusion that the structures could collapse at any moment. Now nearly six months into the COVID-19 pandemic, and with concerns mounting socially, politically, and economically, tension barely scratches the surface.
"In the context of being pushed to the limit, being pushed to the point of collapse, those sculptures really represented hope," La Piana tells Galerie. Believing optimism and inspiration are needed more than ever, the artist welcomed Galerie into his studio in Red Hook, Brooklyn, to discover how his past, present, and future works are all connected—and that despite his newest works' undeniable tie to the isolation and surreality felt during the pandemic, their origins lie within the artist's own oeuvre.
During this virtual tour, produced by Boatman Media, La Piana reveals how these ideas of chronology and genealogy have guided his practice; thus while the works in the video span the past three years, they represent recent iterations of themes and media the artist has experimented with throughout his three-decades-long career. La Piana begins with his "Photonastic" collages (meaning the study of light formation in the context of kinetic energy), which harken back to his earliest works that put him on the contemporary art world radar.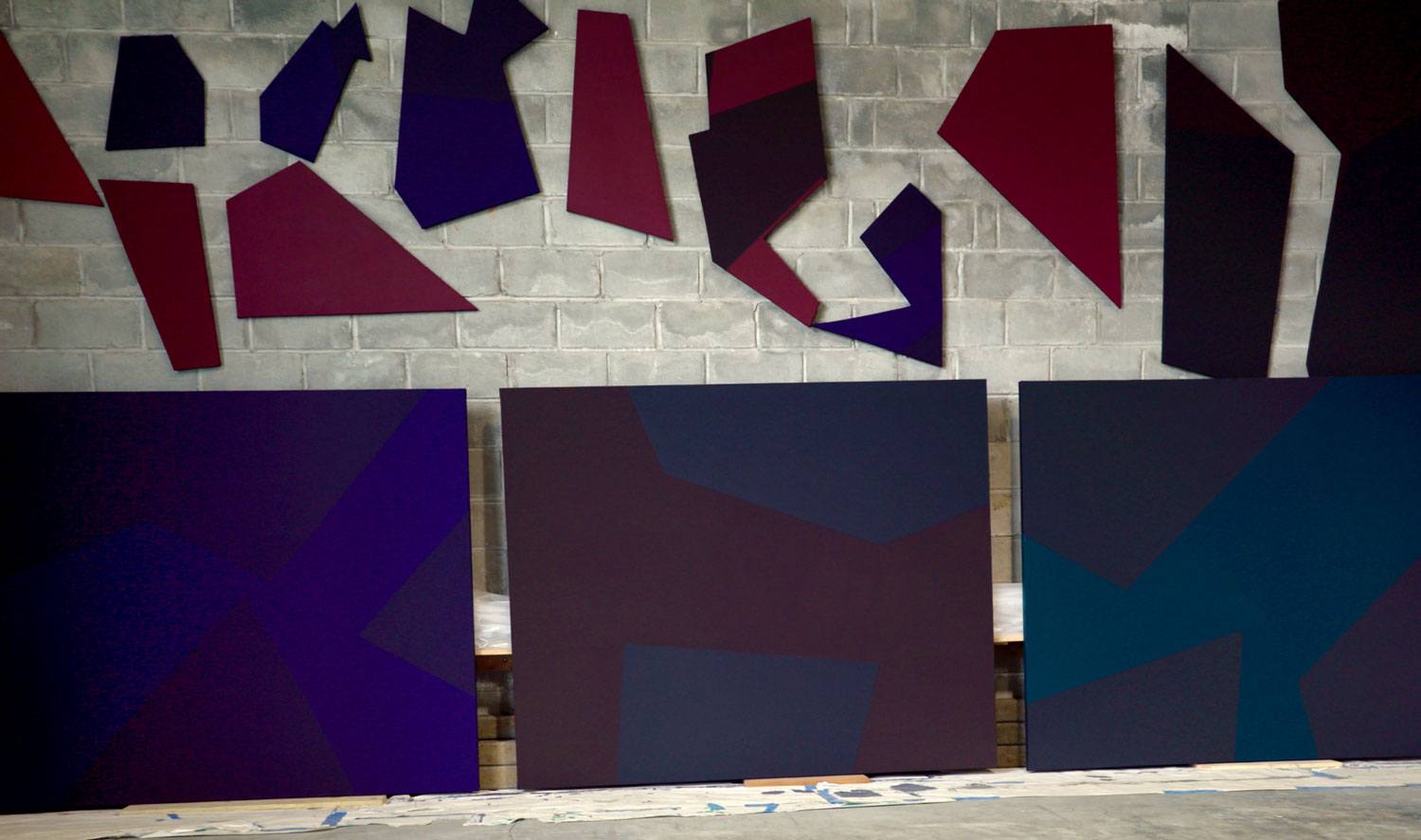 Throughout the video, La Piana explains how his work progresses from one- to three-dimensional, from mere scraps of paper to 10-by-13-foot paintings, and how whether a tape drawing or sculptural relief, none of his art is a random gesture. On the surface, the resulting pieces share an abstract, angular, and geometric quality, though the color palettes run the gamut.
The final series shown are an evolution of La Piana's "Subfractal Space" paintings, but this time, the colors are deeply saturated—think blackened plum and peacock green, and tonal variations are intentionally subdued as to give the appearance of disappearing delineations. As this was the last series La Piana completed in 2020 before the world changed as he knew it, the artist calls the series "ironic."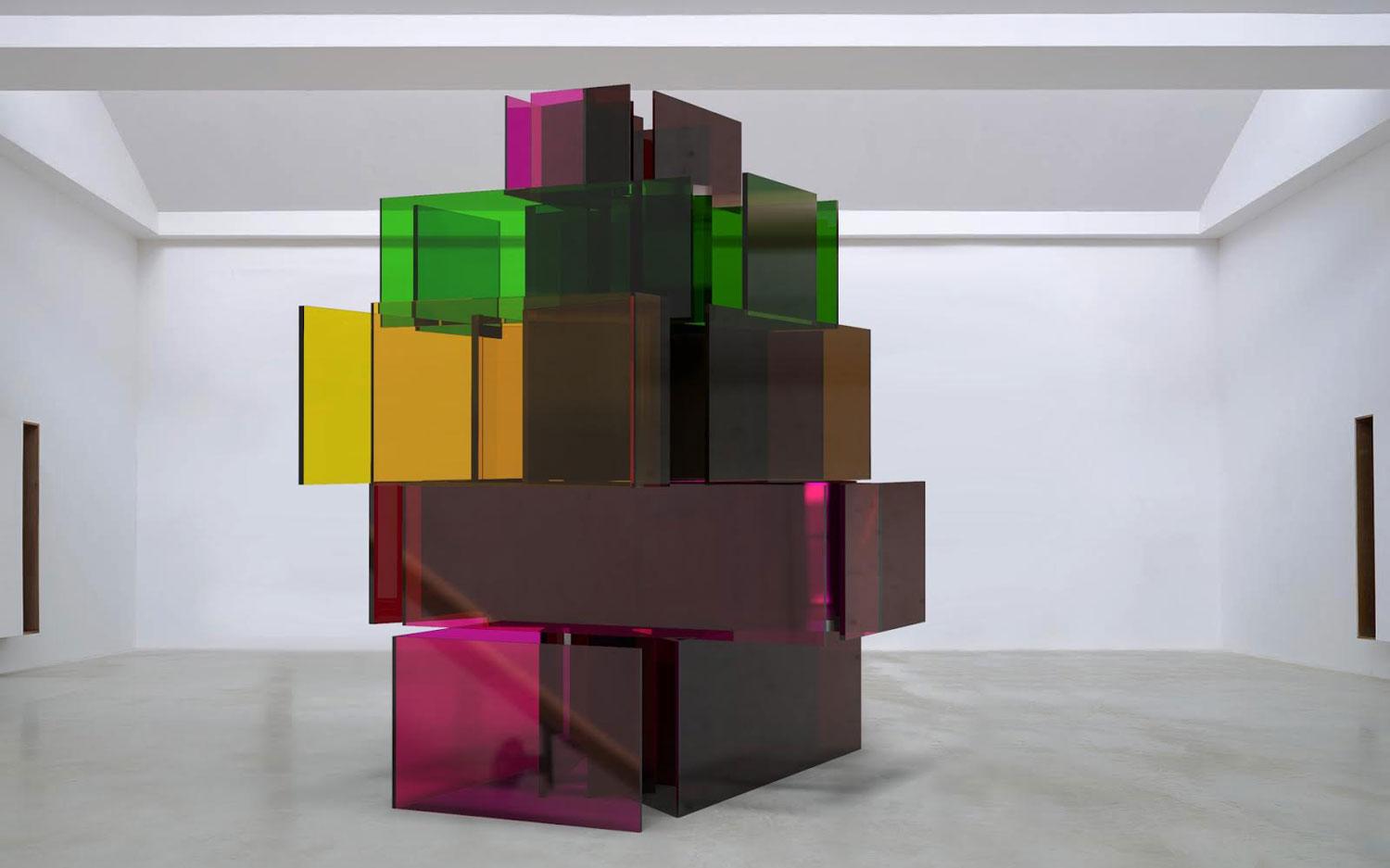 "From my perspective I wanted to move into a state of my work where I felt more peaceful and relaxed, and then suddenly we're hit with the pandemic," he says. "I wanted people to experience getting lost in those paintings and not seeing the tension points that are divided by the color quadrants that were created in the prior paintings from the series."
Expanding on these sentiments, La Piana shared renderings of two series of monumental public art that are currently in progress. First is "Look, But Don't Touch," a free-standing project comprised of stacked rainbow-hued glass cubes. "This work deals with the experience of everyone living in the city and looking through this tinted glass mirror and seeing one another but not being able to touch," he explains. "I just found it so profound that we live in a society right now where what was normal is no longer safe, and we can only see one another from afar."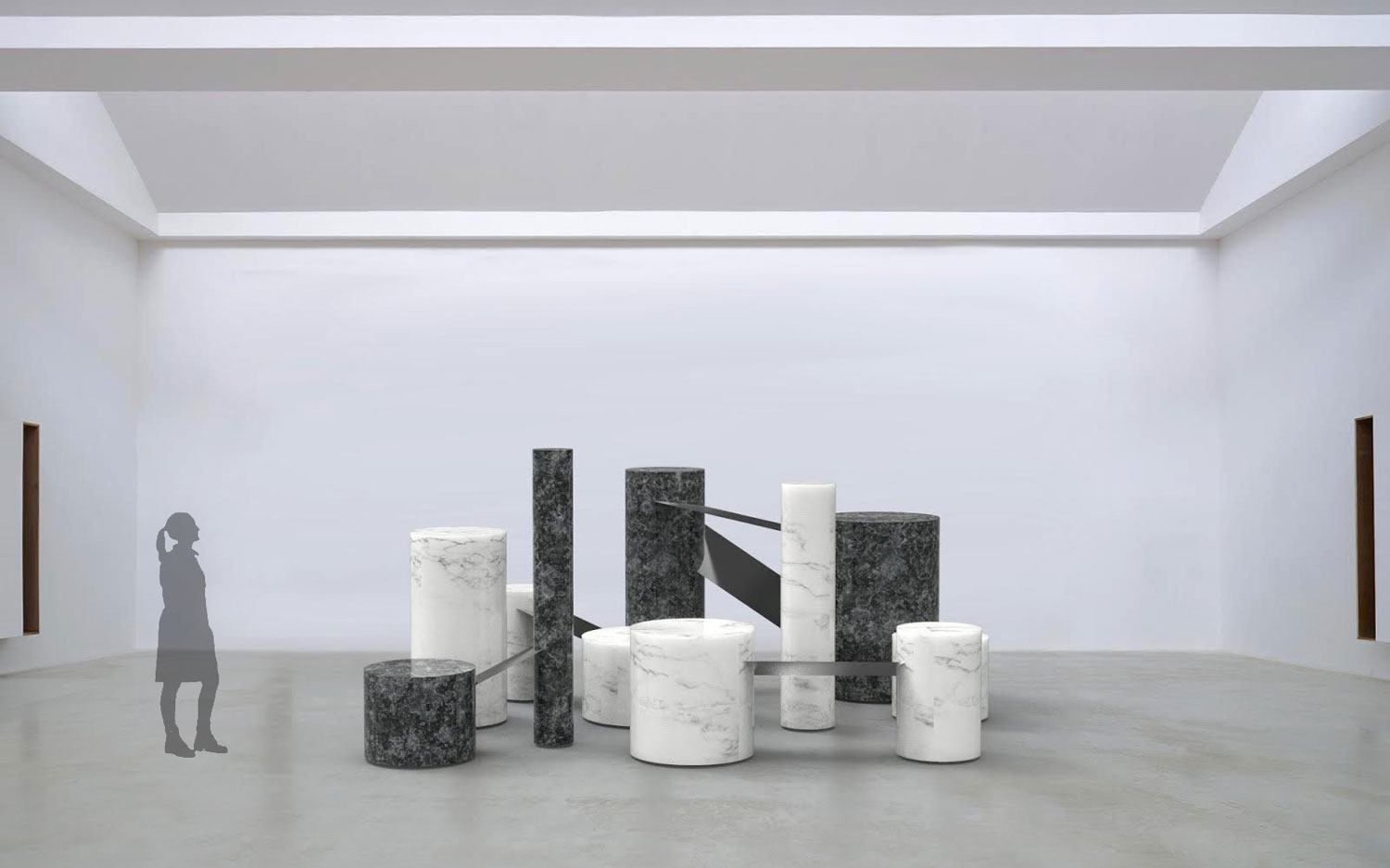 The second series, titled "Isolation Tension" expands on the yellow-banded public works installed in the Upper East Side in 2019. La Piana swaps steel beams for black-and-white marble and granite columns of varying heights, some alone, others grouped together. Each is wrapped with clear cellophane, which represents the fragile human connection, and some are linked through gray bands. "The context of this work is how we went from being able to join all together, no matter how many people we were, to the news constantly changing from saying, 'Okay, now only 100 people, now only 50, now it's 25, then 10, then just 1.'"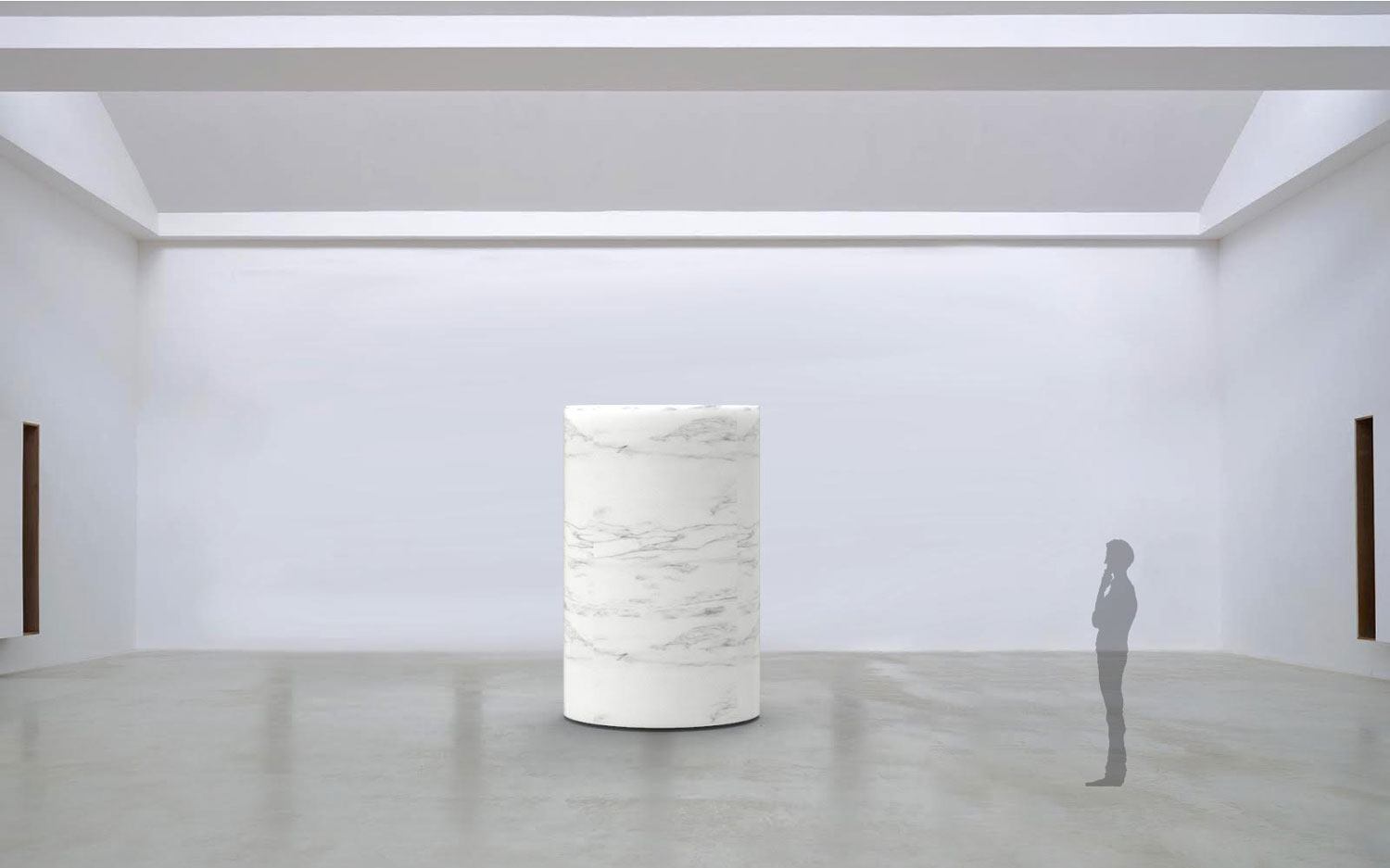 La Piana's hope for the two series is to display them in a post-pandemic world, when this time of abnormality and a lack in the much-needed human connection is fully in the past. Hoping within the next year society's quality of life will improve because of a vaccine, La Piana, like most, finds it frightening how sluggish change has been since the pandemic's inception. "These works should be a safeguard for people because things have gotten very lenient, and people are not as strict as they were when things were escalating," he warns. "It's a good reminder when you look at the pieces now to recognize we still are in a pandemic, and social distancing is necessary."
Next Post