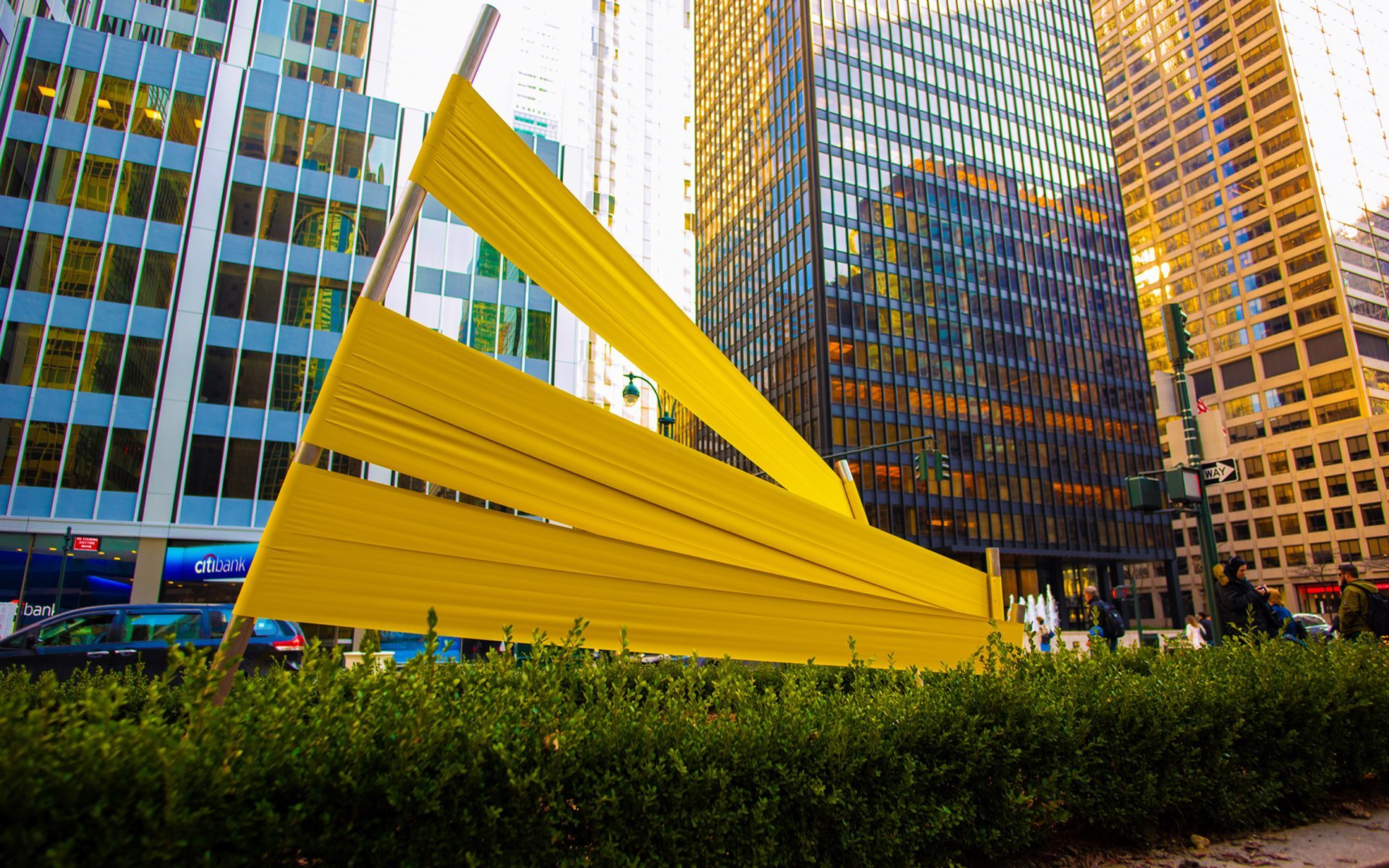 Artist Joseph La Piana on His Eye-Popping New Sculptures on Park Avenue
The artist's vibrant 'Tension Sculptures' are rooted in mathematical theory
Though they may look like it, the bright yellow, sharply angled structures lining Manhattan's Park Avenue this spring aren't on the verge of collapse—they're "Tension Sculptures," the latest artistic endeavor from multidisciplinary artist Joseph La Piana. Unveiled on March 5 by the Fund for Park Avenue, these architectural installations, of which there are five in total, dot the Park Avenue Mall, the meridian spanning 53rd to 70th Streets, through July 2019. For each one, La Piana has bound steel beams with taut rubber cat's-cradle-style, the vertices visibly stretching the material to its absolute limit. 
"For me, these sculptures really have to do with what's going on around us—politically, socially, environmentally," La Piana tells Galerie. "These sculptures really do represent some level of hope. We as a society and as a country are experiencing so many pressures at the moment, so many tensions based on everything that's going on in our lives." In a similar sense, La Piana explains, "I'm pushing the boundaries of the material, and yet I know that the sculptures aren't going to collapse."
Based in Brooklyn, La Piana is a self-taught artist whose work was exhibited internationally by the Andy Warhol Museum during the 2011 Venice Biennale. The "Tension Sculptures," like the rest of La Piana's oeuvre, are rooted in mathematical theories of energy and movement.
To wary pedestrians, the work probably appears ready to snap at any moment and fling bands of canary-colored rubber into nearby Central Park. But there's no cause for alarm—the project has already gone through two prior iterations: first inside an industrial warehouse in Red Hook in 2015, and again last April at the exhibition "Tension Between" at Sara Kay Gallery.
La Piana began with small models of the sculptures in his studio. Once on-site, however, constructing each full-size sculpture wasn't as simple as scaling up the maquette. La Piana and his team worked late at night to install the sculptures in icy winter conditions, working through technical obstacles along the way.
"When you're taking sculptures on a monumental scale, like these are, although you may have all of the technical engineering and the preparation that takes place in order to be able to actually build them, you're still met with challenges," says La Piana. For example, he says, "sometimes, the rubber isn't able to attach at an angle that makes sense. You have to adapt the material to the framework."
Recommended: Guggenheim Announces Exhibition of New Works by Simone Leigh
In a way, these challenges help to reinforce what La Piana sees as the meaning of the sculptures. "It's almost like saying that we, as people, walk into a situation that we might be uncomfortable with but somehow we adapt."
A closer look at La Piana's works installed along Park Avenue can be found below.
Joseph La Piana's "Tension Sculptures" are on view along Park Avenue from 53rd to 70th Streets through July 2019.
Next Post