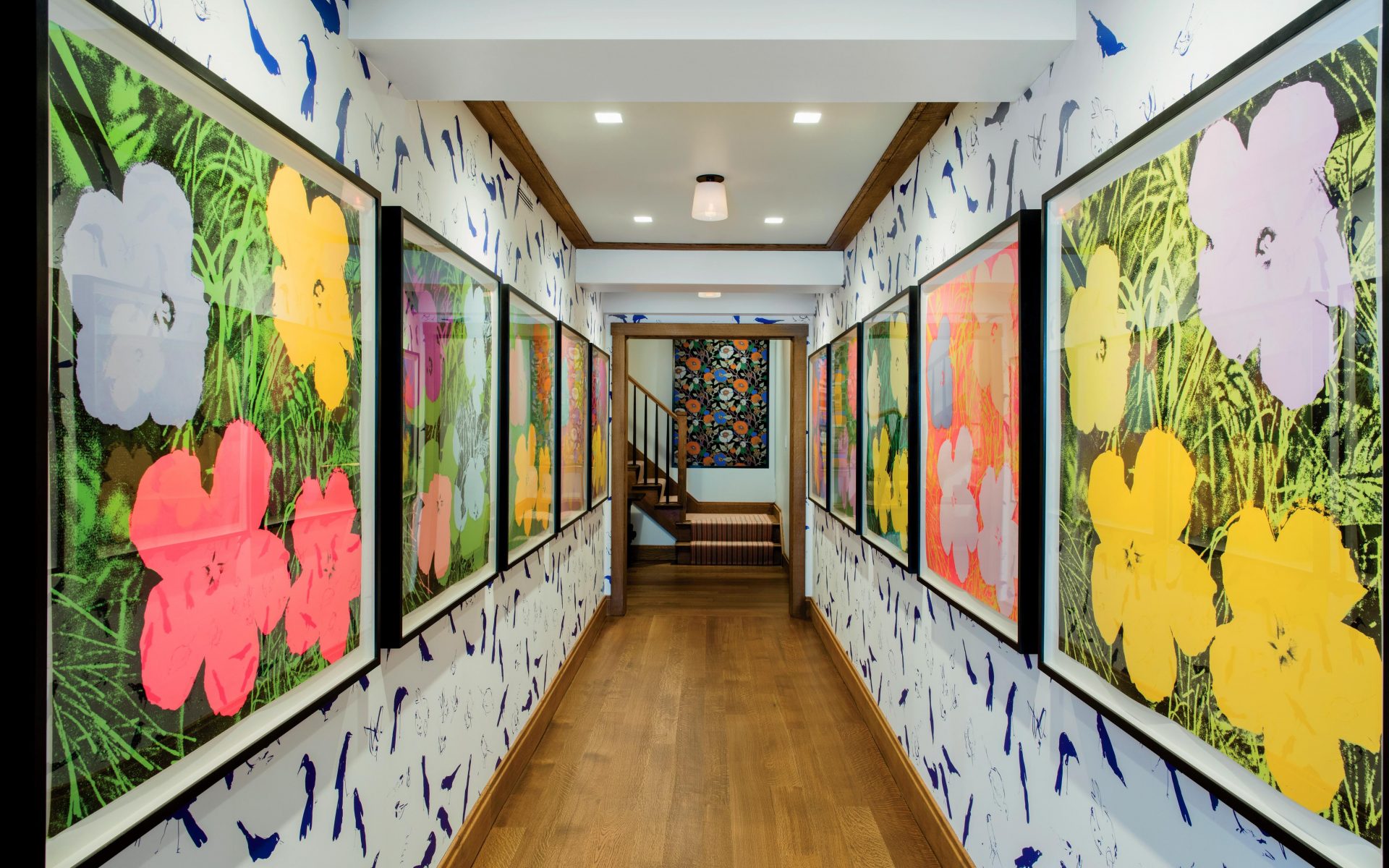 Andy Warhol Paintings Transform This Eclectic Long Island Estate
In Brookhaven Hamlet, Jay Johnson and Tom Cashin show off their dazzling art collection, with help from architect Alexander Antonelli
For some and, quite honestly, most people, the planning, building, and moving into a new house can be a chaotic, anxiety-laden, and somewhat overwhelming undertaking. Then there are Jay Johnson and Tom Cashin—an extraordinarily calm, collected, and super-organized couple who not only make it all look easy, but have ended up with a beautiful, highly personal and, well, an absolutely perfect home.
Their new house, in Brookhaven Hamlet, New York, holds an enviable collection of English and American Arts & Crafts and Mission furnishings that is paired with contemporary art works. Included are American Pop artist Andy Warhol's most iconic works—a complete portfolio of his ten flower screen prints and one of his brilliant Brillo boxes, as well as adventurous examples by both well-known and emerging painters and photographers, still under-the-radar ceramicists, and intensely personal things that poignantly, yet unsentimentally, recall Johnson's twin brother Jed Johnson, who died tragically 20 years ago.
[Slideshow: See more photos of Jay Johnson and Tom Cashin's Long Island estate]
Decades ago, the Johnson brothers, who were part of Warhol's innermost circle at the New York artist's famous Factory, had started collecting American Mission furniture—ferreting out some of the best Gustav Stickley pieces on Brooklyn's Atlantic Avenue, before the style became popular and the Johnsons moved onto English Arts & Crafts.
When the house on the adjoining property to the weekend house they purchased in 1999 became available, Johnson said, "We just had to have it." Originally, the idea was to build a pool on the property and expand the pond. But soon, they found themselves taking the house they had just bought down to its footprint and building a new house that was bigger than what they had originally felt they needed. "But," added Johnson, "we quickly realized that we were getting older and could really enjoy a larger house."
Recommended: Edgy Art Meets High Design at This Francis Sultana–Designed Home
The process was seamless. Once the 5,500-square-foot house was finished—after two years of planning from the New York architect Alexander Antonelli—all the art was installed in one day, and all the furniture put in place the next. "Being in the business made it easier. After all these years, you learn a little—or a lot," admitted Johnson, the president and owner of the New York-based companies, Jed Johnson Associates and Jed Johnson Home, of which Cashin is the co-director.
New custom-designed and wonderfully geometric hand-hooked carpets by the New York-based Stephen T. Anderson, and a spectacular antique rug by the English architect and textile designer Charles Francis Annesley Voysey, that had been in storage for years, and on which the color palette of the living room was based, anchor the rooms. "We knew where everything was going to go," said Johnson.
Unsurprisingly, Johnson and Cashin, who met in Paris 42 years ago, see eye to eye. "I went straight from Brooklyn to Paris," explained Cashin, who was 19 years old and a model at the time. Johnson was 25. Their unusual aesthetic is both classic and contemporary. "Nothing shouts at you," said Cashin. "At first you might not notice the mix of textures and different color tones, and we like the fact that you get to know the rooms at a slower pace. Nothing overpowers anything else."
[Slideshow: See more photos of Jay Johnson and Tom Cashin's Long Island estate]
Throughout the rooms, there are intriguing surprises: A Warhol Brillo Box stands end-table–like by the Stickley wicker sofa; a graphic painting by the New York artist Elliott Puckette is the focus of the dining area; and bold pieces by American ceramicists Peter Schlesinger and Christopher Russell add an extra layer of craft and artistry. "The contemporary art winks in a whimsical way at the more traditional setting," said Cashin.
A version of this article first appeared in print in our 2016 Winter Issue under the headline Mission Accomplished. Subscribe to the magazine.
Next Post