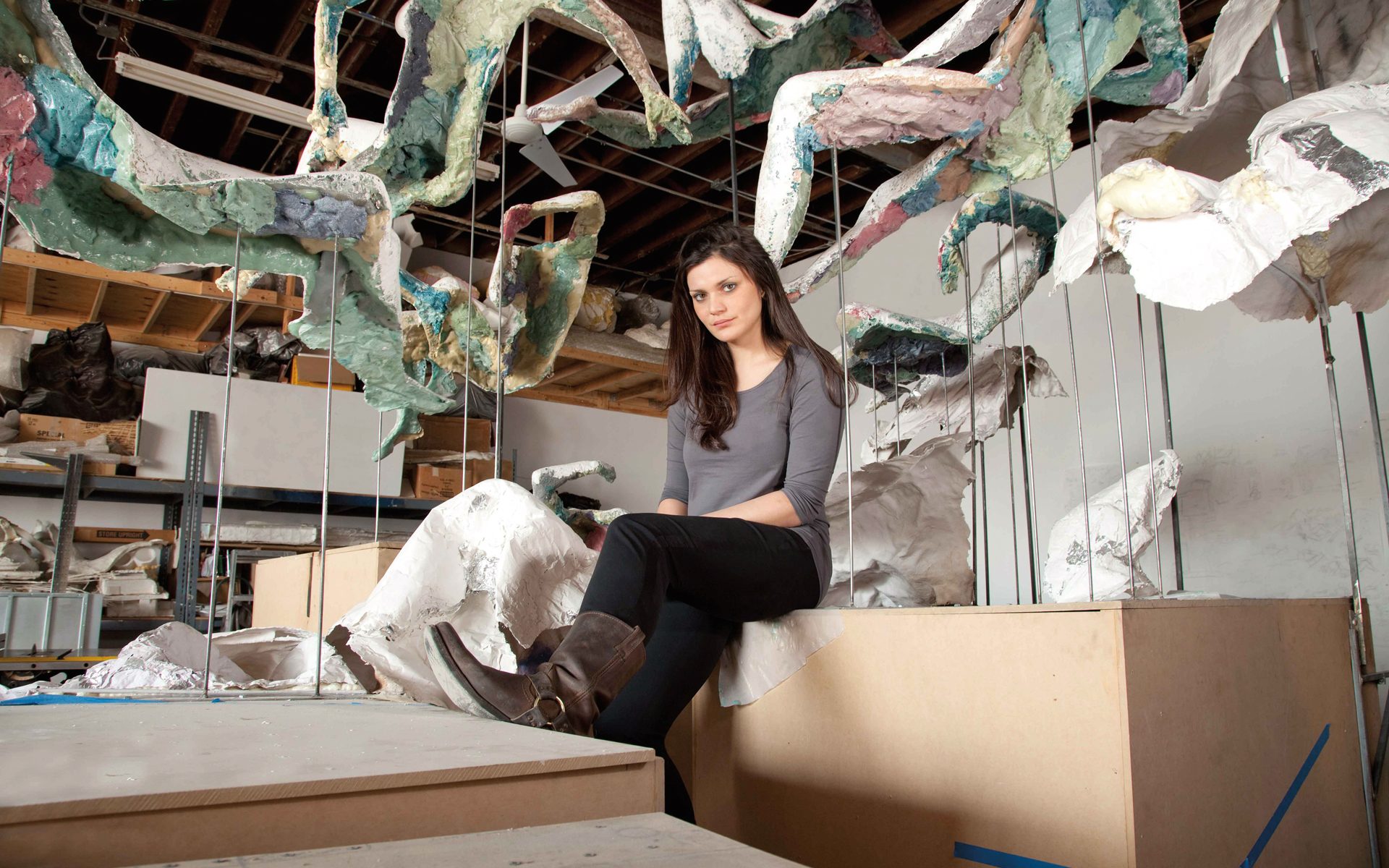 How Artist Diana Al-Hadid Melds Cultures and Histories
The Syrian-born talent's brilliant work captures cycles of progress and decay
Many paintings ask a viewer to stop and experience them as specific instances of time and place.
Whether we are looking at a Claude Monet Impressionist work that attempts to capture a fleeting instant of light, or at an exuberant Jackson Pollock that seeks to directly contain within the canvas the painter's immediate physical energy, such works almost order us to be in the here and now. This is the world and all you need to know about it, they seem to say. Diana Al-Hadid's paintings do something different.
Born in Syria in 1981, Al-Hadid immigrated to the United States at the age of five. Since receiving her MBA degree from Virginia Commonwealth University, in 2005, she has had many solo exhibitions in both museums and commercial galleries, and established a reputation as one of the more significant artists of her generation. While her works obliquely reference a broad range of sources—her Middle Eastern background and her deep knowledge of European art history—her materials and processes are strikingly innovative and contemporary.
Frequently discussed in terms of architecture and sculpture, Al-Hadid's paintings brilliantly deploy the physical urgency that imbues much of modern and contemporary art, forcing viewers to consider the possibility of other times and other places. Whether hung on the wall or actually embedded into it, by carving out negative spaces in the surfaces she has built, Al-Hadid provokes us to go farther and deeper. But if it is the depth of an archeological dig or the distance of a space probe, the issue is left in question. Past, present, and future nest together, existing here and now. The works simultaneously serve as reminders of ambiguous pasts and as indicators of uncertain futures.
Here, Al Hadid sheds light on her creative process:
"After the image is first quickly 'dripped' into the mold, using layers of pigment that run and dry as the pigment drips, it is reinforced from behind and then peeled off, becoming out of focus. Sometimes I break away areas of the panel and often I will build up the surface with layers of plaster. The initial image becomes increasingly obscured and forgotten, a very bare composition.  I often work with images of paintings that I love—early and northern renaissance tend to be my favorite. I also often use images of things I photograph myself, places I visit, or interiors of my studio. In the end, the source is rather obscured and the original details are entirely lost. I have a simultaneous love for and disregard of the sources of my panels. I take from them what I need and I do my best to ruin them."
Next Post