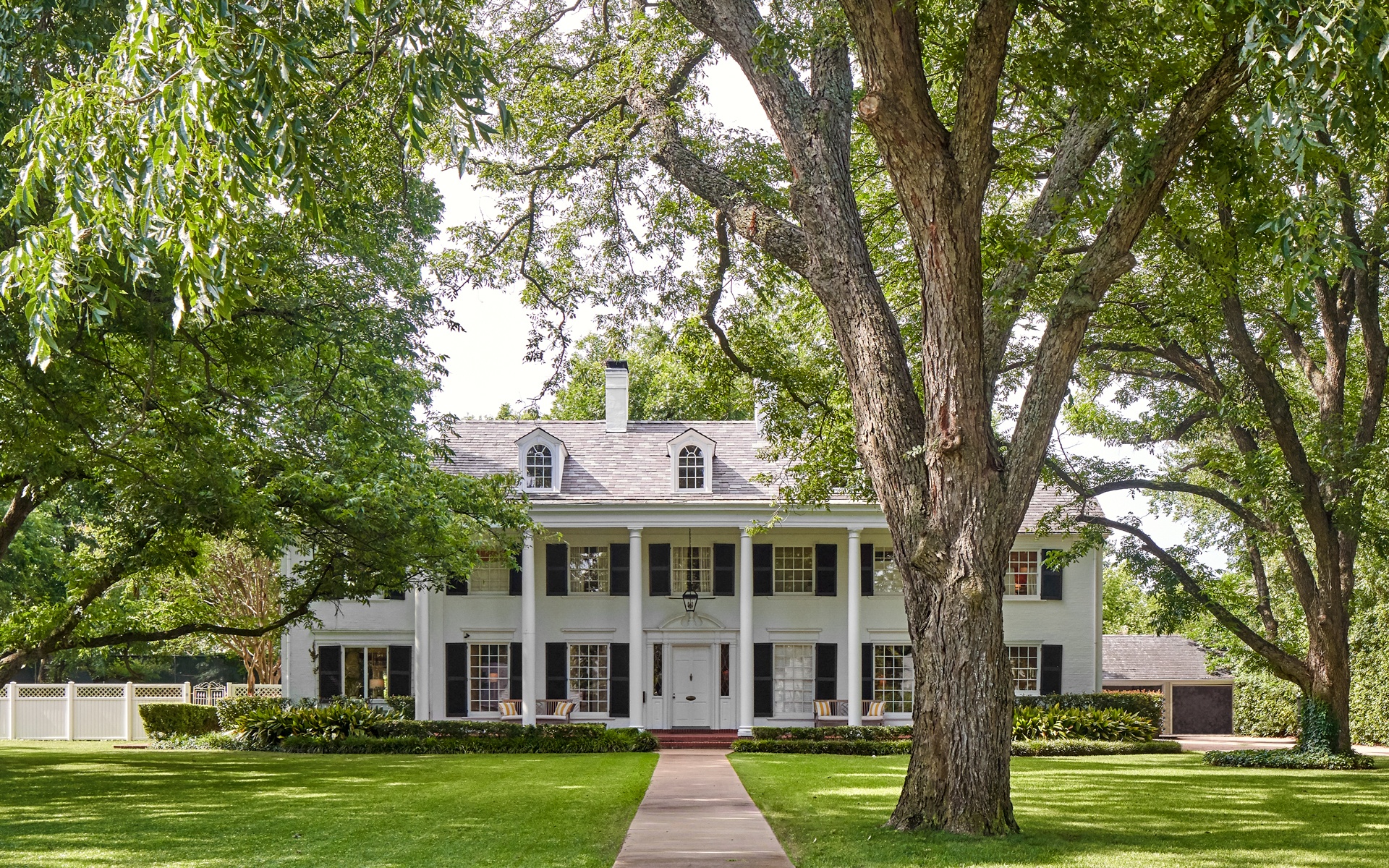 Why Designer Jan Showers Loves Her Colonial Revival in the Texas Hill Country More Than Ever
The Dallas decorator shares how she's designed—and redesigned—her Hillsboro home for the past 50 years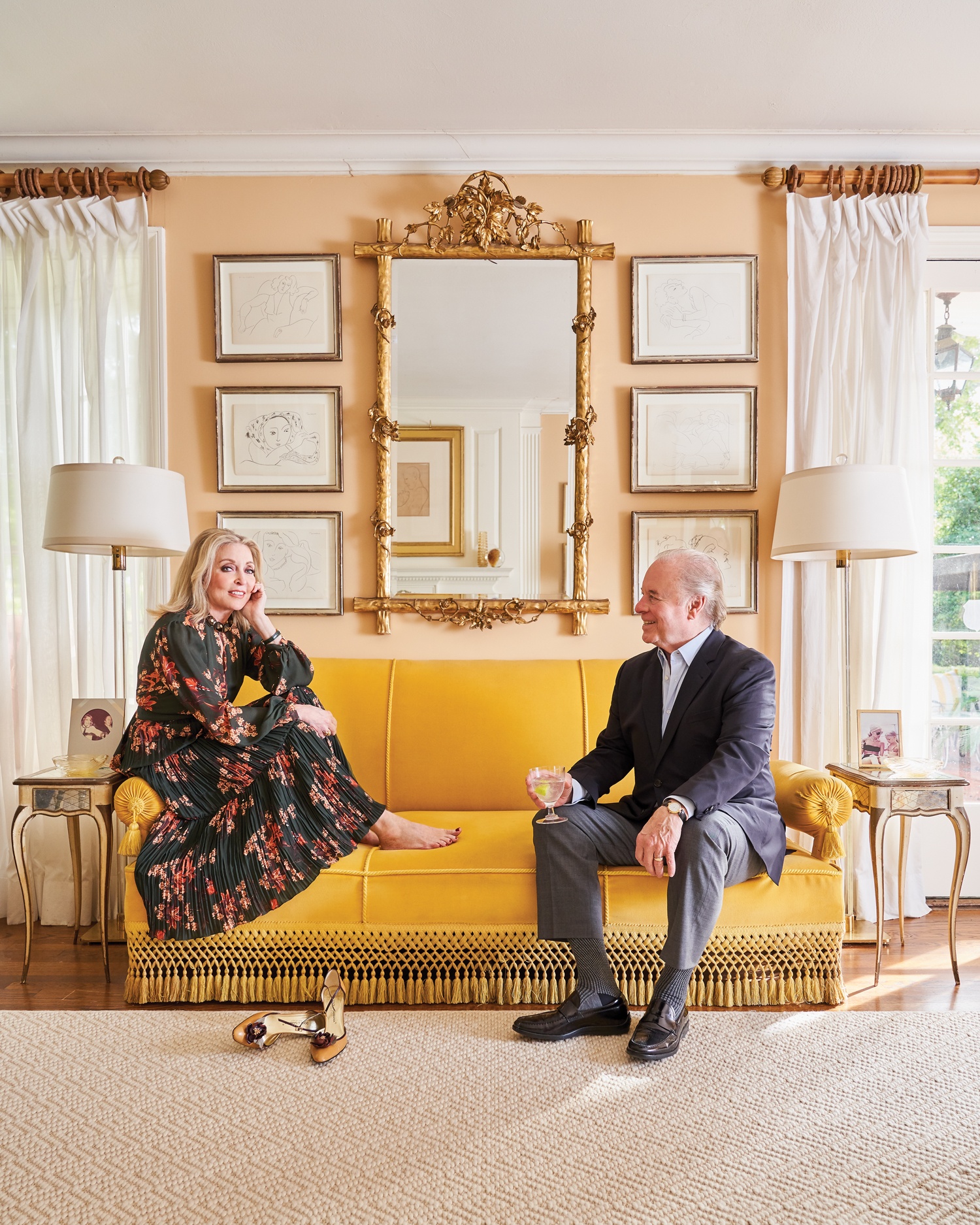 There's been a lot of talk lately about "forever homes," with many pretty decor stories mentioning how clients had told their designer to create a house they would want to stay in forever. But for Texas designer Jan Showers, it's not just a recent trend. She's been living in her forever home for almost 50 years in Hillsboro, Texas.
Although she runs her firm out of Dallas, where she also keeps a townhouse, this gracious white brick Colonial Revival, some 60 miles south, is where she didn't leave for an entire month during the COVID-19 shutdown. Since the residence was built in 1938, Showers swears by its sturdy architecture and ability to stand the test of time. She even grew up just two doors down and always knew one day it would be hers. Here, she shares with Galerie why she loves it now more than ever.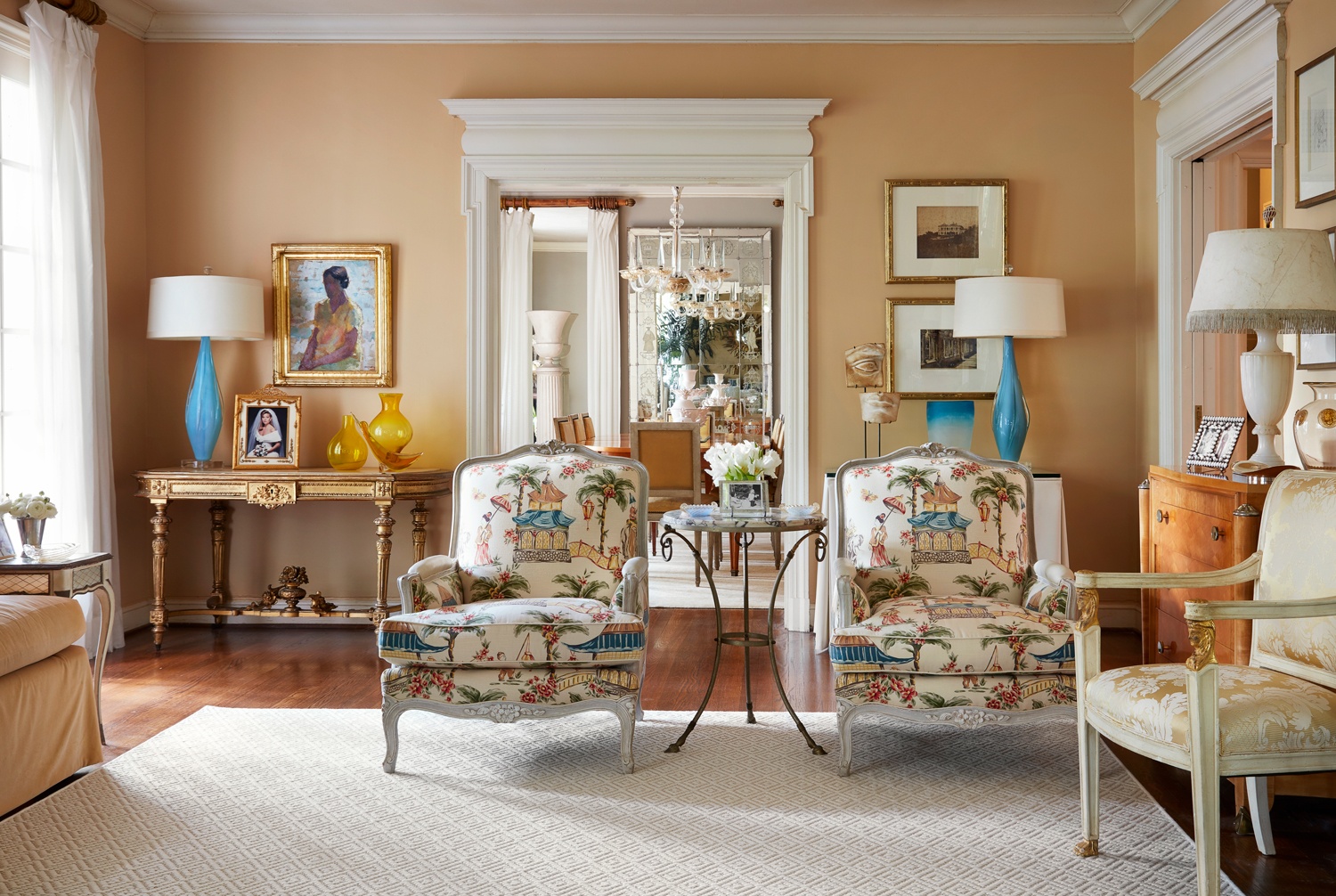 If someone wrote my biography, the house would be a character. It's just such a part of who I am. When we first moved in, we painstakingly restored it down to the original plumbing fixtures, and I've decorated and redecorated over the years. My husband, Jim, often jokes there's never been the same pair of chairs in the living room. Before the outbreak, I'd been so busy with my work in Dallas that we stayed in our townhouse there more often, but I'm always ready to get back to the Hillsboro house.
We were on a buying trip for a client and my shop in mid-March, so we cut our trip short and came back home. We stayed at the house the entire first month. We didn't go anywhere. The library is the room we use most. When we bought the house, the library had bookshelves on three walls, and my book collection didn't go very far. But in the last 50 years, we've had to add bookshelves to so many more rooms and still don't have enough space for our collection. It's kind of hilarious.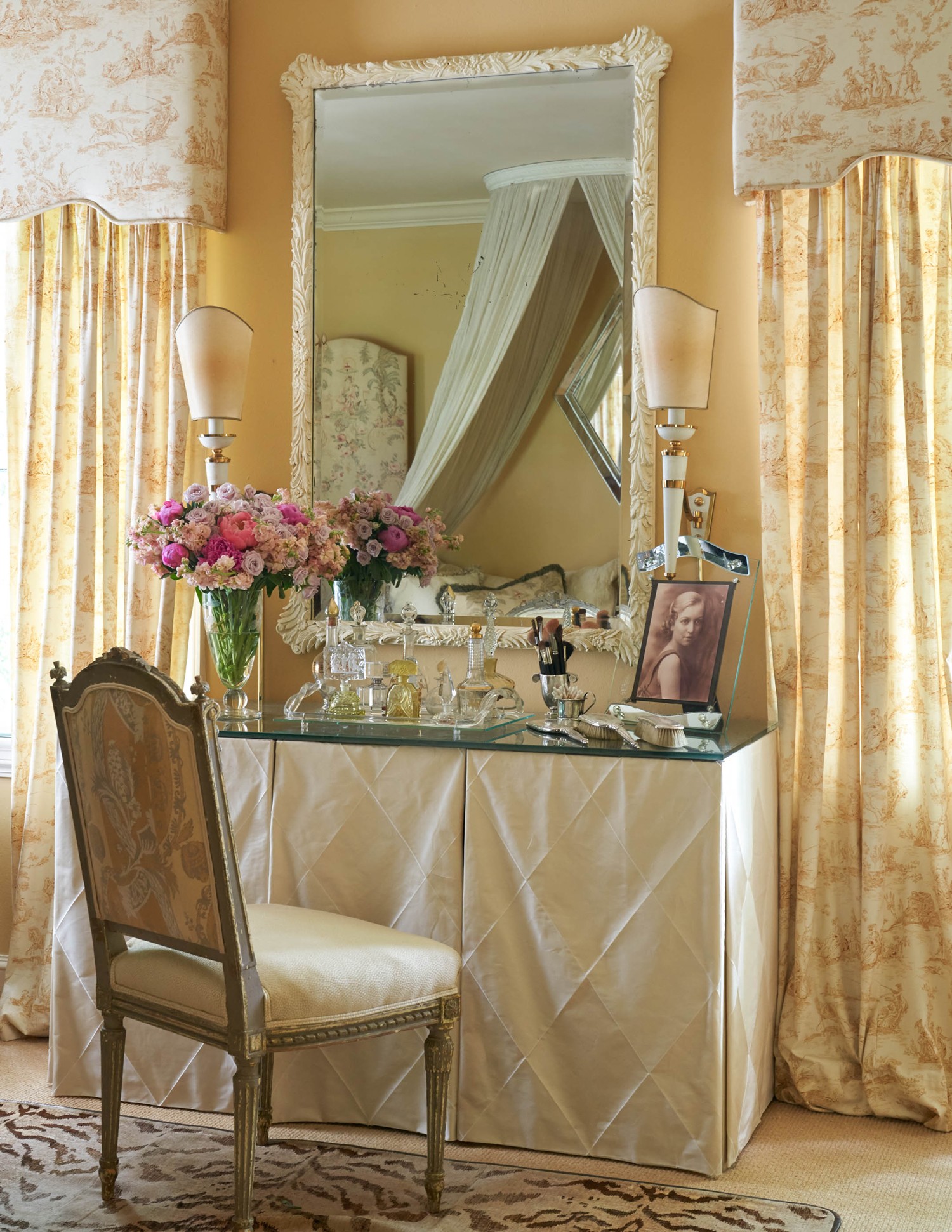 My husband likes to work in the library, so I've been doing most of my work in my dressing room. It's set up as an office, and since I've been wearing as little makeup as possible, the dressing room is more working than getting dressed. I'm on the phone with work a lot, and I'm chairing the Kips Bay Show House in Dallas this fall. We had 100 designer submissions, which is more than they've ever had in Palm Beach or New York. We have seven Dallas designers, and the rest are from all over the country. It's a great 12,000-square-foot house in Old Preston Hollow. We're taking all the precautions, and everyone needs to wear a mask.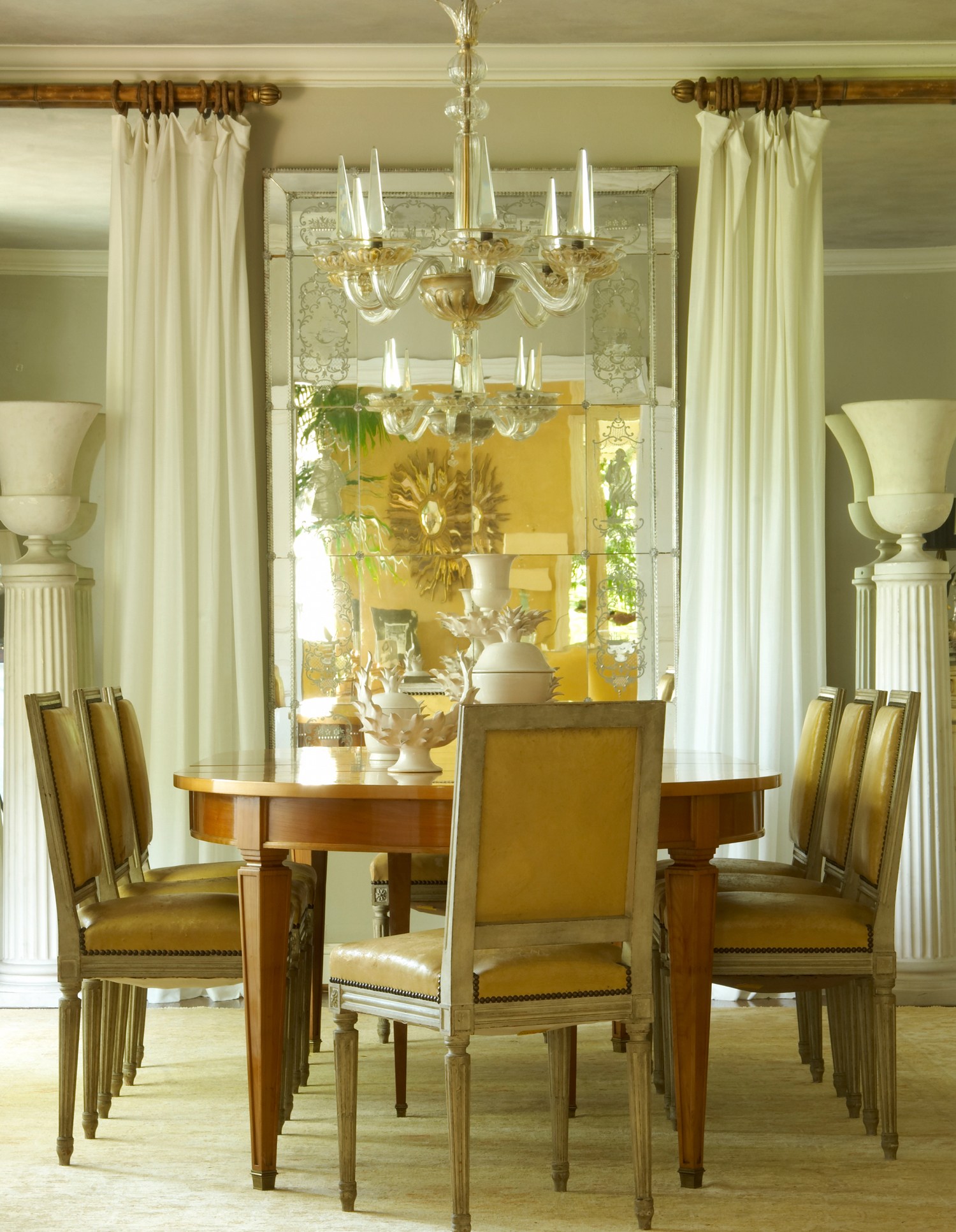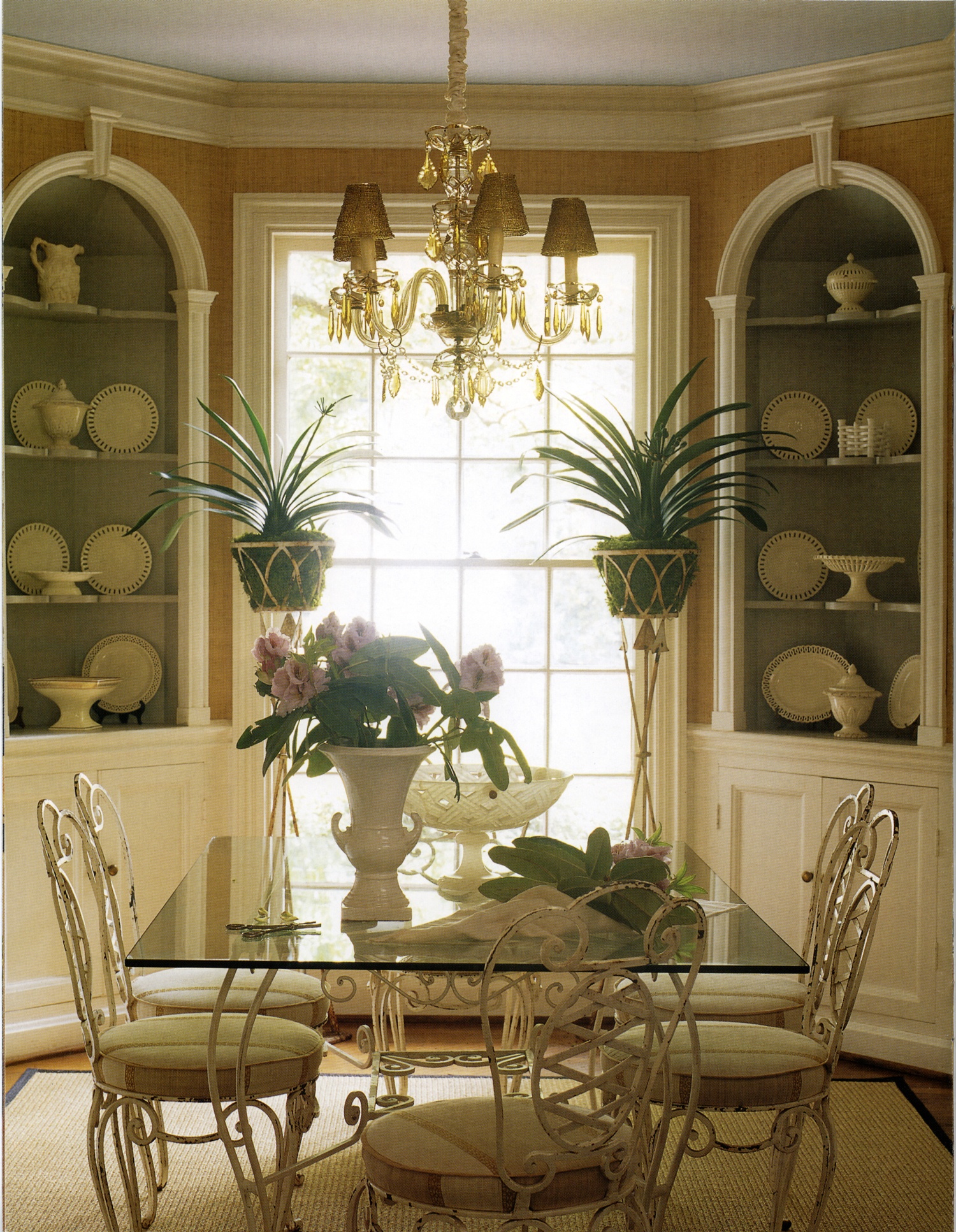 I've also been cooking a lot. We like to eat a late lunch and not a lot at night. I've done gumbo a few times, and I love anything with shrimp. We eat in different places. The dining room reminds me of all our trips to Europe. The chandelier I found in Paris by André Arbus, and the mirror is gorgeous, from the 1920s and made in Venice from the same dealer. The chairs are from the '40s with the original leather that I had restored. I love that golden yellow with gray with Donald Kaufman paint. The breakfast room has all the creamware with raffia on the walls. We mainly eat in the sun porch, which has a sofa in the Jan Showers collection covered in a Kravet fabric. And the chair in the corner is vintage but was the inspiration for a chair in my furniture collection with Kravet. My new collection with Kravet was supposed to come out in the fall, but it's been delayed.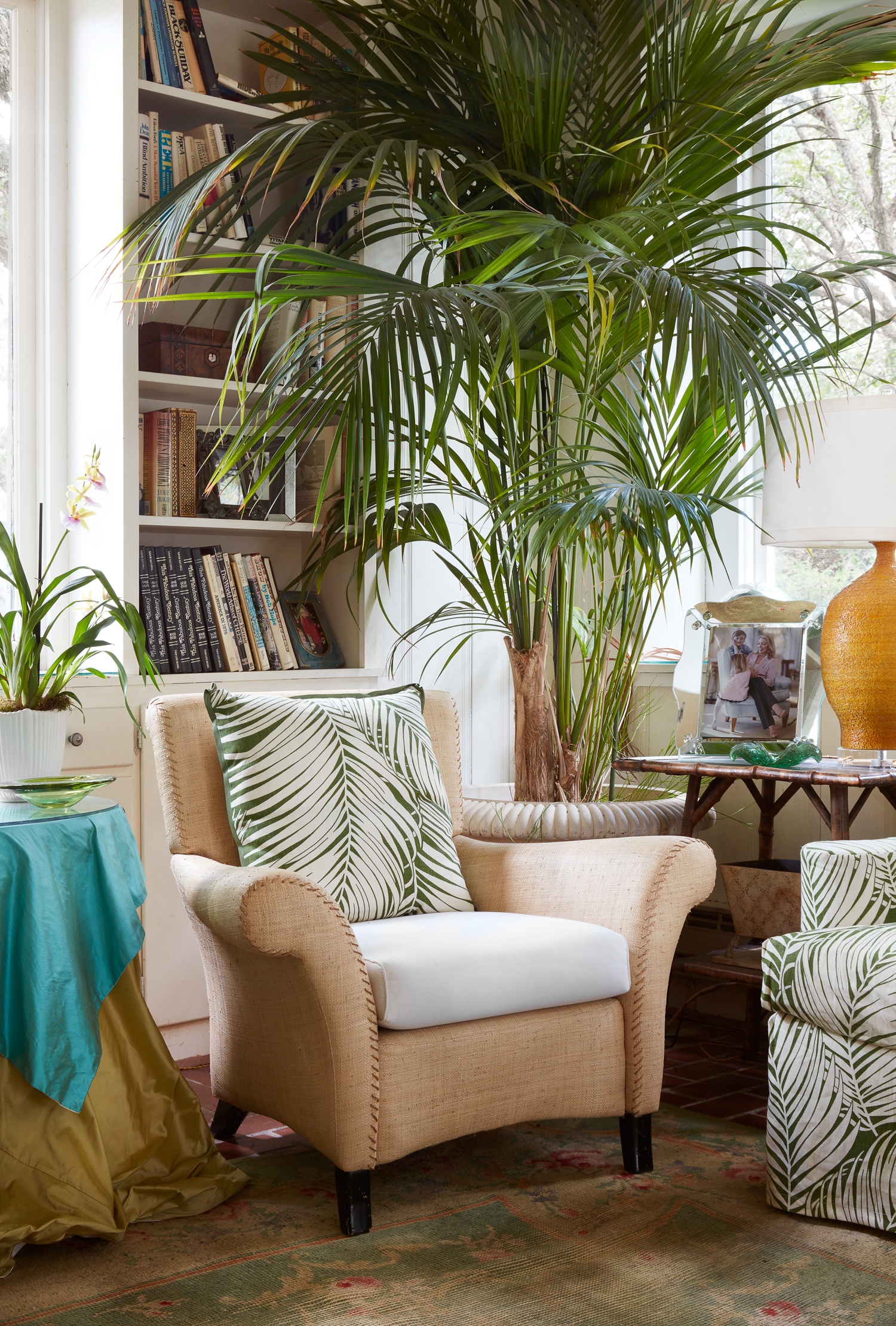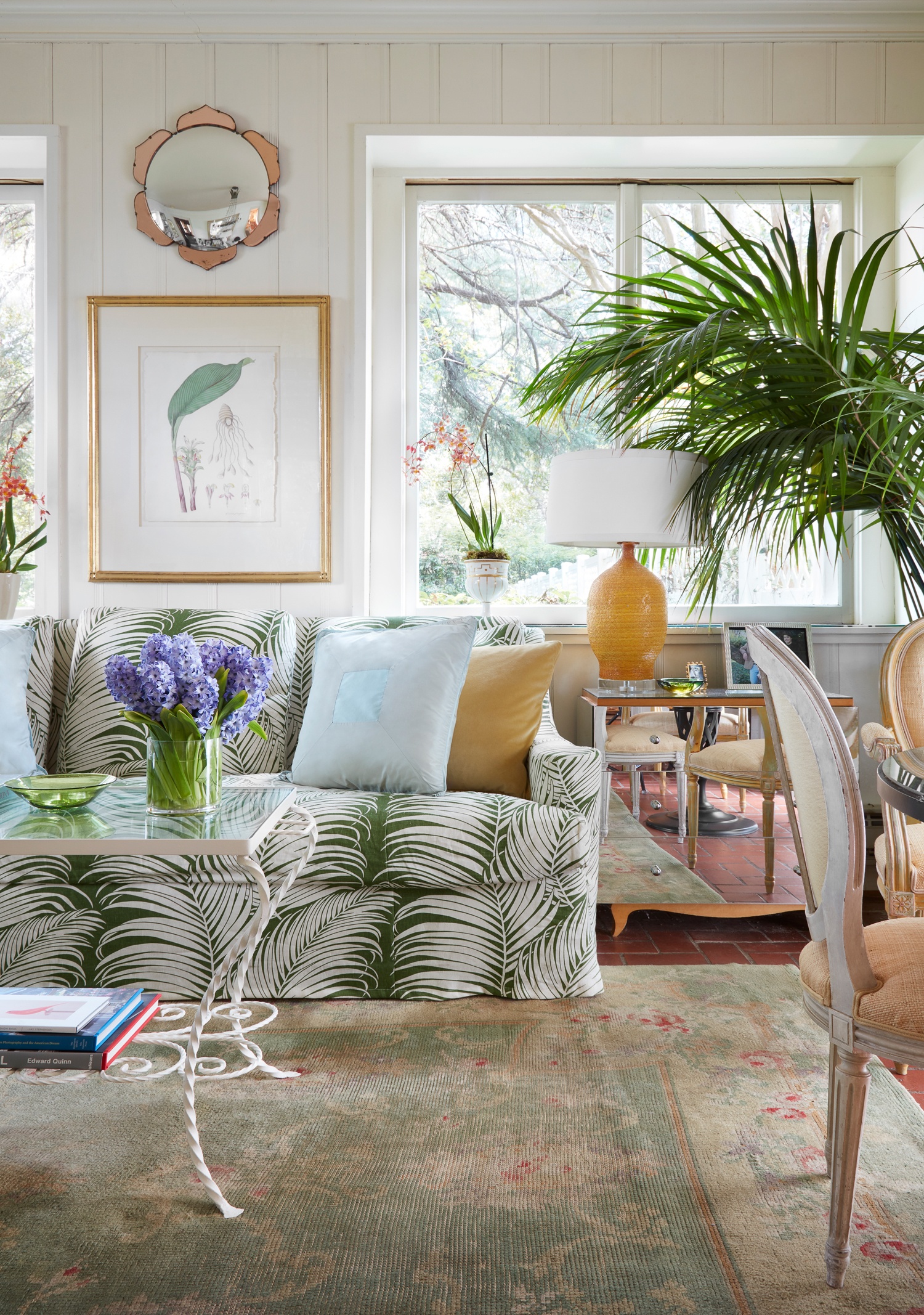 Being connected to the outdoors is so important right now. All the major rooms overlook the garden. When we first got the house there were 45 windows. We were young—I thought that was monumental because the drapery in it was really bad and all needed to be replaced. We like to head outside in the mornings before it gets too hot. We sit under the awning and have our coffee. The trees create a nice canopy and keep it pretty cool. Right now we're redoing all the outdoor lighting. We have 15 huge pecan trees. They're enormous now and are beautiful but messy tress, but they thrive there. So it's constant upkeep.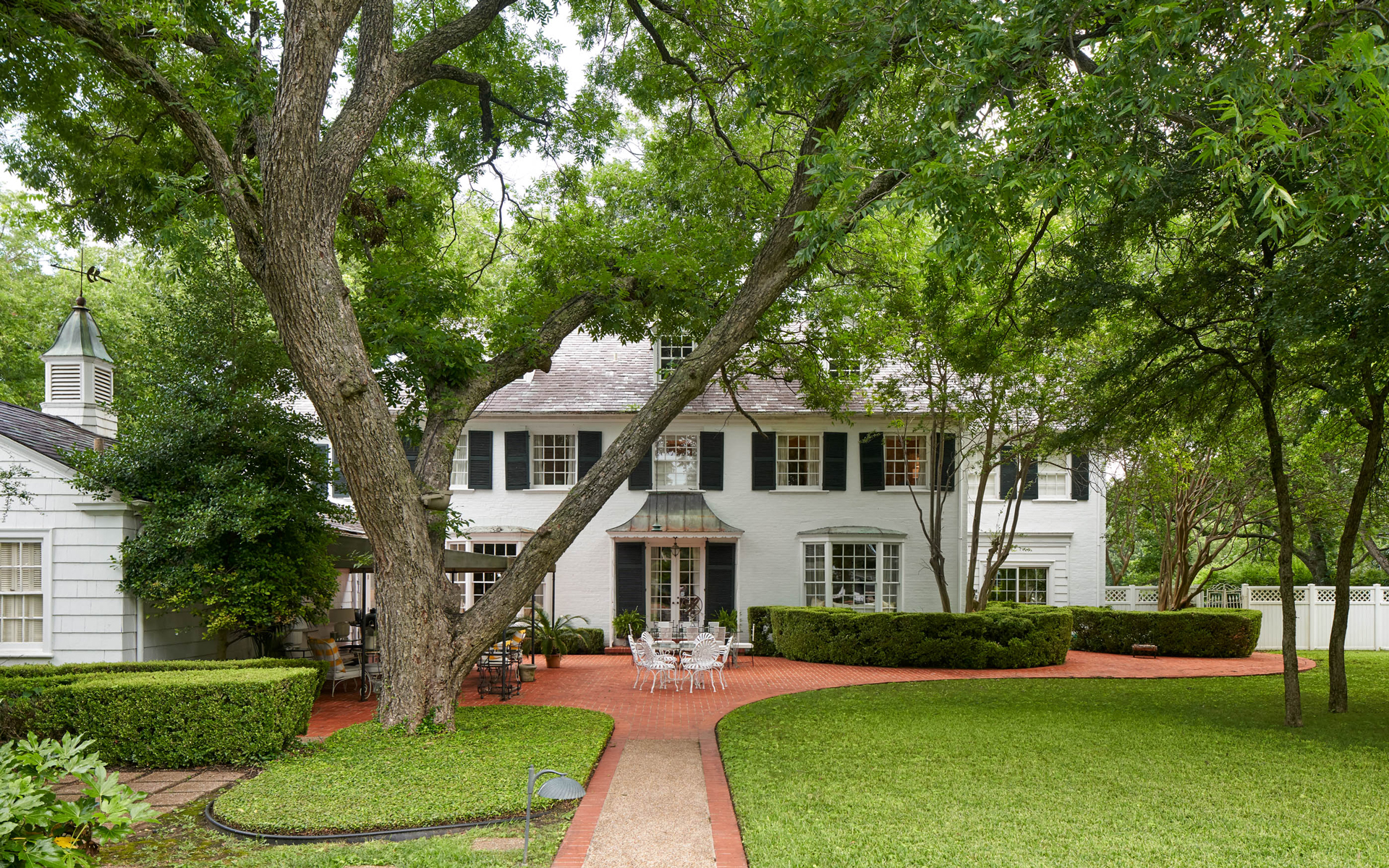 I've kept so busy during this period though. I've seen things that need to be done around the house and realized the kitchen really needs to be redone completely. Many of my interiors projects are ongoing, and I have another shipment about to arrive from my March buying trip in Europe. But what I'm most excited about is my new book, Glamorous Living. We handed in the manuscript just under the wire, so it will come out on time with Abrams in September. That's definitely something to look forward to.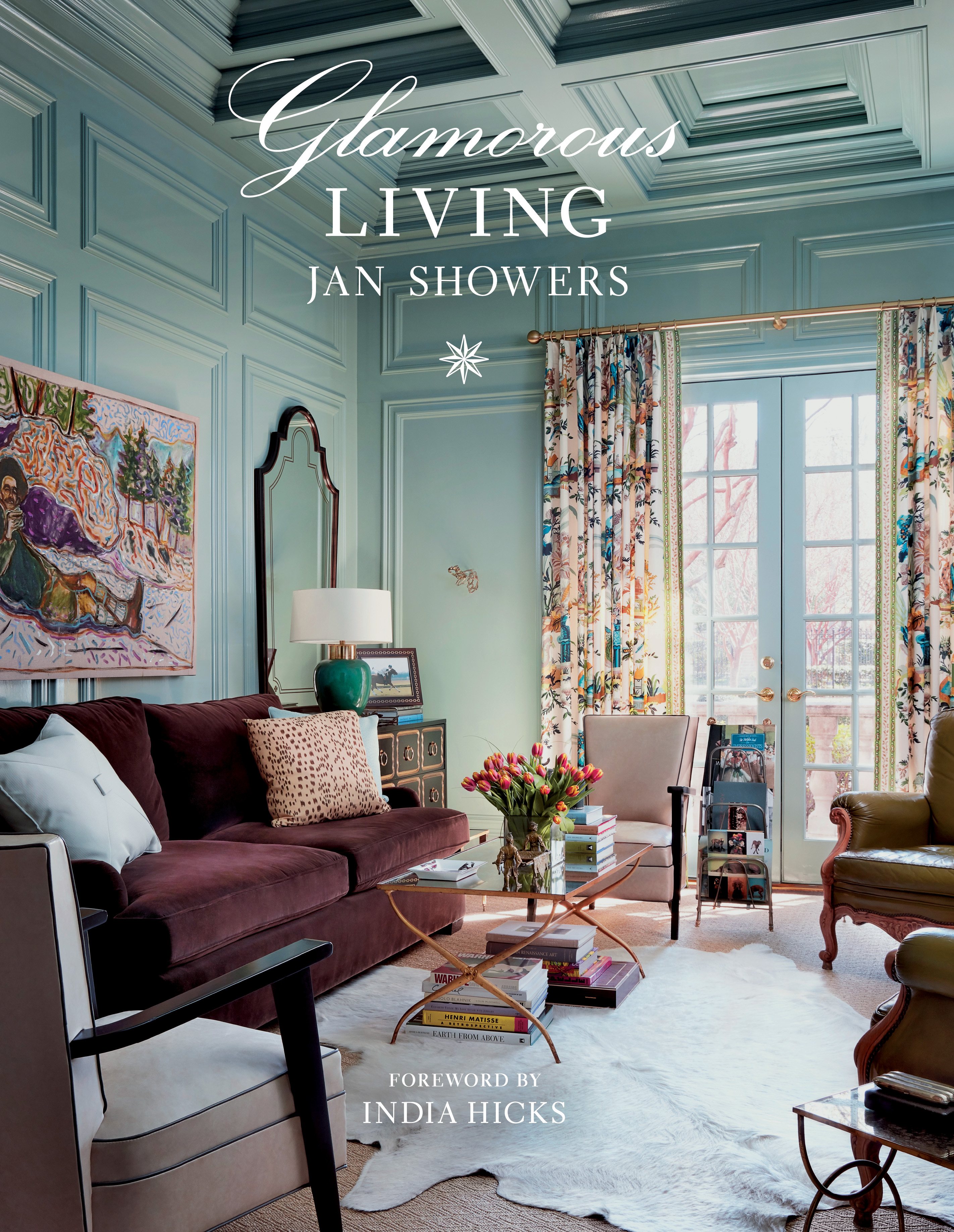 Next Post