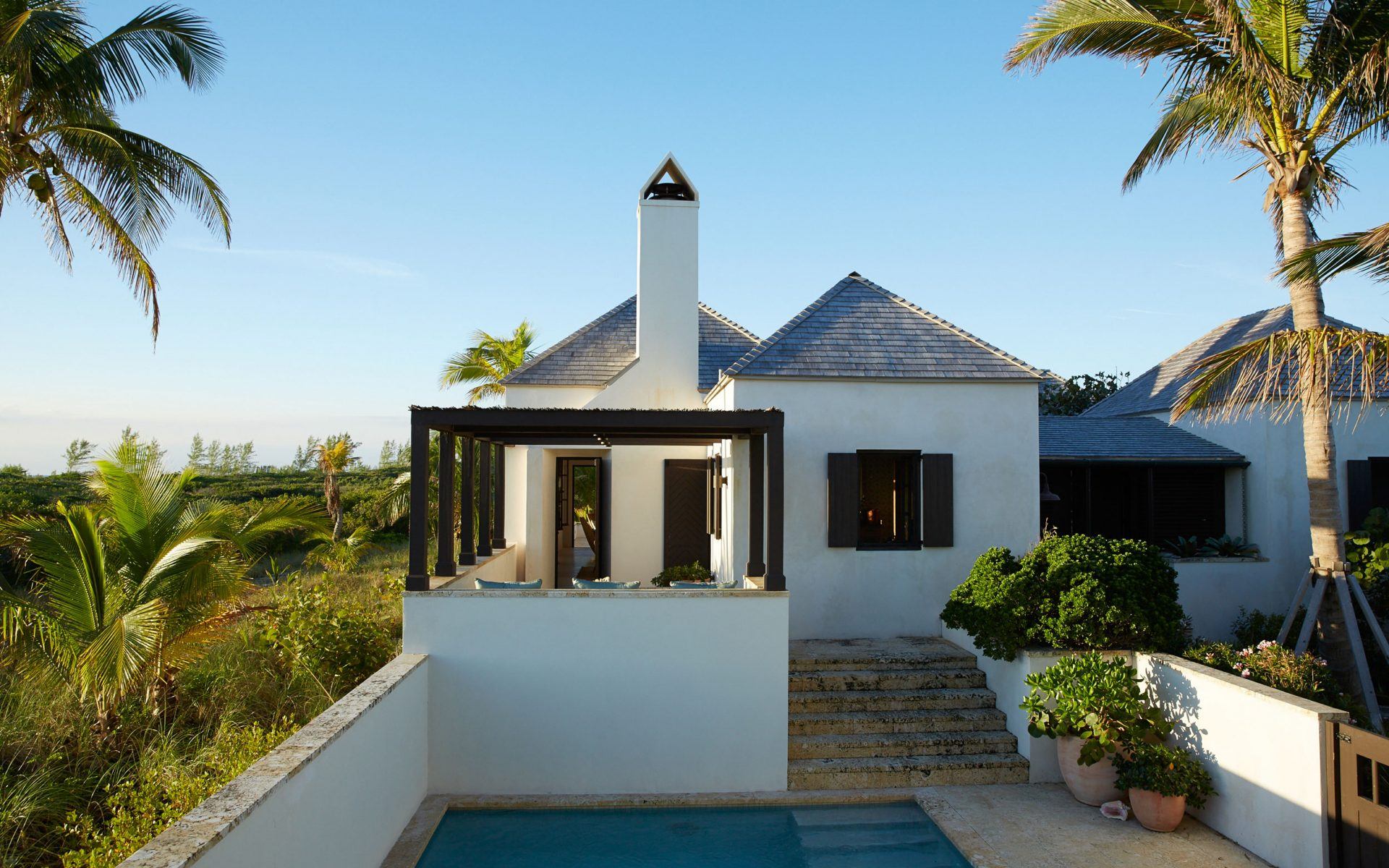 Why Designer Tom Scheerer Loves His Bahamas Getaway More Than Ever
The designer's chic and breezy home on Great Abaco Island provided the perfect escape during the pandemic
Known for his sophisticated take on unpretentious living, decorator Tom Scheerer brings warmth and wit to every project—from soigné city apartments to laid-back island getaways. Drawing on his deep-rooted knowledge of the principles of old-fashioned decorating, he mixes patterns and textures with a master's touch. His second monograph, More Decorating (Vendome), was released last fall and is filled with his extraordinary work photographed by Francesco Lagnese.
His roster of projects and passion for traveling normally has him bouncing around the globe—to Europe, across the U.S., and to the Caribbean. But during the shutdown, he stayed put at his home in the Bahamas for a personal record of eight weeks. Here, he shares how he fell back in love with his Abaco escape.
Recommended: Design Duo Tony Ingrao and Randy Kemper Love Their East Hampton Garden More Than Ever
It was a great experience. I really liked the rhythm of the days—getting up with the sunrise and going to bed with the sunset. My house is very small but feels spacious. It has all these courtyards that are meant to be used at different times depending on the wind and sun. I designed it to work with the weather and be open to the outside. You eat lunch on the shady side at high noon. You keep the windows open. We only turned on the air-conditioning five nights while we were there. Most people don't live that way in the Bahamas.
One of my schticks with living in the Caribbean is the practicality of how I like to live there. It really is barefoot, and I don't like to do too much fussing with the house. The floors were designed to look like sand, so if someone tracks some in it's not a big deal. Everything has a slipcover that goes in the wash or is Perennials or Sunbrella. All the walls are the same white color, and all the shutters are the same brown, making paint touch-ups simple. The walls in the kitchen are tile. It's all very indestructible and meant to patina, and not take a lot of maintenance. No glass tabletops or shiny metal. I kept congratulating myself on how I managed to go without a housekeeper for six weeks.
Normally, when we're there we have houseguests, and with that comes the pressure of entertaining. This time, there was no menu planning or running to the store. It's a lot of work in the Caribbean to have houseguests—especially when you do your own cooking. The main revelation of the experience was being there by ourselves not in entertaining mode. I didn't wear pants for eight weeks. Either my underwear, bathing suit, or nothing. Swimming with no bathing suits was quite nice too. And no shoes. I noticed other decorators dressing for dinner on social media, not me.
We did sit at the dinner table for lunch and dinner. Usually I'm planning for guests and giving variety to all the menus, but I wasn't putting on the dog for people. At first, we thought this is an opportunity to not get fat. But the more confident we got that the store wasn't going to run out of food, the more we started to eat. We also have incredible fresh food from our caretaker, who has a hydroponic farm and grows the best fruits and vegetables. He was really the only person we saw the whole time.
I did have work to do every day. In the beginning I was a little paralyzed but then got into the swing of the Zoom meetings. I've stayed remarkably busy with ongoing and new projects. I had created a little office space in one of the bedrooms with a vintage yellow-lacquer desk and built a little niche to house this desk. For the first time, I put it to good use. Between the Zoom calls, Words with Friends with my 88-year-old mother, and renewed friendships with FaceTimes, I didn't feel disconnected at all. I felt more connected, and we had something to talk about in a weird way.
I also didn't feel inactive, especially with so many long beach walks. We like to go "garbaging." We never leave the house without a plastic bag, and there's always stuff on the beach to pick up. It's not particularly bad where we live, but there really is an ecological emergency. No piece of garbage is too small—even infinitesimal pieces of blue plastic. On one such walk, with my plastic bag in my hand, I bent over to pick up a piece of paper, and it turned out to be my own business card from six years ago. It was the freakiest thing that's happened to me in my entire life. It's like finding a message in a bottle you threw into the ocean when you were a child.
The other interesting thing is, before this whole thing happened, I was down on the place. Last season I only spent ten days there the entire year. Then I had a turnaround over these eight weeks. What a great place to be in this disaster! We couldn't have been safer or more isolated without feeling too lonely. It was miraculous and wonderful, and now I can't wait to go back. Once we start having houseguests, I'll have to start wearing pants again, though.
Next Post