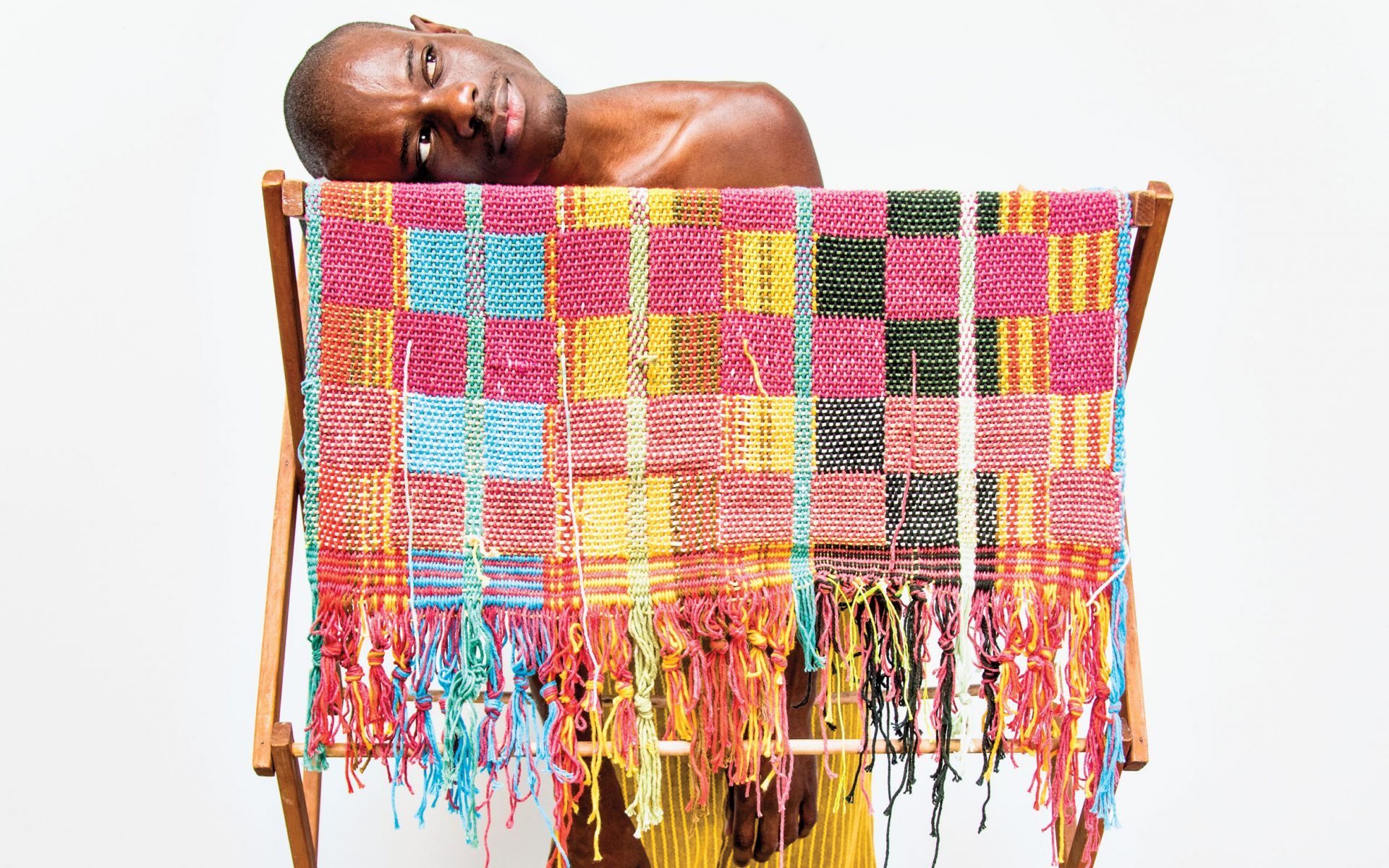 Diedrick Brackens Weaves Powerful Stories Through Tapestry
Following his first New York solo museum show, the artist will mount exhibitions in Tennessee, California, and finally, at Art Basel in Miami Beach
For centuries, tapestry has been one of the most powerful forms of storytelling. And there are many tales to be told in the work of Diedrick Brackens, a Texas-born, Los Angeles–based artist who is bringing the medium into the 21st century with striking contemporary weavings that explore the complexities of being black and queer in the U.S. today.
Last fall, Brackens won the Wein Prize from the Studio Museum in Harlem. At Frieze New York, his weaving When No Softness Came (2019) was snapped up by the Brooklyn Museum. "There aren't really any images of black folk in the countryside, and I wanted to challenge that," says Brackens, who encodes his work with allegory, symbolism, and myth to convey difficult subjects.
His process draws on the traditions of textile art, stitching together the long history of quilt making in the American South, the richness of Flemish tapestries, and the vibrancy of West African strip weaving. "I wanted to engage with African textiles to think about where my ancestors would have come from, even if it was centuries removed," Brackens says. "In a way, these are all the things that make up American culture."
His most recent large-scale pieces are currently on display in a significant exhibition, "Darling Divined," in the lobby gallery of the New Museum, marking his first solo museum show in New York. Brackens achieves his unique color palette—shades of pink, lavender, and ocher—by hand dyeing all the cotton before beginning work on a traditional loom, where he embraces the imperfections.
Recommended: How Artist Farah Atassi Creates Her Spirited Canvases
Up next are an exhibition focused on the significance of flags, at Tennessee's Sewanee: The University of the South; a residency at the University of California at San Diego in the fall; and a body of new wall hangings for his gallery Various Small Fires for Art Basel in Miami Beach. "It's a meditative, relaxed state, and you get to disappear from everything else and go into a trance," the artist says of his process. "I always compare it to a long road trip. You just drive."
Recommended: 6 Key Moments from Cindy Sherman's Remarkable Career
A version of this article first appeared in print in our 2019 Fall issue in the section On Our Radar. Subscribe to the magazine.
Next Post