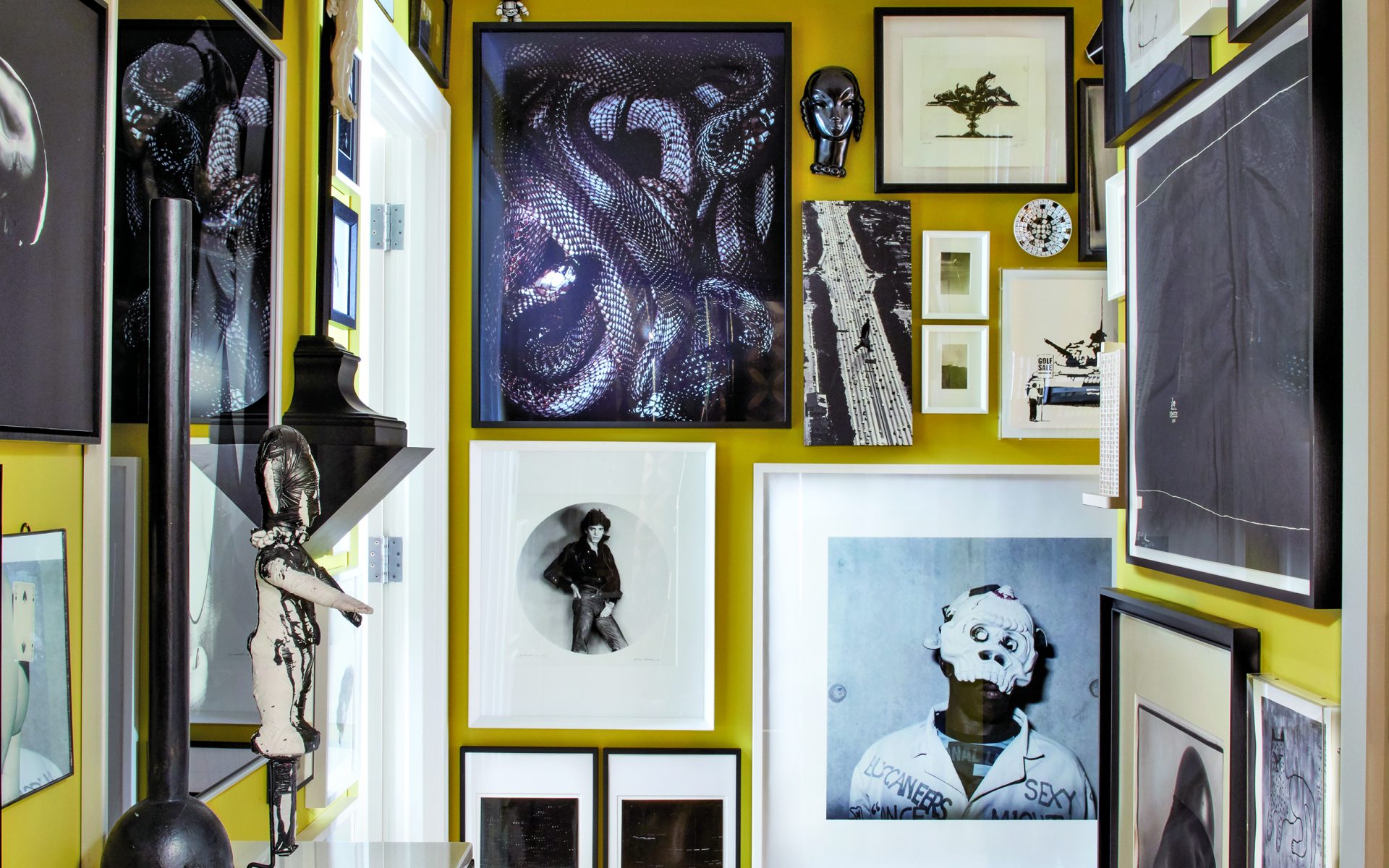 Tour Hubert Zandberg's Treasure-Filled London Flat
The designer's home is an exercise in aesthetic exuberance
Go ahead and cue the clichés: More is more, or taking it up a notch, too much is never enough. Because it's all true when it comes to Hubert Zandberg, the aesthetically voracious, insatiably acquisitive South African–born designer whose latest London apartment is a re­fined study in ­fill-it-to-the-brim exuberance. While his client projects—whether a historic Paris hôtel particulier, a Tuscan villa, or a penthouse in Moscow—span a wide stylistic range, his own homes consistently betray the soul of a dyed-in-the-wool maximalist.
"I did really slightly overdo this place," Zandberg says of his two-bedroom apartment, located in a recently constructed building near his office in Notting Hill. "I thought I could push the boundaries in terms of sheer quantity of items."
At just 850 square feet, it's much smaller than his previous London residence, a historic fi­ve-level former canal keeper's house, where displays of art, decorative objects, natural history items, taxidermy, and assorted curios lent the space a distinctive cabinet-of-curiosities vibe. While quite a few pieces made the move to his new home, Zandberg was eager to live with recent acquisitions that had been in storage and let contemporary art really take center stage. "I had a need for something a little bit fresher and wanted to force a change," explains the designer, who also bought a second apartment in London's East End that will serve as more of a weekend base—"my country place," as he puts it.
Inside the Notting Hill home, the visual barrage begins in the entrance hall, where dozens of black-and-white artworks, including photographs by Guido Mocafi­co, George Dureau, and Pieter Hugo, are arranged floor to ceiling in a dense salon-style installation. Adding to the arresting effect is vivid yellow wall paint inspired by the canary-colored stairwell at 10 Downing Street, only "slightly updated with a bit more acid, a bit more green," Zandberg says. He compares the space's initial impact with that of a busy pattern on a fabric. "It becomes an overall concept," he says, "but then you can start to peel away the layers and engage with individual pieces."
Recommended: Edgy Art Meets High Design at This Francis Sultana–Designed Home
When in London, Zandberg tends to buy art from a few preferred galleries—including Maureen Paley and Carl Freedman—and he's a familiar face on Portobello Road on Saturdays and on Columbia Road and around Shoreditch on Sundays. He also makes frequent trips to his favorite hunting grounds in Paris, Berlin, and Cape Town, where he keeps what he calls "lock-up-and-go apartments." Zandberg jokes: "Some people have a sex life. I have a shipper who's on speed dial."
Given his passion for art and objets, it's tempting to say that Zandberg designs with a collector's mentality. But it's equally true that he collects with a designer's mentality. "I often collect with a bigger narrative in my mind," he says. "It's the combinations of items and the dialogues between them that most interest me."
[Slideshow: See more photos of Hubert Zandberg's exuberant London home]
In the apartment's L-shaped living area, Zandberg deployed an open bookshelf as a divider to help create three distinct spaces, each with its own feel and interplay of pieces. Outside the small and minimally used kitchen ("the oven is mostly for Champagne storage," Zandberg admits), he composed a sitting area where a bamboo daybed and a Brutalist mosaic-top cocktail table are joined by a vintage Brazilian rosewood armchair and a 1960s geometric bar cabinet.
Rounding out the eclectic mix of accoutrements are a wall-mounted Paul Evans mirrored cabinet, a tribal mask from Liberia, and photographs by Edgar Martins and Wolfgang Tillmans, an artist of special importance to Zandberg. "I adore Wolfgang's work—he really captures the zeitgeist," says the designer, whose social circle overlapped with the artist's when they were both starting out in London. "When I look at a picture by him, that's my time. ­Those are the pictures of my life."­
Recommended: How Art Advisor Elizabeth Margulies Is Blazing Her Own Trail
There's also a small dining area—where the table is as likely to be arrayed with art objects as it is with plates of food—and a lounge-like space outfitted with what Zandberg describes as "midcentury, almost gentleman's clubby paneling" and "furnishings that are a bit masculine." Th­is is where he spends most of his time, on the 1970s Knoll sofa or in the Eames lounger, reading or watching TV, perhaps enjoying a cocktail from the vintage bar trolley in the corner. "I love retro barware—the playfulness and kitschiness of it—as well as the juxtaposition of high and low art," he says. "It's about not taking things too seriously."
Even in the bedroom and dressing room, where the mood is a bit more restrained, Zandberg inserted hits of eccentricity and whimsy. Next to the overscale canopy bed, the dashing refinement of a Tommi Parzinger horn mirror and a Sergio Rodrigues rosewood table is balanced by the idiosyncratic expressiveness of a hand-molded vase by Johannes Nagel, one of the ceramic artists, along with Sebastian Stöhrer, who count among Zandberg's latest obsessions. In the dressing room, he devoted an entire wall to artwork depicting women like Courtney Love and Faye Dunaway. Zandberg calls it his "wall of girls—portraits of strong women that I just thought would be fun to hang together."
[Slideshow: See more photos of Hubert Zandberg's exuberant London home]
With this apartment, what Zandberg wants to avoid at all costs is the sameness and suffocating tastefulness of so many interiors. "­The pieces may be stunning and you love everything in it, but why does it not sing? Why is it not capturing you, not filling you with joy?" For this anything-but-ordinary designer, with his ready embrace of kitsch, contradiction, and cliché, it's how you put it all together that really matters.
A version of this article first appeared in print in our 2018 Winter Issue under the headline Mix to the Max. Subscribe to the magazine.
Next Post