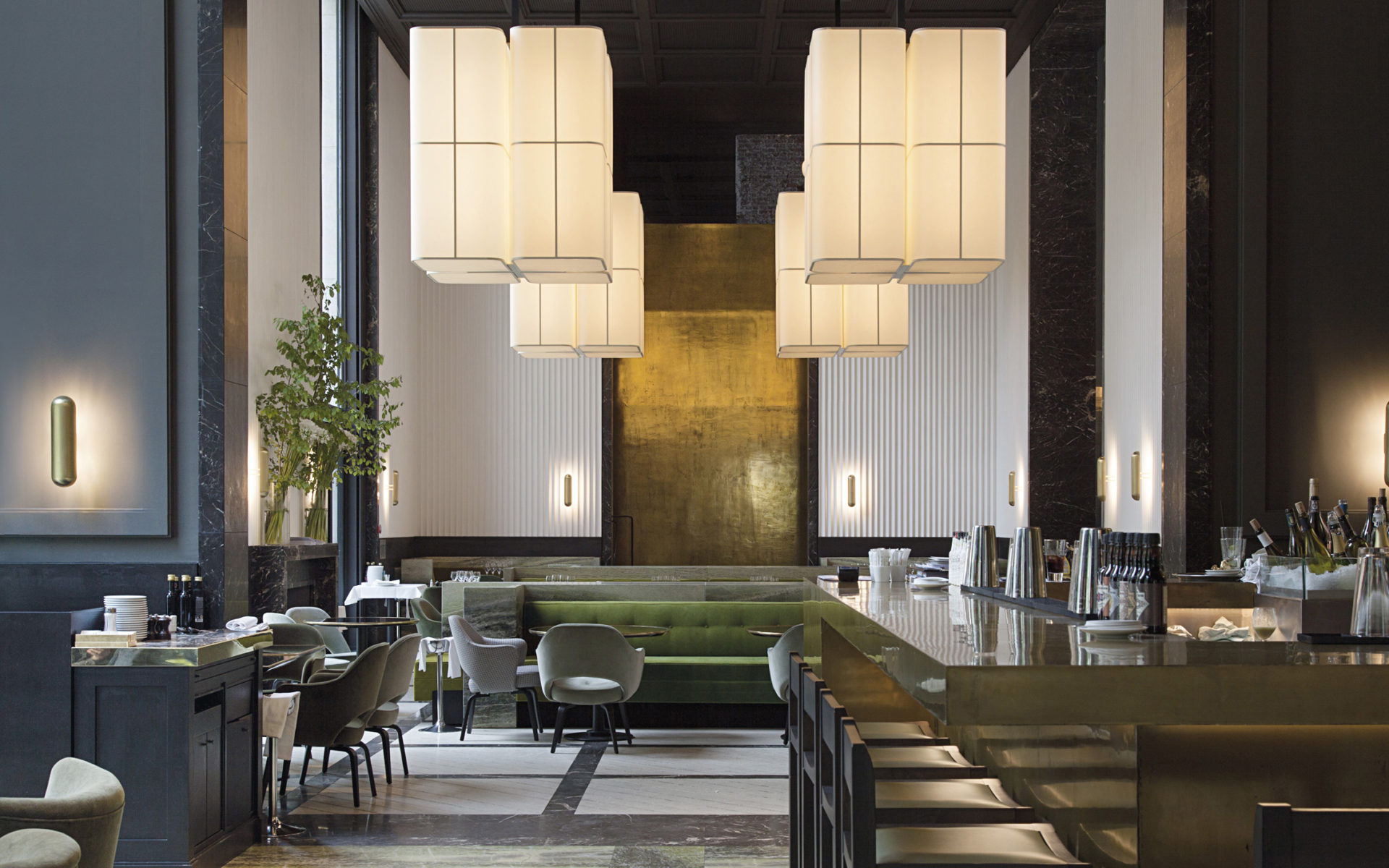 How Ozone Became the Design World's Go-To Lighting Company
For their high-wattage creations, Etienne Gounot and Eric Jähnke combine traditional craftsmanship with the latest LED technology
Etienne Gounot and Eric Jähnke love to recall the time, in 2005, when the owner of the legendary Paris restaurant Taillevent requested they meet tout de suite. The pair, whose lighting-design company, Ozone, was still establishing itself, had recently installed a fixture in one of the dining rooms. "We were nervous that something had gone horribly wrong," says Gounot. As it turned out, their piece, a chic mirrored circle suspended from a tripod of bronzed aluminum arms, was so successful that it made the rest of Taillevent's lighting look bad. They were hired to replace everything.
Back then Gounot, whose French sensibility commingles with the minimalism he embraced after living in Asia, and the German-born Jähnke, who cites the Bauhaus as a strong influence, were still making lighting in Gounot's apartment. But a tiny shop in the Marais soon followed, and it didn't take long for blue-chip designers and architects like Joseph Dirand, Jean-Michel Wilmotte, Alberto Pinto, and Victoria Hagan to take notice.
What distinguishes the duo's designs is how they combine traditional craftsmanship with the latest LED technology and a playful spirit, which they attribute, in part, to their obsession with the work of Paul Klee. Tubes, cubes, bubbles, and circles define their pieces, each executed as exquisitely as the artist's paintings. Designers love the pair's ability to create beautiful light using efficient but sometimes harsh LEDs. "We construct the lamp around the light, which is the opposite of many designers," explains Jähnke. "For each frequency, we measure the quantity of light that is emitted and compare it to the sun. Natural sunlight is what we try to copy."
Working out of a studio in Paris's Arts et Métiers, an enclave of artists and designers, Gounot and Jähnke have recently collaborated with Dirand on interiors for the Surf Club near Miami Beach and with Wilmotte on the Château Pédesclaux winery in Bordeaux. They've also done high-wattage retail commissions in Paris for Hermès and for the Elie Saab flagship, where they devised a dramatic three-story asymmetrical structure with cubic lights to illuminate the grand internal staircase. Meanwhile, a selection of Ozone's latest creations can be seen at the Par Excellence showroom in New York City through the end of 2017.
Ever pushing boundaries, Gounot and Jähnke have been experimenting with fixtures that use polymer-coated paper, including a group of striking geometric lanterns made for the trendy Paris restaurant Monsieur Bleu. "The polymer gives strength to the paper, which allows us to create designs that are large but lightweight," says Gounot. "Plus, the paper evokes the Japanese design that we so love. The diffused light is incredibly poetic." ozonelight.com
Next Post