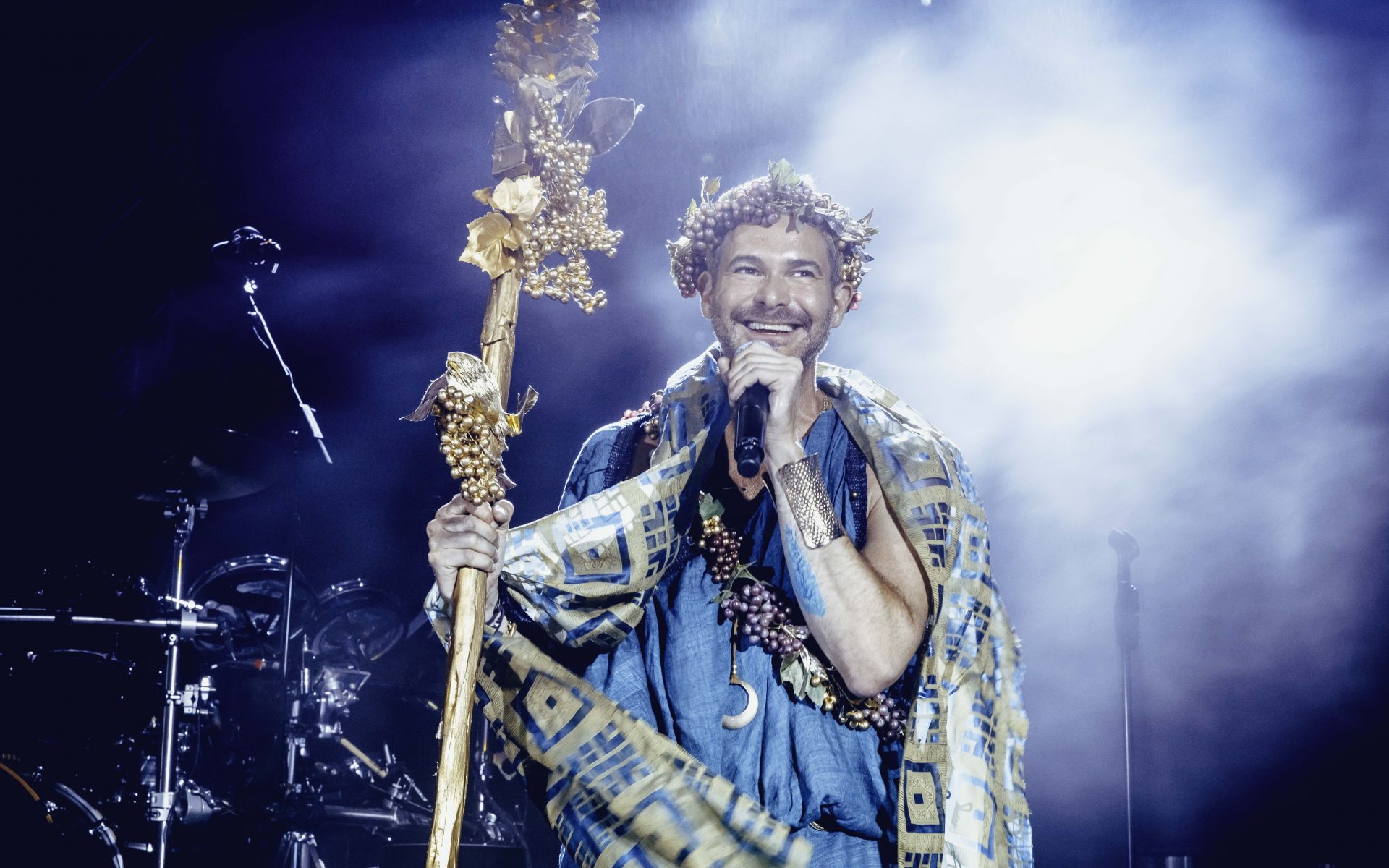 How Bronson van Wyck Became His Own Best Creation
The event planner extraordinaire has thrown parties for Presidents Obama, Bush, and Clinton
Event planner Bronson van Wyck's Instagram tag aptly reads "Born to party. Forced to work." With a pedigree tracing back to New York's founding Dutch families, a childhood spent on an Arkansas farm, a degree from Yale and a former career as a protocol aide to Ambassador Pamela Harriman in Paris, Van Wyck is the perfect ring master for high-flying clients including Presidents Obama, Bush, and Clinton, Daphne Guinness, Beyonce, Hermes, Bulgari, and Chanel.
In recent years, he has put his skills to use on his own celebrations, most recently, for his birthday party, "A Homeric Ball," held earlier this month on the Greek island of Mykonos, Van Wyck channeled the gods and goddesses of Homer's Odyssey. The invitation to the event, which was staged in the ruins of a Doric temple at an abandoned iron factory perched over the sea, urged guests to "reveal yourself" and "be epic." They did and they were treated to surprise performances by Duran Duran and rapper Flo Rida.
Here Van Wyck talks to Galerie about the very serious business of having fun and how his unique background prepared him to be the go-to event planner to the most extravagant stars and the subject of his own work.
Galerie: Long before the inception of Van Wyck & Van Wyck, you hosted private parties around the globe. Tell us about your first major event and what you learned.
Bronson van Wyck: Well, we had been hosting parties at home on the farm in Arkansas for as long as I can remember. Creating things from scratch or creating amusement was part of our everyday idea of hospitality. It was just part of the rhythm of life for us. My first party as a host was probably during college.  I was writing a biography of Edie Sedgwick for my senior thesis in the history department. I lived in the former studio of the architect Paul Rudolph, in an attic of a former crack house. On the 30th anniversary of the day Andy Warhol met Edie Sedgwick, I covered the whole place in tin foil. I called it a dinner, but all we served were handles of vodka frozen in blocks of ice, fresh fruit for garnish, and bowls of cigarettes. The best parties take people somewhere they didn't plan on going, and for that night, no one thought they were going to go home hungry but happy.
Recommended: How Portia de Rossi Plans to Democratize the Art World
How did your passion for planning parties turn professional?
I was still out in LA trying to find my way when my friend Marina Rust called needing help with her wedding which was on a small island off the coast of Maine. I called my mom and asked if she would be up for planning it with me.  We went. It rained 10 inches, it took 12 hours roundtrip on a ferry just to fetch a head of lettuce, and we did all of the flowers from a bathtub. But somehow it all worked, and we were hooked.
How did your time as a protocol aide to Ambassador Pamela Harriman in Paris prepare you for your role as a world-renowned event planner?
Mrs. Harriman had this incredible ability to make the person she was talking to always feel like they were the center of the world, like they existed and there wasn't any other person on the planet. On a personal level—and so much of diplomacy is personal—that was very effective. She was really focused on the business side of entertaining. She had thrown a lot of parties; for her, it wasn't about throwing a certain kind of party anymore, it was about, 'How are we going to use this party to accomplish the political objective or the diplomatic objective or the business objective.' That was sort of the beginning of an understanding on my part that graciousness and hospitality certainly underpin everything that we do as a company, but that events can also be used to get things done. 
Recommended: Elizabeth Taylor's Beverly Hills Retreat Lists for $15.9 
What role do each of your family members play in the company?
Mom is an endless fountain of ideas. If she doesn't know something, she'll spend hours studying and learning and by daybreak she is an expert. She doesn't take no for an answer and will find a way to make it work and make it beautiful. If I am a sprinter, my sister Mimi is the triathlete. She runs our Charleston office, is a mother of two, and truly embodies hospitality at another level. She works so closely with our clients that she develops a shorthand with them. She understands their idiosyncrasies, their personalities, and even those of their guests. 
Is there a Van Wyck "signature move?" A tell-tale sign we're at one of your events?
Our best move is to embody the style of our clients.  We are chameleons, constantly in pursuit to know our client better and represent their loves, their hobbies and their passions. So I'd like to think that the only way you would know it's a Van Wyck party is not by a single detail but simply the fact that you walked away knowing something new about the host that you didn't know before.  That and a hangover.
From where do you draw inspiration? Travels, books, museums? Can you give examples of how you implement these ideas?
Hotel lobbies; they always feel a bit like a stage, there are people who are stressed, relaxed, excited, jetlagged and always a random mix of cultures and languages. I've always loved The Delano South Beach lobby. It cleanses the palate. Opera; don't care much for the opera but LOVE the sets!  The mirrors hanging overhead in Madame Butterfly give the audience a bird's eye view of the stage.  I love to use mirrors in party tents – on the wall, embedded in foliage, hanging from the ceiling. They open up the room, reflect light and give curious guests the chance to take an unassuming peek at one another (or themselves).
Can you describe events in which you've incorporated your client's artwork or private collections of any kind?
A Spartanburg, South Carolina client of ours has a collection of several hundred pieces of Southern art. Together we designed a gallery wall in the dinner tent for their daughter's wedding. Set on a massive wall that was over a 100 feet long painted with a wash of green, it was the perfect reflection of the whimsical and adventurous spirit of the family. Hidden among the paintings were secret doors that opened to a night club.  After dinner, the doors opened, and the dancing began.
Recommended: Inside the Party That Raised Millions for the Elton John AIDS Foundation
What logistics are involved when working with valuable art? 
The family sent us photos and dimensions of their collection. It is housed in multiple museums and multiple warehouses all over the country. We requested the specific pieces that were selected for this installation. Then we had to weigh each piece and work with a structural engineer to build a wall that could support the weight of the artwork. The artwork could only be on site for 16 hours so an army of curators and white glove professionals came in overnight before the big day to hang each work. The room was sealed and monitored with multiple gauges to keep the area at a precise temperature. Finally, we designed gallery lighting from various points on the ceiling to properly highlight each and every piece. The moment the last guest left the room to enter the after party, it was all removed immediately!
What does a cozy dinner chez Bronson (city and country) look like?
City: lots of candles, dark and stormys, chicken pot pie, peanut butter ice cream.
Country: barefoot, spicy margaritas, summer tomato salad, fried chicken, bonfire.
What entertaining trends are you seeing?
Layered maximalism; prints on patterns on color on color.
What should one always have on hand for impromptu entertaining?
Tequila, citrus, kettle cooked potato chips, good olives. Every good Southerner I know keeps cheese straws in the freezer. And ice. Good hosts think about food. Great hosts think about refrigeration.
In descending order, what five-to-ten elements are vital to a stellar production?
1. A great guest list.
2. Stiff drinks (always served fast).
3. Lighting, especially lots of candles.
4. Keep your guests cocooned. In the summer, this means ice, shade, and bug spray!  In the winter it might be cozy throws, a fireplace, and a strong drink.
5. A relaxed host. Remember that your friends are there to see you have fun.
6. A surprise: This is a great ally for a host.
SaveSave
Next Post