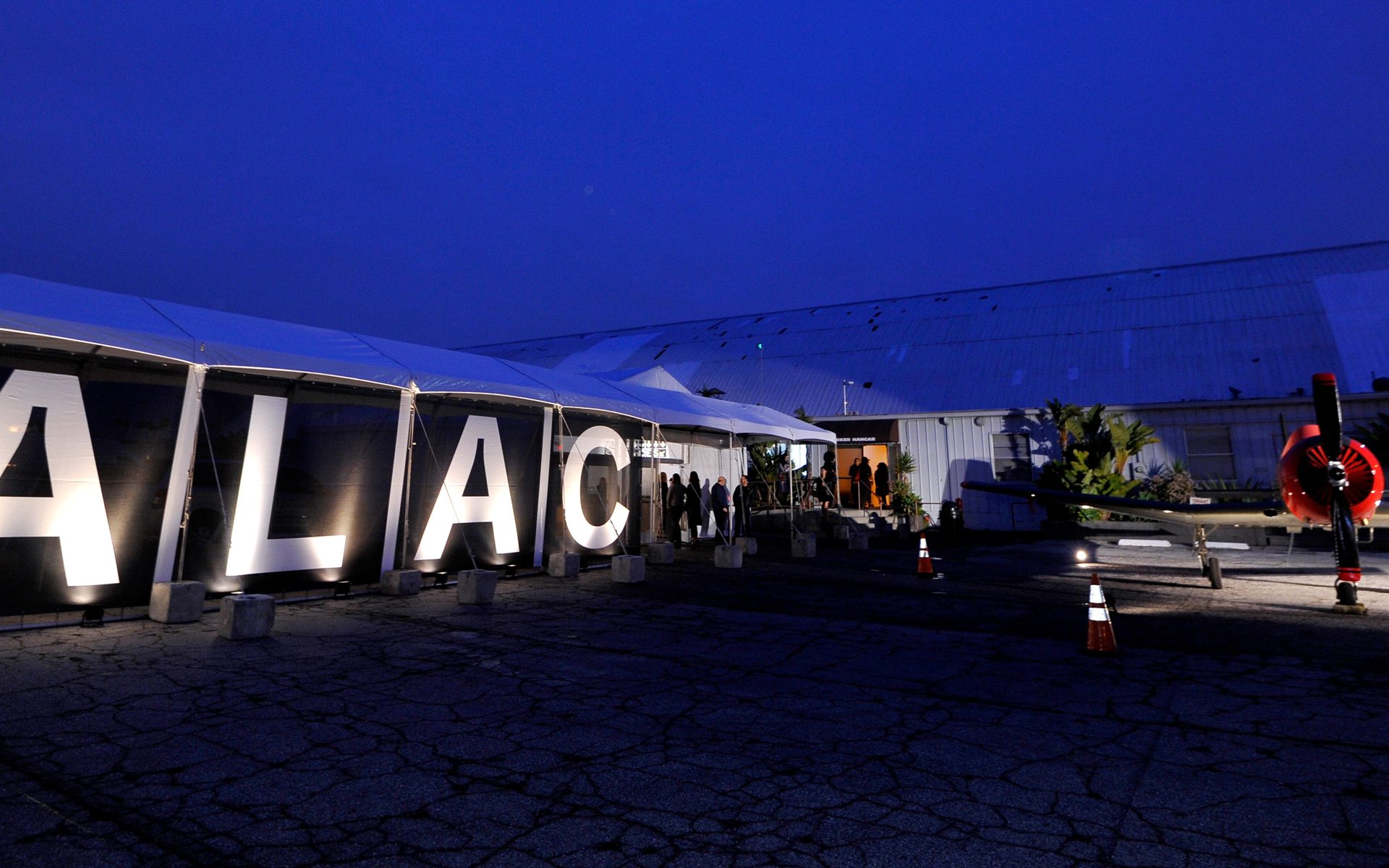 How Art Los Angeles Contemporary Fair Is Reinventing Itself for 2019
This year's edition sees a reimagined design by Olson Kundig and a slew of exciting new galleries
On a rainy Wednesday afternoon in Los Angeles, a queue of collectors lined up at the door of an airplane hangar in Santa Monica for the tenth edition of Art Los Angeles Contemporary (or ALAC, as it's called locally). For the past decade, the fair—which is known for its youthful spirit and focus on Los Angeles galleries and artists—has been an integral part of nurturing a thriving art scene and market in the city. But as the City of Angeles welcomes the inaugural edition of international mega-fair Frieze along with the more experimental outfit Felix at the Roosevelt Hotel, some wondered if it was a sign of impending doom for ALAC or an opportunity to reach a wider audience.
"We have always prided ourselves to be a reflection of what's going on, especially in Los Angeles," fair director and founder Tim Fleming tells Galerie at the preview. "In the face of the other fairs coming and the shifting and expanding landscape, that hasn't changed. It's also great to have a lot of visitors here that I haven't seen before, including a lot of New Yorkers and British collectors."
The mood at the opening on Wednesday, February 13, was jovial, with collectors Beth Rudin de Woody, art critic Jerry Saltz, and Joel Lubin spotted wandering the aisles. Taking place through February 17, this year's edition sees more than 60 galleries—ranging from established to emerging—with its usual strong focus on L.A. (Twenty galleries are based in the Los Angeles area.) And while local heavyweights David Kordansky, Kayne Griffin Corcoran, and Night Gallery jumped ship to show at Frieze, there were some exciting new galleries to take their place.
New York collector Peter Hort, the son of the prominent art patrons Michael and Susan Hort, was at the booth of Praz-Delavallade, which had a series of works by local talents Marnie Weber, Ry Rocklen, and Matthew Brandt. "I'm not coming here to see the same things I could see in New York," says Hort. "I'm looking for new talent."
Recommended: The Ultimate Art Insider's Guide to Los Angeles During Frieze Week
Two big updates to the fair this year, signaling an attempt to freshen its image, included a magnificent redesign of the hangar by the award-winning Seattle architectural firm Olson Kundig, which opened up the layout so collectors could flow through with ease, and the appointment of a new managing director, Charlotte Walters, who was formerly the associate fair director of the New Art Dealers Alliance (NADA), the longstanding organization dedicated to supporting new voices in contemporary art. As a result of Walter's appointment, some edgy, younger galleries showed at ALAC for the first time, including Mrs. and False Flag.
And there were many exciting discoveries to be made: The Berlin dealer Javier Peres of Peres Projects, which has shown at ALAC since its inception, presented a series of bold, colorful works by buzzworthy Ghanian artist Ajarb Bernard Ategwa. Making its debut at the fair was VI, VII from Oslo, which presented striking new, yellow-and-black wall works by rising star Eva LeWitt (whose pieces were snapped up on opening night), as well as some vibrant paintings by young Norwegian artist Jorunn Hancke.
Functional Art Gallery in Berlin presented a dazzling solo booth dedicated to the designer Anna Aagaard Jensen. A graduate from the esteemed Design Academy Eindhoven, she creates exaggerated anthropomorphic chairs in fiberglass that have been tinted with blush makeup to challenge social norms and encourage women to claim more space with their bodies. A series of curious resin assemblages by Erin Jane Nelson at Chicago's Document that alluded to Joseph Cornell's readymade boxes were a standout of the night.
Among the handful of young galleries and artist-run spaces from New York making their debut at the fair were Queens-based Mrs. gallery, which presented a series of comic-book- and cartoon-inspired collages by Mark Mulroney; Safe Gallery, which showed vibrant, playful paintings on mirrored surfaces by Alex Eagleton; and False Flag, with a striking carpet installation by Asif Mian.
The award for the most ambitious project should go to Bortolami, who is offering the entire estate of local artist Eric Wesley for $1 million, while the most whimsical booth might be San Francisco's Ever Gold [Projects], which, according to gallery director Andrew McClintock, transformed its space into a "Bohemian artist's living room from the 1920s," and is presenting a smattering of eclectic art-and-design pieces, including works by Petra Cortright, Tsukioka Yoshitoshi, and Serge Attukwei Clottey.
Starkwhite from Auckland, New Zealand, the gallery that traveled the farthest, showed works by Billy Apple and Michael Stavros. "I think people were concerned what would happen with ALAC, but that dissipated within the first few minutes of opening night," says gallery director Dominic Feuchs. "We've shown here on and off for ten years, and it's amazing for finding new discoveries. We love the vibe."
"The youthful spirit and accessibility," says Fleming, "is what we're all about."
ALAC is on view through February 17 at the Barker Hangar in Santa Monica.
Next Post