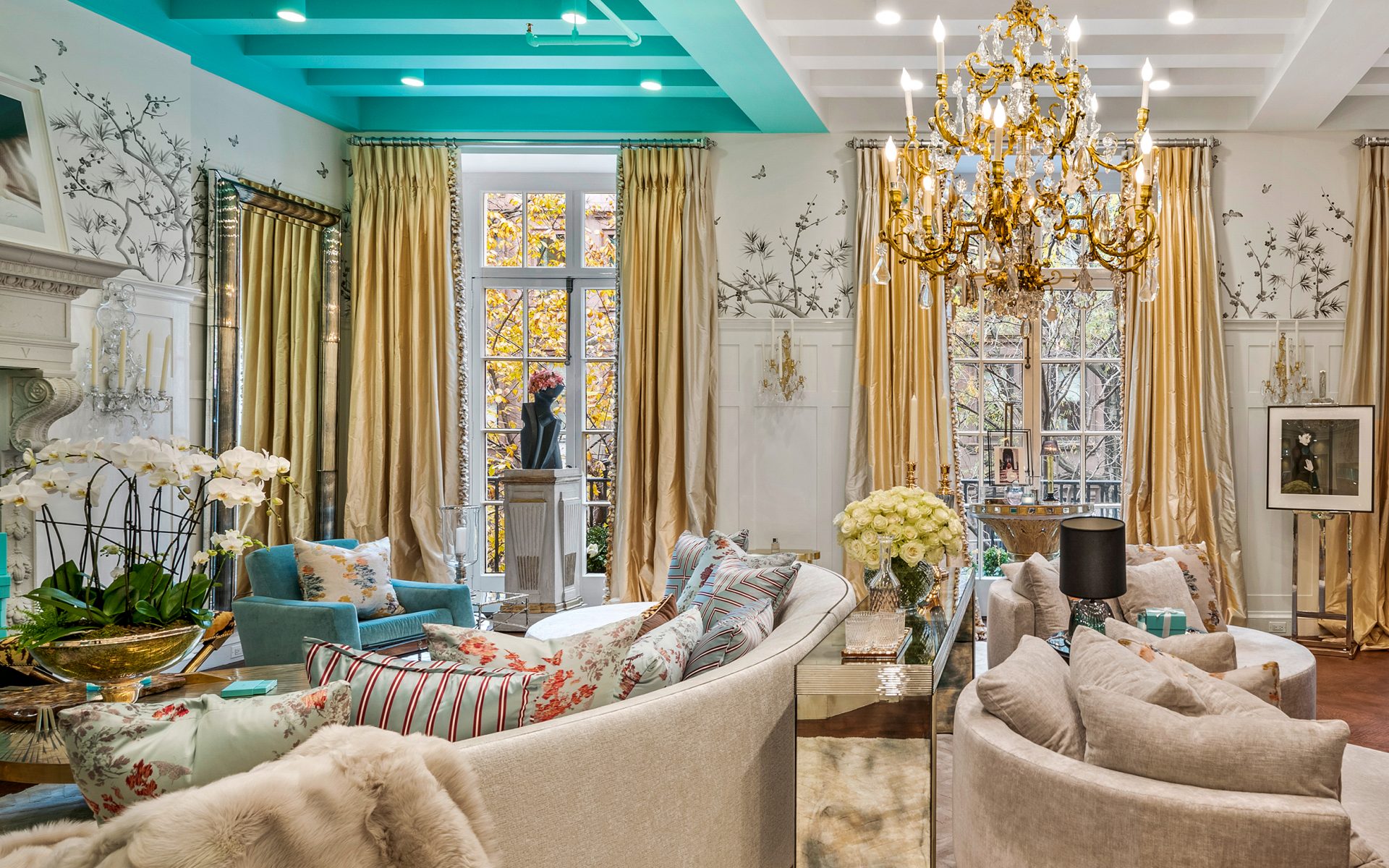 Tour the 2019 Holiday House NYC
Galerie spoke with Elsa Soyars, Jasmine Lam, Bennett Leifer, Ally Coulter, and more about their sublime spaces
Taking over a picturesque 12,000-square-foot Upper East Side townhouse originally crafted in 1904 by architect Charles A. Platt, this year's Holiday House NYC features a number of marvelously executed suites that showcase the design inspiration of many of today's most creative talents. Organized by designer and breast cancer survivor Iris Dankner, the annual event helps raise funds for the Breast Cancer Research Foundation, an organization founded by Evelyn Lauder in 1993 that aims to raise funds for clinical research toward finding a cure. Over the Holiday House's ten-year history, the event has raised more than $1.3 million for the charity.
This year, esteemed talent Amy Lau resumes her role as design chair of the Holiday House, which features a diverse collection of artful spaces—from a lounge set for a Breakfast at Tiffany party and a soothing wellness retreat to a petite powder room that packs a punch of pink. Galerie spoke to many of the 17 designers about their inspiration and the carefully curated furnishings on display.
1. Jasmine Lam Interior Design & Architecture
A first-floor living room is an art collector's dream with a monochromatic mix of Holly Hunt furnishings; textiles from Holland & Sherry, Rogers & Goffigon, and Kravet; and sculptural lighting from Matthew Fairbank Design, Konstantin Grcic for Flos Lighting, and Saint-Louis. Hermès accessories add an air of luxury, while the incredible artworks by Emma Donnersberg, James Austin Murray, Jeff Muhs, Kristina Kossi, and Mark Davies convey Lam's aesthetic of "Miami by way of New York."
Recommended: Tour the 2019 Kips Bay Decorator Show House
2. Elsa Soyars Interiors
Who says a holiday party has to feature reds and greens and loads of tinsel? This marvelous dining room is set for a fête to remember with a sculptural Andreea Braescu ceramic chandelier, Christian Lacroix for Vista Alegre place settings, and a throughly modern reimagining of the traditional floral still life painting. Soyars also debuted her collection of custom furnishings, namely a table and buffet, in the space. A Julian Chichester chaise is the perfect perch to admire the designer's outdoor space below, which echoes the interior's remarkable Allison Eden Studios tile work on the fireplace surround. "This is Paris at Christmas," says Soyars. "It has a feminine touch, but it's strong,"
3. Barbara Lewis, The Lewis Design Group
A dark lower level is majestically transformed into a Mad Men–era bar lounge, with exotic details right out of Casablanca. A massive marble bar and vintage banquette, reupholstered in animal-print Cowtan & Tout fabrics, surrounded by towering palms set the stage for a romantic rendezvous over martinis. However, it's the "naughty monkey" wallpaper, a late-night find by the designer, from Astek that is the absolute pièce de résistance. "I was looking to come up with something that was reminiscent of the café society," says Lewis. "It was trying to evoke the feeling you get in places like the Bar Hemingway in Paris, Bemelmans Bar at the Carlyle, or the Leopard Lounge Bar in Palm Beach."
4. Bennett Leifer Interiors
In the house's most thought-provoking space, a massive "drawing room" is adorned with traditional elements such as furnishings from Todd Merrill Studio, rock crystal chandeliers from Phoenix Gallery, and hanging portraits. However, the walls are covered in graffiti that spells out messages to those who lost their battle with breast cancer and offers other notes of support. "It's really meant to be a fun uplifting space about dynamic relationships and unexpected positions," says the designer, who was inspired by the Neues Palais in Potsdam, Germany. A custom Edward Fields rug and floor-to-ceiling drapery pull together the old and the new. "I loved the intellectual concept of coming up with this room," he says. "What can I do intellectually to make this space transcend time and is personal to me and how can I personalize the message associated with this charity. Once I locked those things down, I was cool with whatever the reaction people have to the room."
5. Ally Coulter Designs
What party would Holly Golightly throw upon a post-divorce return to New York society? Coulter imagines it here in the vast second-floor salon that incorporates Tiffany & Co.'s iconic blue on the ceiling, in custom furnishings, and with shopping packages as installation art. A glittering array of Jimmy Choo accessories is reflected in dazzling John Lyle gold furnishings and cool Murano glass accent pieces—only available at Harrods until now. Also on display is a Waterford vase that was gifted to the designer from her mom (a personal connection she always features in her showhouses). Fabrics from Scalamandré and Dedar—which are also crafted into curtains by De Mott Drapery—give the space its plushness, while a Janet Yonaty wall covering is the perfect finishing touch. "I wanted to be super glamorous, but I also wanted to mix Italian pieces, what I learned at Fendi with some of my background training, which is Ralph Lauren, so there are the movie details that come into play," says the designer. "There's a simplicity and elegance to the room and then have fun with it."
6. Bjorn Bjornsson Interior Design
This master bedroom channels the brightness of the South of France countryside. Anchoring the room is a floating Hästens round bed, its signature blue-and-white pattern complemented by furnishings from John Lyle and Christopher Guy, Arteriors lighting, and Dedar fabrics. "I use metallic paint a lot in my jobs, especially on the ceiling," says the designer, who created a textured pattern above to contrast the lemon yellow walls inspired by a house he rented in France. "Nobody does anything in yellow, so I thought, Why not?"
7. Vanessa Deleon Associates
The man cave concept is given a major upgrade in this sexy third-floor lounge, which features a high-gloss Blatt Billiards pool table, sculptural Bernhardt chairs, and custom pieces like an Elbra + Vanessa Deleon cage chair and selenite logs near the fireplace. A Hudson Valley chandelier provides intrigue, while Elizabeth Sutton art, neon lighting, and a custom ceiling (painted by a visiting California muralist to mimic the appearance of swirling smoke) add to the artistic appeal.
8. Hilary Matt Interiors
Maximizing an oddly segmented fourth-floor bedroom, Matt curates the ultimate twentysomething's dream bedroom with an Ultrafragola-style mirror, geometric Art and Loom rug, and a retro upholstered bed that's surrounded by an explosion of Bradley Sabin blooms. A bland half-bath is given a style infusion with a fun paint treatment and ubiquitous Robyn Blair candy boxes, while an entryway gets a space-age vibe with some monochromatic Jenna Krypell art, a luminous hallway runner, and an iridescent accent table. "I feel like with my clients I do a lot of straight lines, so in this project where it was all up to me I was very inspired by curved lines," says Matt.
Holiday House NYC is open through December 15 at 125 East 65th Street, New York. 
Next Post