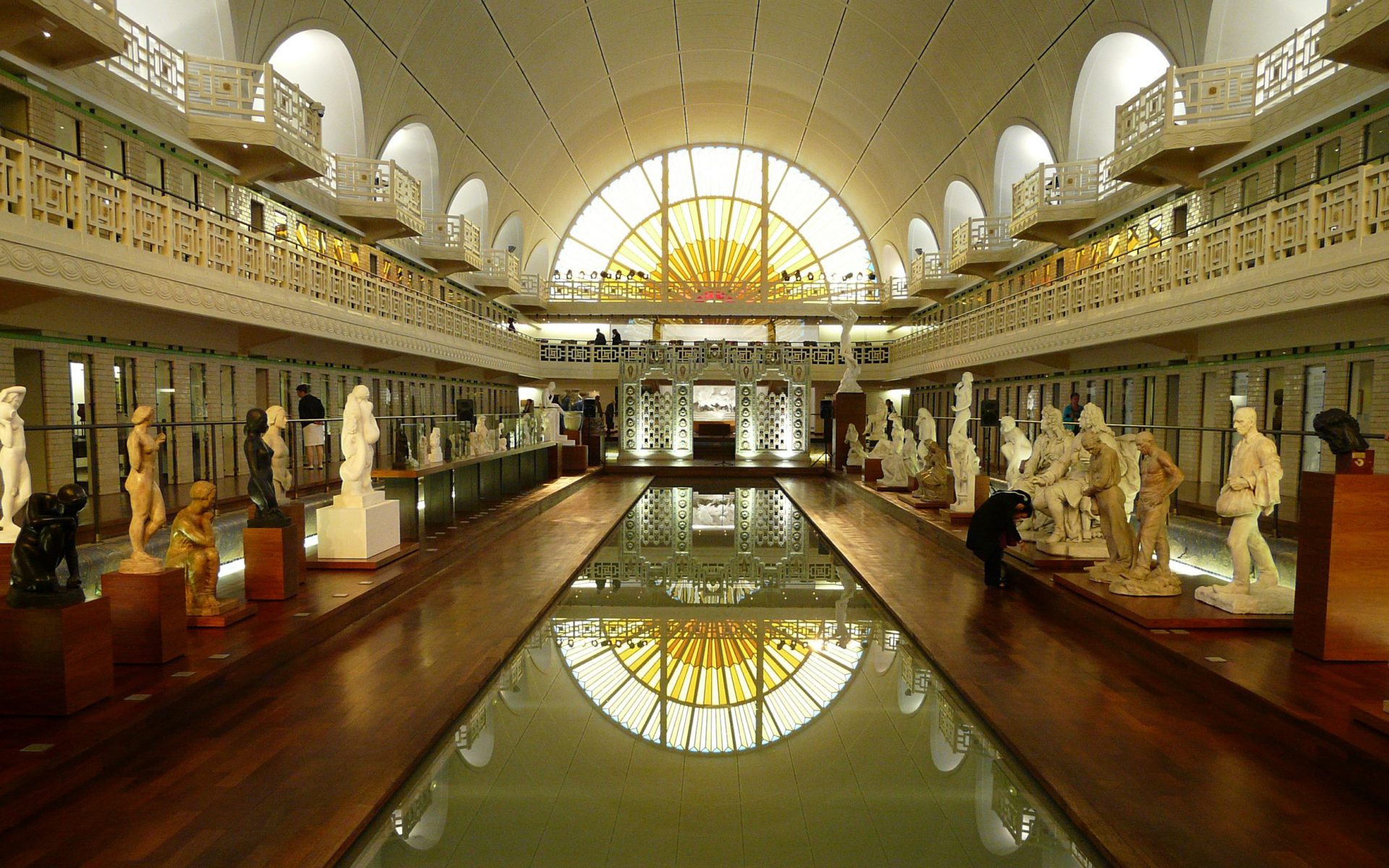 Revamped Art Deco Gem Draws Unexpected Crowds to Industrial French Town
After a $10 million expansion necessitated by its surprising popularity, La Piscine Museum has just reopened
Set in a converted 1930s Art Deco swimming and baths complex in Roubaix, France, La Piscine Museum of Art and Industry has reopened following a $10.6 million renovation and expansion into an adjacent abandoned textile mill. Overseen by Jean-Paul Philippon, the architect who spearheaded the building's initial conversion two decades ago, the 18-month revamp enlarged the institution to 86,000 square feet and added a trio of galleries.
When it debuted in 2001, officials projected that around 60,000 people annually would visit the institution, which is tucked away in an industrial corner of northern France, near the Belgian border. Instead, more than triple that number (200,000) showed up in the first year, and it has since welcomed more than 3.5 million guests, thanks in no small part to its ornate indoor pool hall lined with sparkling mosaics and marble statues.
During a recent tour of the museum, director Bruno Gaudichon told The Guardian about its effect on the city's morale. "Roubaix was deeply hurt by the decline in the textile industry, and unemployment is still high in this area. Given this situation, the museum plays an important social role," he said. "Having this magnificent pool has certainly helped its success and we have people come from everywhere, but many visitors are local, because La Piscine is deeply rooted in the memories of people in Roubaix."
Recommended: How to Be the First to Climb Thomas Heatherwick's Massive Interactive Sculpture
"Local people visit and tell us they came here as children to swim. Some even remember their favorite changing room. I saw one man walk in and burst into tears. He saw the pool and it brought back all those childhood memories for him."
View this post on Instagram
Home to a collection of decorative arts that draw on the region's rich history of textile making, the museum also boasts a stellar trove of French painting and sculpture from the last two centuries, including works by Giacometti, Rodin, Claudel, and Picasso.
Opening the newly christened space is an exhibition of Picasso's famed protest statue Man with a Sheep and Giacometti's Portrait of a Hero. Additionally, an enormous watercolor depicting the christening of Roubaix's town hall in 1911 is on view after being salvaged from the building's attic, where it was being used to fill a gap in the roof.
View this post on Instagram
If the museum's stunning pool seems like the perfect inspiration for David Hockney, Gaudichon has already thought of it.
"We've written several times but never had any reply," he told The Guardian. "It is a pity, because his work would be perfect here, but also because he is from Bradford, which is twinned with Roubaix.
"We would have liked him here for the tenth anniversary or for this reopening, but who knows? Maybe the 20th anniversary. . . . If we can get a reply."
Next Post