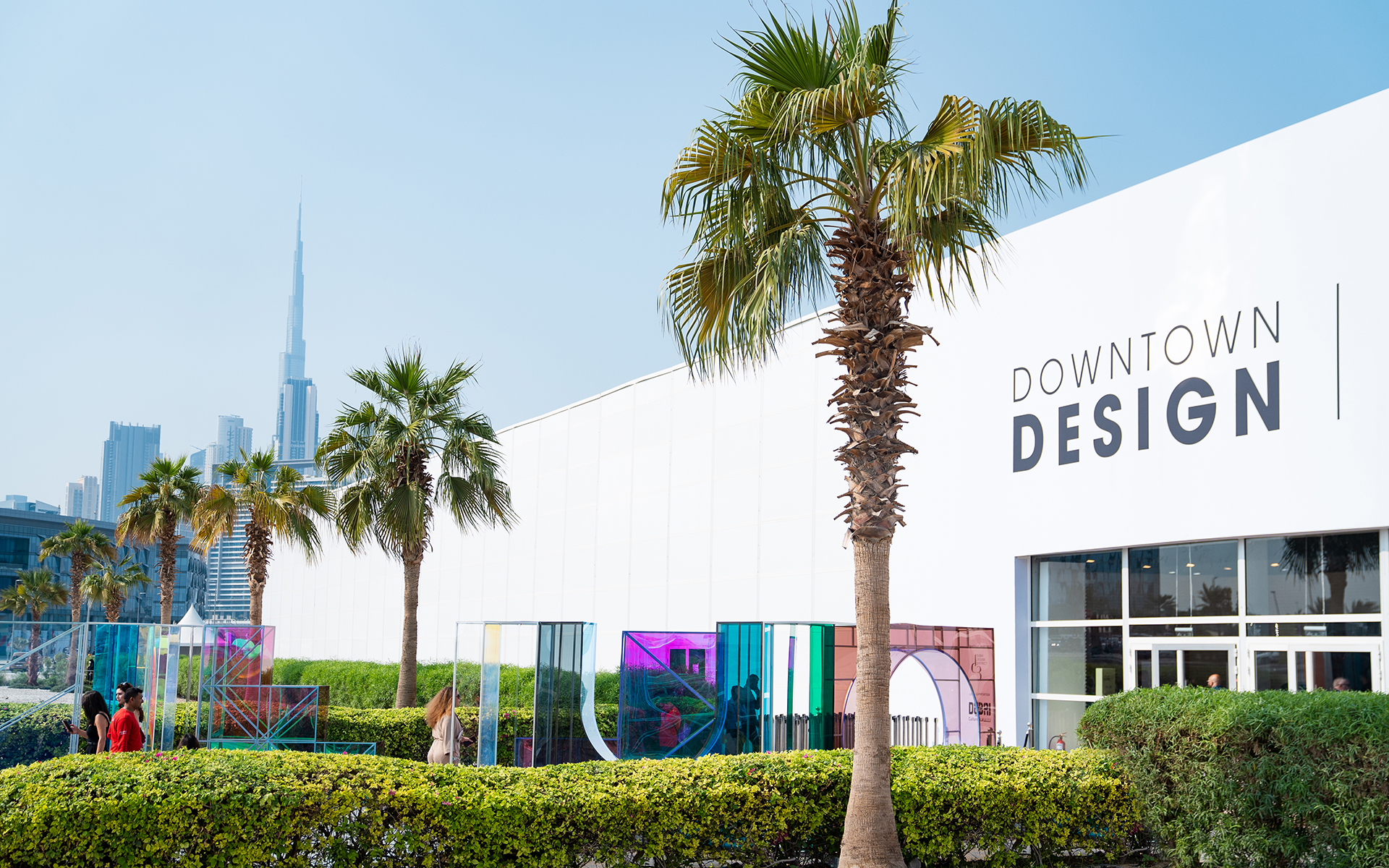 Highlights from Downtown Design 2023 in Dubai
The fair's tenth edition placed a greater focus on high-end collectible design pieces from the region and beyond
Several large-scale colorful shapes decorated the entrance to Downtown Design in Dubai this year, which took place from November 7-12. Created by Brazilian design and communications company Ultra Arte, during the day the playful and upbeat forms illuminated with natural sunlight, provided a joyful greeting to guests entering the decade-old fair, while at night their in-built illumination continued to enchant fairgoers. The installation, like others inside the fair this year, reflected the synergies between design and nature.
Placed within the entrance space of the fair, the first installation one sees is "Carved in the Now," a multi-sensorial experience designed by AB+AC Architects made by Fantini Mosaici and produced in the United Arab Emirates presenting an interactive representation of the beauty of mosaics. Visitors entered inside a kaleidoscopic room where they can see their reflection change and mutate through a multitude of interchanging mirrors and forms overhead and underneath their feet.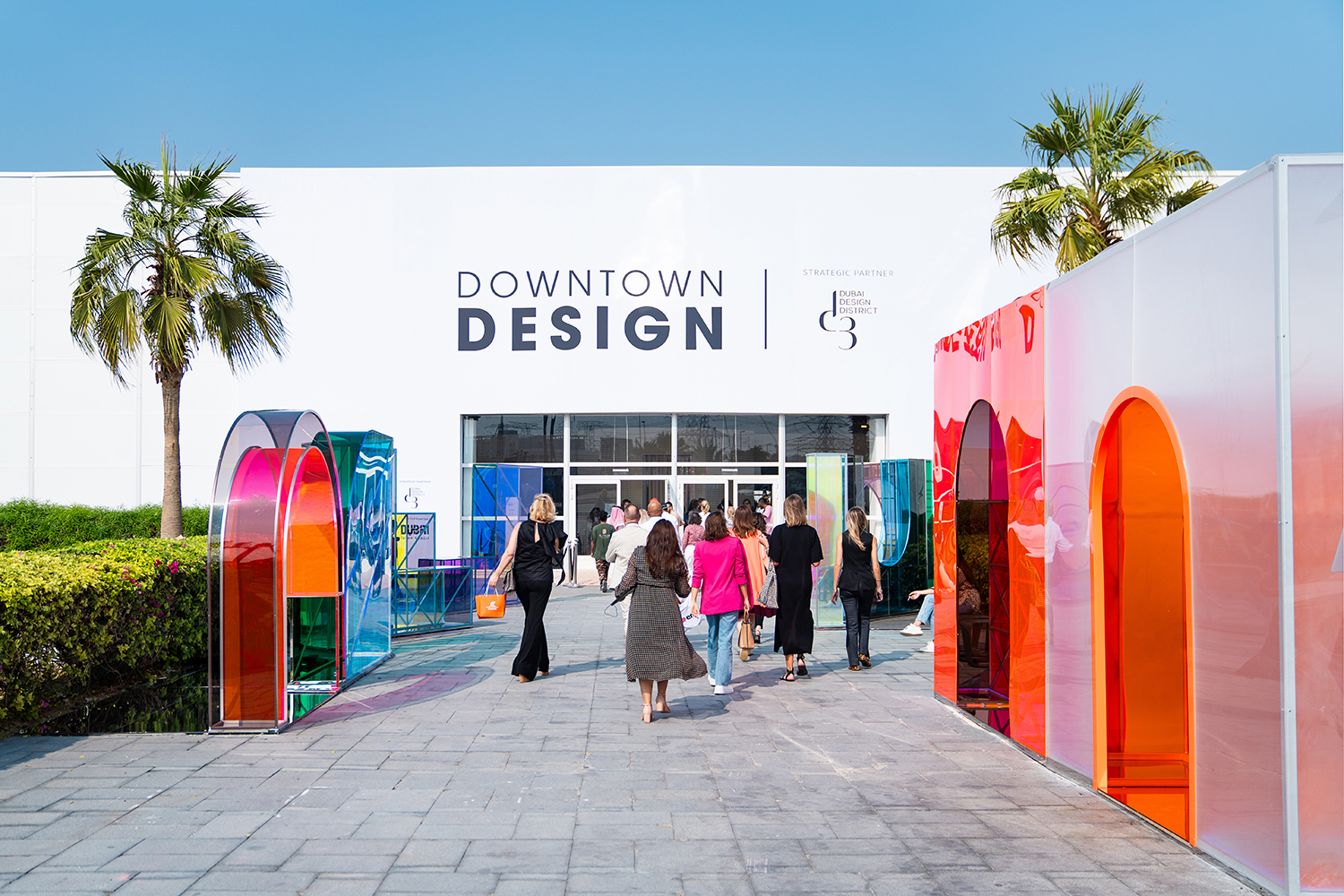 Both installations offered much joy and curiosity to visitors, bridging the worlds of design, tech and nature, yet visitors were immediately reminded of the tragedies unfolding just a few hours by plane from Dubai. The fair, which is usually free and an open to the public, had an entry fee this year of 25dhs all of which goes to the Emirates Red Crescent to support humanitarian aid efforts in Gaza.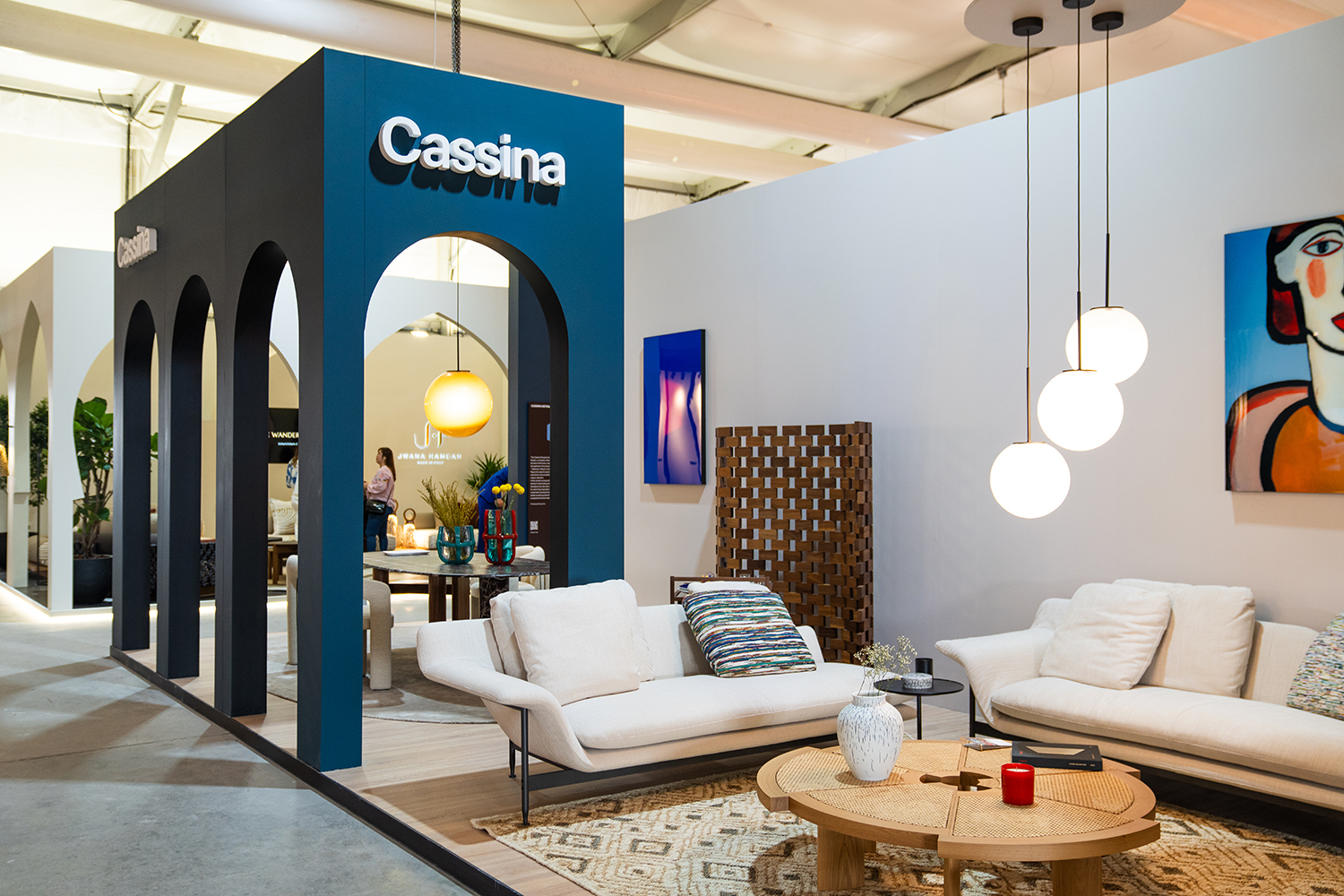 While sustainability has long been a focus of the fair, which takes place during the ninth edition of Dubai Design Week, it was a more pertinent feature this year, especially in the lead-up to COP28, which kicks off in Dubai at the end of this month.
Inside, while major international design brands were present, including an uptick in luxury Italian brands like Cassina, which presented its first solo booth at the fair, the focus this year centered on the display of original and homegrown collectible design pieces, largely from the Middle East and South Asia region. Designers and collectives hailed from Iran, Turkey, Egypt, the Gulf and the Levant and India, showcasing a confluence of heritage, styles and culture.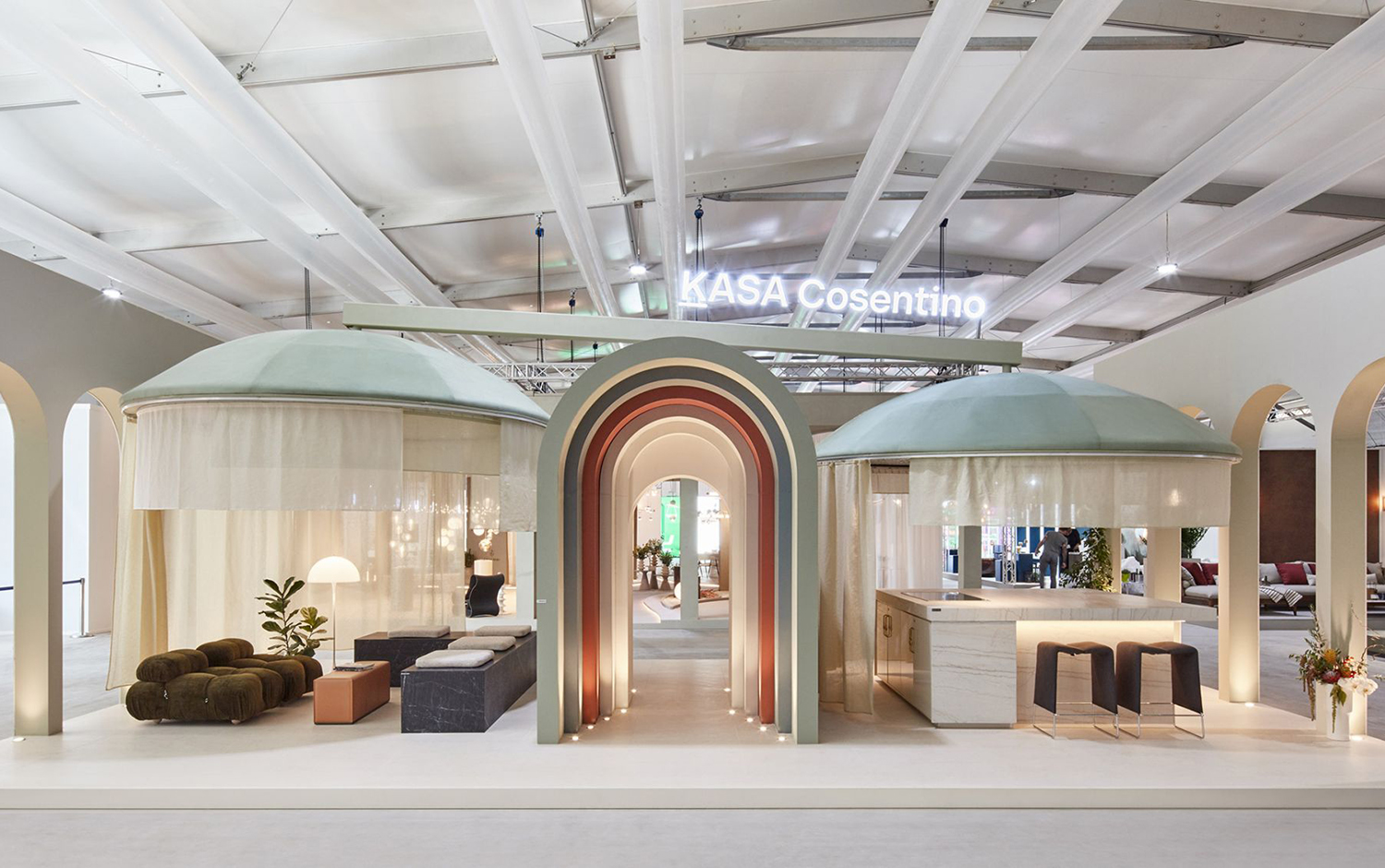 Among high-end global brands, Cosentino, the Spanish company specializing in innovative surfaces, presented a Roman bath concept in collaboration with Riyadh-based Kristina Zanic Consultants; Flexform, presented by Dubai-based Obegi Home made their debut with a collection of sleek new outdoor furniture pieces placed at the center of the fair—a nod to the fair's theme this year of bringing the outdoors indoors.
First-time participant renowned Italian glass brand, famous for its Murano artglass works, presented a mesmerizing large-scale reproduction of Carlo Scarpa's monumental Poliedri chandelier made for the Expo Italia Fair in 1961. Guests watched in awe as its lights flickered on and off casting red and crème-colored rays of light.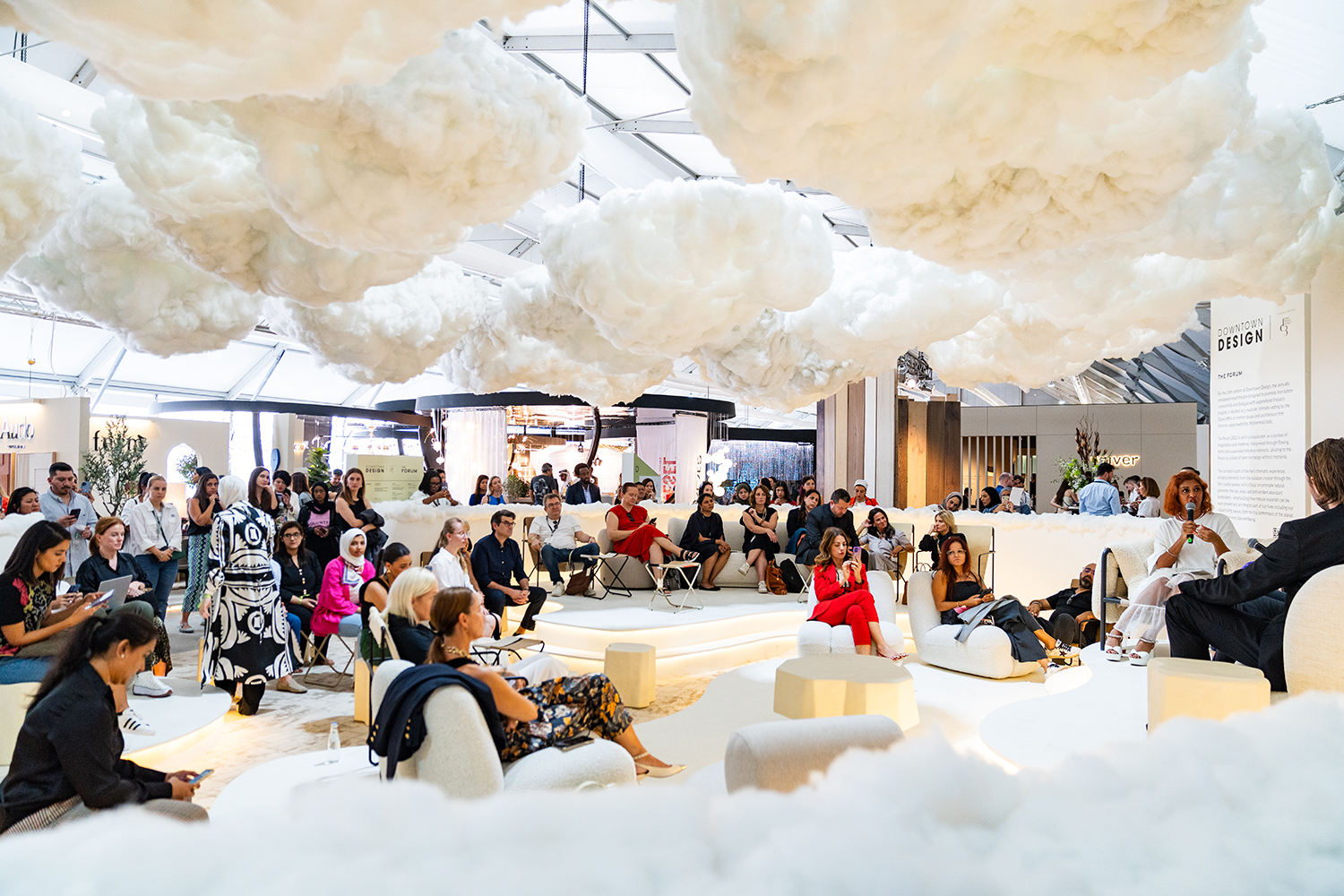 Nods to the influence of nature were found elsewhere such as at The Forum, where the fair's talks were held, where this year could be found a group of hanging white cloud-like forms, as the area had been suspended in air. Similarly, the Veuve Clicquot Lounge called "Solaire Lounge" this year was inspired by the sea and the brand's 'Cellar in the Sea' project following the recovery of 47 Veuve Clicquot bottles discovered in 2010 within a 19th-century shipwreck in the Baltic Sea, preserved intact after nearly 200 years.
A real interest was the unique display and curation of global luxury design brands positioned side-by-side with emerging and established brands from the Middle East and South Asia region.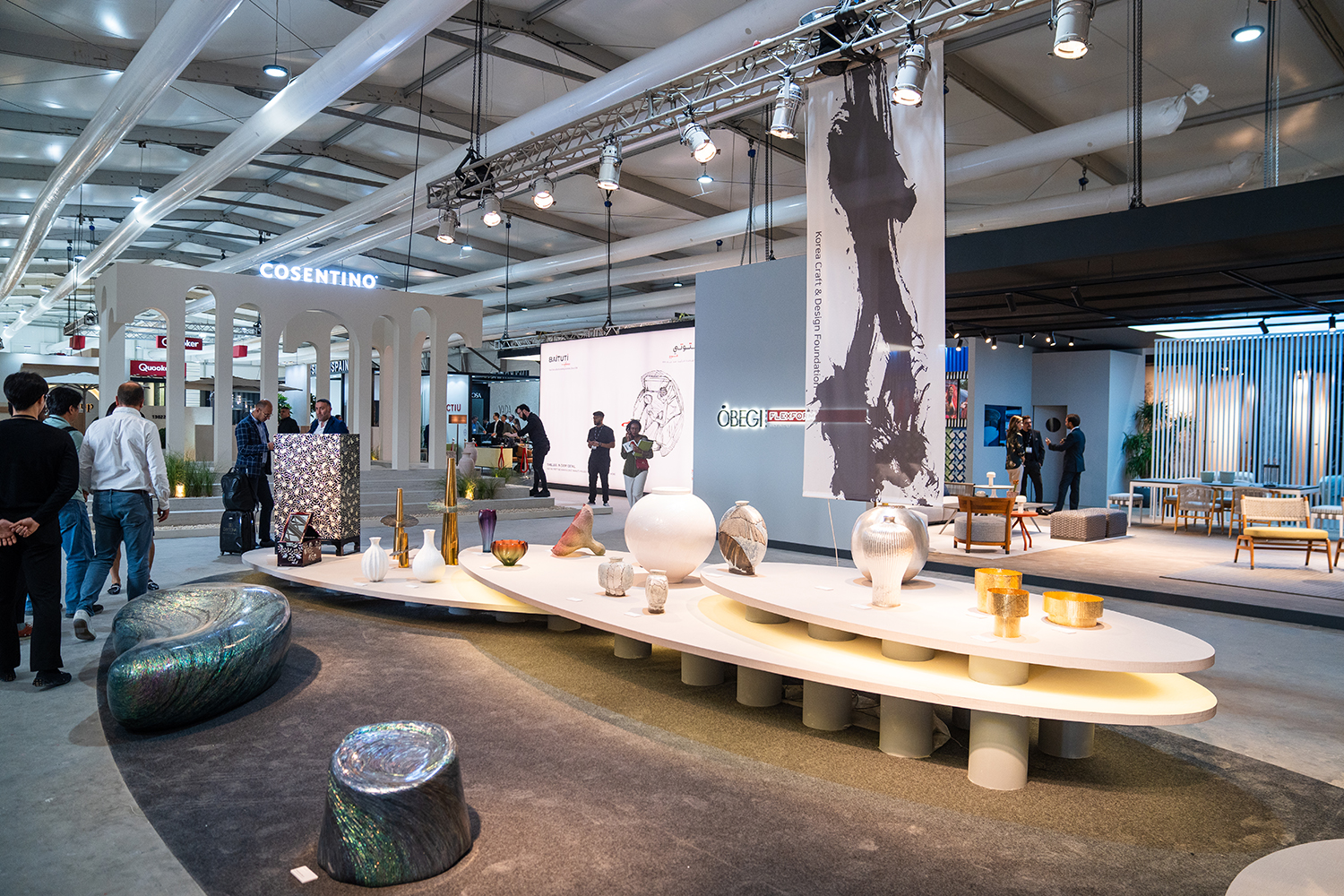 First-time participant Wriver, a high-end furniture company from New Delhi, India, which focuses on entirely 'Made in India' products, presented an impressive booth of richly produced home furniture featuring high-end, locally sourced materials and impeccable craftsmanship and rich earthy textures and colors.
Several local GCC-based brands chose the fair as the place to launch their label and collection. One is GRID by Riyadh-based architect Mazyd Alkhattaf, which presented a luxury gaming table crafted from a variety of geometrical shapes that fit together. The table is made of various types of wood that have been lacquered to showcase lavish glow.
Mushy, a new Dubai-based e-commerce platform, co-founded by Dina Adlouni, a brand and creative consultant and Tarlan Vaziri Farahani, an architect who also runs her architectural firm Tee Vee Eff, also launched at the fair. The platform, which aims to present pieces that are "excessively sentimental" in line with its name coined by its founders, presented a booth featuring works by 11 global and Middle Eastern designers with a focus on the design of New York-based Kouros Maghsoudi and his Mehmoouni collection, including his Taarof Table and Behseen Chair, made exclusively for Mushy.
Works by Middle Eastern designers were prominent throughout the fair yet mingled effortlessly with international statement pieces by global furniture brands—a mix reflective of Dubai's increasingly cosmopolitan and international nature.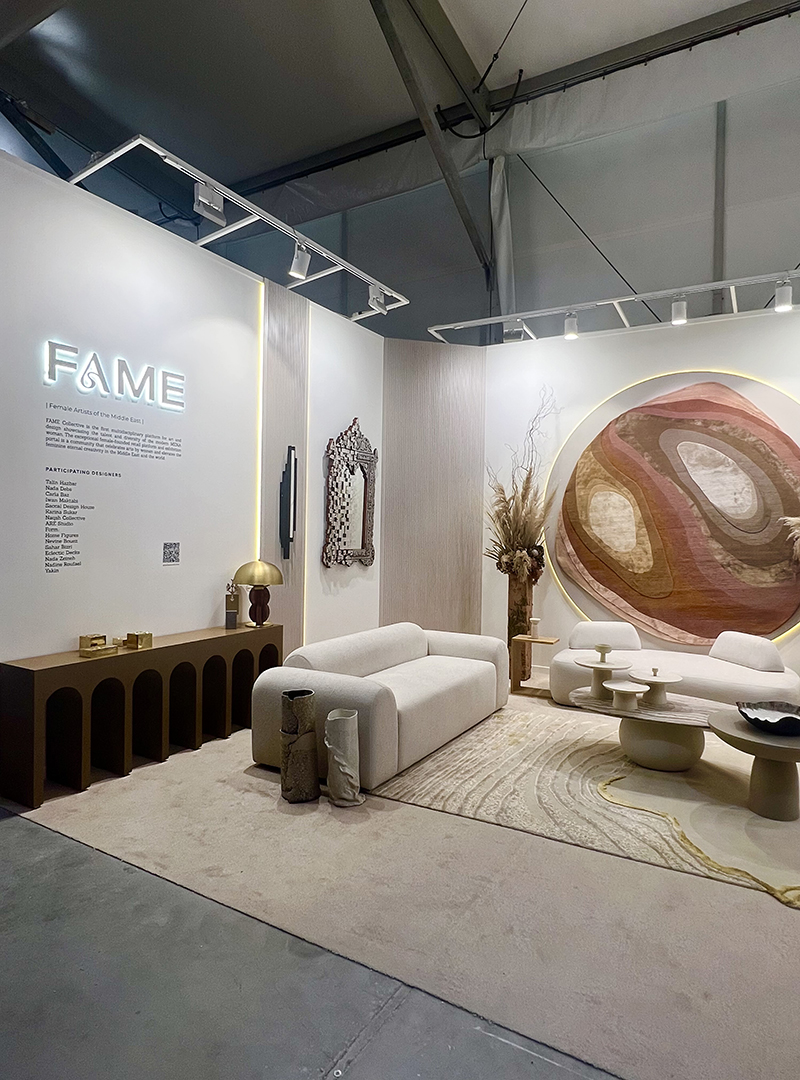 Another fascinating launch is FAME Collective, the first multidisciplinary platform for art and design showcasing works by women from the Middle East and North Africa. FAME, which stands for F-emale A-rtists of the M-iddle E-ast. Bridging the fields of fine art, interior design, jewelry and unique accessories, and was launched by mother-daughter duo Christiana Jabara and Lara Jabara.
"Our selection showcases pieces that offer as much style as they do meaning," said Lara Jabara. "We wanted to create a platform that could better showcase the talents of Arab women working in design."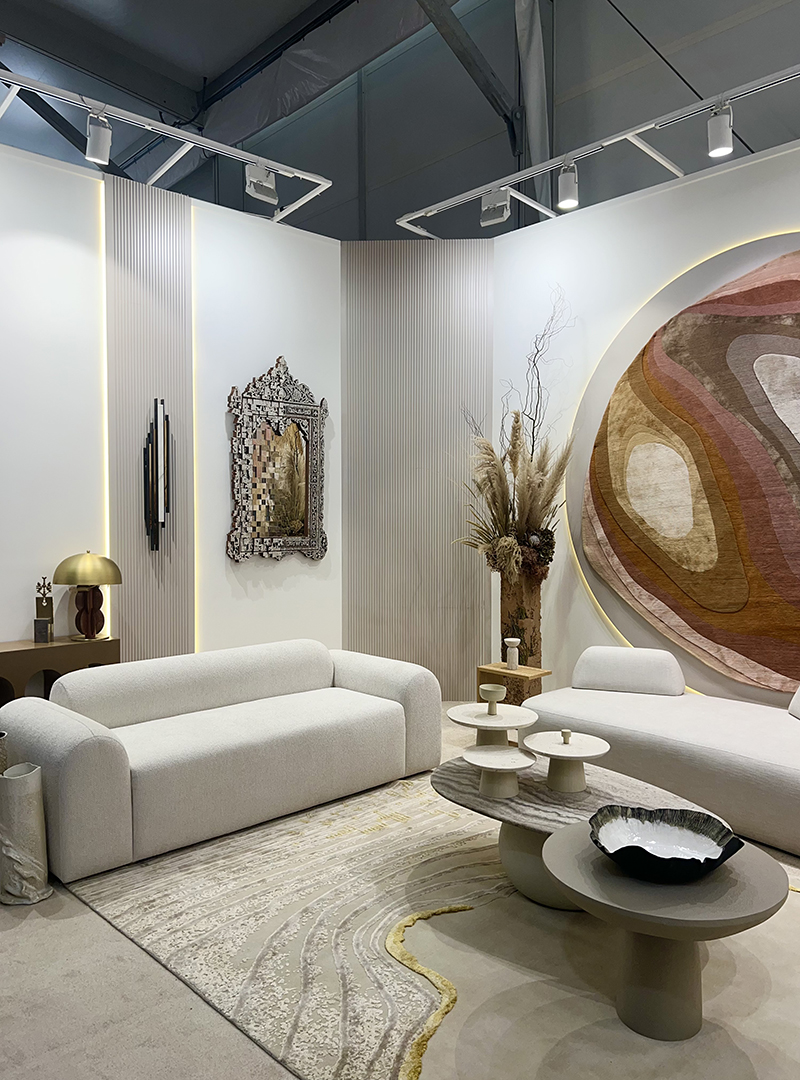 Additionally, FAME donates to women's charities through its sales with the aim to create a full-cycle business that gives back to the community as much as it empowers more females in the fields of art and design.
Hailing from Iran, Aassttiinn presented 'Nomad at Home' a booth presenting a mixture of furniture pieces and design objects made by Iranian creatives.
From Egypt popular new brand Don Tanani presented pieces crated in Egypt that showcased an impression fusion of contemporary style with Egyptian heritage and craftsmanship.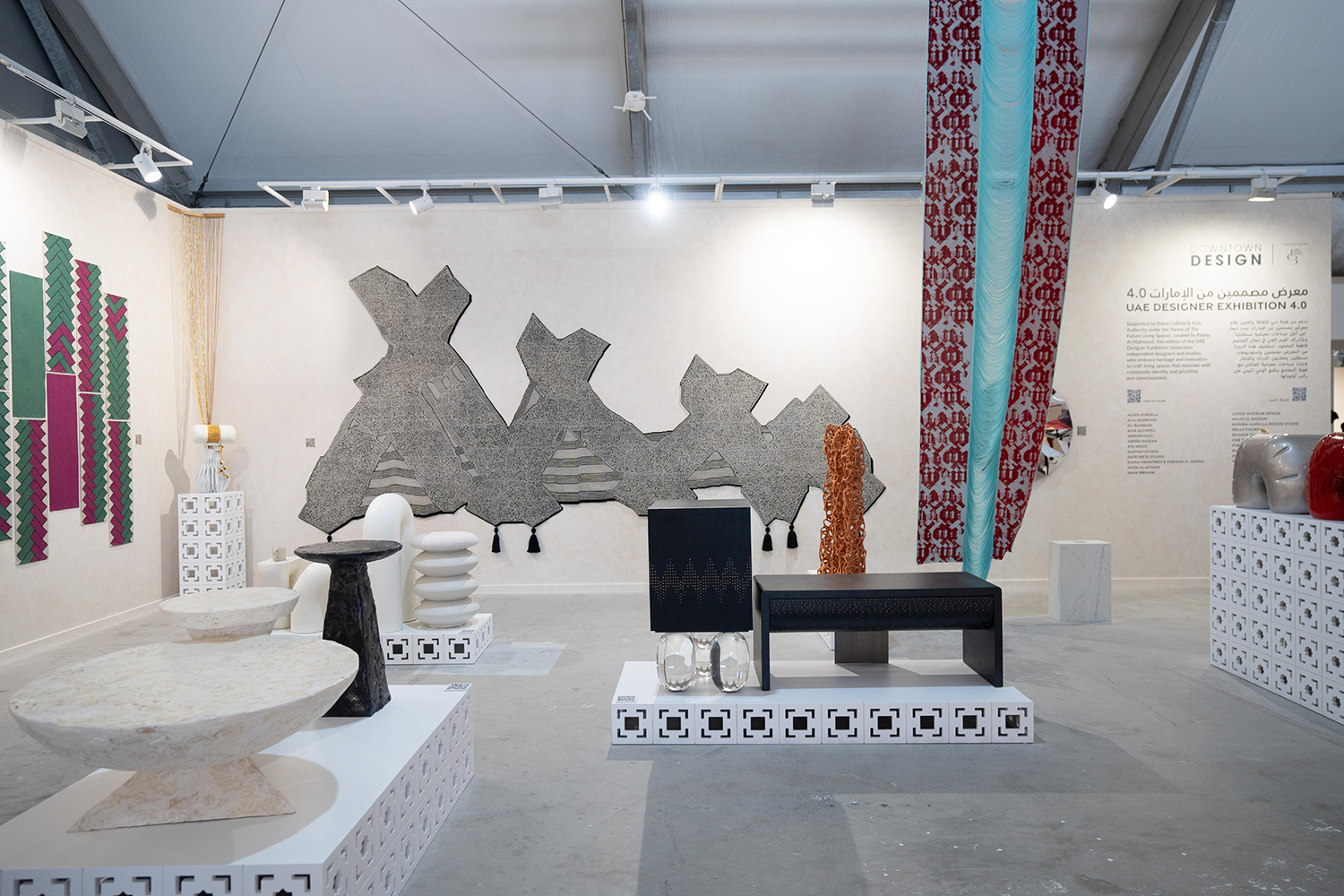 Elsewhere, the Kingdom of Saudi Arabia presented the booth "Designed in Saudi Arabia" staging a special exhibition of works by Saudi industrial and established designers, including an alluring bookcase called "Red Bookcase" by Rejo Studio and "Al-Ula Candle" by Lolwah Alomair reflecting the rich natural and heritage of the Kingdom's ancient desert region. Also on view are works by Naif AlTabaa, Studio, Teeb Atharna, Dahr Aura Living and Keramos Studio.
The UAE Design Exhibition returned this year titled "Future Living Spaces." Representative of the multiculturalism of the United Arab Emirates, while placing a focus on sustainability, social impact and cultural heritage, works by 23 UAE-based designers were presented in a designated space at the fair.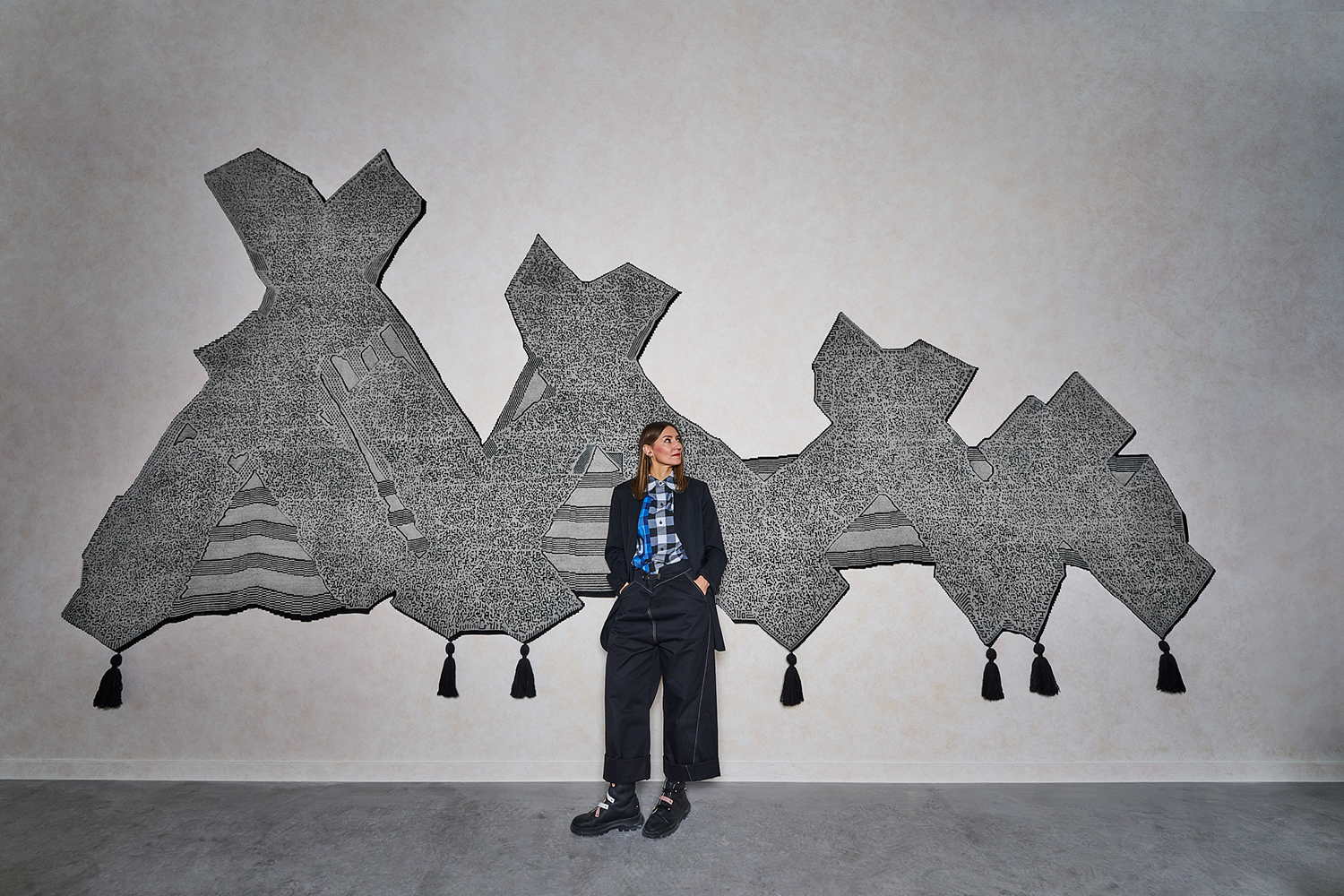 "Sustainability is at the core of our vision, urging designers to use environmentally responsible resources and support local production for lasting benefits," wrote Emirati Fatma Al Mahmoud, the exhibition's curator in her curatorial statement.
Of note was Dubai-based Agata Kurzela's new installation 'Game of Life" which takes the form of what looks like a large zig-zag rug displayed on one wall. The piece took its inspiration from traditional Sadu patterns created by Arabian nomads. A fascinating aspect of Sadu is the particular way in which it is weaved—through a juxtaposition of positive and negative elements as well as pattern-making and the imagination of the weaver. The piece offers a magical and otherworldly feel.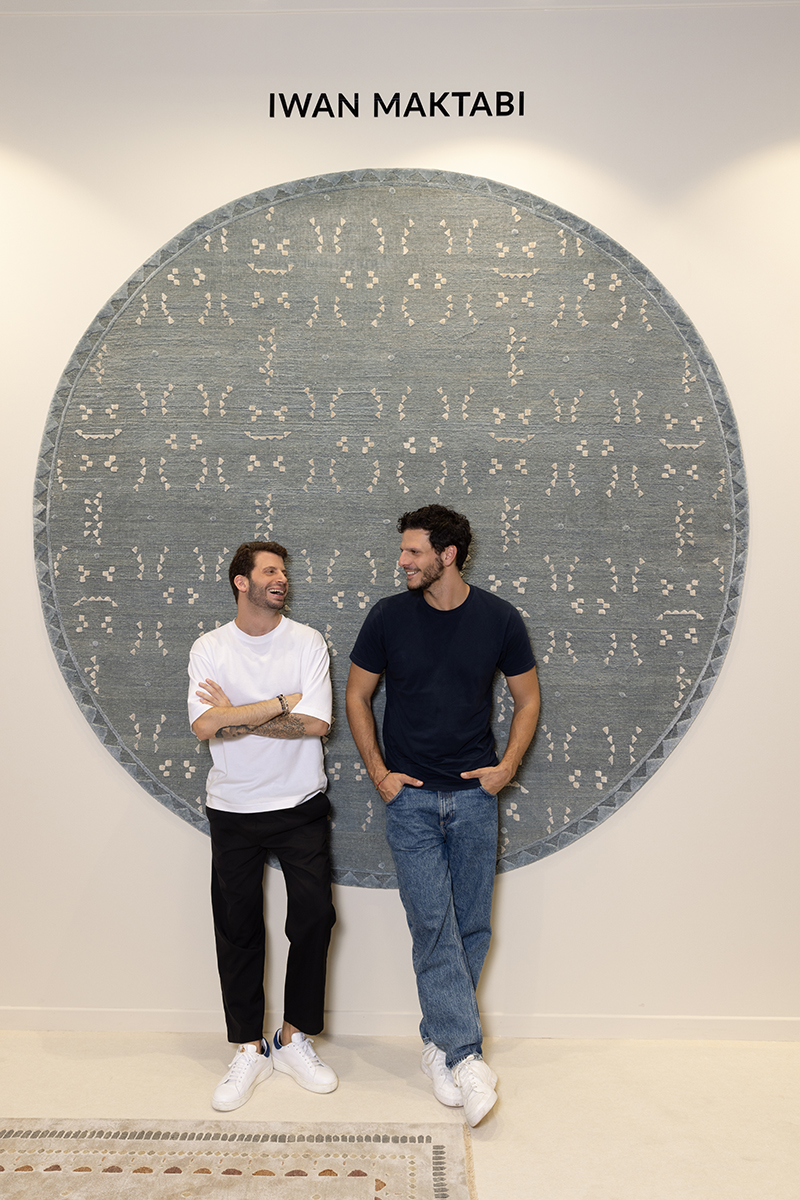 Lebanese carpet maker Iwan Maktabi, known for its marriage of Oriental, traditional carpets with contemporary aesthetics, returned with a stand featuring new carpets by Lebanese design duo David/Nicolas. The pair revealed new editions to its Orientations collection especially through the new design added to the collection titled "Astrolabe."
At once enchanting and star-like, the new design includes abstract symbolism to evoke the idea of a starry night as well as mystery and wonder.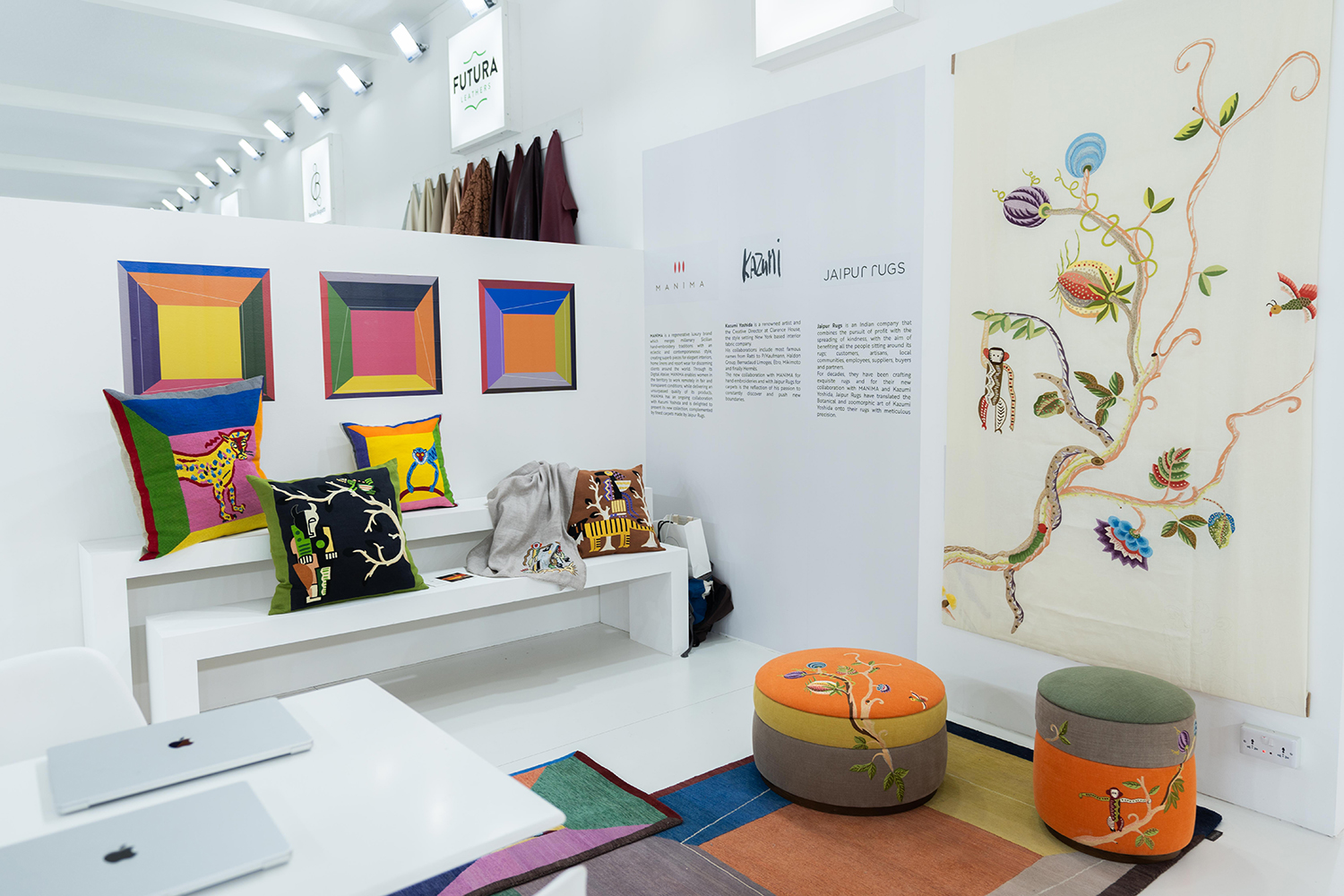 Emerging international designers presented for the first time at the fair too. One was Italian brand Manima that presented within the Italian Trade Agency's showcase of a selection of Italy's creatives in the realm of furniture, accessories, fashion and design objects.
Rooted in the millennia-long Sicilian tradition of hand embroidery, Manima features finely-hand embroidered home-lines and customized ready-to-wear collections. At Downtown Designs the brand presented collections made in collaboration with Jaipur Rugs.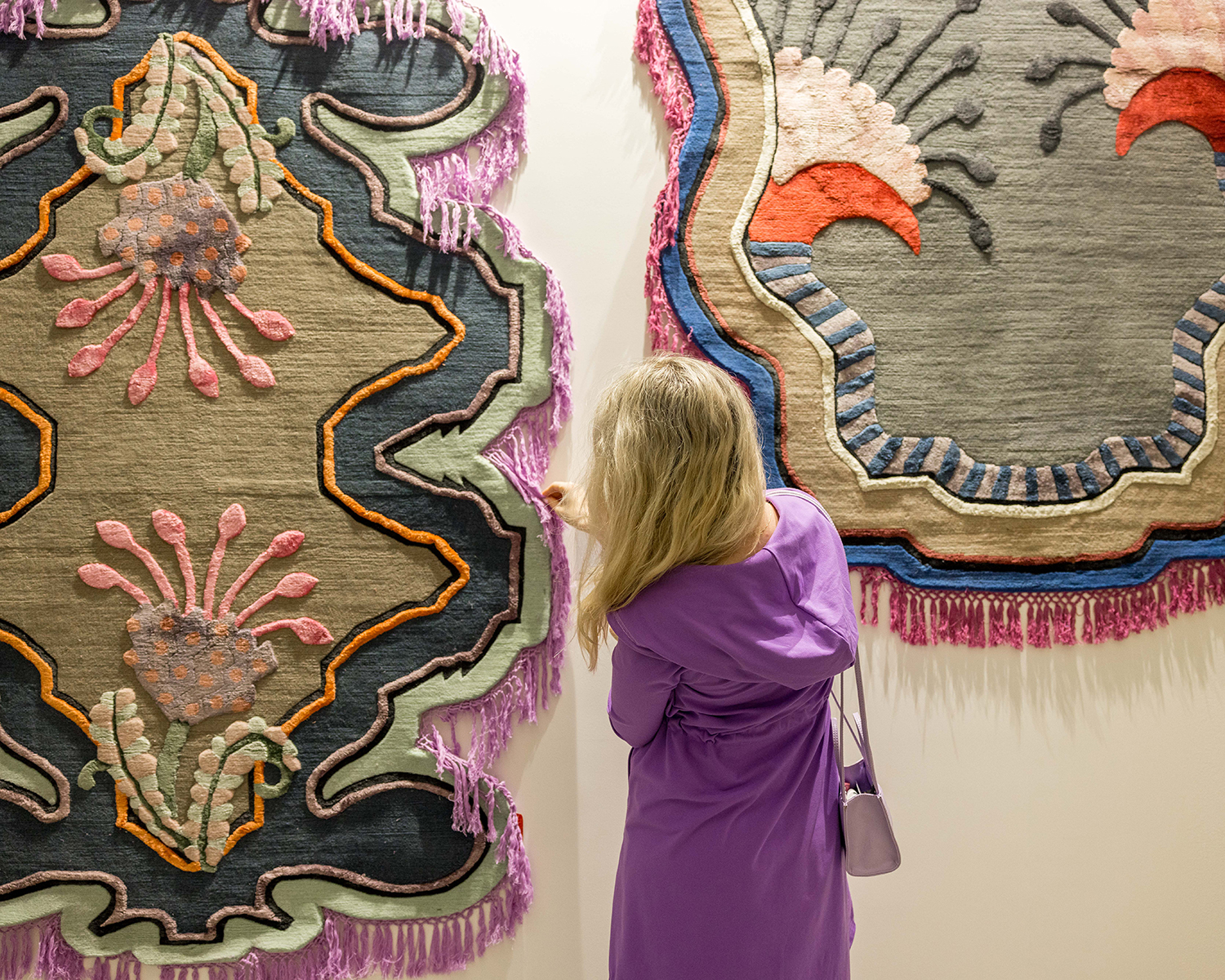 The brand, a regenerative luxury brand, makes a variety of cushions and linens in collaboration with contemporary artists. It also gives employment opportunities to women in Sicily, largely those who are unemployed, to work and create their products.
"We are in Dubai because we are opening new markets," said Manima's Carolina Guthmann. "Our main markets so have been in the United States. We are now expanding into other regions, and the Middle East is one of these very important places for us to be."
Next Post