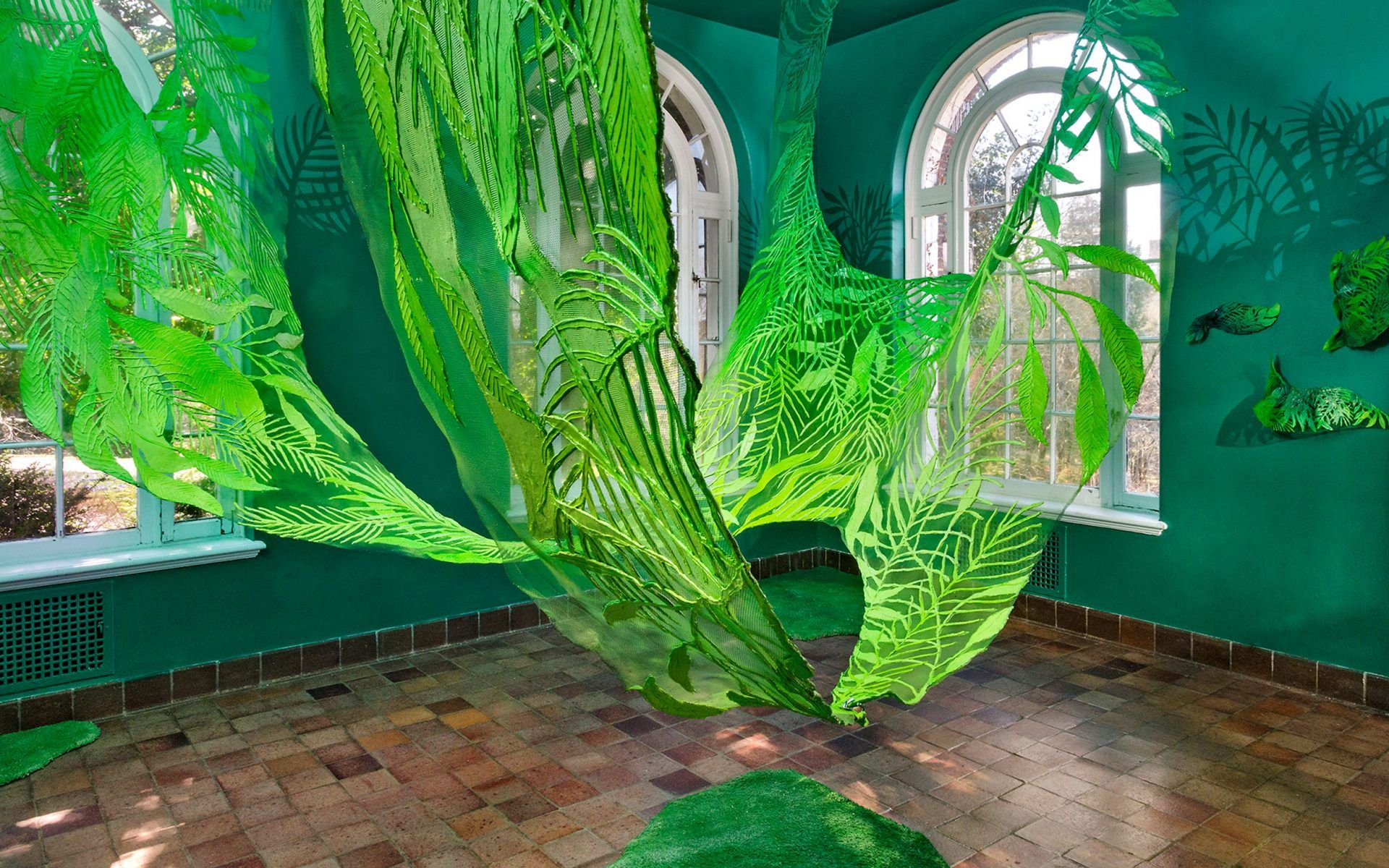 Three Artists to Discover at Art Aspen
The ski town's only art fair celebrates its tenth year and an ambitious new public program
Art Aspen is celebrating its tenth year in the prominent, if compact, art scene in the ski capital, exhibiting 100 global artists across booths by 29 national galleries in addition to one foreign participant from Switzerland, Laurent Marthaler Contemporary of Montreux. The fair begins on July 25 at the Aspen Ice Garden and runs through Sunday, July 28.
A week before ArtCrush, the Aspen Art Museum's annual summer extravaganza, the city's first and only art fair kicks off the town's summer season with works by fair fixtures Fernando Botero, Damien Hirst, and Carlos Cruz-Diez, in addition to emerging talents Sérvulo Esmeraldo and Justin Lyons.
In its tenth edition, the fair expands its outreach with a revamped public program, including Artist Commission, which supports an emerging artist in the creation of a site-specific installation.
Recommended: Artist Rashid Johnson Takes a Hike and Wins Aspen Award for Art
"Art Aspen has proved its longevity and commitment to being a part of the Aspen cultural calendar and the dynamic art-world agenda," fair director Leah Steinhardt tells Galerie. "We're excited to once again share notable works from a respected cohort of exhibitors while expanding programming and platforms with the new Artist Commission, talks, and tours throughout the weekend."
If you can't make it to the fair, see Galerie's three picks below.
1. Jesús Rafael Soto, Untitled [to Paolo], 1981
Sicardi | Ayers | Bacino
Known for his hallucinatory work in painting and sculpture, the late Venezuelan-born artist was a pioneer of optical art, with work in the collections of MoMA and Centre Pompidou. A crucial element in Soto's oeuvre is that the pieces—whether a kinetic "Penetrable" installation of PVC curtains or an optical painting—necessitate in-person viewing to fully grasp their contemplative visual narratives. According to gallery associate William Isbell, this acrylic-on-wood-and-metal painting is a "natural complement to finery and is sure to be a stunning focal point and conversation starter in any collection."
Recommended: 5-Minute Journal: Aspen Art Museum Director Heidi Zuckerman Opens Her Diary for Galerie
2. Domingos Totora, Estação Stools
Sage Culture
Art Aspen has been known for its merger of art and design, and this year is no exception. A signature chair by Brazilian designer Domingos Totora manifests the environmentalist designer's commitment to repurposing discarded materials and transforming them into elegantly minimalistic objects with strong sculptural accents. A striking example of Totora's experimental approach to sustainable design, his recycled cardboard pulp stools "unify sustainability and elegance," according to his gallery, Sage Culture, which is also exhibiting delicate ceramic sculptures by Swedish artist Lisa Hellrup.
3. Adrienne Elise Tarver, In Fertile Shadows, 2019
Artist Commission
New York's own Adrienne Elise Tarver inaugurates the Artist Commission program with an installation that invites visitors to contemplate representations of the black female body and notions of fertility, growth, and rebirth both as natural and mental processes. A graduate of the School of Art Institute of Chicago, Tarver has proven her dramatic visual lexicon, which borrows cues from a range of disciplines, including botanics, watercolor, and craft, with exhibitions at Wave Hill, Victori+Mo, and BRIC.
Art Aspen is open to the public at the Aspen Ice Garden from July 25 to July 28.
Next Post