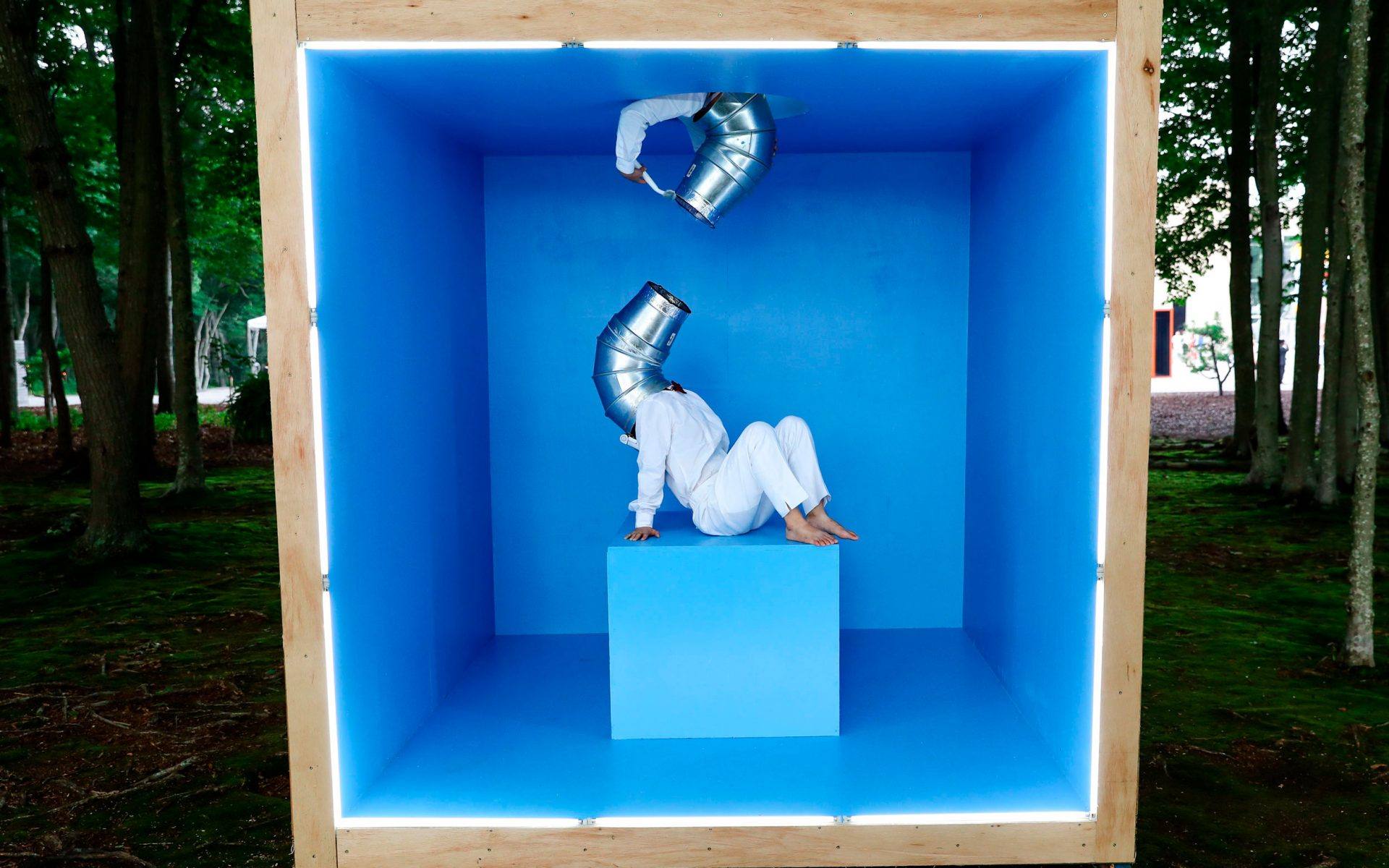 8 Reasons You Need to Visit the Hamptons This Summer
Colorful exhibitions, out-of-this-world events, and enticing new restaurants add to the allure of the East End
1. Helen Frankenthaler at the Parrish Art Museum
Although legions of artists have found inspiration in the Hamptons, Helen Frankenthaler created a number of works based on another popular seaside destination. On August 4, the exhibition "Abstract Climates: Helen Frankenthaler in Provincetown" will go on view at the Parrish Art Museum in Water Mill.
The show, cocurated by the artist's stepdaughter Lise Motherwell, has 30 works, including some of Frankenthaler's most beloved large-scale master­pieces, such as Provincetown Window. "They reflect joy, freedom, and spontaneity," says Motherwell of the paintings, photographs, and archival material from the late 1950s to '60s. "Helen wasn't a landscape painter per se, but she captured the experience of the place."
Recommended: The Parrish Gala Lights Up in Honor of Chad Leat and Keith Sonnier
The minimally colored Blessing of the Fleet (1969), for example, is inspired by Provincetown's annual Portuguese Festival, while Low Tide (1963) is a stunning wash of blue, green, and ocher. The '50s and '60s marked a time of Frankenthaler's most intense experimentation. That's when, after visiting Jackson Pollock's studio in Springs, she arrived at an innovative variant of his technique. "It's truly astonishing the number of creative risks she took," says Motherwell. "When it came to her work, she feared nothing, so she could risk it all." —Lucy Rees
2. Gilded Dessert at Carissa's The Bakery
The team behind Carissa's The Bakery is opening a new location in East Hampton. Boasting a 75-seat café, the Pantigo Road spot will offer tartines and juices by day and a full menu with wine and cocktails by night. Though it was cofounder Carissa Waechter's breads that built her following, it's her cakes, topped with spikes of Swiss meringue and dried flowers, that have become her signature. To inaugurate the new space, Waechter is debuting a flourless dark-chocolate cake featuring a touch of cayenne pepper and topped with a pile of meringue and gold-dusted rose petals. —Haley Chouinard
3. The Watermill Center's Annual Summer Benefit & Auction
Aerialists, fire-eaters, and virtual reality have all been part of the installations at Robert Wilson's Watermill Center. And its annual gala has lured guests like Lady Gaga, Bob Colacello, and Isabella Rossellini. So it's hard to fathom what to expect at this year's benefit and auction, but the mystery, the magic, and just a touch of mayhem are all part of the fun.
"Last year's 25th anniversary celebration allowed us to look back—at our artists and alumni—and celebrate what we have done together," says Erin Wainwright, Watermill's manager of special events and individual giving. "This year, we chose a different path."
Recommended: Robert Wilson's Home Is Just How You Would Imagine It
Taking place July 27, the benefit, entitled Tabula Rasa, is inspired by the idea of a new beginning. While the details are still in development, more than 20 different site-specific installations will appear on the ten-acre grounds, created by artists from the Watermill Center's International Summer Program and interspersed with works by established talents like Hrafnhildur Arnardóttir (a.k.a. Shoplifter), whose work Lonely (pictured) was a highlight of last year's event. —Jill Sieracki 
4. Jacqueline Humphries at the Dan Flavin Art Institute
Though born decades apart, the master of minimalism Dan Flavin and contemporary New Orleans–born abstract painter Jacqueline Humphries can both be credited with inventing an entirely new artistic language. Their inspiring visions will come together in a major show at the Dan Flavin Art Institute in Bridgehampton, on view from June 22 through May 17, 2020.
Recommended: 5 Museum-Quality Gallery Shows to See in New York Right Now
Once a fire station and later a Baptist church, the building was converted into an art space in 1983 by the Dia Art Foundation for a permanent installation of Flavin's neon light sculptures. Visitors to the exhibit will find cast-resin objects that radiate wild, ghostly neon colors viewable only under ultraviolet light—an evolution of Humphries's radical "black light" paintings. "I always felt that a painting should act like a light source," she says. "It is interesting how we gravitate to illuminated screens, like insects." —L.R.
5. Oysters and Cocktails at Sel Rrose
The East End will be getting a touch of Dadaism this summer. With a name paying homage to artist Marcel Duchamp's female alter ego, Rrose Sélavy, the restaurant Sel Rrose brings its beloved signature cocktails and oyster happy hour from downtown New York to Montauk. Entrepreneur Kristin Vincent tapped design duo D'Aquino Monaco to transform its space. Expect a pinstripe-tent lounge, floral murals, and alfresco dining—naturally. —Ashley Petras 
6. Art Programming at the Southampton Arts Center
Summer in the Hamptons is packed with galas and beach parties galore, but the Southampton Arts Center offers a calendar full of cultural events that provide a welcome respite from the rosé-filled soirees. "Photo Ark," a massive photography exhibit featuring portraits of over 12,000 species, will be the cornerstone of the center's schedule, while film screenings, outdoor concerts, puppet shows, and theater performances round out the activities. Also, check in for unique programming like educational workshops, as well as yoga and sound meditation—truly something for everyone, every day of the week. —J.S.
7. Showfish at the New Gurney's Star Island Resort & Marina
After a massive $13 million refresh during the off-season, the Montauk Yacht Club has been reborn as Gurney's Star Island Resort & Marina. The third luxury property from Gurney's Resorts, this destination, designed by Stella Abdoulin, will keep with the property's nautical history, including light wooden planks, rope accents, and a neutral palette with touches of blues. Luring guests out to "the End" will be Showfish, a seafood restaurant helmed by executive chef Jeremy Blutstein, as well as the resort's 232-slip marina, the largest in the Hamptons, which also received an upgrade to harbor the influx of superyachts. —A.P. 
8. Much Ado About Madoo Benefit at the Madoo Conservancy
While many of the romantic structures on artist Robert Dash's bucolic Sagaponack property date back centuries, the garden itself is celebrating 25 years as an open-to-the-public green space. The centerpiece of the festivities will be the Much Ado About Madoo benefit on June 15. Stroll the Madoo Conservancy's myriad gardens—including the new silver-leaf plot with willows, foxglove, iris, and lavender—and tour Dash's former studio, now used for film screenings, lectures, and musical performances.
An exhibition on display through July 27 offers a broad look at the history of Madoo, including some of Dash's never-before-seen original charcoal drawings and paintings that capture the evolution of the acreage. "It's exciting to bring out all of that material and really show people what a lasting influence Madoo has had on the gardening world," says executive director Alejandro Saralegui. —J.S. 
A version of this article first appeared in print in our 2019 Summer issue in the section The Hamptons. Subscribe to the magazine.
Next Post