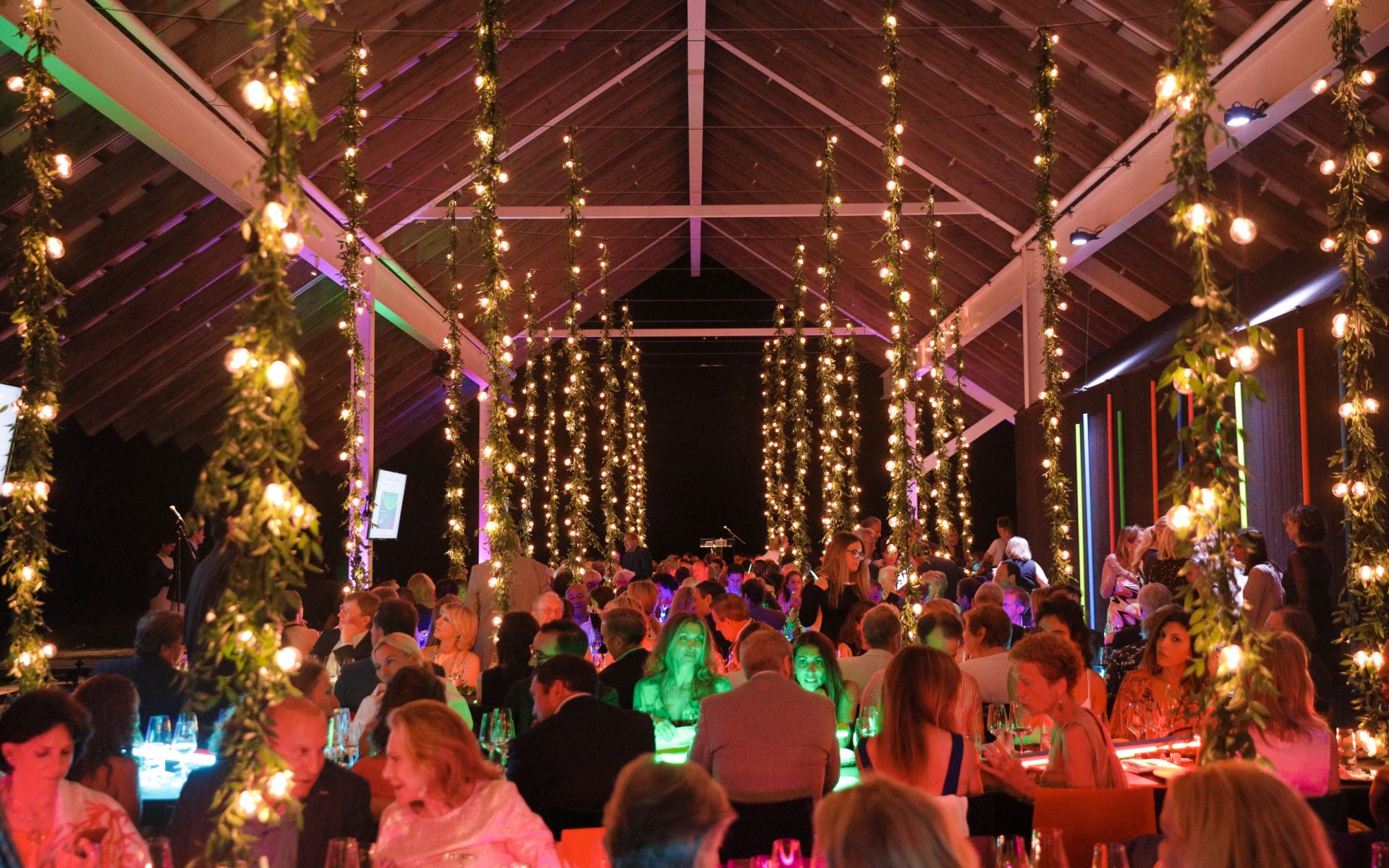 The Parrish Gala Lights Up in Honor of Chad Leat and Keith Sonnier
Artists, curators and finance leaders turned out for the Parrish's Midsummer Party
"We want to make an impression about culture in the world," said artist Keith Sonnier in an impassioned salute to the importance of artists on Saturday night at the Parrish Art Museum in Water Mill, New York. Sonnier was being honored, along with finance leader and Parrish Trustee Chad Leat, at the museum's Midsummer Party, an annual celebration hosted by the museum and its director Terrie Sultan and attended by a glittering crowd of artists, collectors, curators, philanthropists.
Always one of the high points of the summer, this year's fête honored Leat and Sonnier with an evening of art, dining, dancing, and a live auction of luxury experiences from an afternoon cruise aboard a Wajer 38 Yacht to a private studio tour and dinner with Sonnier.
The honorary co-chairs for the evening were Milly and Arne Glimcher and Fern and Lenard Tessler. Guests included art dealers Nicole Klagsbrun, Tony Shafrazi, and Louis K. Meisel, experimental theater director Robert Wilson, Dorothy Lichtenstein, artists Dorothea Rockburne, Rashid Johnson and Alice Aycock, architect Preston T. Phillips, CNN anchor Don Lemon, M Woods Museum co-founder Michael Xufu Huang, and the Whitney Museum's Chief Curator and Deputy Director for Programs Donna De Salvo.
After entering the museum, guests were guided through a hallway lit from above by a delicate arrangement of neon bulbs created by Sonnier. The work, Passage Azur, was one many on view in the artist's exhibition, "Keith Sonnier: Until Today," the artist's first solo exhibition in the U.S. in 35 years.
The show, which was organized by Sultan and guest curator Jeffrey Grove, offers an extensive overview of his five-decade career with 36 works ranging from his neon and glass sculptures in his beloved Ba-O-Ba series, for which he is best known, to his sound/process works. There are also some works in the show that will surprise viewers with their demonstration of the wide range of materials he has used throughout his career, such as his 1968 work Rat Tail Exercise, a minimal composition made from string, rubber and flocking.
Recommended: A-Listers Come Out for Hetrick-Martin Institute's Hamptons Summer Benefit
Also on view is "Five and Forward," a show in celebration of the five-year anniversary of the Parrish's Herzog & de Meuron-designed building featuring the work of Alan Shields and Abstract Expressionist James Brooks. Drawn from the museum's permanent collection, the exhibition highlights the legacy of artists of the East End. In a new initiative, the Parrish also asked artist Rashid Johnson to create a special installation drawn from the collection.
The homage to Sonnier extended to the dinner. Served on the terrace, it featured an elaborate neon light display on the tables and strung from the ceiling as well as an array of green glow sticks that guests used to bid on auction items. Guests dined on Maine lobster cloaked in saffron, peppercorn crusted short ribs and wines from the Wolffer Estate. After, revelers continued on to the Lichtenstein Theater for a late night party which heated up with music by DJ Alice Longyu Gao.
SaveSave
SaveSave
Next Post