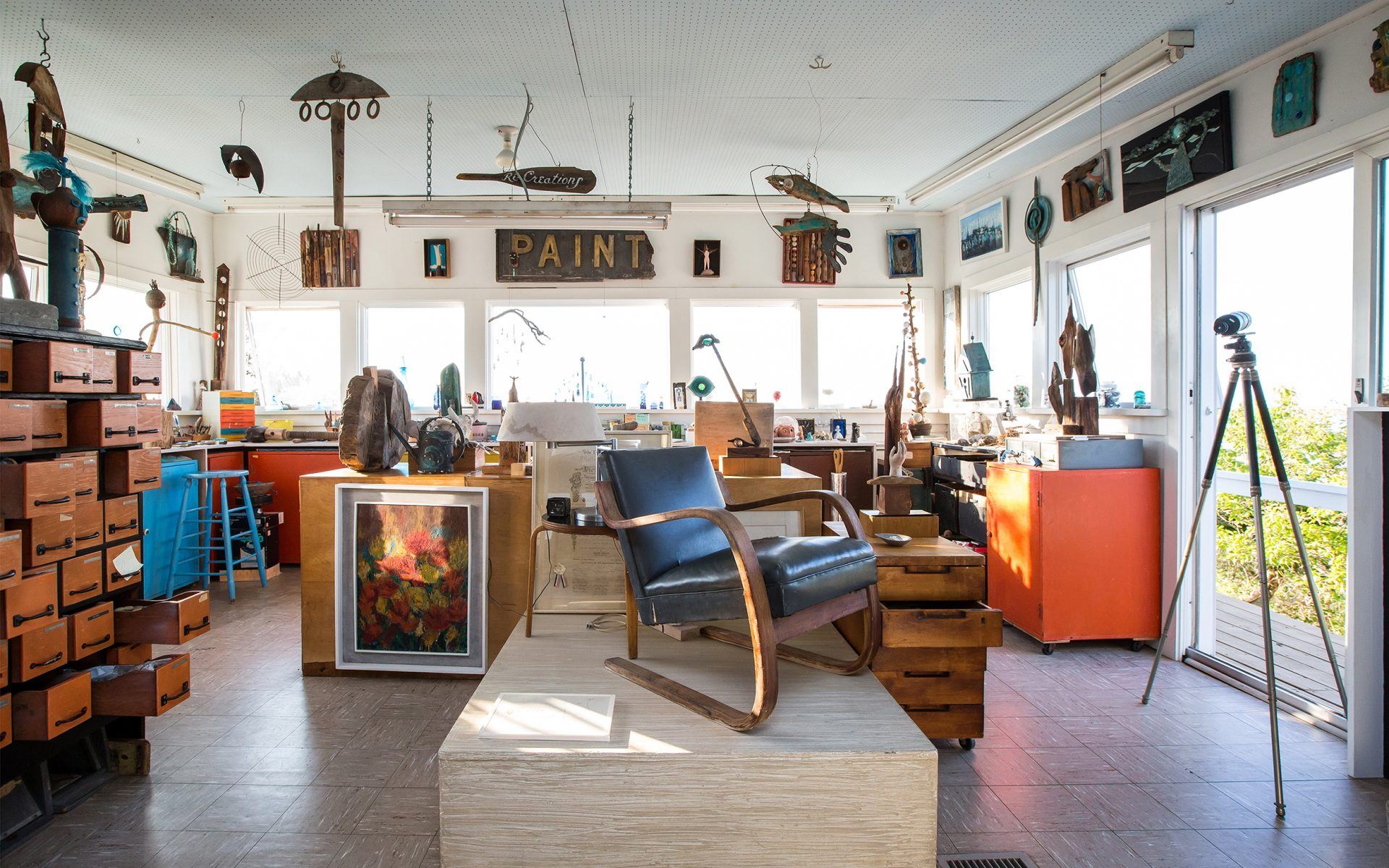 Explore the Fascinating Art Barge Docked in the Hamptons
The Victor D'Amico Institute of Art will host a series of conversations this summer featuring major artists like Ilya and Emilia Kabakov
When the founding director of the Museum of Modern Art's education department, Victor D'Amico, and his wife, Mabel, created a home in the Hamptons nearly 60 years ago, the area was still an unpolished haven for artists and other bohemians. D'Amico wanted to continue offering arts education outside of New York City, which he did at Ashawagh Hall in the Springs, then later, on a reimagined retired World War II Navy barge in Amagansett.
Today, the Victor D'Amico Institute of Art—colloquially known as the Art Barge—continues to inspire with classes and workshops for adults and children, as well as a series of programming, like Artists Speak, which kicks off on June 19 with a conversation between artist, designer, and set decorator Kris Moran and author A. S. Hamrah.
This year's Artists Speak series, entitled "Collaborations," is inspired by the 100th anniversary of the Bauhaus movement and features unique creative couplings, such as husband-and-wife installation artists Ilya and Emilia Kabakov (July 17) and Maira and Alex Kalman, the mother-and-son creators of Sara Berman's Closet, which was mounted at The Met in 2017.
Recommended: 8 Reasons You Need to Visit the Hamptons This Summer
"Because we were already doing something with the Bauhaus workshop and the Josef and Anni Albers Foundation, we thought, Why not carry that through to all the programming we're doing," trustee and creative ambassador Serina Mayer tells Galerie. "We decided to experiment this year, and these people were so excited to participate, so in addition to the Artists Speak, we extended it to include their artwork, which had never been done before."
As planned to coincide with their talks, the Kabakovs will mount the exhibition "How to Make Yourself Better," comprised of several on-theme pieces, while the Kalmans are doing an experiential installation inside the gallery at the Art Barge.
Recommended: This Long-Overdue Exhibition Marks 50 Years Since the Stonewall Uprising
Since the '80s, the program traditionally hosted only visual artists, including Elaine de Kooning, Syd Solomon, Jimmy Ernst, and Larry Rivers. "We invited these folks who are out here that everyone knew on a first-name basis to come and talk about why they made their artwork, just to give them a soapbox, in a sense, to stand on and to voice their thoughts and opinions," says Christopher Kohan, president of the Victor D'Amico Institute of Art, which will celebrate its 60th anniversary next year. "It took off wonderfully." This year marks Artists Speak's first expansion into talents from a range of mediums.
In addition to programming at the Art Barge, which is docked in Napeague, the Institute maintains the D'Amicos' former Lazy Point home as a studio and archive where an exhibition of glasswork entitled "Four Glass Artists" is currently on view. "The house is designed as modernist right from the foundation up with lots of ingenious multifunctional apparatus, lots of modernist furnishings, including original prototype Eames and Aalto chairs," says Kohan of the residence. "Mabel made a lot of the objects in the house—dishes, pillows, and clothing—so it was a whole way of living a modernist lifestyle."
The unconventional layout has no interior walls and a glass exterior to showcase the views of Gardiner's Bay; inside, there are no carpets, lamps, or draperies. Some furniture is built in and multifunctional. The couple believed in always "placing" objects in their home—gallery-exhibition-style—and that ethos has been continued. "This reflects MoMA in 1940," says Kohan. "It was a way of taking creativity and expanding it through a modernist way of thinking and living."
Looking to the future, the organization is applying for landmark status to help preserve both structures, which are currently undergoing updates and repairs. "This really is an homage to modernist living," says Mayer of the house, which the D'Amicos built themselves in the '40s. "The Art Barge has really held on to its essence; it has not bowed to the pressures of technology. It is still very much a handmade place. There's nothing else like it."
Next Post