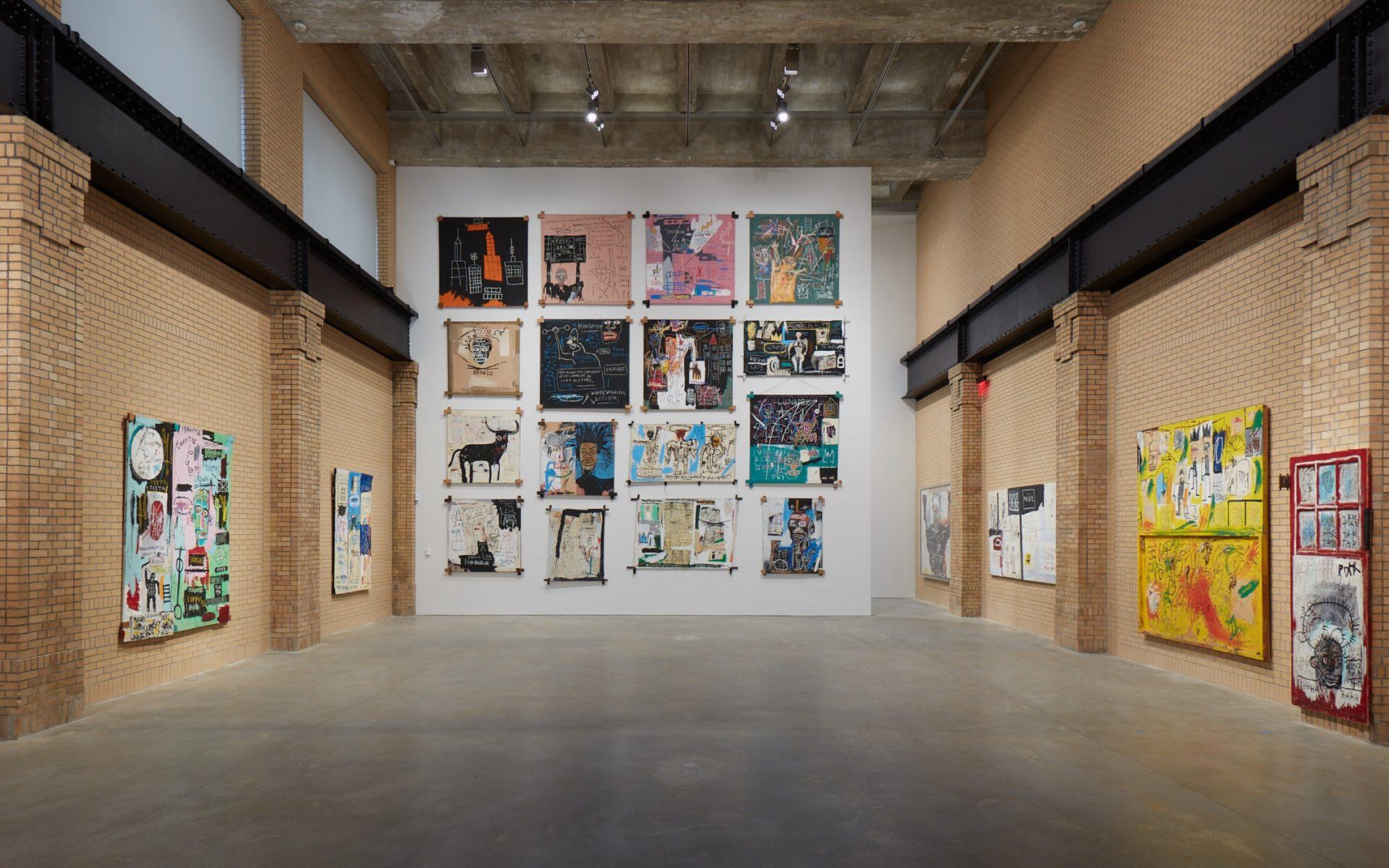 Two New York Exhibitions Explore the Complex Mind of Jean-Michel Basquiat
Galerie talks to Dieter Buchhart, who curated standout shows at the Brant Foundation and Nahmad Contemporary
Two complementary exhibitions dedicated to Jean-Michel Basquiat are now on view in his native New York. The first, an in-depth retrospective that brings together some of the neo-Expressionist artist's most important paintings and drawings, inaugurates the newly opened East Village outpost of the Brant Foundation. Uptown at Nahmad Contemporary, another show features over 20 works that Basquiat created with a Xerox throughout the 1980s as well as a selection of his earliest Xeroxed postcards. Basquiat scholar Dieter Buchhart curated both shows.
"There is an internal logic in his works, especially in the works that have a lot of writing and symbols," Buchhart told Galerie at the opening of the Brant Foundation earlier this month. "He brings together very big ideas, some of which you would not normally bring together."
The show at the Brant Foundation is an iteration of the Basquiat show that was on view at the Fondation Louis Vuitton in Paris last fall. It sources works from the Brant Collections as well as international museums and private collections. Even though his career was short—he died in 1988 at the age of 27 of a drug overdose—it was prolific. The show brings together some of his most celebrated works, including an untitled head painting from 1982 and Grillo (1984).
Recommended: How Basquiat Became an Art World Legend
The lesser-known "Xerox" works on view at Nahmad, many of which have never been exhibited in New York before, drew inspiration from the cut-up technique popularized by famed Beat Generation writer William S. Burroughs, in which written texts are spliced and rearranged into a new text. In his collages, Basquiat combined clippings of newspapers, photographs, and even candy wrappers with paint splatters, drawings, and scrawled text in myriad languages: English, Spanish, and French—which the Brooklyn-born artist spoke fluently—as well as Greek, Japanese, Chinese, and Thai.
"Many of the works have many languages," says Buchhart, who uses the phrase "knowledge rooms" to describe the spaces in Basquiat's paintings and drawings that unite a variety of languages and ideas, revealing the artist's pre-Internet prescience about how interconnected people would be in the future. "Today, it's easier to decipher because of Google."
Buchhart notes that Basquiat also communicated through motifs, particularly the human head, which appears time and again throughout his body of work.
Recommended: A Jean-Michel Basquiat Musical Is Headed for Broadway
"He did dozens of heads because it's our essence. It's where we think, where we speak," Buchhart explains, pointing out that, in some instances, Basquiat's heads are missing a critical feature—the mouth. "He was interested in the question of freedom of speech and the question of speechlessness."
Nearly two years have passed since the historic sale of Basquiat's Untitled (1982), a dramatic painting of a skull against a bright blue background, which went to Japanese collector Yusaku Maezawa for $110.5 million and established Basquiat as the most expensive American artist. Shortly before the sale, in March 2017, a more niche record had been broken—the highest price paid for a "Xerox" work at auction—with the artist's Untitled (One Eyed Man or Xerox Face) (1982). That piece, which features a standing figure with a Cheshire-cat grin and a halo against a multicolored background, sold for $14.5 million at Sotheby's London. The former work is currently on view at the Brant Foundation.
Buchhart seems unsurprised by what collectors will pay for a Basquiat, calling the sky-high prices "earned in a sense that I don't think most people can verbalize." Collectors, he observes, are "just gravitating toward the work. Basquiat creates this unbelievable intensity."
"Jean-Michel Basquiat" is on view at the Brant Foundation, 421 East Sixth Street, through May 15. "Jean-Michel Basquiat: Xerox" is on view at Nahmad Contemporary, 680 Madison Avenue, through May 31.
Next Post