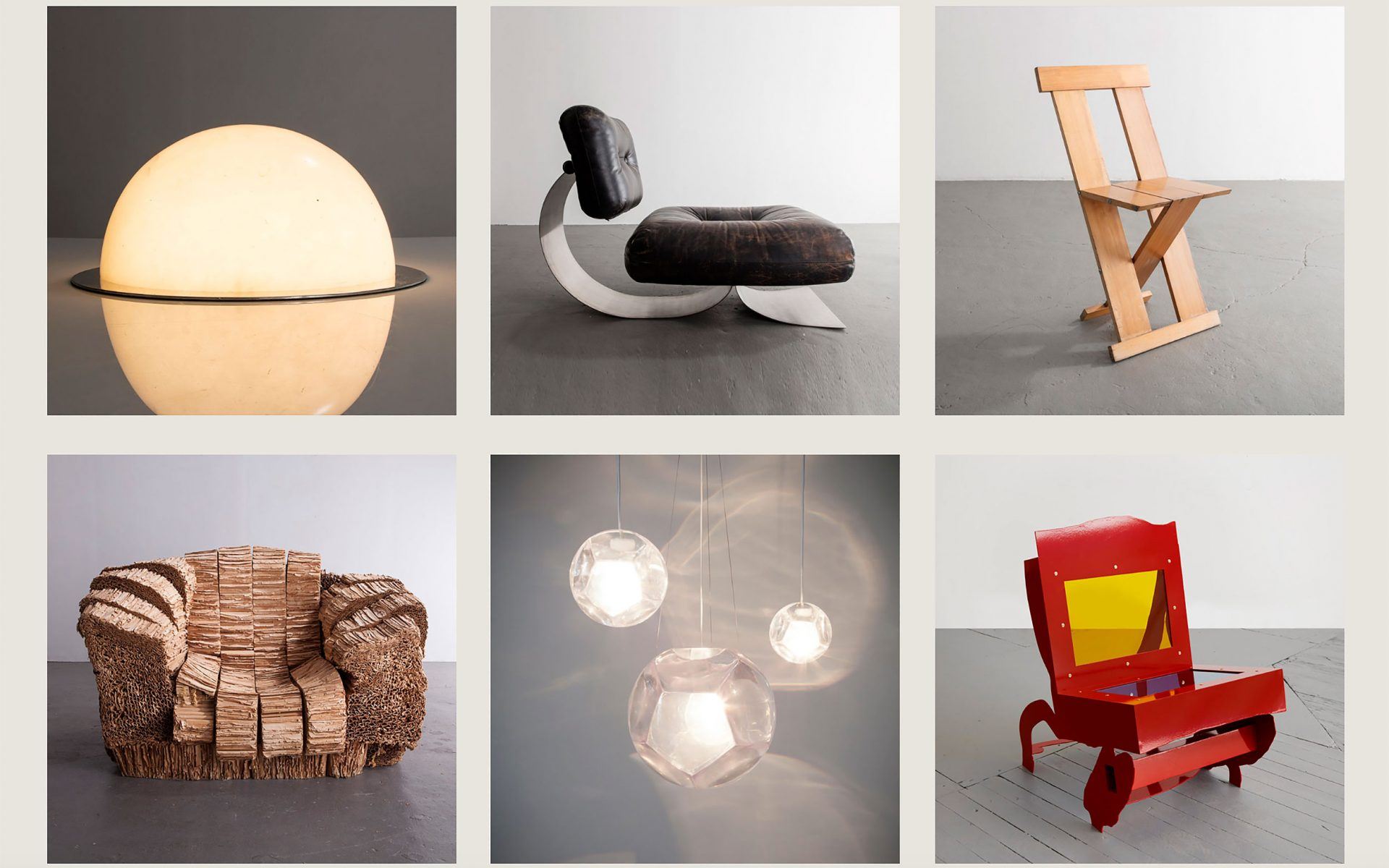 Now Is a Great Time to Invest in Furniture Designed by Architects
Through the lens of a new R & Company exhibition, discover how the modern design market began and what its future holds
For many architects, creating bespoke furniture for buildings they've designed is like "the olive in the martini," Serban Ionescu tells Galerie. "Furniture is necessary to activate a space." The Brooklyn-based artist is one of 12 featured in a new virtual exhibition titled "Furniture by Architects," hosted by R & Company. Curated by James Zemaitis—the New York design gallery's director of museum relations—and design historian Mina Warchavchik Hugerth, this exhibition is the gallerist's response to displaying art while sheltering in place. With its brick-and-mortar shows postponed until September, R & Company plans to release virtual exhibitions every few weeks to educate the public and showcase the breadth of its collection. (The gallery houses several thousand pieces in an 18,000-square-foot warehouse in the Brooklyn Navy Yard.)
Like Charles and Ray Eames, certain designers are remembered for their furniture rather than their architecture, while others, such as Arne Jacobsen and Alvar Aalto, left more of a 50-50 legacy. In both instances, however, what is consistent and admirable is their desire to apply architectural principles and experiment with various scales of craft. Drawing on the gallery's 20 years in business, as well as his own experience building the modern design industry, Zemaitis reveals how his tightly curated exhibition has mighty market implications.
A Gallery That Specializes in the Best of the Best
Like Zesty Meyers and Evan Snyderman, who founded R & Company, Zemaitis was ahead of the collectible modern design trend. During the 1990s, Meyers and Snyderman bought invaluable pieces that were not necessarily connected to the artists their gallery represented for their personal collections. Prior to joining the gallery in 2016, Zemaitis had a successful auction career, first starting the modern design department at Phillips in 2000 and later spending a decade at Sotheby's, where he also launched what is now its 20th-century design department.
Upon joining R & Company, Zemaitis made it his mission to collect historical masterworks and further diversify the gallery's collection. "I realized there was not a gallery in America any more doing that," he says, referencing legendary gallerists of the '80s and '90s, such as Barry Friedman and Mark McDonald. "Design galleries have become increasingly specialized. This gallery only does Nordic design, or this one only does Italian."
"Furniture by Architects" reflects its founders' foresight, as well as Zemaitis's desire to make R & Company a destination for 20th-century design of all categories. Several of the chairs featured have been in the gallery's permanent collection for as long as 20 years. Zemaitis "very specifically acquired" other pieces because, he says, "museum curators are always on the lookout for Marcel Breuer and 'bent ply.' Let's invest."
Recommended: Inside a Gaudí-Inspired Tower on the Upper East Side
The Birth of the Architect-cum-Designer as We Know It
While 19th-century architects did build modern furniture, Zemaitis points to an explosion of experimentation and mass production in the early 20th century. "There was this moment when the pioneers of modernism—Frank Lloyd Wright, Louis Sullivan, and Charles Rennie Mackintosh—incorporated furniture into their specific interiors and were being replaced by a generation of architects who were deliberately designing furniture with low-cost production ideas in mind," explains Zemaitis.
In the 1910s and '20s, architects began working with materials being produced at a faster rate than ever—first, plywood and tubular steel, then glass and plexiglass, and later plastics. Zemaitis cites Alvar Aalto: "He was doing these incredible churches, government buildings, and cemeteries in Finland, but at the same time, he was shaping an entire industry of furniture production."
Recommended: Why Architect Vincenzo de Cotiis Loves His Milan Palazzo More Than Ever
The Chair as the Ultimate Expression of Architect-Made Furniture
According to Zemaitis, who also organized a concurrent digital exhibition highlighting 12 chairs from R & Company's collection, there are two key reasons why the chair has become such an important architectural expression. First, designers can apply architectural and drawing principles to create a sculpture of sorts, and second, chairs have shaped the history of 20th-century design at auctions and galleries. Swiss family-owned furniture company Vitra "has always been a chair manufacturer, but they became this institutional center in the '80s and '90s, when they developed their own campus. They hired architects to design buildings that would show off their furniture collection," explains Zemaitis. "It was Vitra that created this fetish around the chair."
Contemporary Designers Share Their Perspectives
As for the appeal of creating buildings versus chairs, Ionescu tends to favor the latter for its immediacy. Trained in architecture, the designer melds his education and technical skills with an uninhibited imagination and love of sketching. He cites Alto, Frank Gehry, and Ettore Sottsass—whose vibrant color palette and love of mini-models he shares—as inspiration. With Kudd, his sculptural lounge chair featured in "Furniture by Architects," the artist pays homage to Donald Judd, both with the work's title and the use of a plexiglas window.
Christian Wassmann, the Swiss artist and designer behind one of the show's few non-chairs, is also inspired by the other renowned architects featured in the exhibition. "I feel very honored to be in this group," Wassmann tells Galerie. "When I moved to New York, I was always paying attention to what R & Company was doing because they were showing architects that one could not discover so easily in Europe." Among them are Brazilian designers, Sergio Rodrigues and Oscar Niemeyer, whom Wassmann first discovered as a teen on an eye-opening trip to South America.
With projects ranging from Supreme's Brooklyn boutique to the award-winning Sun Path House in Miami Beach, Wassmann's work primarily consists of architecture. (He is currently updating Philip Johnson's first house, located in Bedford, New York.) However, objects, especially those that serve multiple functions, are an integral part of his practice. Featured in "Furniture by Architects," his Dodecahedron chandelier-meets-optical-instrument has become somewhat of a signature item. When sunlight hits the glass, it shoots rainbows through the space while also turning whatever image is reflected through it upside down.
Recommended: 12 Wondrous Lighting Designs Inspired by Nature
"When I design my buildings, I have full control over everything," says Wassmann. "When R & Company sells a chandelier, usually another architect or decorator puts the piece in a new context. I love seeing my objects surrounded by ones that are not necessarily my aesthetic. It enriches them."
The State of the Modern Design Market
Zemaitis candidly shares that ultimately the modern design market is struggling in comparison to where it was 20 years ago—which is exactly why it's more possible than ever to acquire a historic masterpiece. In "Furniture by Architects," the Eames chest of drawers, for example, was featured in the Museum of Modern Art's 1941 Organic Design in Home Furnishings Competition. "Only a handful of those were made, and it's a museum-quality piece," notes Zemaitis. With items beginning at a few thousand dollars, the price range should also feel more approachable to online audiences, as well as collectors aspiring to enter a new category, like Meyers and Snyderman once were.
Recommended: A Love Letter to MoMA: Glenn Lowry and Curators Share the Works They Miss the Most
"Historical work does not sell at the same speed that a new piece by the Haas Brothers would," says Zemaitis, who in spite of market trends, remains unwaveringly optimistic about modern design's future. "We are acquiring works that we may not sell for another 20 years, but in the meantime, we can loan them to other exhibitions, which will continue building their histories and provenances."
Next Post