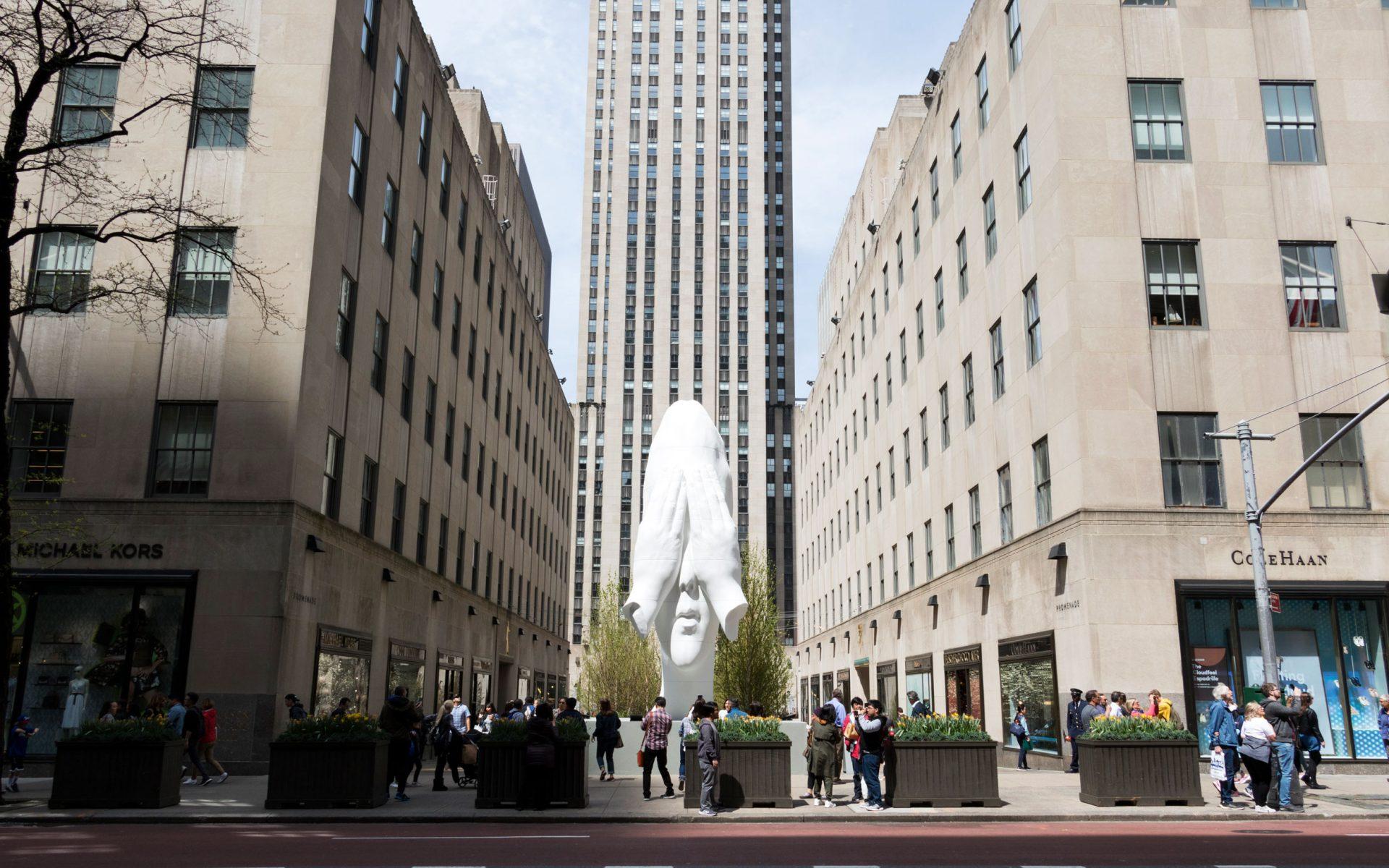 For the Inaugural Frieze Sculpture, a Thoughtful Show Transforms Rockefeller Center
The ambitious project, curated by Brett Littman, includes 20 works that respond to the historic plaza
Visitors to Rockefeller Center this spring will find the iconic rows of American flags that frame the skating rink replaced by jute bags handmade in Africa hanging from the poles. The switch is not some act of vandalism but an artwork by Ghanian artist Ibrahim Mahama. And it's one of the 20 sculptures by 14 artists that are currently transforming the square in the heart of Manhattan for the inaugural edition Frieze Sculpture in New York.
The public art project, which is curated by Brett Littman, director of the Isamu Noguchi Foundation and Garden Museum, coincides with Frieze Art Fair, which opened to the public today.
"I wanted to think about Rockefeller Center and how I could integrate the works beyond simply putting them on the ground," says Littman. Littman had his sights set on the flagpoles from the start and had thought of Mahama for the project. "It's a profound piece and it changes the whole feeling of Rockefeller."
Recommended: VIDEO: Frieze Sculpture Opens at Rockefeller Center
There is also a black fist emerging from a gramophone by Nick Cave; a silver-toned work by Aaron Curry; a sleeping bronze woman and her lamb by Kiki Smith; and a monumental white face by Spanish artist Jaume Plensa. All of the works are presented by the artists' respective galleries and are for sale, offering artists an alternative commercial platform in one of the most vibrant areas of the city.
It was also important for Littman to stay away from only monumentally scaled works, so there are many smaller pieces hidden between gardens or tucked away inside. (The biggest piece is Jaume Plensa's Behind the Walls, which is proving to be the most Instagrammed.)
Frieze Art Fair, which takes place at Randall's Island through May 6, boasts more special curated sections and programming than ever before, with Frieze Sculpture as a major new component. "It's a unique platform for galleries to show and promote their work," Loring Randolph, artistic director of the Americas for Frieze Art Fairs, tells Galerie. Frieze Sculpture started in London to coincide with the fair's original British version, which takes place every fall in Regent's Park. "Ever since I started working on Frieze, I wanted to bring Frieze Sculpture to New York and drop it right into the heart of Manhattan."
Recommended: The Best Art & Design Fairs and Biennials this May
The rich history and architecture of the Rockefeller Center is carefully considered, with the project offering interesting juxtapositions between the new commissions and the existing art. Take, for example, Isamu Noguchi's 1938 bas relief work on the façade of 50 Rockefeller Center, which was commissioned by the Associated Press and Rockefeller Center. Directly responding to it are works by contemporary artists Curry, Paulo Nazareth, and Hank Willis Thomas, whose pair of striking sculptures are placed directly in front.
"One of the great things about Frieze Sculpture is that it's open to the public so people can come and engage with works that would typically be in a gallery or a home," Randolph tells Galerie. "New York is still the epicenter of the art world. It's where the thought leaders are and where a lot of ideas and innovations are happening."
Frieze Sculpture is on view through June 28 at Rockefeller Center.  
Next Post