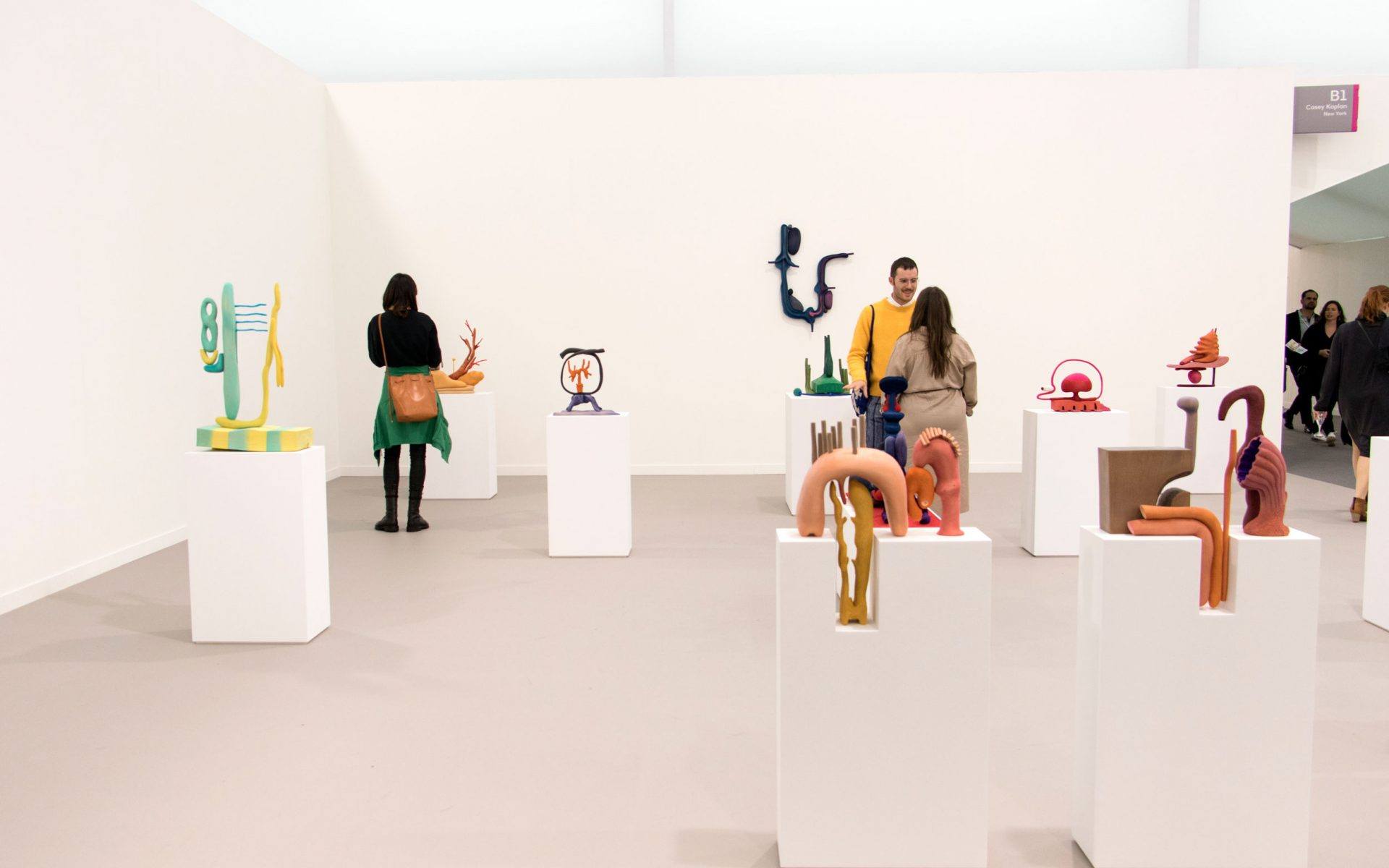 9 Standout Artists to See at Frieze New York 2019
We scoured some 200 booths to present the most promising artists to watch
On a particularly gray and foggy Wednesday morning, VIP collectors and art-world denizens donned their best art fair garb (this year it was all pink power suits, chunky sneakers, and a startling number of accessory stuffed animals) to take the ferry to Randall's Island for the preview of Frieze New York. The eighth edition of the London transplant fair, which runs through Sunday, gathers 191 exhibitors from some 25 countries.
At the main entrance of the signature white tent, guests are greeted by what is sure to be the most Instagrammed spot of the fair, a pairing of Yayoi Kusama's iconic Narcissus Garden with Chris Ofili's monumental canvas To Give and to Take, presented by London's Victoria Miro. Many of the blue-chip galleries went for dual presentations this year. David Zwirner, for example, presented large-scale work by Harold Ancart (all six works sold out on opening morning) with a section dedicated to Christopher Williams, while Gagosian presented monochrome sculptures by John Chamberlain alongside paintings by Steven Parrino.
Frieze New York also sets itself apart from the plethora of art fairs with ambitious institutional-quality curated programs, special talks, and a slew of solo presentations by emerging artists. Above all, the fair offers a chance for many exciting new discoveries with special sections Frame and Focus dedicated to spotlighting emerging talent and young galleries.
Galerie scoured the fair to present some top talents to look out for.
1. Gala Porras-Kim at Commonwealth and Council
Los Angeles gallery Commonwealth and Council dedicates its space to a solo exhibition of Bogotá-born, L.A.-based artist Gala Porras-Kim's latest works. "I'm interested in questioning the ways we acquire knowledge and how museums define objects," she tells Galerie. For her recent exhibition at Pacific Standard Time, where she analyzed the LACMA's Proctor Stafford Collection, a large group of ancient Mexican ceramics, Porras-Kim regrouped them in a series of paintings to offer a new reading. Expanding on this series for the booth at Frieze, the artist presents three new paintings and a group of sculptural works. (The painting was purchased by the Brooklyn Museum on the first morning.) Three glass cubes filled with soil are in front of the paintings. "I work with a lot of conservators. They assess the damage of ancient ceramics by the amount of contact with dirt." Porras-Kim has had a banner couple of years, showing at the Hammer Museum, LACMA, and the Whitney, and being shortlisted for the BMW Art Journey. Look out for her latest work at the upcoming Whitney Biennial, opening May 14.
Recommended: The Best Art & Design Fairs and Biennials this May
2. Matthew Ronay at Casey Kaplan
Visitors to Casey Kaplan's sprawling corner booth are invited into a surreal otherworldly realm, thanks to St. Louis–born, New York–based artist Matthew Ronay's latest creations. The wacky constructions are hand carved in basswood, flocked (a technique that creates a lush, velvety texture), and dyed in bright shades of pinks, reds, and blues. For the first time, Ronay has experimented with the forms directly, intervening with the plinths they sit upon, allowing the traditional support structure to become part of the work itself. "His sculptures are reminiscent of sea creatures or bodily organs," director Veronica Levitt tells Galerie. The works are on offer for between $28,000 and $50,000 apiece. Don't miss his solo show on view now at Casey Kaplan's space on West 27th Street in Chelsea.
3. Omar Ba at Hales Gallery
The Senegalese artist Omar Ba is well-known in Europe but lesser acknowledged in the U.S. The London gallery Hales hopes to change that by presenting two of his new mixed-media works. Based in Dakar and Geneva, Ba fuses African and Western influences to masterful effect. Patterns and ornamentation from traditional Senegalese decoration, for example, are melded with depictions of war generals, political leaders, or other such colonial references. The paintings are crafted with layers of oil, gouache, and ink on rough corrugated cardboard, questioning hierarchies of material. "We have been working with Omar Ba for close to a decade," says gallery director Stuart Morrison. "His intricate and meticulously made paintings play with influences from both African and European cultures, and also combine personal and political imagery with figuration and abstraction. His earlier work explores the violent legacies of colonialism on the African continent, turning despotic leaders into fantastical, animal-like figures. More recently his work highlights the beauty of Africa, and he has begun to incorporate images of his mother and family into the paintings." Up next is a solo exhibition in New York in 2020, slated to be the largest presentation of Ba's work in the U.S.
4. Diedrick Brackens at Various Small Fires
Diedrick Brackens is shaking up the art world with his stunning contemporary tapestries, painstakingly crafted with a single loom in his L.A. studio. The young artist, who grew up in Marfa, Texas, uses complex woven algorithms that draw on African, American, and European textile histories to present narratives exploring notions of race, gender, marginalized communities, and sexuality. Of the three tapestries on display at Various Small Fires, the standout is When No Softness Came (2019), depicting a lime-green figure reclining across a white horse against a hot-pink background. The edges are purposely left uneven and imperfect. The work was purchased by the Brooklyn Museum on the preview morning. Brackens has had solo shows at the Ulrich Museum of Art, Wichita (2017), and Steve Turner Gallery, Los Angeles (2016); last year, he received the Studio Museum in Harlem's Wein Prize.
5. Ewa Juszkiewicz at lokal_30
Polish artist Ewa Juszkiewicz takes Flemish masterpieces as her jumping-off point, covering their faces or substituting them with Surrealist motifs of twisted hair, floral bouquets, or draped fabrics. "Ewa is interested in how women have been portrayed in painting throughout history," lokal_30 gallery director Agnieszka Rayzacher tells Galerie. "And how fashion was once so restrictive and now is used for individual expression." Juszkiewicz, born in 1984, graduated from the Academy of Fine Arts in Gdańsk with an MA degree in painting and is currently pursuing a doctorate degree at the Academy of Fine Arts in Kraków.
Recommended: Antony Gormley Installs Arresting Sculptures Amid Ancient Grecian Ruins
6. Sarah Faux at Capsule Shanghai
Hovering somewhere between figuration and abstraction, Brooklyn-based painter Sarah Faux's sumptuously colored canvases become clearer the longer you look at them. In I'd Be a Shitty Girlfriend (2019), a swathe of color and lines soon appears to be a female body, a jumble of legs in the foreground, and a face staring out from behind. On the adjacent wall, a series of cutouts in fabric recall Matisse's reconstructed figures. On opening day, works were on hold for a couple of Asian collectors. "I discovered her work around three years ago," gallerist Enrico Polato tells Galerie. "I then opened my gallery in Shanghai and included her in the debut show. I'm so happy to be showing her work in our first-ever New York fair." Faux had her first solo show at the gallery in Shanghai last summer.
7. Firelei Báez at James Cohan
New York's James Cohan gallery is participating in the Diálogos section, a new area focused on Latino and Latinx art that celebrates the 50th anniversary of El Museo del Barrio in Harlem, organized by El Museo's director, Patrick Charpenel, and one of its curators, Susanna V. Temkin. Cohan presents three monumental works on paper by Firelei Báez, whose lush artworks incorporate a mashup of vernacular drawn from Haitian mythology, maps, regional histories, and even colonial wall coverings to explore diasporic narratives. One work, Untitled (Central Power Station), features a woman wrapped in a coil of shiny woven black hair against a historic blueprint map of a power station. Báez has caused quite a stir in the art world recently: A finalist in the Pinchuk Future Generation Art Prize in 2017, she has since shown in the 2018 Berlin Biennial and had solo shows at the Studio Museum and Kemper Museum of Contemporary Art. This year, she is the subject of a solo show at the Witte de With Center for Contemporary Art, Rotterdam, Netherlands. Don't miss the solo presentation of her work in James Cohan's main gallery in Chelsea, where the space is enveloped in a blue tarp and a map of the stars as they appeared in 1791 during the Haitian revolution hangs above.
8. Olivia Erlanger at And Now, Dallas
The Frame section at Frieze is a great way to discover new talent, and this year it does not disappoint. One of the most delightful booths is by Olivia Erlanger, who presents a surreal installation of three mermaid tails in orange, green, and yellow resin emerging from old-fashioned industrial washing machines. "I'm interested in the way women have to transform themselves according to social situations and contexts," the artist tells Galerie. "I look at archetypal transformation such as sphinxes, sirens, or mermaids. It's about the female agency. Then the washing machines are a nod to domestic, gendered work." In 2017, Erlanger's immersive installation occupied the BMW 7 Series Lounge at Frieze London, where three motion-sensitive benches invited audiences to sit and listen to real and fictional testimonies about an ecological event.
9. Matthew Lutz-Kinoy at Mendes Wood 
Working across sculpture, printmaking, ceramics, and painting, the young New York talent Matthew Lutz-Kinoy is often inspired by the techniques and influences of his collaborations and travels. A recent residency in Japan resulted in this new series of large-scale paintings, where the scroll-like shape and tiger are nods to 18th-century Japonisme. Mendes Wood also showcases a beautiful wall hanging by Solange Pesoas, crafted in ceramic and bronze and feathers, which sold on the first day.
Frieze New York is on view through Sunday. 
Next Post