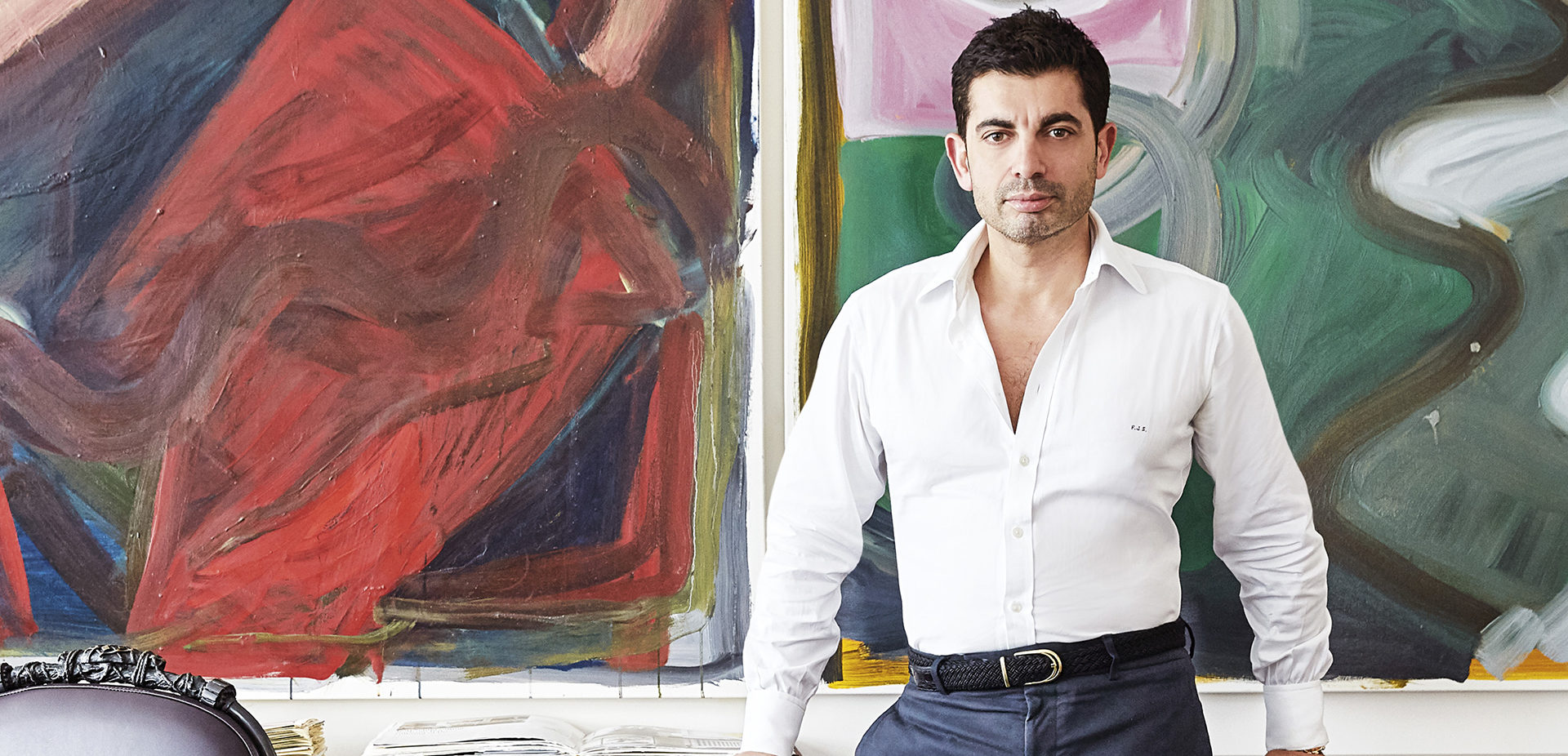 Enter Designer Francis Sultana's London Atelier
The chic, creative lair is filled with blue-chip contemporary art
With the leather-and-tobacco scent of a Cire Trudon candle, the gentle sounds of Chopin, the burnished tones of bronze and oxblood red, and the vigorous abstract paintings of artist Josh Smith, the inner sanctum of Francis Sultana is a rich, inviting space. Last year the London-based interior designer moved from Chelsea to this St. James's location, above his partner David Gill's eponymous gallery (where he serves as CEO), and it turns out to have paid dividends.
"This neighborhood isn't really known for my profession," says the Maltese-born Sultana. "It's quite corporate, with the headquarters of Rolex and Christie's nearby, but it really suits my client demographic. They're often in the area and enjoy coming here."
It wasn't so spruce when he took over the 1930s offices from a team of hedge funders. It was, he recalls, "dingy and dire," with low ceilings, glass partitions, and carpet tiles. Sultana restored the original, loftier proportions and created three spaces. Visitors enter a large showroom furnished with his exquisitely crafted pieces in noble materials such as patinated bronze, pâte de verre, and lacquered rosewood. Named after friends, his designs include the Harry desk, for gallerist Harry Blain, and the Celia daybed, for Spanish supermodel Celia Forner Venturi, whom Sultana counts as "muse, client, and dear friend." Yana Peel, who runs the Serpentine Galleries, has an entire collection titled in her honor, as does London fashion investor Narmina Marandi (launching this fall).
On display are contemporary artworks—by the likes of George Condo and Secundino Hernández—from the substantial collection he's amassed over the years with Gill. Collecting is a passion Sultana shares with his clients. "They're all big collectors. It's a mutual obsession," he says. "I often find myself thinking, How lucky am I to be doing a hallway with nine Picassos."
The adjoining studio, where a staff of a dozen work on projects, is the buzzing industrious hive, while Sultana's office next door is more akin to a genteel private apartment, complete with velvet-mohair-upholstered daybed, currently strewn with fabric samples. "Sadly, I don't use it for napping," he says. Personal mementos cover the walls and tables, including star ceramist Barnaby Barford's bone-china miniatures of Sultana's former Fulham Road studio and the gallery down‑stairs, sculptural wax busts by Michele Oka Doner, a card from Pierre Bergé, and pinecones that Sultana collected at a cemetery during the funeral of his close friend architect Zaha Hadid.
Despite this cozy, patrician atmosphere, everything is forensically arranged to best serve his creative needs and frenetic schedule. Sultana has 12 residential projects currently under way, spread among New York (including a Park Avenue residence), London (he's just completed an apartment in David Chipperfield's One Kensington Gardens), and the South of France, so his days are strictly regimented. "Even my calls are scheduled—I couldn't live without my 'flying saucer,' " he says, pointing to the Konftel conference phone on his desk. "I'm addicted to it."
He sits behind not one but two bronze-and-leather desks of his own design, which are pushed together to create a vast desk of two halves, both literally and figuratively. One side supports a computer, a pot of Montblanc pens, and a stack of leather-bound Hermès sketchbooks. The other desk, reserved for sketching, holds nothing but a large presentation box of Faber-Castell pencils. "That's the creative side," he explains.
Sultana is as pragmatic as he is poetic: While his office is supremely chic, the largest wall has been transformed into a giant mood board lined with inexpensive cork. "It probably cost $90 on Amazon, but it's the most useful thing I have in here," he says. "I love the idea of bringing cork back. It's very David Hicks." 
Next Post