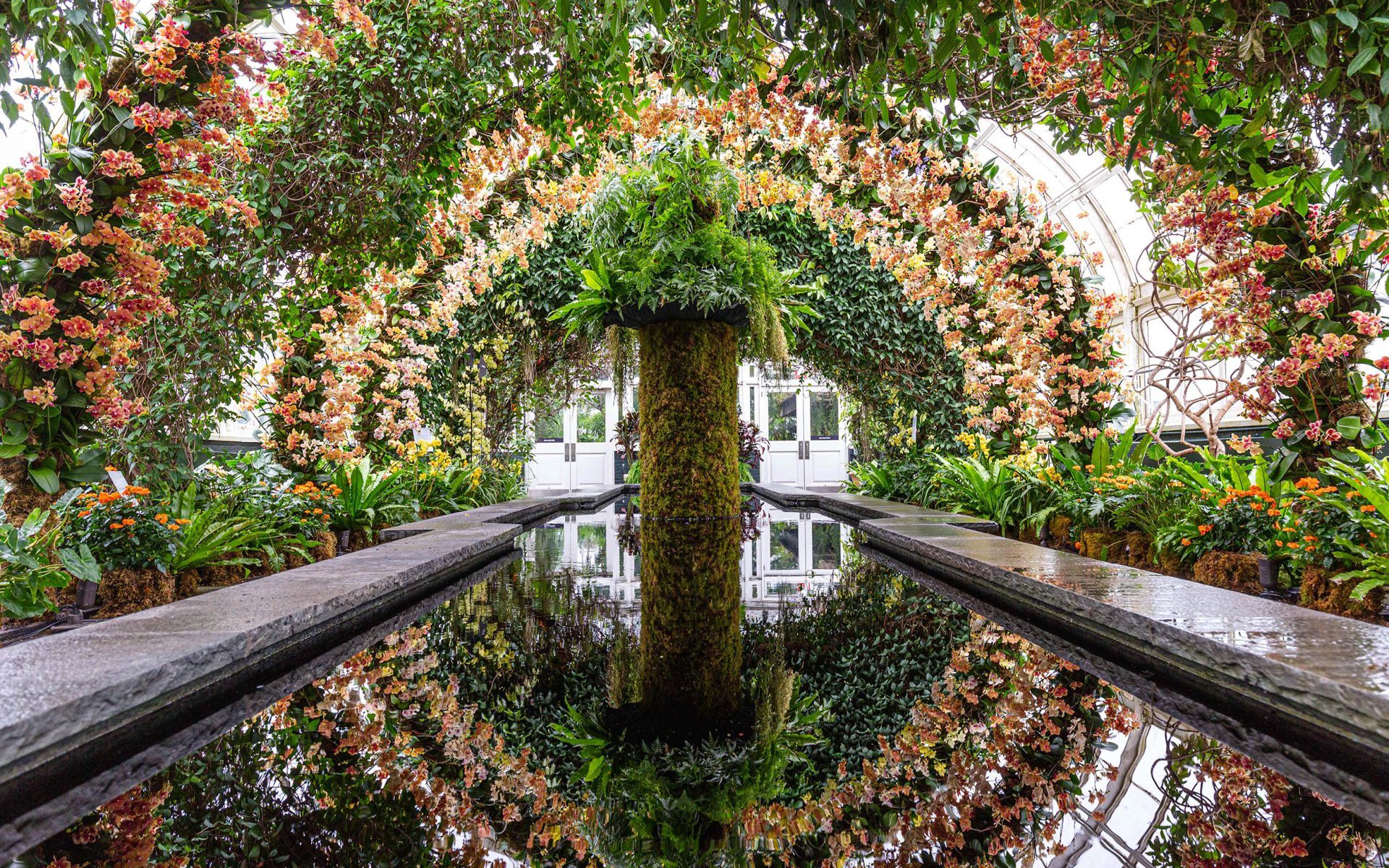 Jeff Leatham Creates an Orchid-Filled Wonderland at the New York Botanical Garden
The dazzling exhibition, part of the NYBG's annual orchid show, features an array of colorful blooms
Immediately through the doors of the Enid A. Haupt Conservatory at the New York Botanical Garden (NYBG), an arresting structure dripping with richly colored vanda orchids surrounds one of floral designer Jeff Leatham's signature faceted sculptures. It's a wow moment for sure and a perfect introduction to Leatham's latest living art installation, entitled "Kaleidoscope," part of the NYBG's 18th annual orchid show.
"I'm not just a guy that works with flowers—I love art, I love creating, painting, sculpture work," Leatham says of the mirrored Vanda coerulea creation made in collaboration with Paris artist Michel Amann for the exhibit. "That's the first time we made one that's not an animal and the first water-feature sculpture. We really wanted to get them at hello, and I feel like that's what we did."
Also on view in the opening gallery is a spotted deep plum vanda named after Leatham, who also serves as artistic director of the Four Season Hotel George V in Paris. (In fact, the designer is so enamored of orchids, which he describes as "passionate and sexy," that he has one tattooed on his calf.) It's just one of the 7,000 orchid varieties in the NYBG's extensive collection, all of which are on view during the extravaganza. Among the standout blooms are a caterpillar-like "toothbrush" orchid (Dendrobium secundum), a bird-head-shaped hanging variety that smells like a corpse (Bulbophyllum phalaenopsis), and a slow-growing mustard-yellow specimen that's been in the collection for over a century (Vandopsis gigantea). The garden also houses over a million living plants from around the world, including Nepal, the Philippines, and Mexico.
Recommended: 7 Incredible Florists to Follow on Instagram
For the subsequent galleries, Leatham worked with the NYBG's curator of the orchid collection, Marc Hachadourian, to create other dazzling arrays, like "Rise and Shine," a series of blossom-filled ombré arches that fade from pale yellow to red. "Part of this is not just about the color but also the fragrance and getting that full sensory experience of the exhibition as you move through," says Hachadourian.
Building on the kaleidoscope theme are other colorful moments, like towering bamboo posts painted sherbet orange or Yves Klein blue that dot a desert display, a pavilion for miniature orchids that has been coated a jubilant berry shade, or what will surely be one of the most Instagram-worthy moments: a tunnel of corrugated metal awash in waves of rainbow light.
"I think this really shows what my work is," explains Leatham of the exhibition. "It's about bold stripes of color. It's about a mass of flowers together. It's about creating an experience that makes people gasp. Every corner you turn, every pathway you go down, you see all the different varieties of orchids and the textures, the shape of their mouths, their heads, and the plant itself. It really is an exploration of texture, color, and design."
Next up, Leatham is launching a new collection with Waterford at Bloomingdale's and, come May, is releasing a fragrance, Botanica, followed by a rose scent in fall.
"The Orchid Show: Jeff Leatham's Kaleidoscope" is on view February 15–April 19 at the New York Botanical Garden.
Next Post