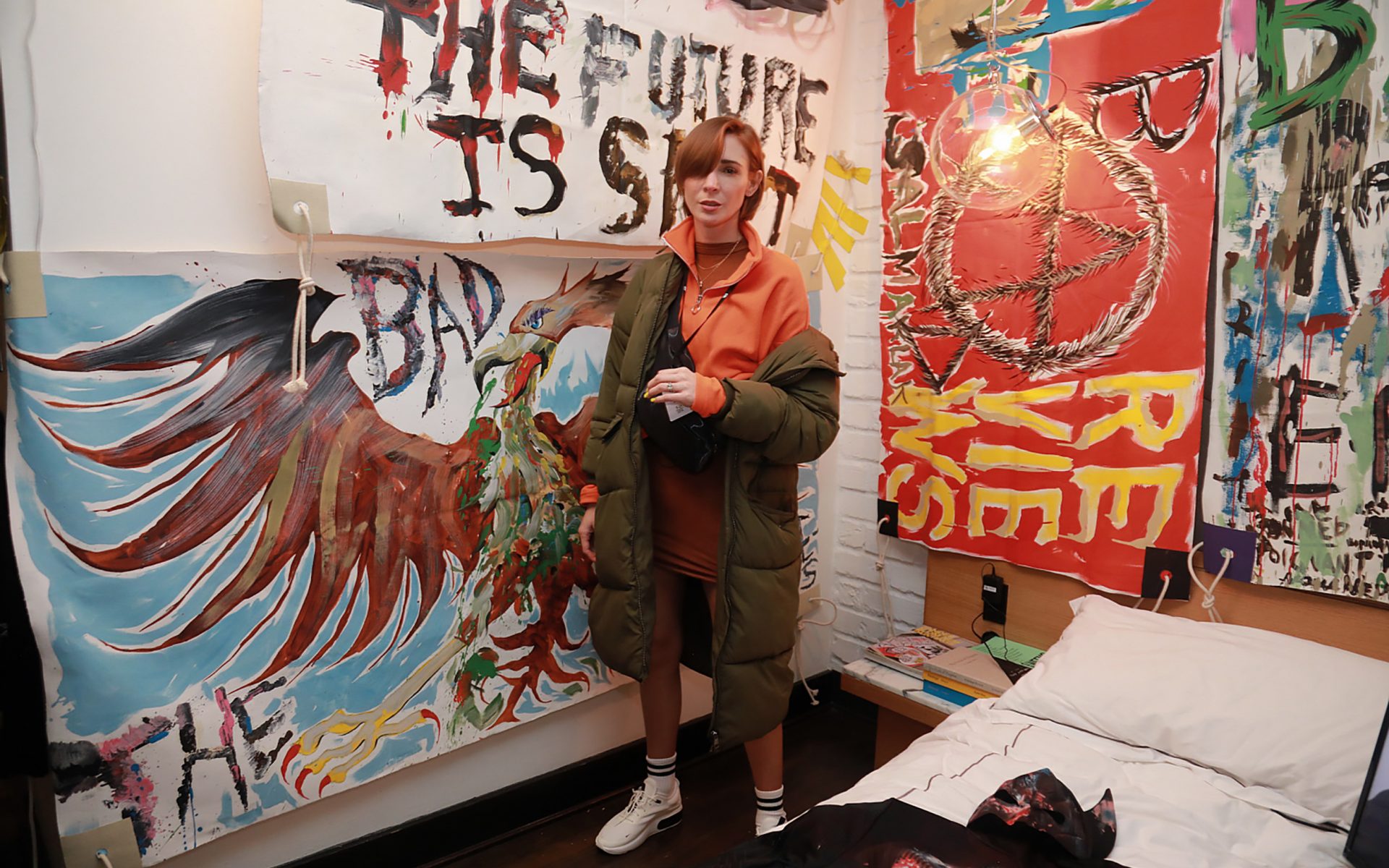 At Felix Art Fair, Galleries Went in for Collegial Atmosphere and Poolside Chats
While over 10,000 people visited Felix Art Fair, it maintained a hip, friendly vibe
On the opening night of the Felix Art Fair, the local event for which roughly 40 galleries took up rooms in L.A.'s historic Roosevelt Hotel, guests were swarming the gallery presentations in the cabanas. There was an hour-long wait to get up to the tower rooms, where galleries, including Anton Kern, Kavi Gupta, and Marlborough, were holding court and Brad Pitt was spotted making the rounds. If Frieze was the debonair stranger coming to town, Felix was most certainly its hip, provocative younger sibling.
The vision of collector and former television executive Dean Valentine and cocreated with gallerists Al and Mills Moran (of West Hollywood's Moran Moran), Felix took up the tradition of such notable hotel art fairs as the Gramercy International Contemporary Art Fair, which first made its mark in the rooms of New York's Gramercy Hotel in 1994. (It is now known as the Armory Show; it also did a West Coast stint at the Chateau Marmont in 1996.)
"Our dialogue is about 'poolside chats,'" said Mills Moran before the fair opened, who noted that he and his partners were more interested in creating a "dialogue that was more collegial" than in presenting a fair in the traditional format. And collegial it was. Free all weekend, the fair saw some 10,000 to 12,000 visitors, though in part the atmosphere was made possible by the presence of Frieze and the droves of collectors it lured from abroad.
Recommended: The Top 10 Booths at the Inaugural Frieze LA
"We've never done an L.A. fair," said Moran, whose gallery has participated in many major fairs around the world. "It feels a little different now because you have a bigger brand with Frieze. It feels more like a major fair week than I've ever experienced in L.A." As for why L.A. is ready for the fair now, Moran said, "The city has grown up a lot in the last 8 to 10 years. A lot of galleries have opened, and there's been an influx of new art spaces. Everyone is trying to get in and sort of stand out a bit."
While the fair was modest compared with Frieze LA, there was a lot of interesting work by both emerging and established artists to see, and for the most part, reasonably priced. Here are some of the booths, works, and installations that caught our eye in no particular order.
1. Kenny Schachter
"This is the fifth version of a show of art I've collected over the years and of the work of my children and my wife," said art dealer and writer Kenny Schachter at his booth at Felix. The booth had work ranging from ceramics by his 16-year-old son and a rainbow-colored sculpture of a dog that meowed like a cat by his wife, Ilona Rich, to pieces by Cady Noland, Vito Acconci, and art-world darling Katherine Bernhardt. Also in the booth was one of Joel Mesler's "Alphabet" paintings, lush recent canvases depicting snakes slithering through palm fronds overpainted with letters that are reminiscent of the iconic jungle-patterned wallpaper of the Beverly Hills Hotel. Mesler's gallery, Rental (he's a dealer as well), also had a booth at the fair in one of the cabanas and was selling merchandise (think T-shirts and posters) featuring artwork by Schachter. (Mesler had done a retrospective of Schachter's work at Rental in 2018.) That dialogue between the two presentations best embodied the community spirit of the fair.
2. Esther Pearl Watson and Mark Todd
Susanne Veilmetter Los Angeles Projects 
The installation of Esther Pearl Watson and Mark Todd, Record Store from Outer Space is like a disco from another planet. Watson's paintings, drawings, and collages of UFOs and aliens lined the walls while at the center there was a small hut festooned with faux record covers and cheap sparkly holiday decorations.
Recommended: 5 of the Most Architecturally Significant Homes in Los Angeles
Her father would build flying saucers as a mode of transportation. He was an inventor and would create "UFOs" out of scrap metal and car parts. Todd, who is Watson's husband, creates record sleeves that hark back to a time when you would visit record stores and flip through covers to discover new musicians. While you may be familiar with Watson's paintings, the collages with found photographs are new to her practice.
3. Josh Lilley
L.A. artist Alake Shilling's fat, luxuriant ceramic sculptures of Felix the Cat atop a punchy pink pedestal in Josh Lilley's booth at the fair caught our eye—not in the least because it referred to the cat who was the muse of the fair. Her paintings and sculpture of cartoonish figures are both brightly and pleasingly colored, but their expressions are lugubrious and pensive. Infused with a kind of crafty day camp aesthetic, unlike the comforting characters of our childhood, these oddly familiar animals look to the viewer for solace.
4. Jennifer Aniston's Used Book Sale by Kristen Morgin
Marc Selwyn
This project by artist Kristen Morgin was one of the hits of the fair and even attracted Brad Pitt to its wares. Presented as a stall at a flea market, the installation had a table covered with hand-fired ceramic works that were painted to resemble books. And they featured titles that the artist imagined Aniston might have owned and would have gotten rid of from time to time, including Zsa Zsa Gabor's 1970 book, How to Catch a Man, How to Keep a Man, How to Get Rid of a Man, and a collection of poems by Emily Dickinson.
5. Moran Moran
Moran Moran, owned by the fair's cofounders, brought a range of work by the artists in its program, including Torey Thornton, Diana Al-Hadid, Keltie Ferris, and Eve Fowler. Thornton's Systematic Trope Rewiring (2019) comprised a series of small framed works that together were one of the most expensive works in the booth at $38,000. A seeming riff on Damien Hirst's "Spot" Paintings, the work features a system in which Thornton has coded the colors in a kind of personal periodic table whose meaning or organizational scheme is not entirely clear.
6. Jack Hanley
Jack Hanley's cabana booth was filled with the large gorgeous paintings of Danielle Orchard (one of which sold in the first hour) for $10,000. There were also smaller works on paper by Emma Kohlmann, who had a buzzy show at the gallery in the spring of 2018.
7. Rachel Uffner
Unlike most art historical portraits of women, German artist Leonhard Herzlmeier's colorful nudes portray women on their own terms, with total disregard for the viewer or the male gaze. "Manet didn't paint Olympia as an idealized goddess," said Herzlmeier in a 2018 interview with Hatje Cantz, "but as a real woman with less-than-ideal proportions, that is to say, realistically." He had his first solo show in the U.S., "All New Women," at New York's Rachel Uffner in 2017. At Uffner's booth at Felix Art Fair, you could find paintings of women and men lounging and frolicking poolside—the perfect scene for a cabana booth at L.A.'s Roosevelt Hotel.
8. Clearing Gallery
Clearing Gallery brought a selection of works from its program, including one of Korakrit Arunanondchai's inkjet print and bleached-denim works. Born and raised in Bangkok, Thailand, and with degrees from RISD and Columbia University, Arunanondchai creates works that ruminate on the erasure of identities under colonial domination. He makes video, mixed-media pieces, and elaborate installations, often incorporating denim (a fabric dyed with indigo, a plant linked in Thailand with colonialism).
9. White Columns
White Columns, New York's oldest alternative art space, had a number of works from various artists it has had shows with over the years, with works on paper by artist Michael Levell and Ella Kruglyanskaya grabbing our attention. The pages of Architectural Digest are the inspiration for Michael LeVell, the Pomona, California, artist known for his vibrantly colored and perfectly proportioned drawings of interior spaces and modern design objects. He was also one of the founding artists of First Street Gallery, an L.A. art center started in 1989 on the belief that human creativity should not be limited by developmental disabilities. Kruglyanskaya made her New York debut at White Columns in 2011 and has since risen to much acclaim. While her paintings may be out of reach for some, her works on paper are just as spirited.
10. Thomas Solomon Art Advisory
The entire room of Thomas Solomon Art Advisory was dedicated to the work of artist Kim MacConnel. While the works on the walls, MacConnel's early punchy paintings (both large and small), were great, what set this room apart was the hand-painted vintage furniture and the rug, which was stitched together from kitschy shag bath mats. By the end of the fair, all of the furniture had been sold (to various collectors), and one art-world insider even said she liked the pieces so much, she was going to take the idea and copy it herself.
Next Post