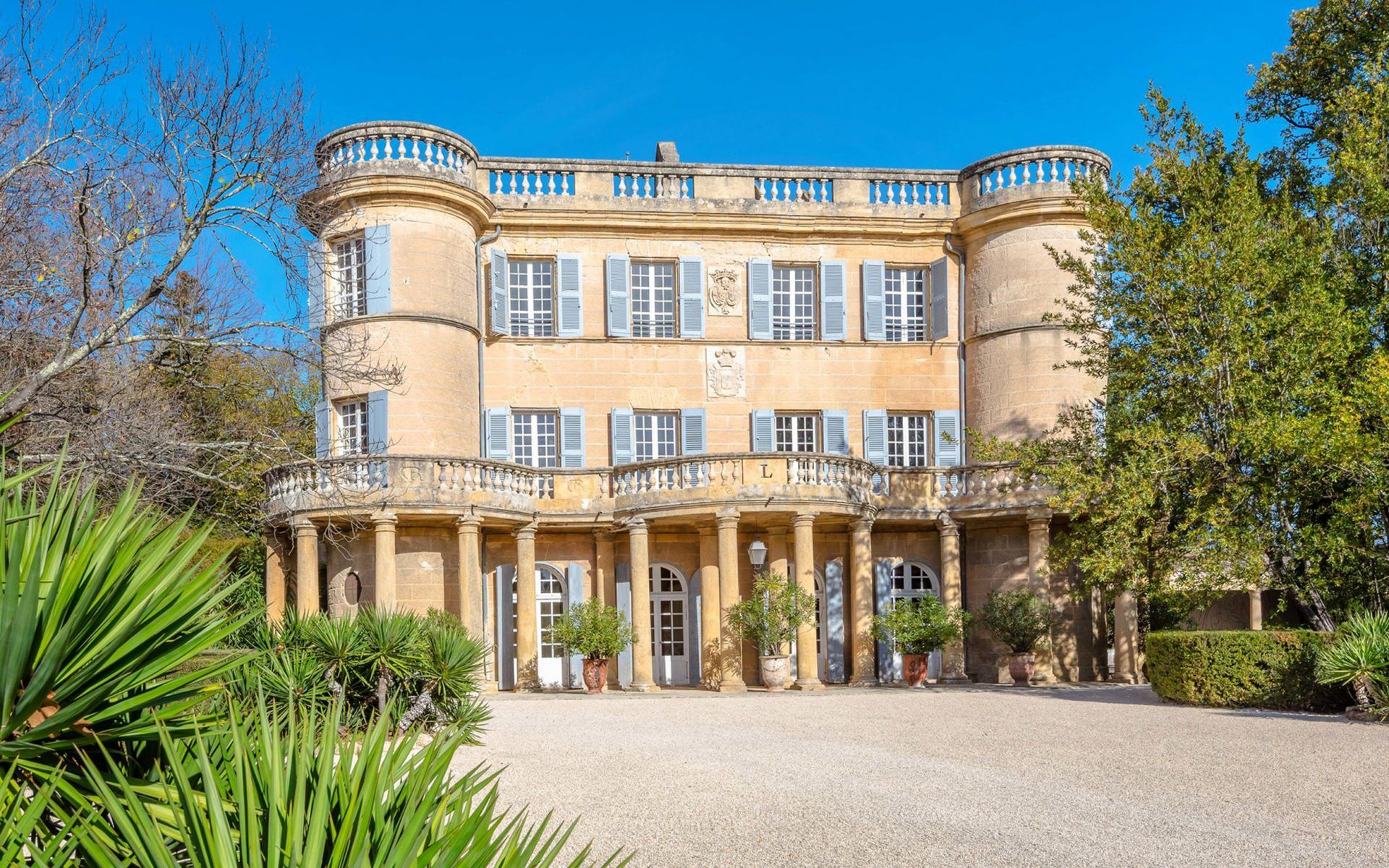 5 Homes Where Famous Artists Once Lived for Sale
Picasso, Haring, and Basquiat all left their marks on these exquisite properties
Buying a home that's been lived in always comes with its own kind of history. But when that space was once occupied by a famous artist, it takes on a mystical allure that sparks the imagination and makes every nook hallowed ground. The following residences were brushed with greatness by the likes of Picasso, Haring, and Basquiat, who either lived in, worked in, or visited the locations. And some, fortuitously, even left permanent proof of their presence. Step inside for some divine inspiration—if only these walls could talk.
1. Pablo Picasso  
Set in the hills of Provence, the grand 8,600-square-foot, 14th-century Château de Castille is impressive in its own right. But its storied past is the real lure. The estate was once occupied by British art historian and art collector Douglas Cooper and writer John Richardson, who were friends with Pablo Picasso. Upon visiting the estate in 1962, Picasso branded the home with his stroke of genius—in the way of five frescoes etched on the walls of the property's loggia, which have since been protected by the French government. The interiors were decorated by renowned American designer Dick Dumas and feature detailing such as slated beamed ceilings and dramatic columns—and if that's not enough, one of the dining rooms showcases frescoed walls painted in 1977 by Iraqi painter Naman Hadi. Grounds include formal gardens with a maze.
The home is listed with Uzès Sotheby's International Realty; price upon request.
2. Keith Haring
It's not every day (nor any day, for that matter) a home comes with an original Keith Haring mural—which is why this sprawling Tribeca triplex in the American Thread Building is extremely special. The building was originally home to an exhibition space for the School of Visual Arts, where Haring was a student in the late 1970s. In '79, the artist created the spectacular black-and-white work—on the wall and on part of the ceiling—using only shoe polish and rubbing alcohol. As the story goes, the space became a restaurant and then was relegated to a dusty storage area—and the painting long forgotten. Years later, when the building was turned into condos, contractors unearthed the masterpiece when they broke through a wall on the second floor to open a stairwell. Today, the unit not only boasts the masterpiece, which is valued at over $1 million, but a 45-by-45-foot great room with 26-foot-high ceilings, original cast-iron columns, a working wood-burning fireplace, and a wall of arched windows.
The home is listed for $9 million with the Andrew Azoulay Team at Douglas Elliman.
3. Thomas Holloway 
Built in 1698, this stately brick manor in Hampton, England, was once owned by noted court engraver Thomas Holloway, who was known for his Raphael cartoon engravings, which now reside at Hampton Court Palace. The 3,900-square-foot home bears much signature period detailing, including an elegant carved staircase, door architraving, box window shutters, wall paneling, wide timber floorboards, and original fireplaces throughout. Grounds feature a garden and walled courtyard.
The home is listed for £2.8 million with Daniel Hutchins of Savills.
4. Jean-Michel Basquiat  
Situated on Prince Street in the heart of the SoHo Cast Iron Historic District, this sunny third-floor loft with tin ceilings; north-, south-, and east-facing windows; and exposed brick walls housed the area's first major art gallery, which dealer Paula Cooper opened in 1968. However, the building's rich, art-filled past doesn't stop there. In 1980, the ground floor became a contemporary art gallery owned by art dealer Annina Nosei. The next year, she met a young neo-Expressionist artist by the name of Jean-Michel Basquiat, and she provided him with studio space in the basement of the building to prepare for his first solo show in New York, in 1982, when he transitioned from street artist to studio artist.
The home is listed for $4.5 million with Lois Nasser of Sotheby's International Realty.
5. Chuck Close
Famed for his massive-scale photorealist portraits, artist Chuck Close is including three of them in the price of his South Beach apartment at the oceanfront Setai Residences. The canvases feature a self-portrait as well as a portrait of composer Philip Glass (a copy of the piece hangs in the 86th Street subway station in New York), and artist Kara Walker. Together the three paintings have been valued at $225,000. While Close is selling this 1,300-square-foot residence, he's keeping the two other units he owns in the building—so the buyer might just be able to have him over to discuss the works.
The home is listed for $3.35 million by Gary Hennes Realtors.
Next Post