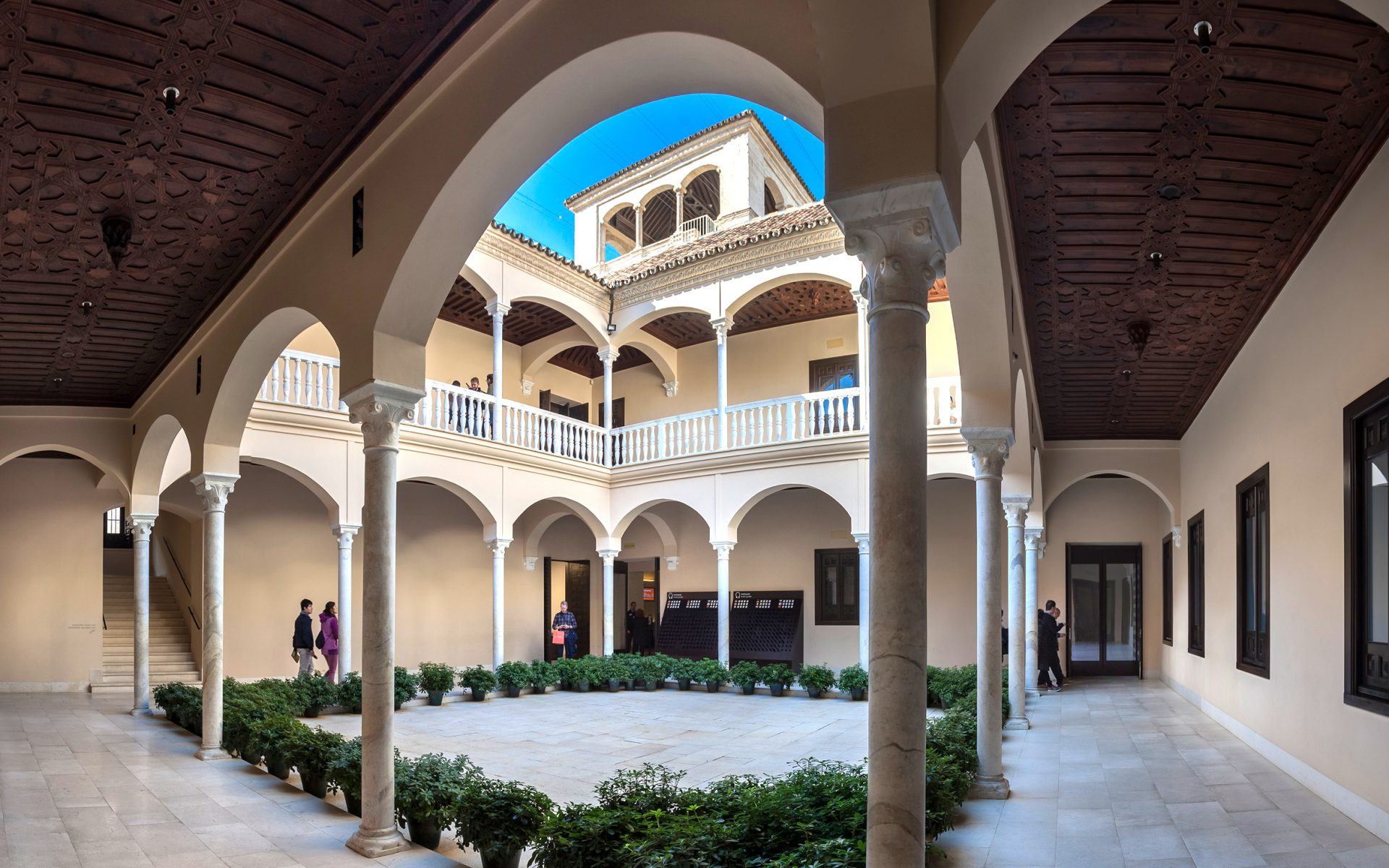 An Art Lover's Guide to Picasso's Hometown of Málaga
Spain's Costa del Sol and its neighboring mountains are an underrated art destination
While many travelers to Spain glaze over the sunny city of Málaga in favor of top-tier destinations across the country, Pablo Picasso's hometown and its neighbors in the province of Málaga have an art scene that's worth a trip. Head there in the summer to relax on the beautiful beaches of the Costa Del Sol, or visit in the off-season to enjoy fewer crowds but still plenty of sun.
Things to Do
Museo Picasso Málaga
Opened in 2003 to celebrate Málaga's most famous inhabitant, Pablo Picasso, who was born in the city in 1881, this museum holds more than 280 works by the artist that were donated by his family. It is housed in the 16th-century Palacio de Buenavista and also comprises an extensive library and archive dedicated to Picasso.
LA Organic Olive Oil Farm
Set on a quiet hillside near the city of Ronda, the LA Organic Olive Oil Farm might not be the first place you'd look for art in the province of Málaga, but it's a must-visit for art lovers in the region. French designer Philippe Starck not only created the branding for the company but also designed its tasting room and mill and installed artworks throughout its grounds. Eventually, LA Organic hopes to open an art museum on the property.
 Centre Pompidou Málaga
In 2015 the Centre Pompidou in Paris opened its first satellite outside of France in Málaga, sending a selection of its permanent collection to be displayed in a glass cube structure decorated by French artist Daniel Buren. Though the museum was intended to be a temporary pop-up, open for an initial period of five years, its programming has been extended through 2025.
Recommended: Isabel López-Quesada Crafts a Magnificent Family Getaway in the Spanish Countryside
Hammam Al Ándalus Baños Árabes Málaga 
Much of southern Spain's architecture has a fascinating blend of Moorish influences and Renaissance style. In Málaga, there's perhaps no better place to appreciate that combination than the Hammam Al Ándalus Arab baths. Soak in one of the five thermal pools or indulge in a massage or body scrub as you take in beautiful tile work, magnificent arches, and impressive ceilings.
Where to Eat and Drink
Antigua Casa de Guardia
Supposedly a haunt of Picasso himself, Antigua Casa de Guardia is Málaga's oldest and most famous bar, opened in 1840. It's a small, no-nonsense tavern lined with wine barrels and serving up old-school tapas along a standing-room-only bar.
Skina
There are 213 Michelin-starred restaurants in Spain, a number of which can be found along the Costa del Sol. In the seaside town of Marbella, you'll find the two-star Skina, which serves a quintessentially Andalucian menu in an intimate, contemporary space.
Rooftop at the Hotel Catalonia Ronda
The views from across Ronda are nothing to be trifled with—it is, after all, a dramatic mountaintop city—but for the best vistas in the evening, head to the rooftop of the Hotel Catalonia Ronda. While only guests can take a dip in the infinity pool, the public is welcome to order a drink on the terrace, which overlooks the historic bullfighting ring.
Uvedoble Taberna
Tapas are a crucial part of Spanish cuisine, and you'd be remiss to pass up on Uvedoble's sophisticated and picturesque bites, from classic jamón ibérico croquetas to swordfish-topped focaccia. Though the space is quite modern, you'll still find a convivial atmosphere here as you would in more traditional spots.
Where to Shop
 Calle Marqués de Larios
More commonly known as Calle Larios, this major pedestrian thoroughfare is the equivalent of Fifth Avenue in New York or the Champs-Élysées in Paris—it's a high-end shopping street lined with boutiques and some of the most expensive apartments in town.
ArtesamArt
Touristy trinket shops are a dime a dozen in Ronda, but if you're looking for a real souvenir, head to Artesam Art, a shop with goods by local craftspeople. You can buy anything from leather goods to ceramic pieces to artistic fans.
Puerto Banús Marina
Follow the yachts to Puerto Banús Marina, and you'll find some of Marbella's best shopping—and people watching. The shopping district, located about a ten-minute drive from Old Town Marbella, has everything from an El Corte Inglés outpost to an Hermès boutique.
Where to Stay
Gran Hotel Miramar
The grande dame of Málaga, the Gran Hotel Miramar dazzles with Old Hollywood–meets-Andalucian decor. Opened in 1926, the historic property has hosted such legends as Elizabeth Taylor and Ernest Hemingway and continues to draw a well-heeled clientele today. Set just off the beach, the 200-room hotel has a luxe spa with a thermal circuit, a casual outdoor pool, an Ibiza-style rooftop terrace, and the formal Principe de Asturias restaurant.
Anantara Villa Padierna Benahavis Marbella Resort
For a resort-style retreat outside of the big city, head to Anantara Villa Padierna Palace, a picturesque property just a short drive from Marbella. The hotel is a discreet sanctuary—the women of the Obama family famously vacationed here—that offers an art gallery, three golf courses, a gorgeous spa, eight bars and restaurants, including one by famed Spanish chef Paco Roncero, and a beach club with loungers overlooking the Mediterranean. If you're looking to splurge during your stay, try out the hotel's Dining by Design program, in which staff will organize a whimsical private dinner anywhere on property. (Might we suggest the Roman amphitheater?)
Aire de Ronda
With just four well-appointed rooms that blend contemporary art with historic architecture, the boutique Aire de Ronda feels more like a private townhouse than a hotel—and that's just the way guests like it. It's owned and run by chef and interior designer Mariví Ramírez, who not only designed each of the accommodations but also cooks up three-course dinners to guests' request. A full breakfast spread is included, too, and can be enjoyed in the airy lounge or in the private, bamboo-lined courtyard.
Next Post