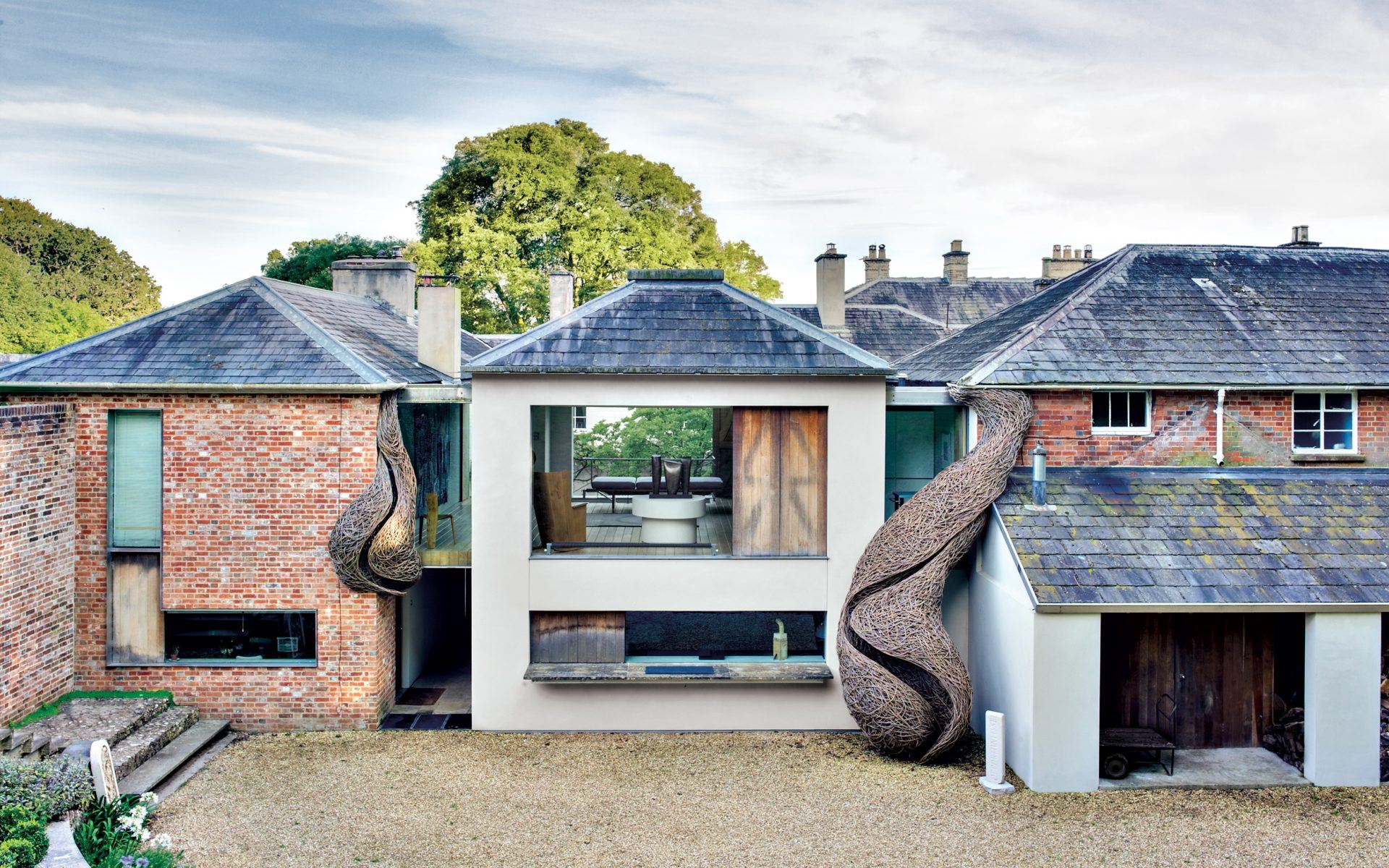 This English Countryside Estate Has a Remarkable Array of Outdoor Art—and a Working Farm
At Lady Madeleine Bessborough's Roche Court, works by Barbara Hepworth, Julian Opie, and Anthony Caro punctuate a verdant landscape
When Madeleine Bessborough moved to the Wiltshire estate Roche Court in 1994, she saw in its 70 acres of gardens, woodlands, and pastures a golden opportunity.
The veteran London dealer decided to relocate her gallery, the New Art Centre, here, taking advantage of the expansive grounds to display an extraordinary and always-evolving array of large-scale outdoor sculptures and works of land art, while also creating distinctive gallery spaces to present a wide range of art, craft, and design.
"When I came here, there were no places, apart from the Yorkshire Sculpture Park, where artists could show big works outside," says Bessborough, who has since exhibited significant pieces by Barbara Hepworth, Anthony Caro, Richard Long, Gavin Turk, Christopher Le Brun, and many others at Roche Court. "The London galleries didn't have the space, but we were very lucky with the rolling geography here, which is wonderful for showing sculpture. One of the reasons that we were asked to take on the Barbara Hepworth estate was that they wanted us to show the big, monumental pieces."
[Slideshow: See more photos of Lady Bessborough's Sprawling Roche Court Estate]
Bessborough opened the New Art Centre on Sloane Street in London in 1958, working primarily with young painters and sculptors, many of whom became her friends. Over the years she also began showing more established artists like Kenneth Armitage, Derek Jarman, and Fiona Banner. After three and a half decades, with space limited and rent rising, Bessborough made the decision to relocate to Roche Court, an 1804 neoclassical house built for Lord Nelson, who died at the Battle of Trafalgar before taking up residence. Her husband, Arthur Ponsonby, the 11th Earl of Bessborough, managed the surrounding farmland until his death in 2002, and it still serves as a working farm today, with cattle and sculptures populating adjacent fields.
"It was a time when farmers were being encouraged to diversify, and we thought it would be a splendid piece of diversification," says Bessborough. "We already had all the big equipment that you need, like tractors, for moving sculptures." From the outset she was determined that Roche Court not become "set in aspic," as she puts it, "because the sculpture then loses its living quality. So everything is for sale and pieces also get a new life when they are moved around the park."
Recommended: Go Inside Artist Bernar Venet's Stunning Estate in the South of France
The buildings at Roche Court have evolved over the years, thanks to a series of collaborations between Bessborough and architect Stephen Marshall. Their first project was a minimalist, corridor-like exhibition space, with one side enclosed in a wall of glass, that connects the original Georgian house to the adjacent orangery. Marshall then constructed another glass-walled gallery extension off the main residence to serve as a private dining room and gallery, followed by the two-story Artists House, conceived as both a residence for visiting creatives and a space for exhibiting works in a domestic setting.
The latter is embellished with a 2012 site-specific work by Laura Ellen Bacon, who fashioned two large-scale wicker pieces that emerge from the building like organic tentacles or feelers, adding a playfully surreal counterpoint to the architecture. "Kettle's Yard in Cambridge was a conscious point of inspiration for the Artists House, with the idea of showing how you can live with art at home," says Bessborough. "You still get that feeling, but now it's used exclusively as a gallery." Among the works on view is an ongoing display of ceramics by Edmund de Waal.
[Slideshow: See more photos of Lady Bessborough's Sprawling Roche Court Estate]
The latest addition to the campus, completed just over a year ago, is the Design House in the walled garden. Here, Marshall renovated and expanded an existing cottage to form the center's largest exhibition space, though it retains a residential feel similar to the Artists House. It serves as another engaging setting for displaying not only art but also furniture and other pieces by designers such as Tom Dixon, Katie Walker, and Matthew Hilton.
Bessborough says the next step for the New Art Centre—which is open to the public every day, except certain holidays—will be moving its offices out of the main residence and into freshly converted stables later this year. The shift will allow her to reclaim part of her home, which isn't accessible to the public but gets plenty of use. "It is our family house, but everybody stays in it when we have an opening," she says.
In contrast to Marshall's modern additions, the rooms are traditional, furnished with what she describes as "a mixture of good old Victorian and Edwardian taste." For Bessborough, the diversity of styles and spaces is a big part of what distinguishes Roche Court. And, she adds, "it's a really good way for people to understand how to live with contemporary art."
Recommended: Tour Architect Andrzej Zarzycki's Spectacular London Home
A version of this article first appeared in print in our 2020 Spring Issue under the headline "Pushing the Boundaries." Subscribe to the magazine.
Next Post