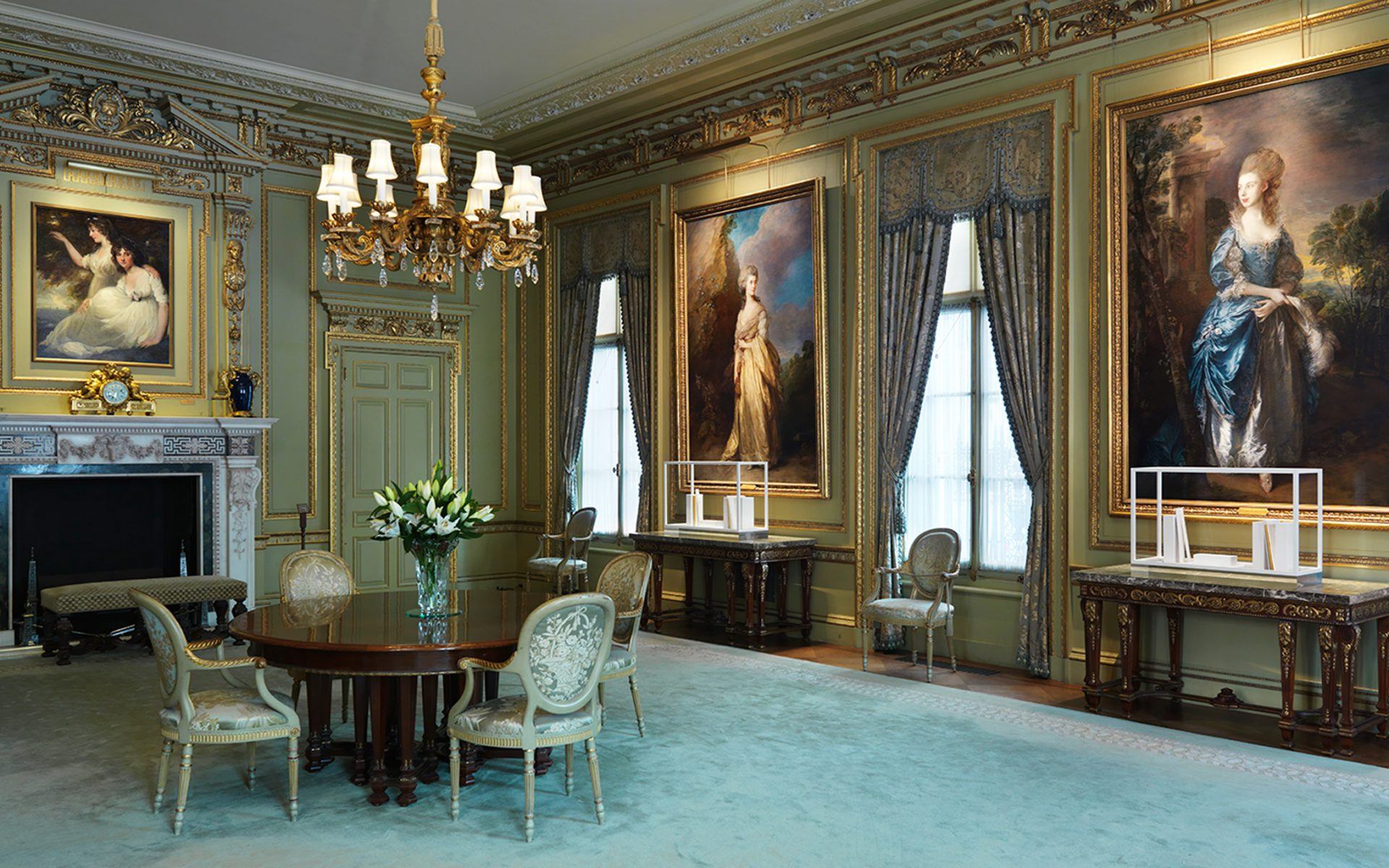 With Shows at the Frick and in Venice, Artist Edmund de Waal Is All Over the Map
For the acclaimed British ceramist, these are the biggest shows of his life
Edmund de Waal's new show at the Frick Collection marks the first time that the museum of masterworks, which was once the home of industrialist Henry Clay Frick, has commissioned new work by a contemporary master. And with two shows simultaneously on view in Venice, perfectly timed with the Biennale, Waal is having a major moment.
"They are the two biggest shows of my life!" he says. "And they are happening in two different parts of the world."
For "Elective Affinities," his show at the Frick, curated by Charlotte Vignon, Waal, an OBE celebrated equally as a ceramist (he's represented by Gagosian) and as an author, has installed nine sleek site-specific installations of his tubular ceramic vessels and other materials among the museum's permanent collection, which name-checks many masters of Western fine and decorative art, including Francisco Goya, Rembrandt, Vermeer, Ingres, Fragonard, Gainsborough, Cimabue, Van Dyck, Titian, Rubens, Tintoretto, Chardin, and Boucher.
Recommended: 7 Shows to See in Venice Beyond the Bienniale
Waal's choice of materials makes pointed reference to a certain Gilded Age alchemy. "Frick made his money out of steel," Waal points out. But the artist found that metal is surprisingly absent from the museum, heavy as the collection is in gold-leaf picture frames and bronze sculpture.
With Frick, "everything turns into gold," Waal adds, snapping the long fingers of his expressive potter's hands, the clay scraped away for the occasion of the exhibition opening.
So alongside Waal's use of porcelain, alabaster, gold leaf, and other luxury materials befitting the Frick, the artist has pointedly included steel throughout his still life assemblages here, whether as thin sheaths leaning tenuously against his delicate pottery or stacks of striated steel ingots.
Recommended: Chiharu Shiota Takes Over Tokyo's Mori Art Museum with Her Immersive Weavings
The effect is biographic and elegant, befitting the Frick, a place that Waal came to know and love as a teenager visiting New York. This is minimalism in miniature, with the contents of his dollhouse-size vitrines evoking the works of Richard Serra, Tony Smith, and Donald Judd.
In the library, in a move that Waal describes as a "covert thing about Frick and money," the artist installed a work in a knee-high niche in one of Frick's desks. ("It's easy to miss!") To make way, he removed ponderous books on the "history of wealth." "I've taken out 12 volumes no one ever noticed!" he laughed. "They actually are just about how to be very rich."
A key theme here is "how you reinvent yourself through collecting," Waal says, "how you understand who you are by what you collect, how you think about your place in the world."
Frick, a man from Pittsburgh, "has this extraordinary ability in the house to move though different identities through the collection he's created . . . [such that] by collecting Fragonard he becomes French, by collecting Dutch Old Masters, he becomes a golden-age prince of Amsterdam, by buying Gainsboroughs, he becomes a landed Englishman.
"Each of the vitrines in it felt kind of like an encapsulation of a particular place, a particular memory to my life," he says. "And where I put them in the Frick relates to my being English, being Dutch, trying to be French," he added, "and Jewish."
Recommended: 10 of the Buzziest Artists at Art Basel 2019
"The whole Frick [show] relates to The Hare with Amber Eyes . . . to my whole journey about thinking about 'Where do you belong in the world?'" he continued, referencing his best-selling memoir, which tells the story of his Jewish family's emergence as a wealthy, art-collecting banking dynasty across Europe and their loss of nearly everything to the Nazis during the Second World War.
The artist also currently has a double show in Venice, "Psalm," which draws on some of these personal references as well and is named for the biblical poetry of exile.
The first part features his all-white ceramics nestled among the religious and cultural relics of the Jewish Museum in Ghetto, which was created by ducal degree in 1516 to forcibly segregate Jews from all over the world. "Sixteen languages were spoken there!" says Waal.
Recommended: The 5 Most Talked-About Pavilions at the 58th Venice Biennale
The second part of "Psalm" is about a mile away in a dark paneled room of the cultural institution Ateneo Veneto, where Waal has built a library-cum-interactive memorial. Inside are 2,000 books by exiled writers from as early as 8 A.D. (when Ovid, who is included, was run out of Rome) to today.
Waal describes how he'd painted the exterior of his library's walls with porcelain slip and "written onto it the history of the lost libraries of the world" from Beirut to Beijing, from Timbuktu to Tripoli. The Sol LeWitt–like screeds handwritten in pencil include mention of the Nazis' seizure of Waal's ancestral property: "It's a history—it's always personal."
When "Psalm" closes at the end of September, it will travel to Dresden's Japanisches Palais (November to February 2020) and then to the British Museum. (Ultimately, the library will be donated to Mosul, where ISIS famously destroyed one of Iraq's most important libraries and its one million books.)
Of course, Waal has juxtaposed his own work against important cultural relics, architecture, and masters of art history before: at Waddesdon Manor; at the Chatsworth House; and, movingly, at Artipelag outside Stockholm, where he set his own work against nearly 50 still life paintings of ceramics by one of his muses, Giorgio Morandi.
Recommended: Missing $450 Million Da Vinci Masterpiece Resurfaces on Superyacht
But what sets Waal's current presentations in Venice and in New York apart, and what connects them, is his preoccupation with what he calls "pluralities"—of journeys, by choice (as from Pittsburgh) or by force (to or from a ghetto); of people, languages, and culture . . . and so, of identity.
Nonetheless, that theme may be a tough sell to the fan base of the Frick, where a museumgoer was observed hurrying past Waal's artworks with his museum map: "We came here for Renaissance bronzes, not this contemporary crap!"
If only they'd give it time, perhaps Waal's artwork can itself help such harried visitors; speaking about how his trademark framed glass vitrines have become part of his artistic language, Waal reveals that the appeal for him is in how they "slow the world down," reframing his work and the environment around it.
"Look through them, look again, look at that bit," Waal urges. "Come back here, walk around, and see that again for the first time again."
"Elective Affinities" is on view through November 17 at the Frick Collection, 1 East 70th Street, New York. "Psalm" is on view through September 29 at Ateneo Veneto and at the Jewish Museum in Venice. 
Next Post