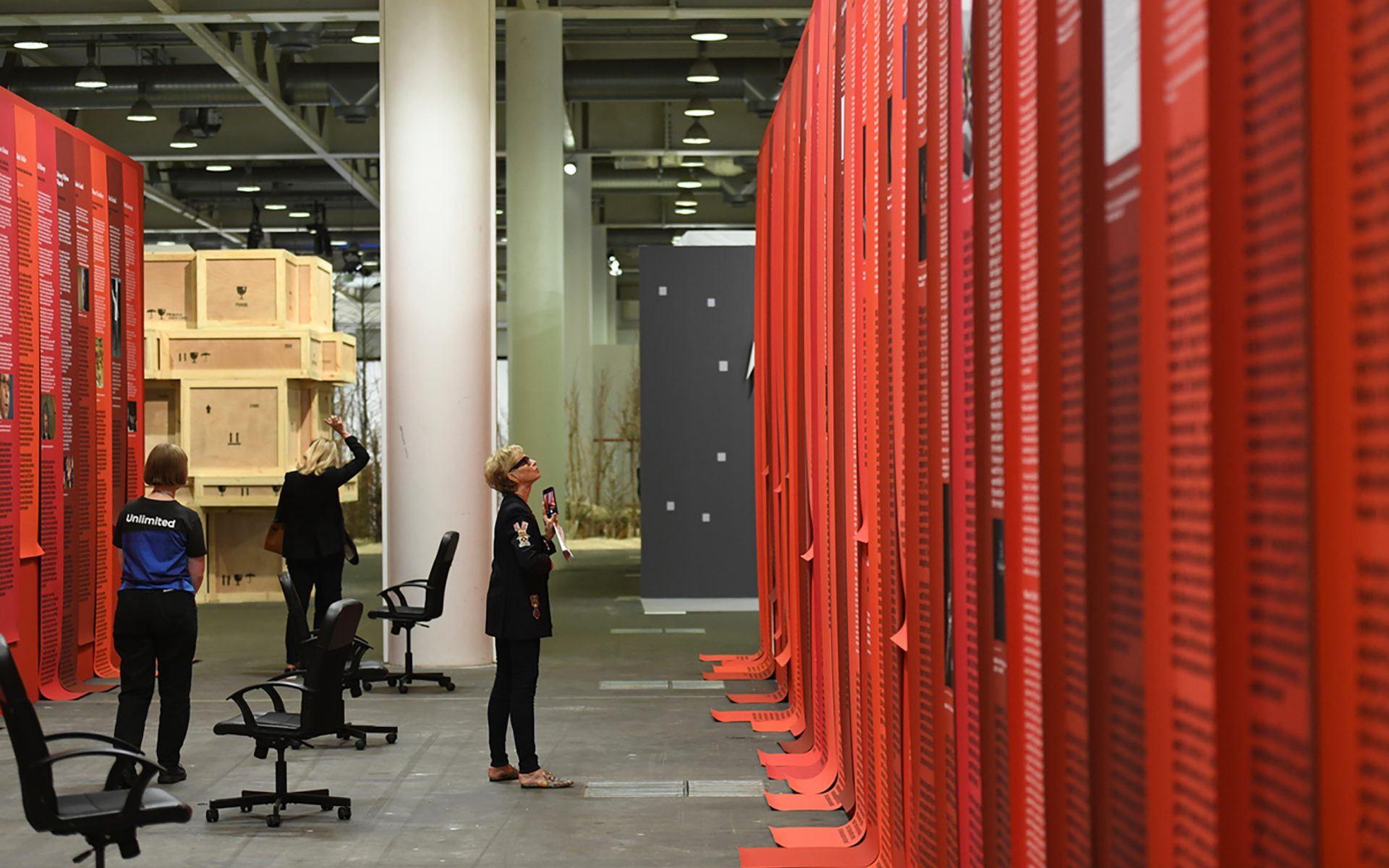 10 of the Buzziest Artists at Art Basel 2019
From Andrea Bowers to Abdulnasser Gharem, these artists caused a stir at this year's edition
Before Art Basel even opened its doors, there was protest over one of the works that was set to go on view: Andrea Bowers's Open Secret, an installation featuring over 200 accounts of sexual harassment. One writer, Helen Donahue, accused the artist of posting an image of her without her permission. That came to a head in the preview days, resulting in the removal of part of the work, and set the tone for what has been a very socially and politically charged edition of the fair.
There are long lines to experience Saudi artist Abdulnasser Gharem's homage to journalist Jamal Khashoggi, who was killed at the Saudi consulate in Istanbul in the fall of 2018. Coco Fusco's The Tin Man of the 21st Century (2018), a sculpture modeled after the beloved character from The Wizard of Oz, offers satirical commentary on a less universally beloved public figure: Donald Trump. And Alicia Framis's LifeDress (2018) presents a series of white dresses made from the fabric of car airbags, which puff up at the onset of unwanted advances, offering women physical protection against harassment.
Of note this year were the 19 new galleries joining the fair from largely underrepresented regions, underlining the increased need for the art world to look beyond its usual stables. These included Temnikova & Kasela from Estonia, Argentinian gallery Barro Arte Contemporaneous, and Beirut-based space Marfa'. The latter presented an architectural model based on the form of Gaza Strip tunnels by Palestinian-Jordanian artist Saba Innab. Like so many pieces in this year's Art Basel, in Innab's work notions of displacement, identity, and the meaning of home come out to play.
Read on for Galerie's selection of some of the buzziest artists on show at this year's edition.

1. Andrea Bowers
One of the most talked-about artworks at Art Basel thus far has been Andrea Bowers's monumental Open Secret (2018–19). Presented in the Unlimited section, which was curated by Gianni Jetzer, the work documents all the men whose sexual transgressions have been condemned by the #MeToo movement and serves as a monument to the courage of the survivors who spoke out against their abusers. On Monday, before the fair had opened, controversy broke out on social media when writer Helen Donahue accused the artist on Twitter of using photographs of her bruised face and body without her consent. By Wednesday, June 12, the second preview day of the fair, the artist had agreed to remove the controversial panels. She also apologized to Donahue. "I, Andrea Bowers, would like to apologize to the survivor whose image was included in my piece," the artist said in a statement to Artnet News. "I should have asked for her consent." The work is presented by kaufmann repetto, Milan, in collaboration with Capitain Petzel, Berlin; Andrew Kreps Gallery, New York; and Vielmetter Los Angeles.
2. Abdulnasser Gharem
After viewing Riyadh-based artist Abdulnasser Gharem's The Safe several visitors could be heard whispering: "Will the artist go back to Saudi Arabia?" They were concerned for his safety after staging such a fearless work with references to the controversial Khashoggi murder. At 40-second intervals, visitors are ushered by guards into a soundproof cell with rubberized walls (rubber is a signature of the artist) like those found in psychiatric wards for violent inmates. There, they can write on the wall or leave their own "imprint" with rubber stamps bearing phrases by Shakespeare and other writers. (Stamps with hidden messages are a frequent feature of Ghare's work.) The installation's power lies in its ability to evoke empathy. Yet even the strains of Beethoven that are heard in the cell do not quell the feelings of powerlessness, distress, and oppression experienced by the viewer here. Staged jointly by Galerie Nagel Draxler Galerie Brigitte Schenk, the work, which is priced at $753,000, already has the interest of several institutions.
3. Simphiwe Ndzube
The otherworldly mixed-media works of artist Simphiwe Ndzube, who lives and works in Cape Town and Los Angeles, offer exuberant and fantastical portrayals at Stevenson. Of note is Sagas of the Mine Moon (2019), created in acrylic, spray paint, tar, collage, and found objects on linen. Priced at $35,000, the work was displayed during Ndzube's recent solo show at Stevenson's Cape Town space, "Uncharted Lands and Trackless Seas," whereby he introduced viewers into his imaginative universe called Echoes of the First Stories. The artist has said, "We begin in the real world and through interaction with the work enter a fabulist tale in progress."
4. Farah Al Qasimi
Garnering much attention lately for her use of bold and patterned interiors combining kitsch and scenes from everyday life, Emirati artist Farah Al Qasimi's photographs and wallpaper fill the booth of Dubai-based The Third Line in the Statements sector. All of Al Qasimi's photographs are shot in the United Arab Emirates. "I am looking at style and interior decor in the Emirates and the way in which they have been specifically designed and used by different genders," she tells Galerie. After Dinner (2018), featuring a pink velvet sofa, matching drapes, a pillow, and a pair of feet dressed in patterned socks, and Rose 1 (Tomato) (2018), presenting a bright red tomato carved into a flower of the same shade, are two works on view that scream loudly about the intricacies of mundane life. By the second VIP day the gallery had sold several works priced between $3,000 and $6,000.
5. Kapwani Kiwanga
One will first experience Kiwanga's monumental bridge of flowers and foliage through its smell of fresh eucalyptus. Staged by Cape Town and Johannesburg-based Goodman Gallery (which is soon opening another branch, in London, this year), Flowers for Africa is part of an ongoing project whereby the artist researches archival imagery relating to African independence and then consults with florists to re-create the images with flowers. The flowers and foliage that she uses are left to run their course, meaning that the artwork will too. "Just as the enthusiasm present during the period of independence has faded, pan-African dreams have been eclipsed by the everyday difficulties of the average African citizens," says the artist. This ephemeral artwork, priced at $226,000, wilts before the viewer and is powerful in its transience. It is dedicated to Rwanda, a country that has overcome the tragedy of its 1990s genocide. Here the past is brought back to life with beauty, urging onlookers to grasp the global impact of colonialism and the fragility of African liberation movements.
6. Valie Export
In an enclosed space also in the Unlimited section, a flicker of continuous images of a woman moving between rooms is both eerie and alluring. Valie Export's 18-minute film, Syntagma (1983), is centered around the female body presented through split-screen footage, abstracted close-ups, and photographic scenes, alternately in color and black-and-white. The quick movements of the unknown woman immediately transfix the spectator. "The body clearly takes position between me and the world," the artist has said. "On the one hand this body is the center of my world and on the other it is the object in the world of the others." The work, like much of Export's work, comments on the contemporary female experience of the body and a woman's search for identity—one that continues to be defined by her public and private roles. The film is displayed by Galerie Thaddaeus Ropac, which will host a solo show of the artist's work at its London space in November.
7. Njideka Akunyili Crosby
At David Zwirner's booth all eyes were on Nigerian-born, Los Angeles–based artist Njideka Akunyili Crosby's Dwellers: Native One (2019). An immediate hit, it was sold within the first few hours of the fair's opening for an undisclosed price. Made in acrylic, photographic transfers, colored pencil, graphite, and collage on paper, the work represents the plants and vegetation native to Nigeria. Of particular note are references to cassava, a working-class staple in Nigerian cuisine; egusi, the fat- and protein-rich seeds of certain cucurbitaceous plants that create popular soup and other local dishes; and tropical almond trees that Nigerians refer to colloquially as "fruit trees." The work is symbolic of the artist's intricately layered figurative compositions that merge painted depictions of people with places from her life with photographic transfers from her own personal image archive as well as those from Nigerian magazines and other sources.
8. Henry Taylor
African-American artist Henry Taylor's Green Light (2018) was snatched up within hours of Art Basel's opening for $175,000. The work, which portrays the abstract profile of an African man dressed in blue-and-red garb, is typical of the painter's enigmatic portraits of psychiatric patients, friends, and historical figures. Taylor, who is based in Los Angeles and is 61 years old, also made news last November when his painting I'll Put a Spell on You (2014) sold for close to $1 million at Sotheby's New York, setting a new benchmark for the artist. He's been in high demand ever since.
9. Mounira Al Solh
At the booth of Beirut- and Hamburg-based Sfeir-Semler Gallery, Lebanese artist Mounira Al-Solh's painting Mother of David and Goliath (2019) was unmissable. The work, imbued with lively colors and gestural brushstrokes, is at once loud and playful in its subject matter. Part of a series of paintings mixing fictional stories by women writers as well as those by detained women and their sufferings in prison, it explores the notion of physical pain and the irony of watching the pain of others. Characteristic of Al Solh's exploration of feminist and political issues, the artist regularly mixes real-life subject matter with references to a fantasy or mythological realm.
10. Alicia Framis
Also in response to the #MeToo movement is Alicia Framis's LifeDress (2018), which presents a series of white dresses made from the fabric of car airbags. Intended to protect against harassment, the dresses puff up and change form to protect the wearer from unwanted advances.
Next Post