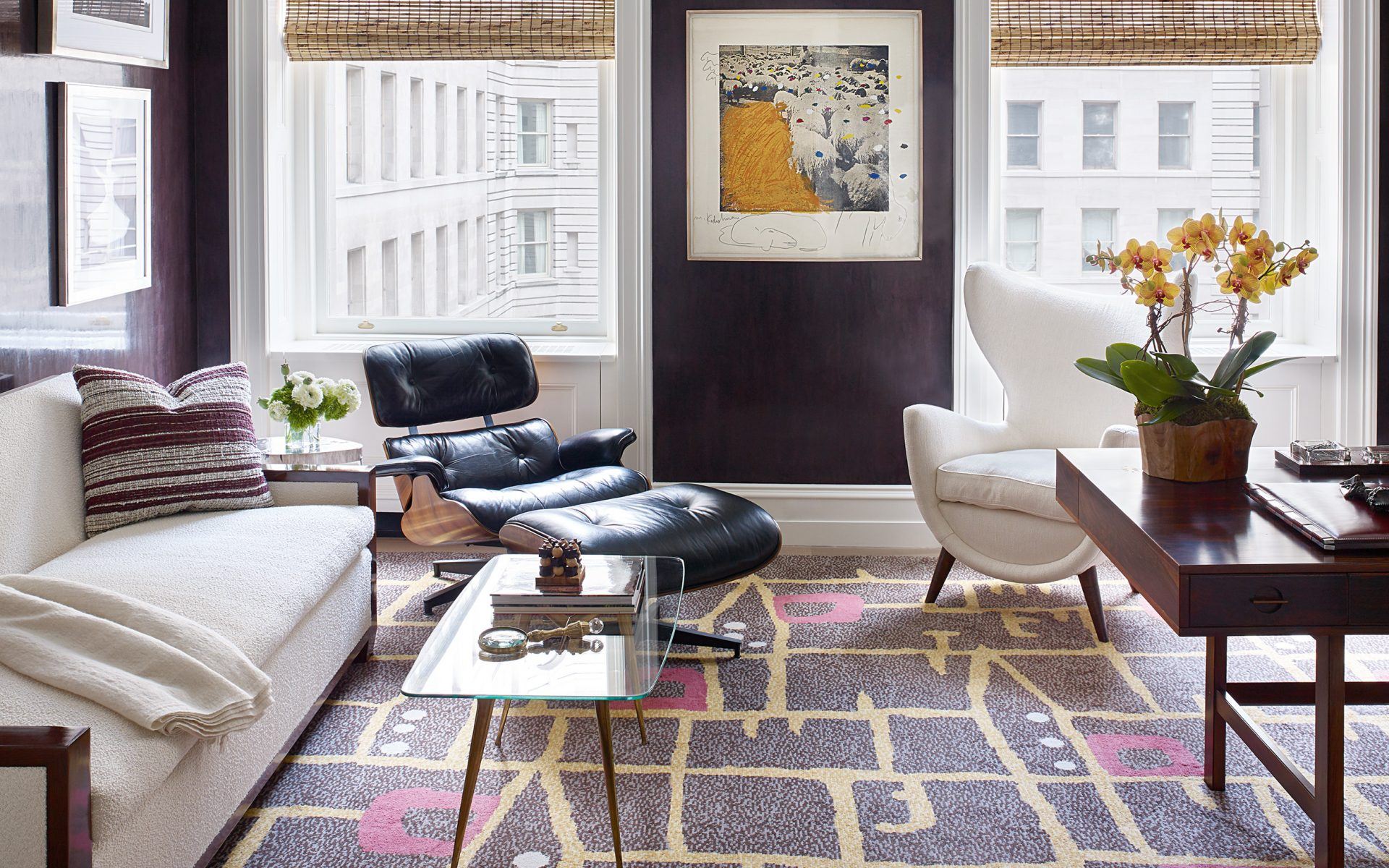 How the Eames Lounge Chair Became an Icon of American Design
Charles and Ray Eames went from experimenting with plywood to creating the most comfortable, classic lounge of all time
Practicality might not be a very sexy concept, but it nonetheless drove designers Charles and Ray Eames to create some incredibly sexy pieces of furniture. The husband-and-wife team's best-known creation, of course, is their namesake lounge chair and ottoman.
"Even though the word iconic is much overused, in my view the Eames lounge chair is the design icon above all others. Form never quite followed function in such a perfect way," says interior designer Hubert Zandberg, who says he has sat in his Eames lounge every day for the past 20 years.
Function was in fact the driving force for the couple, who spent the early years of their marriage experimenting with molded plywood. In fact, one of their earliest designs with the material was a leg splint for wounded soldiers during World War II. After the war, the Eameses focused on the domestic sphere, and in the late 1950s, set out to create a chair with, as Charles said, the "warm, receptive look of a well-used first baseman's mitt."
Recommended: Tour Hubert Zandberg's Treasure-Filled London Flat
Designed for Michigan-based furnishings retailer Herman Miller in 1956, the Eames lounge chair and ottoman was crafted from Brazilian rosewood and could be finished in a range of upholstery options, including fabric, Naugahyde, and leather. The seat's two back cushions, filled with feather and down over a foam rubber core, were created to snap on and off for easy cleaning, making them both reversible and interchangeable. A five-point "star" base in cast aluminum (four points for the ottoman) offered maximum support and allowed the chair to swivel in any direction.
After its release, the stylish piece rose to fame on Home, an NBC television program with Arlene Francis. But the spotlight has lasted much longer than 15 minutes, and the chair has been in production exclusively with Herman Miller ever since.
"The lounge set was instantly iconic. The qualities that made it a success in the first place are what make it timeless," says Herman Miller archivist Alexa Hagen. "It was designed for comfort and handcrafted from beautiful, high-quality materials."
Though those principles remain, Herman Miller has made slight alterations for modern times. When the manufacturer increased focus on sustainability in 1990, it discontinued the use of Brazilian rosewood. Today, the chair is made from high-quality sustainable options like santos palisander and walnut. And in the late 2010s, a taller size was developed, as the average height of people worldwide has increased one inch since the chair was designed.
"The fact that the lounge set has been in production since it was introduced in 1956 speaks to its adaptability," Hagan notes. Designer Brian McCarthy can attest to that. Even when midcentury design wasn't the aesthetic of choice, "there would never be a time where I would say, 'Take the Eames chair out,'" he says. "It's like a tuxedo in a way that it just kind of sits anywhere. And in terms of comfortability, it's like putting on the most incredibly comfortable pair of slippers."
Recommended: Brian McCarthy Gives a Glamorous Makeover to a Storied Uptown Apartment
Denise Davies of D2 Interieurs says the chair is more than just a library staple. "I use Eames chairs in offices, living rooms, family rooms, and bedrooms," she notes. "I always encourage my clients to buy them as they are classics and can be used for generations. It's like buying a piece of art."
Indeed, owning an Eames offers entry into an unspoken club. "For most people who acquire one, it's more than a chair," Hagan says. "It makes them a part of this amazing design legacy."
Next Post