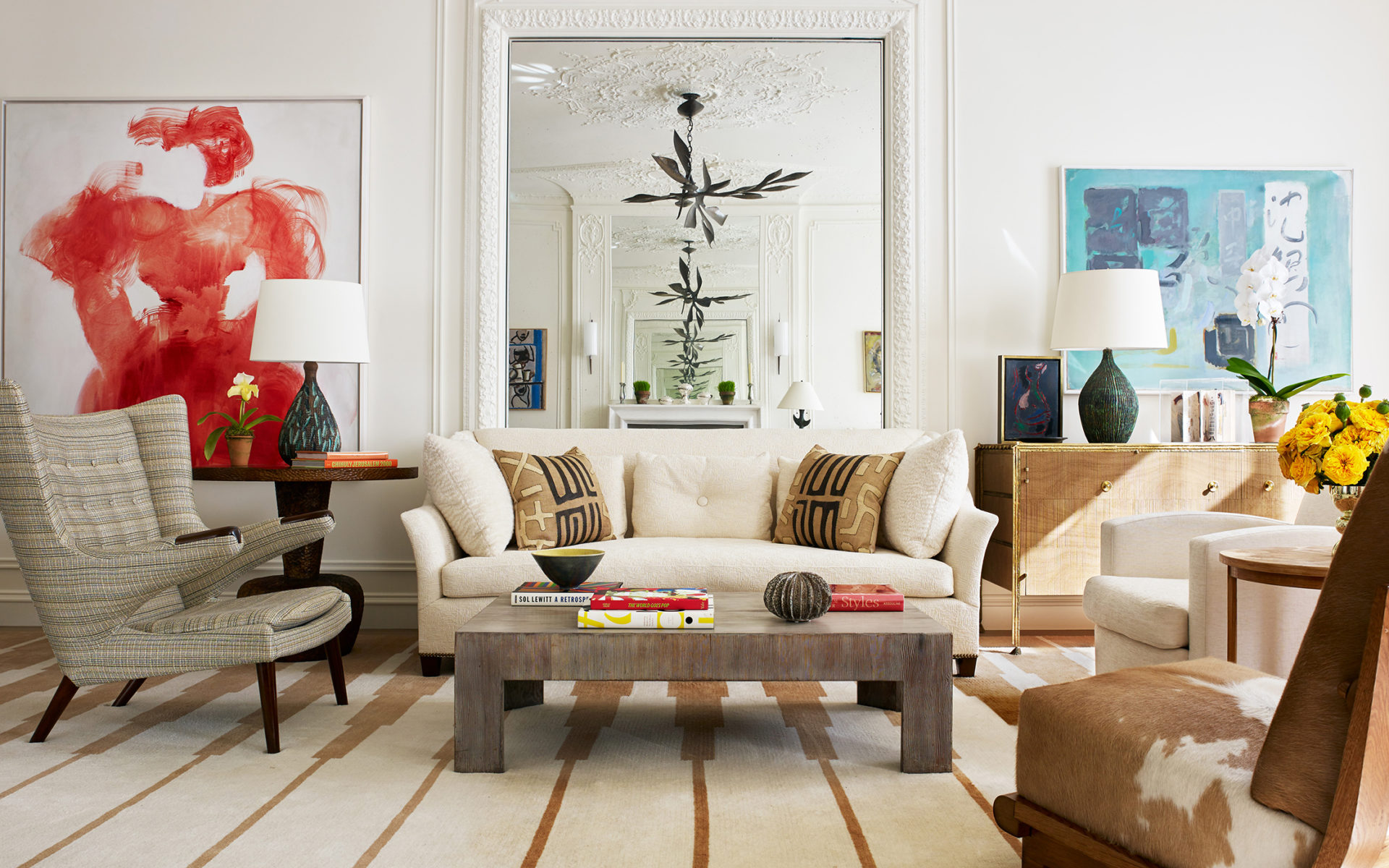 Brian McCarthy Gives a Glamorous Makeover to a Storied Uptown Apartment
The designer conjures a serene art-filled haven at the Upper West Side's historic Apthorp building
For years, Nurit Amdur kept a decorating-inspiration file, diligently filled with clippings from design magazines. "I would cut out images of what I liked—and didn't like," says the Israeli-born New Yorker. One of the pictures she saved was of a small but beautiful bathroom. What intrigued her was the designer's innovative treatment of the large window: He'd used an opaque white glass that provided both privacy and light, and then hung a round mirror smack-dab on top of it, as if it were a wall. The unexpected choice struck Nurit as brilliant: "I thought, One day I'll call this guy."
That day came in 2013. After living on the Upper East Side for some 40 years, Nurit and her husband, Rick, had sold the toy business they cofounded, Alex Toys, and decided to follow numerous friends who'd migrated across Central Park to the Upper West Side. They bought an apartment in the Apthorp, an Italianate prewar gem built around an interior courtyard. Nurit pulled the bathroom shot from her file and emailed the designer responsible, Brian J. McCarthy, whose résumé includes a stint at Parish-Hadley Associates, the storied mothership of American decorating. McCarthy promptly dropped off his book Luminous Interiors before the couple left for Tel Aviv, where they have another home.
Paging through the monograph, Nurit hesitated, finding the residences beautiful but grander than what she envisioned. Yet when she spoke to McCarthy by phone, she was impressed by his recommendations for gently tweaking the architecture—and her imagined layout—while preserving the period details. "He was thinking ahead," she says, "rather than saying, 'How do we solve a problem after we've created that problem?' "
For his part, McCarthy says that "it was love at first sight" with the apartment: "Honestly, I would have been heartbroken if I hadn't gotten the job." When McCarthy initially saw the place, it had largely been gutted, but he instantly had a feel for its exceptional light. The residence benefits from multiple exposures, including open views with direct sun as well as windows on the courtyard that get soft, reflected light.
One of McCarthy's first steps was a meticulous restoration of original details—the plasterwork on walls and ceilings, the paneling in the master bedroom, the mosaic floor in the front gallery turned dining area. That process required patience: Scraping a century's worth of paint from the bedroom's spectacular coffered ceiling took a year.
Then, in a departure from what McCarthy calls "my normal style"—i.e., more traditional interiors—he adopted an approach that married modern with classic. Eschewing fidelity to a single period, he used a mix of furniture from the 1930s through the '50s alongside a variety of commissioned pieces. The dining room, for instance, features minimalist cane-back chairs by Joaquim Tenreiro surrounding a custom-made, reverse-painted glass table inspired by the midcentury Brazilian master. A gracefully spiky '50s Stilnovo chandelier descends from above, while a mostly abstract painting by Leo Ray is mounted over a 1930s Dutch walnut cabinet.
"This juxtaposition of elements is, to me, what makes it so chic," McCarthy says. "There's such a youthful, fresh clarity to it all. It's made me see decoration in a totally different way."
In the living room, he installed three large mirrors, which open up the space and create intriguing visual interplay as you move around, glimpsing reflections of the sculptural Hervé Van der Straeten chandelier and works from the Amdurs' collection of Israeli contemporary art. "I'm such a believer in the 18th-
century use of mirror," says McCarthy. Nurit, who enjoys an easy banter with the decorator, quips that "this is what scared me—that the apartment would become a mini-Hermitage."
The designer's plan for the kitchen, meanwhile, required coaxing Nurit out of her comfort zone. "I said, 'I want a white kitchen, the pristine kitchen I see in all the magazines,' " she says. When McCarthy suggested cerused-oak cabinetry to emphasize the wood's grain and add more character, Nurit says she replied: "What is ceruse? I've never heard of this ceruse."
But McCarthy found an ally in Rick, and the two of them tag-teamed Nurit on her predilection for white. "Rick said to me, 'Please give me color somewhere,' " the designer recalls. He complied, persuading Nurit to coat the den walls in an aubergine Venetian plaster, which provides a dramatic backdrop for a group of black-and-white photographs of dancers. "It's my little space," Rick says. "I mess it up." The den is still a work in progress; it contains Rick's beloved Eames chair from the old apartment, but he misses his Alvar Aalto chairs.
"In Tel Aviv," Nurit says soothingly. "That's next." On a whim, the couple bought an apartment in a building under construction near their longtime Tel Aviv residence, and they've earmarked certain furnishings for that home when it's finished.
For now, though, the Amdurs are still settling in at the Apthorp. Standing in the dining room, Rick informs McCarthy that changing the lightbulb in the fixture over the table was an ordeal, requiring two ladders and a platform. "Nurit won't let me stand on the table," he says with a shrug.
"No, you don't want to do that," the designer says, giving the fragile glass table a sideways glance. "That's for sure."
Click here to view more photos of the home.
SaveSave
SaveSave
Next Post