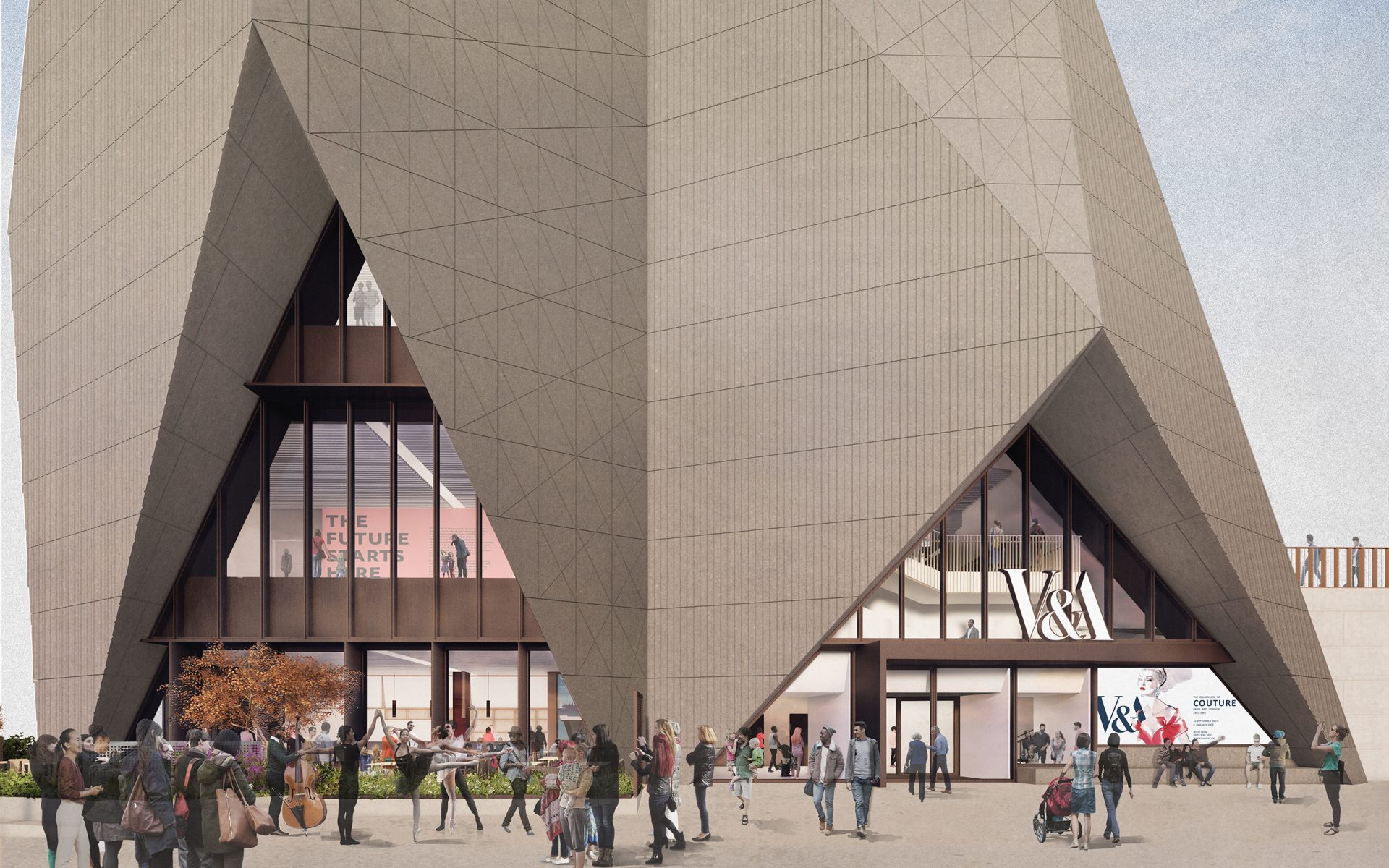 Designs for the New V&A East Have Just Been Revealed
The London institution is expanding with a new outpost, which will include a research center and a design museum
The V&A has released details and renderings for its planned outpost, V&A East.  Set to open in 2023, the East London satellite location will be comprised of two buildings: a design museum by O'Donnell + Tuomey and a collection and research center by Diller Scofidio + Renfro.
According to the plans for the research center, the building will feature multilevel galleries that will provide visitors with a 360-degree view of the collection.
"Planned from the inside out, V&A East will be like stepping into an immersive cabinet of curiosities—a three-dimensional sampling of the eclectic collection of artifacts, programmed with diverse spaces for research, object study, workshops, and back-of-house functions," architect Eilzabeth Diller of Diller Scofidio + Renfro, the firm that also created New York's High Line, said in a statement.
Highlights of the V&A East will include Frank Lloyd Wright's 1930s office for Edgar J. Kaufmann—a unique and complete 20th-century plywood interior—and a 15th-century marquetry ceiling from the now-destroyed Altamira Palace near Toledo, Spain.
Recommended: Thomas Heatherwick Transforms Victorian Warehouses into a Dazzling Shopping Center
A dedicated viewing gallery will be incorporated into the design museum to showcase a changing display of rarely seen large rolled objects from the museum's collection of theater stage cloths, carpets, textiles, tapestries, and paintings, including a 49-foot-wide theatrical backcloth designed by Natalia Goncharova for the 1926 Ballets Russes London production of Stravinsky's Firebird.
The museum also announced that V&A East will partner with the Smithsonian Institution, which will coproduce the inaugural exhibition in 2023. After that, the Smithsonian will present one in four exhibitions at the new museum.
"By bringing together the world's largest museum, research, and education complex and the world's largest museum of art, design, and performance, we believe we can unite the arts and sciences to tackle some of the most pressing issues of our day," Dr. David Skorton, secretary of the Smithsonian Institution, said in a statement. "Such a collaboration will create a new type of museum experience for East London and allow us to engage with new audiences in one of the most diverse and dynamic cities in the world."
Next Post