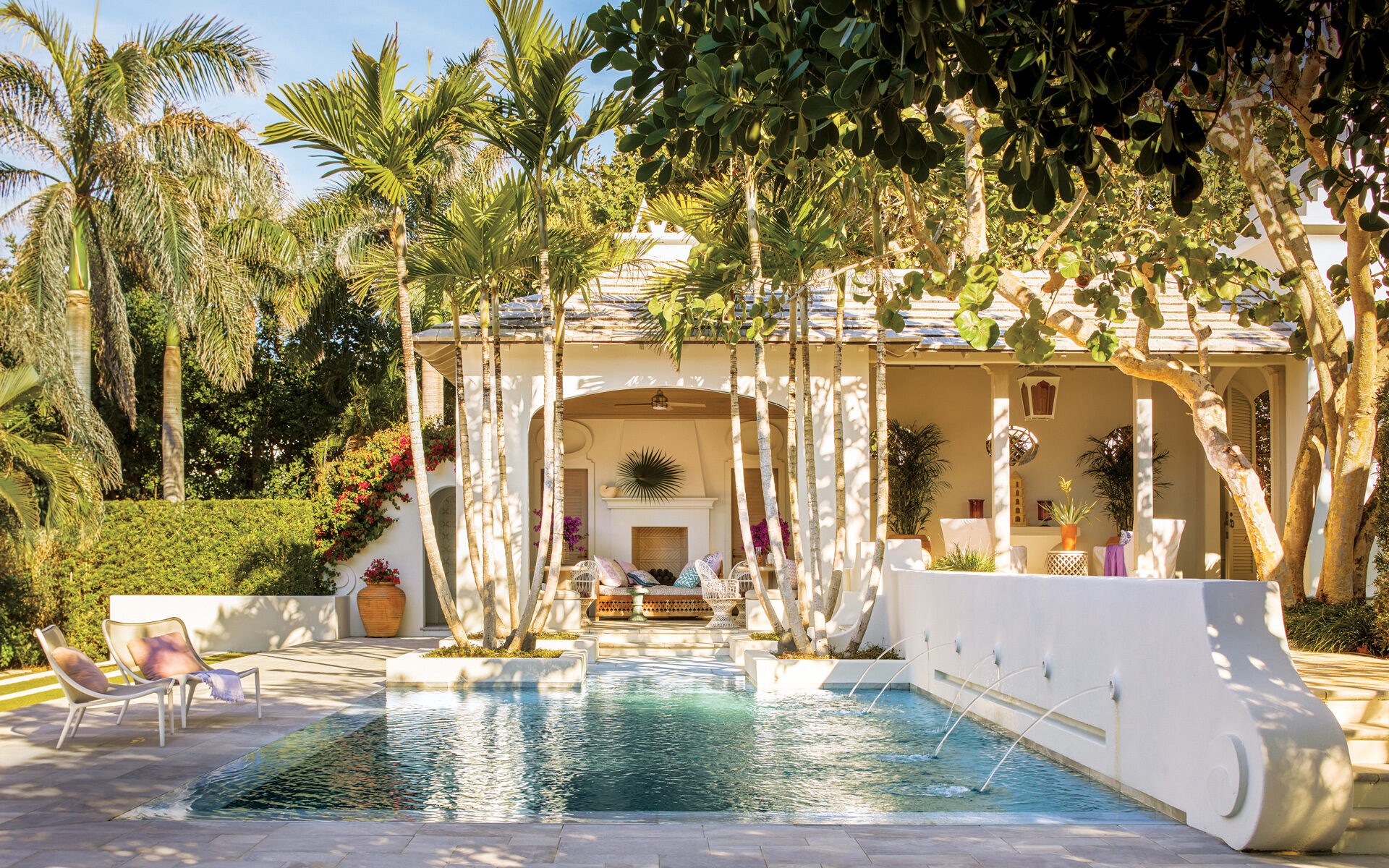 8 Designers Share the Secrets to Creating the Perfect Pool House
These cabanas marry high design with indoor-outdoor functionality to bring a vacation-like experience closer to home
With spa-inspired outdoor showers, tropical palettes, and expansive chaises, resort cabanas conjure the wistfulness of dreamy destinations. Now people looking to quell their sense of wanderlust at home are tasking designers with transforming their pool houses into vacation-worthy experiences with eating areas, gyms, media rooms, guest quarters, and so much more. "For most people, the pool house is a quiet place to get away from the main house; it's a place to lounge, hang out, and relax around the pool. But I also see people using them to entertain," says Atlanta-based architect Stan Dixon, who has conceived pool houses with everything from home offices to rooms for yoga, meditation, or massage. At an oceanfront estate in Palm Beach, Dixon used a pool house as a tropical lead-up to the home's entry. "It's a bit of a destination. I wanted to create a home that felt very seamless from inside to outside."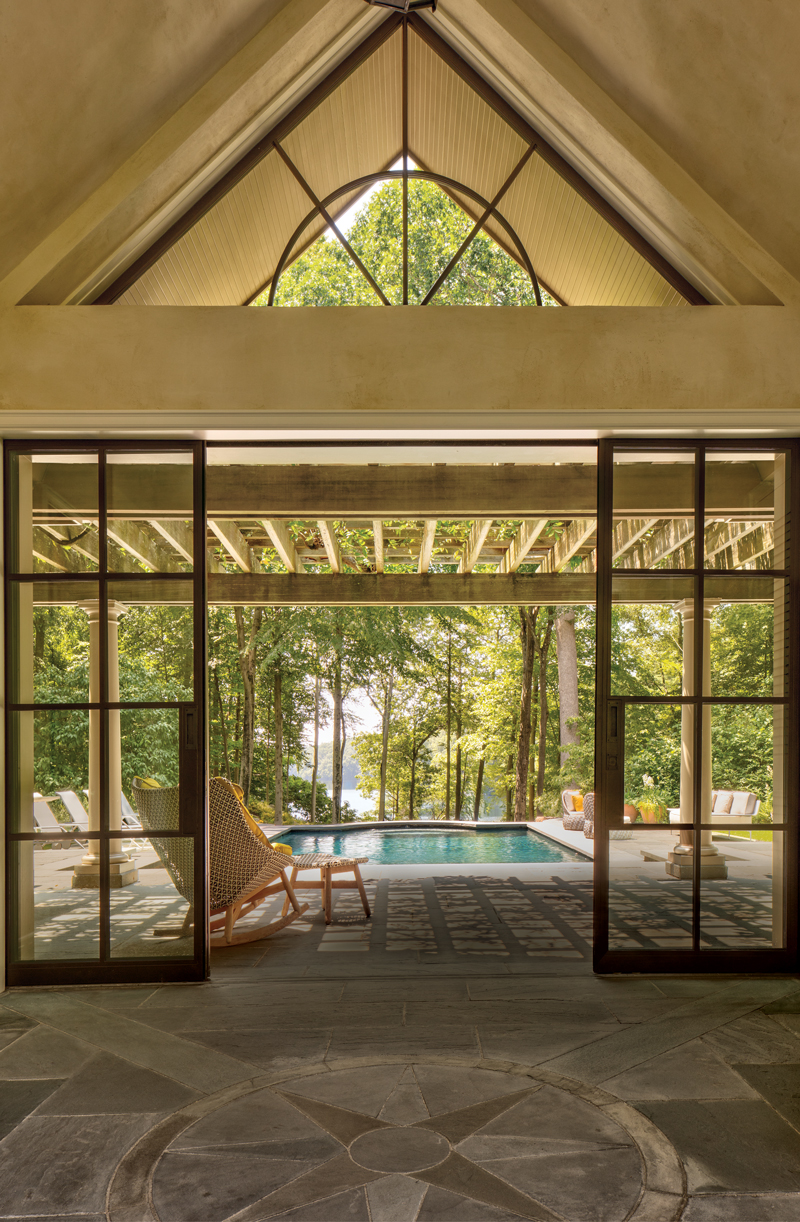 Form Meets Function
To maximize that escapist mind-set, pool houses need to be self-supporting, with a kitchenette, bath, and storage—no matter how big or small. "You start to think with the attitude of designing a boat: How can I be clever about building things in and getting the most out of every cubic foot of space?" says architect Eric J. Smith, who suggests using under-counter appliances such as refrigerator, freezer, and warming drawers, or matching the color of the cooktop to the countertop for a chic yet functional interior.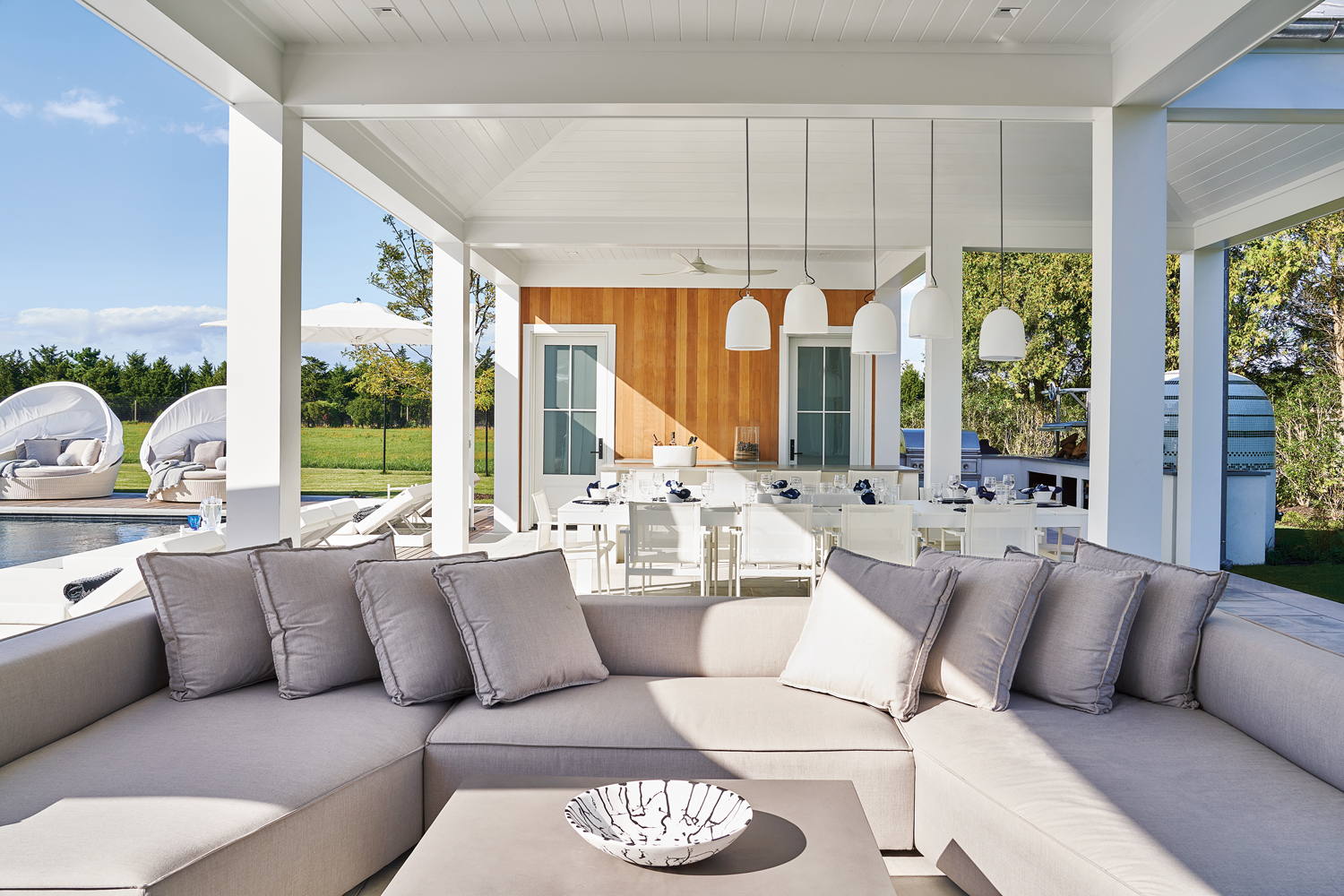 Building in adaptable elements like pocket doors that can transform the outbuilding from a sheltered room to an airy pavilion elevates the structure's functionality. "The enclosure is really important to these buildings being successful as you're inside and outside at the same time," says Mark Ferguson, a founding partner at Ferguson & Shamamian Architects. "You have the breezes, the light, the openness, and the presence of water and plants that you get by being outside, but you also have a roof, walls, maybe a fireplace—things that you associate with a cozy indoor feeling."
Infrared heaters and firepits go a long way in bringing that coziness outdoors, so families and friends can enjoy these spaces year-round. Designer Amy Lau's clients requested their Bridgehampton retreat have all the elements of a high-end hotel in St. Barts or the Côte d'Azur, so she crafted a playful pool bar surmounted by several televisions, then added a modern fire table as a focal point surrounded by loungers.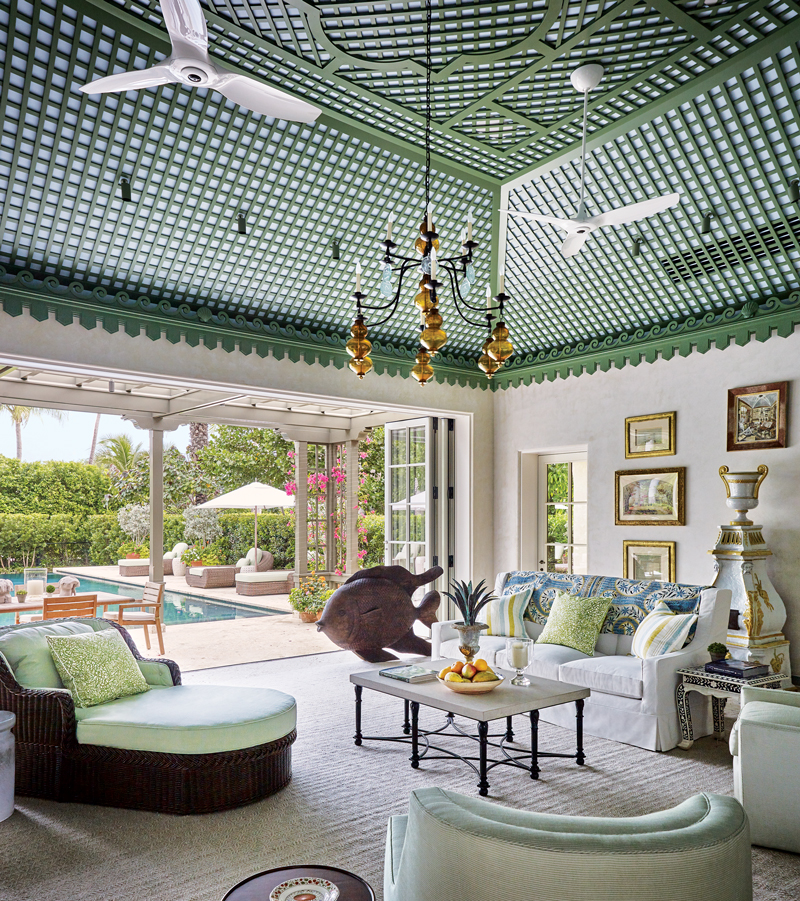 The need for versatility extends to the furniture plan, where pieces that serve multiple functions, like expansive daybeds that conceal trundles for younger guests or lightweight chairs that can easily move around for movie watching, are preferred. "There's a lot of millwork involved in these kind of places, whether that's banquettes that have storage below or built-in bookshelves and cabinets where you put things that aren't so pretty so they're mostly concealed," says West Coast designer Mark D. Sikes.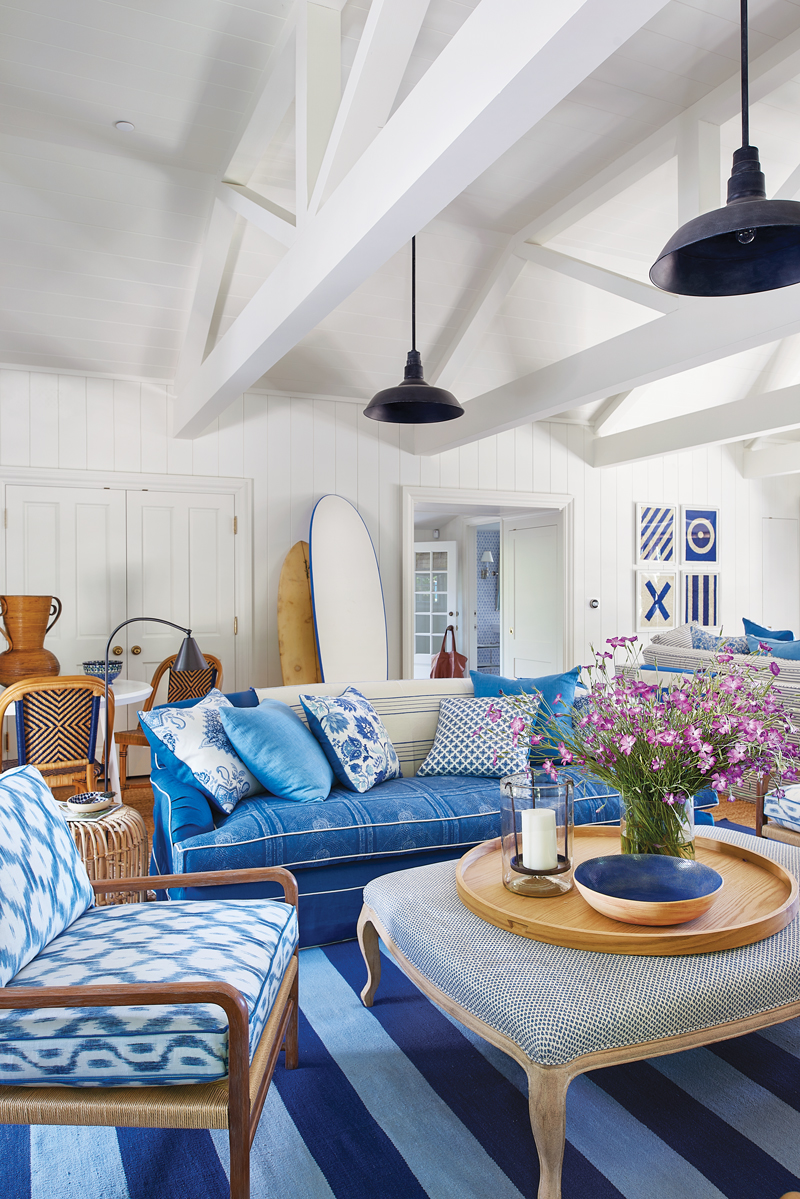 Materials
"Beach houses require a lot of maintenance, and we did a lot of research to pick the best materials that will stand up to the elements," says designer Rodney Lawrence, who clad the exterior of a Hamptons pool house in cypress, which holds its color longer than cedar. Designers often look to natural materials like bluestone, honed travertine, or ipe for both their durability and style, particularly on the floor, where it can run from the indoors to the outside without interruption. 
"Pool baths are so small and jewel-like that you can get more creative"

Amy Lau
While the pool house exterior is generally cohesive with the main house, the interior areas are open to more fanciful expression. "Pool baths are so small and jewel-like that you can get more creative," says Lau, who has utilized wallpaper murals, mirrored tiles, and more to amp up a changing room's wow factor. "You don't have to spend a lot of money to make it look like an art installation." 
All-weather fabrics, too, have come a long way, with companies like Perennials, Sunbrella, and Quadrille creating upholstery that can handle wet swimwear while still offering upscale colors, patterns, and textures. "That was the problem in the past—everything felt like outdoor fabric and looked like it," says Elizabeth Lawrence, a partner at Bunny Williams Interior Design. "We want it to look and feel like what people have inside their homes."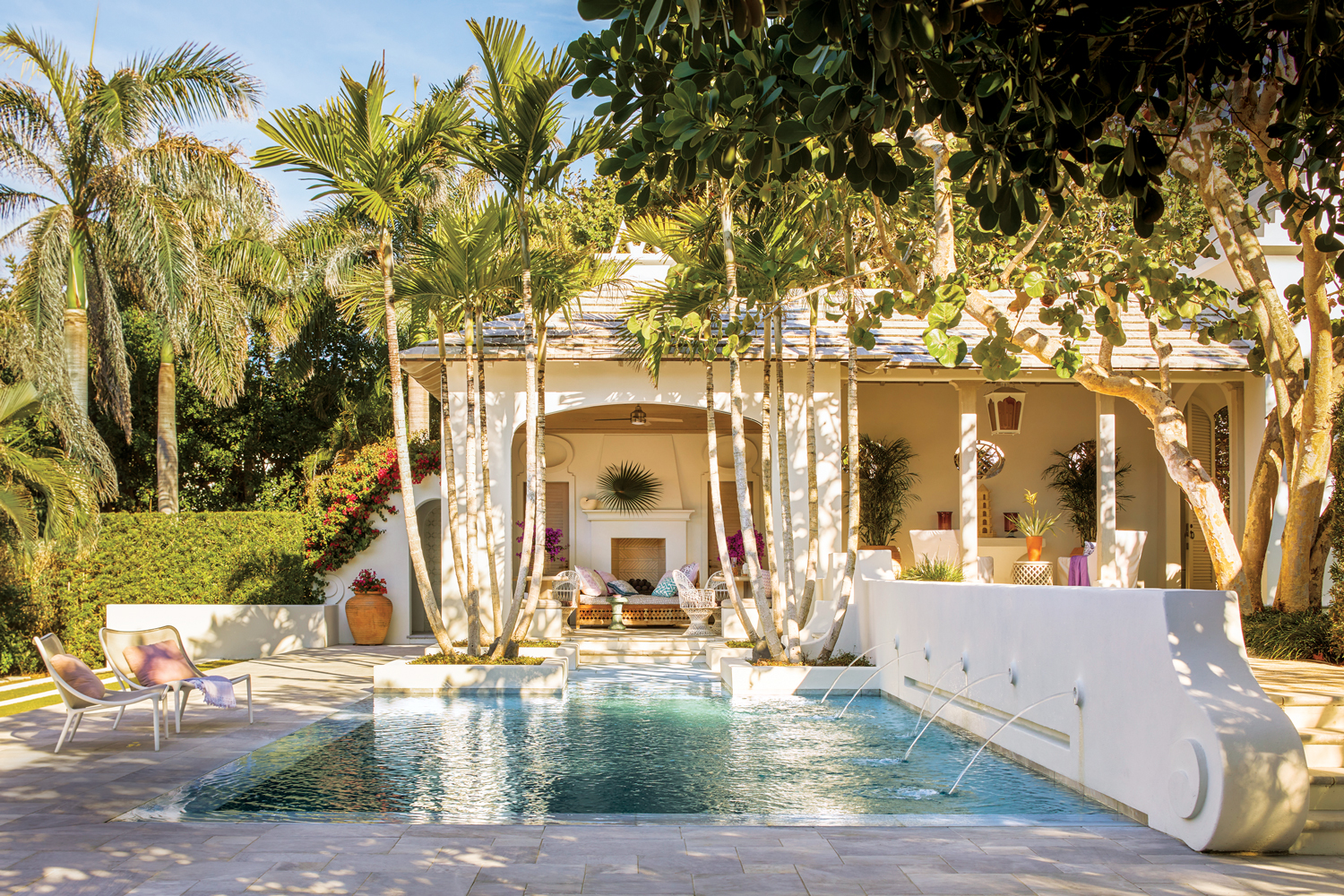 Furniture
Areas that open to the outdoors or get a lot of moisture require furnishings made with mildew-or rust-resistant materials like aluminum or treated wrought iron. "Teak is superheavy, and it can be hard to care for," says designer Michelle Gerson. Large sectionals customized with performance fabrics, cocktail tables in treated wood or stone, and lightweight seating in weatherproof materials like wicker or water-repelling mesh are also popular in pool houses that serve myriad functions. 
Mixing in uniquely curated accoutrements can personalize a pool house and add to its resort-like vibe. Lau selected pieces in Veuve Clicquot orange to match a client's beverage of choice, Elizabeth Lawrence covered a ceiling punctuated with a Spanish chandelier from Carlos de la Puente Antiques in grassy green lattice, and Gerson incorporated an Argentine grill as well as a pizza oven imported from Italy for a homeowner who loves to cook. "We're not designing pool houses to be so specific," states Dixon, "but to be flexible so that as the time of day changes, the time of year changes, the client's needs change, they can be adapted."
A version of this article first appeared in print in our 2021 Winter Issue under the headline "Private Oasis." Subscribe to the magazine.
Next Post