Artist Derrick Adams Opens the Door of His Brooklyn Studio
Whether in his studio art, public commissions, or community-minded initiatives, the artist embraces a vision of connection, empowerment, and joy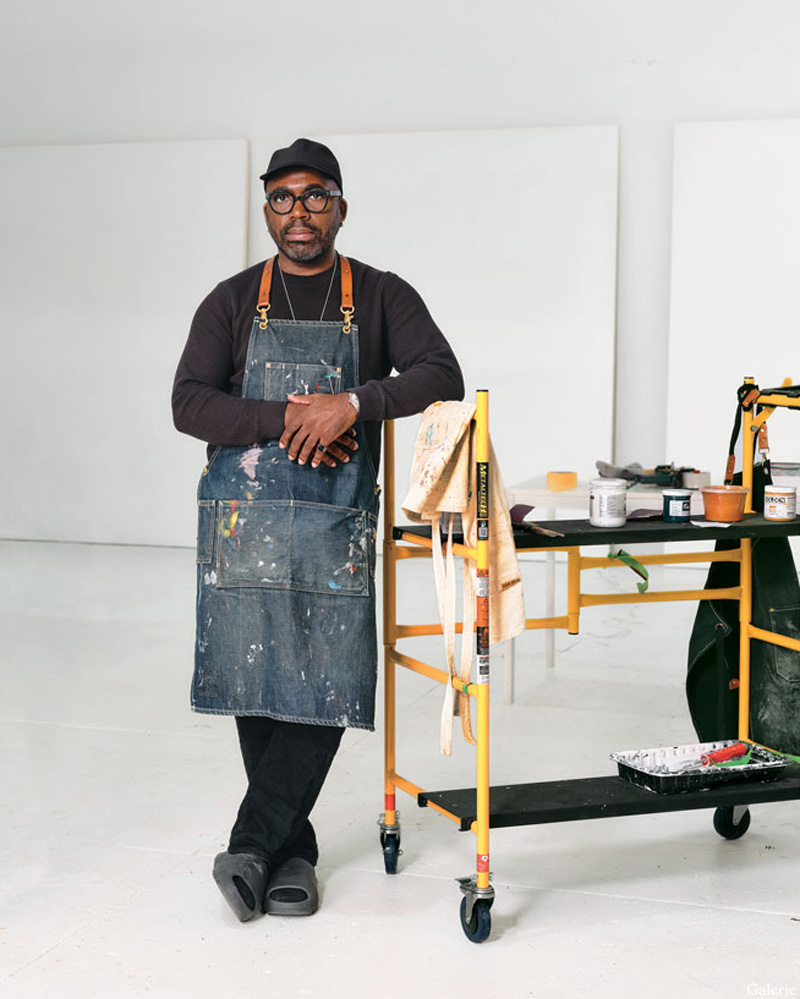 On daily walks between his home in Brooklyn's Bedford-Stuyvesant neighborhood and his studio in nearby Crown Heights, Derrick Adams frequently passes under the elevated Nostrand Avenue station of the Long Island Rail Road. There, his installation of 85 laminated-glass panels—a permanent commission for MTA Arts & Design that opened in 2019—glows in the sun and reflects the vibrancy and tempo of the surrounding city.
"Because of my familiarity with the station, it was a different level of connection with what I thought would improve the visual experience," says Adams. His playful design collages together buildings, streets, trees, and human faces in a kaleidoscopic cityscape of bold colors and shapes with shifting scales and vantage points. In Adams's work, it's always a beautiful day in the neighborhood.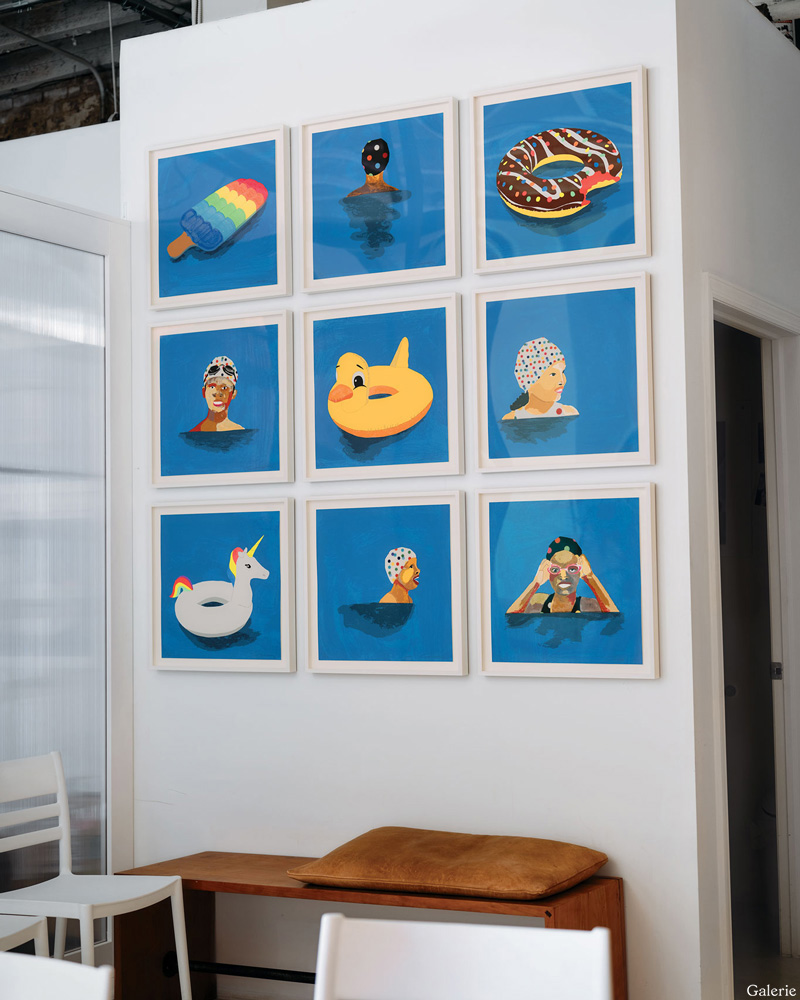 The 53-year-old multidisciplinary artist has lived and worked in Brooklyn since 1993, when he moved from his hometown of Baltimore to attend art school at Pratt Institute, partly inspired by a research project he did on Jacob Lawrence, who had taught there. "I realized I had a certain level of resemblance and commonality with the artist," says Adams, fascinated by Lawrence's journey and his paintings of African American life. Since completing his MFA at Columbia University in 2003, Adams has worked in painting, sculpture, performance, and video, notably foregrounding Black joy, as he often describes it, rather than the all-too-familiar portrayal of struggle and trauma.
"I'm creating images that I feel will somehow balance out certain narratives that I think are counterproductive within looking at the Black experience," he says, walking through his expansive studio, a former food distribution warehouse with a social gathering space in front and a work area in back. On the walls are paintings in progress of his cousin's family relaxing in the pool on colorful inflatables—part of his ongoing "Floaters" series—and a portrait of two beaming little girls in gingham outfits, children of artist Hank Willis Thomas and curator Rujeko Hockley.
"The sensibility within the paintings highlights some of the things I think are spectacular about these families," says Adams, who composes his figures with faceted, geometric planes of color in a way that amplifies their dynamism and synthesizes aspects of Cubism and African wood carvings. In September, a selection of his new works will go on view at Gagosian in Beverly Hills as part of his first show with the gallery, which now represents him worldwide.
In recent years, his practice has expanded to include building community projects in addition to his busy schedule of public artworks and exhibitions—such as participation in "The Culture: Hip Hop and Contemporary Art in the 21st Century," currently on view at the Baltimore Museum of Art through July 16. Not far from the museum, Adams has purchased properties, where he is developing an archive called the Black Baltimore Digital Database, aided by a $1.25 million grant from the Mellon Foundation, as well as the Last Resort Artist Retreat, a residency he envisions as a space for "leisure and reset for Black creatives" in the city.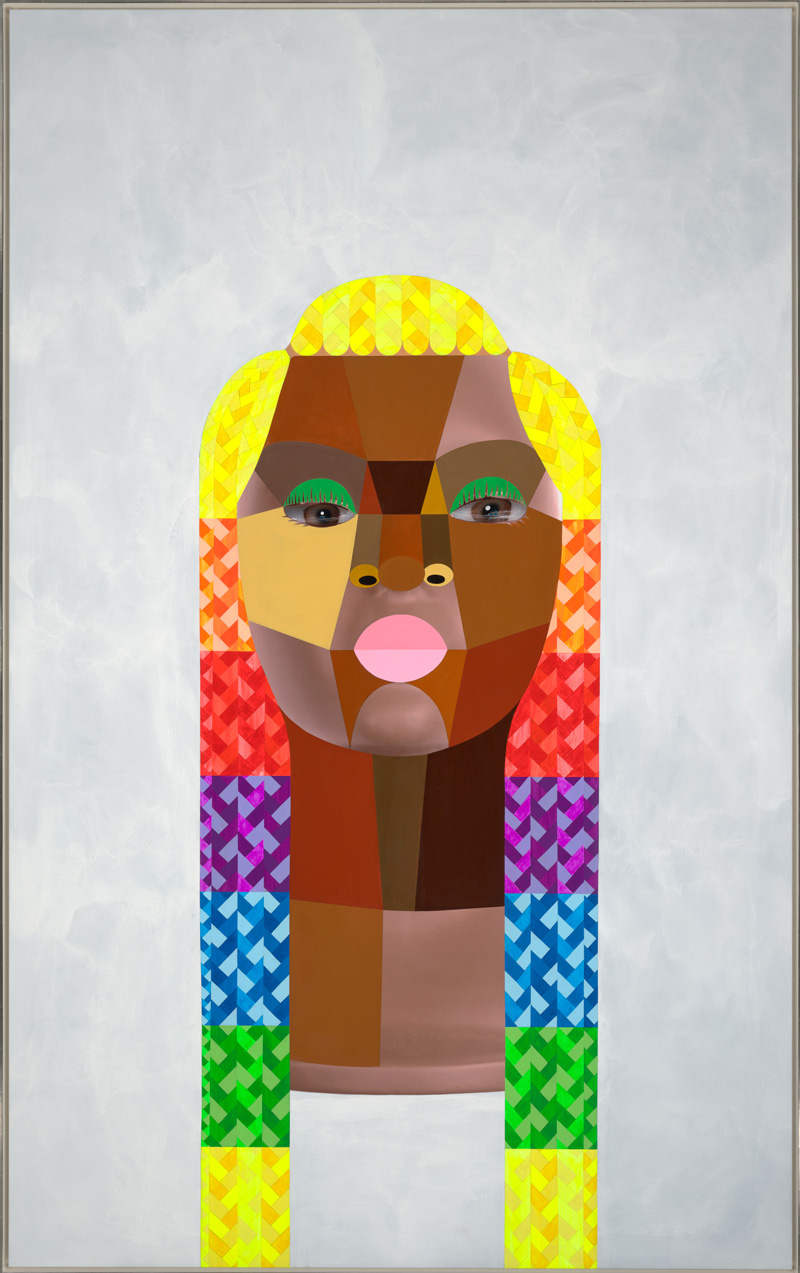 With his frequent commuting between Brooklyn and Baltimore, Adams is deeply familiar with New York's Penn Station, where he recently created the largest commission by a single artist to date for the Art at Amtrak program. On view through July 10, "The City Is My Refuge" wraps walls and columns in the ticketing and waiting areas in vinyl printed with Adams's graphically stylized faces peeking out from lush green foliage and forests of lollipop trees. "For me, New York is a getaway where you can walk into a park at any given time or be in the hustle and bustle of a crowded area," he says. "This work is a love letter to the city."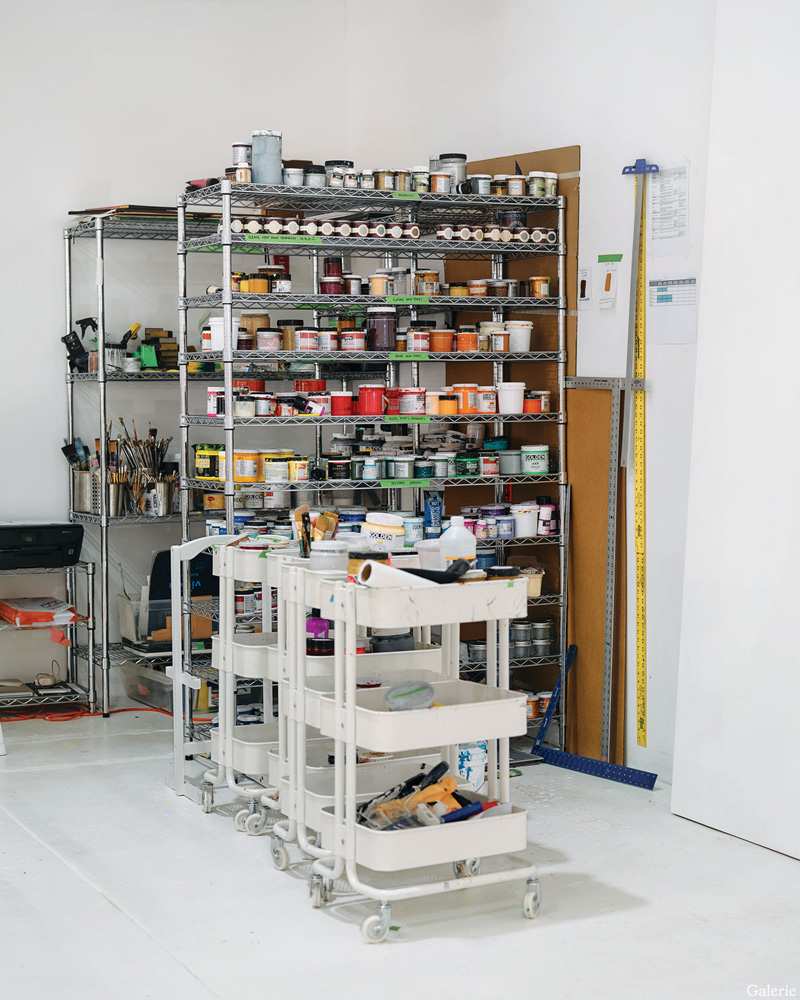 In Chicago, where Adams continues to show with Rhona Hoffman, his gallerist since 2014, his Art on the Mart commission is being projected nightly across the massive façade of the landmark Merchandise Mart building, through July 5. Titled Funtime Unicorn: Ruby Rides Through Four Seasons, the dreamlike animation with music and narration tells the story of a little black unicorn named Ruby, a playground spring rider that breaks free to explore outer space.
The black unicorn is an image that has appeared as a pool toy in Adams's "Floaters" paintings and as an actual ride in the installation he created for Rockefeller Center last year. "It is in line with my interest in complex narratives, relating to the way people look at racial identity," he says. "The unicorn is a magical, mystical creature. Why can't it be black?"
A version of this article first appeared in print in our 2023 Summer Issue under the headline "Multi Faceted." Subscribe to the magazine.
Next Post