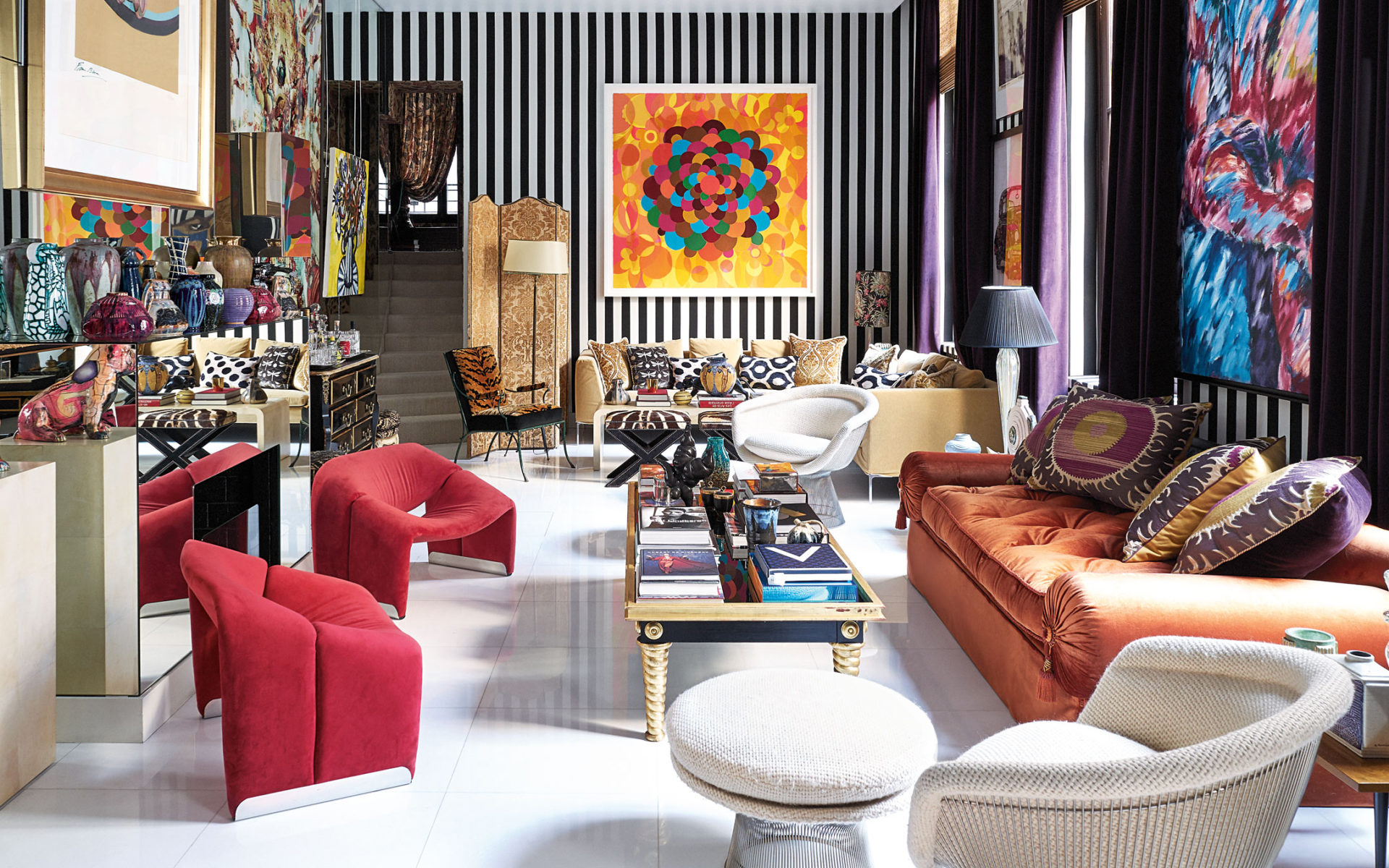 Sig Bergamin Glamorously Transforms His Paris Apartment
For the latest makeover of his pied- à-terre, the Brazilian design talent shows his wild side
If the desire to constantly rethink and remake your living spaces is an affliction—one that strikes designers with unusual frequency—then Sig Bergamin has an acute case. Despite having homes on three continents and a bustling São Paulo–based practice with a glittering clientele of tastemakers and business tycoons, the Brazilian architect and decorator just can't shake the urge to add new pieces, revitalize old favorites, even start over entirely fresh. "I am an interior designer, and I like change often—that's my problem," says Bergamin, offering a smile and a shrug.
So it was that Bergamin and his husband, architect Murilo Lomas, found themselves transforming their Paris pied-à-terre for the second time in less than five years. The pair, who also have homes in São Paulo, New York City, and the Brazilian beachside town of Trancoso, spent six months on a top-to-bottom redo of the apartment, located on a quiet side street just off Place Vendôme. The two-bedroom residence had been created by combining adjoining flats in neighboring buildings, one dating from the 18th century and the other from the 19th century. First time around, the couple decorated the interior with a subdued, moody palette and understated antiques. It was an elegantly cozy scheme that, while hardly minimal, featured fewer flourishes than Bergamin's typically eclectic and electric rooms, where audacious combinations of color, pattern, and texture are the rule.
Recently Bergamin, feeling it was time to get back to his exuberant ways, "decided to change everything," he says. Fresh paint and upholstery shifted the color wheel from browns and taupes to saffrons, golds, and reds. "It feels happier, brighter. There's more life," offers the designer. "It looks like a totally different home."
In the living room, which has 15-foot ceilings and soaring windows, the previously mocha-hued walls now sport bold black-and-white stripes that bring to mind the striped columns of artist Daniel Buren's iconic Les Deux Plateaux installation in the Palais Royal courtyard. A chocolate velvet sofa with tassels accenting its ruched and pillowy roll arms looks brand-new in burnt-orange velvet. A pair of vintage Pierre Paulin armchairs, found at a Paris flea market, were reclad in a punchy vermilion fabric. At one end of the room, Bergamin clustered a newly acquired Biedermeier bench and a neoclassical 1940s desk with a group of Louis-style chairs, upholstered in a zippy fuchsia-tinted zebra print. "Mix, mix, mix—that's my way," says Bergamin. "The decor here is all about color and pattern, color and pattern."
A few steps up from the living room, that mantra is in full force in the small parlor that serves as the couple's dining room, where they host intimate dinners with friends or set up buffets for larger groups. Bergamin, who loves richly patterned textiles, lined the walls with more than 200 yards of multicolored floral fabric, perfectly hung to conceal doors leading to bedrooms and a small kitchen. Billowy curtains that frame tall windows overlooking a quiet cul-de-sac are of the same fabric. All of this is reflected in the room's mirrored ceiling, creating the feeling of a tentlike Orientalist fantasy. Lending a contrasting modernist note are a set of minimalist chairs cushioned in green velvet and a 1950s blackened-steel bar cart by Mathieu Matégot.
Just as important to the home's vivacious personality are the art and objects on display. Composed of pieces that Bergamin and Lomas have collected over the years, it's a deeply personal assembly of the bold and the beautiful, high and low, antique and contemporary. There are German, Scandinavian, and American ceramics from the 1940s through '60s, classical bronzes, Murano-glass vessels, even a color-streaked ceramic bulldog (a gift from a client). Artworks by Brazilian artists Vik Muniz, Beatriz Milhazes, and Luiz Paulo Baravelli are given pride of place alongside luminous abstractions by Lomas in a mix that also includes photographs, posters, and antique portraits. "If I see something beautiful, I buy it immediately," says Bergamin. "I never think about where it's going."
For now, at least, the designer says he's putting the brakes on further acquisitions in Paris. "I have to stop," Bergamin declares. "I have no more room!" Of course, he has been known to change his mind.
Click here to view more photos of the home.
Next Post