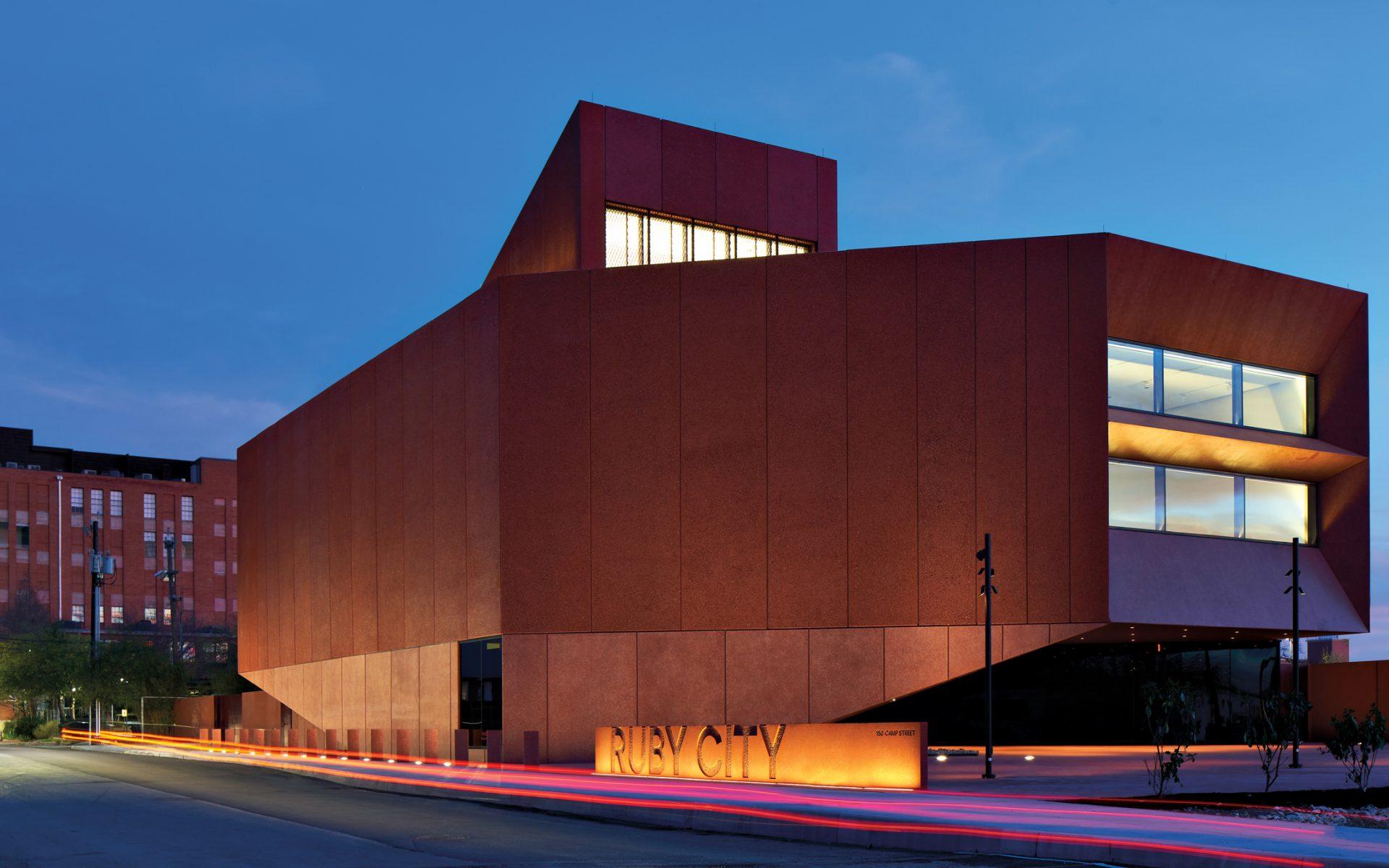 David Adjaye Conjures a Museum Wonderland in San Antonio
Collector Linda Pace's dreamscape comes to life as a world-class contemporary art haven dubbed Ruby City
Ruby City was, quite literally, born from a dream. It is the phantasm of the late collector and artist Linda Pace, known as much for her deep-rooted art patronage as her fervor for Jungian theory and her morning ritual of sketching imagery she saw in her sleep, capturing ideas later realized in her drawings and sculptures.   
But this fall, her vision of a fantastical crimson structure materializes as a very real, world-class contemporary art haven open to the public in San Antonio, Pace's lifelong home.
The sparkling masterpiece was designed by David Adjaye, the force behind momentous projects such as the Smithsonian Institute National Museum of African American History and Culture, Ghana's first Venice Biennale pavilion, and the U.K.'s upcoming National Holocaust Memorial, near the Houses of Parliament. To create the dazzling hue, he infused precast concrete with two shades of crushed red glass that catch the light as the Texas sun pans the building. 
"I analyzed Linda's sketch as if it were a hieroglyphic, a visual poem loaded with information," says Adjaye of the color-pencil rendering she presented him in 2007. While he credits The Wizard of Oz, Emerald City–like image as a catalyst for today's 14,000-square-foot angular design, Adjaye, who was knighted in 2017, also cites references to the indigenous, regional architecture of pre–Spanish colonization and the San Antonio Missions.
Pace, whose father created Pace Picante Sauce, was San Antonio's contemporary art bedrock for decades. As founder of the city's exhibition and education residency Artpace, housed in a former downtown car dealership, she helped launch artists like sculptor Teresita Fernández and video installation–filmmaker Isaac Julien, with whom she had enduring friendships and whose work factored prominently in her collection. To honor her son, who died in 1997, Pace built Chris Park, a lush acre expanse of walkways and public art for San Antonio residents.
Recommended: Kengo Kuma–Designed Odunpazari Modern Museum Opens in Turkey
Ruby City's October debut unfurls in three parts, "Waking Dream," "Isaac Julien: Playtime," and "Jewels in the Concrete," which features over 50 pieces from the Linda Pace Foundation, including Pace's own artwork, alongside those by Do Ho Suh, Cornelia Parker, Nancy Rubins, and Leonardo Drew. Julien's multiscreen work Lina Bo Bardi was recently announced as the foundation's latest acquisition. "Linda envisioned Ruby City as a kind of aesthetic tonic," says Kathryn Kanjo, director and CEO of the Museum of Contemporary Art San Diego, who curated the inaugural exhibitions. "She wanted visitors to be transported by unique works of art in a relatively unmediated way, on their own terms."  
A version of this article first appeared in print in our 2019 Fall issue under the headline "Seeing Red." Subscribe to the magazine.
Next Post