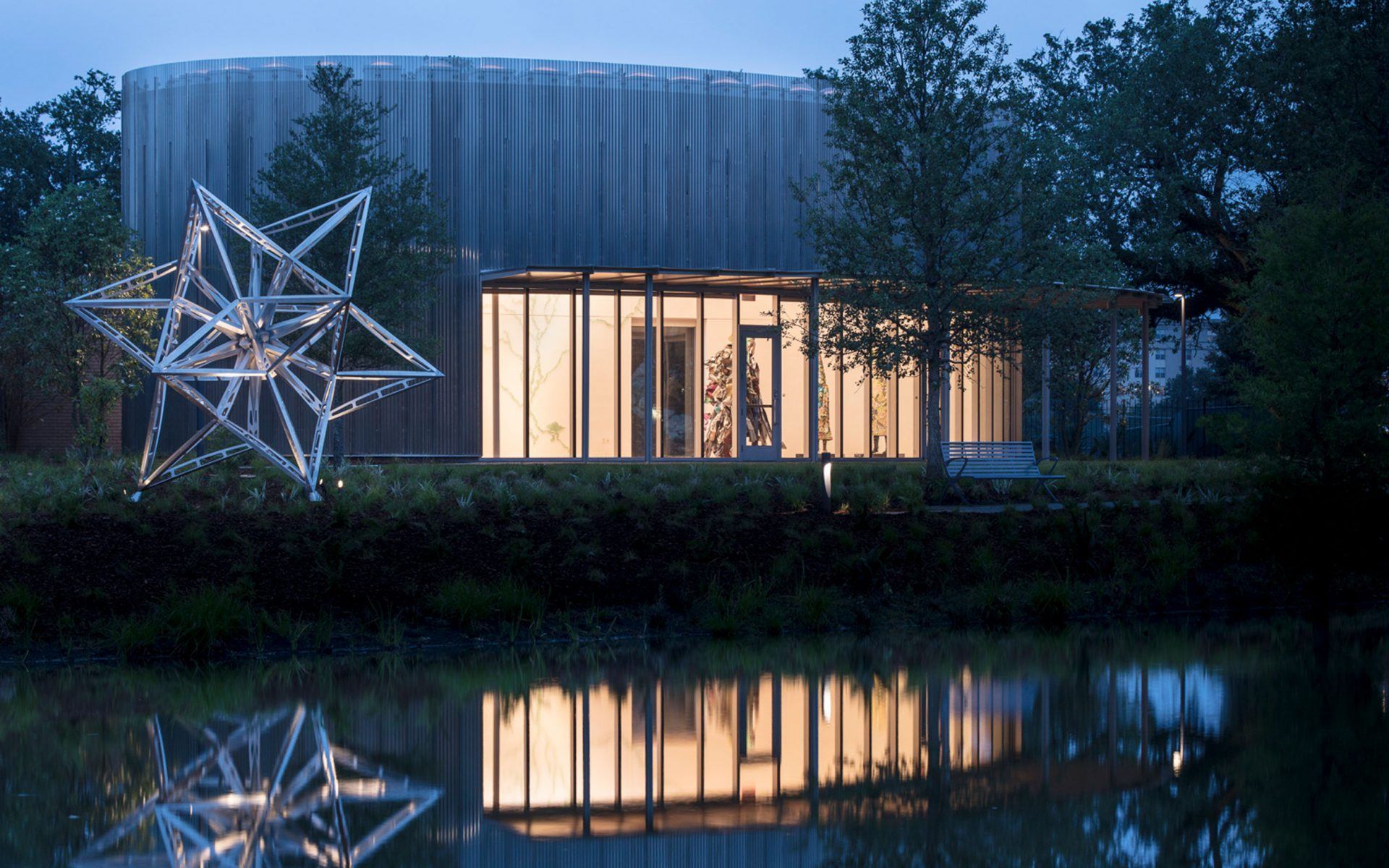 See the New Orleans Museum of Art's Expanded Sculpture Garden
NOMA has added more than two dozen large-scale works by the likes of Frank Gehry, Maya Lin, and Teresita Fernández
After 18 months of construction, the New Orleans Museum of Art (NOMA) has doubled the footprint of its fabled sculpture park, adding more than two dozen large-scale works by the likes of Frank Gehry, Sean Scully, Maya Lin, Katharina Fritsch, Frank Stella, Tony Cragg, Thomas Houseago, and Ursula von Rydingsvard.
Founded in 1910, the city's oldest art museum opened the adjacent five-acre Sydney and Walda Besthoff Sculpture Garden in 2003 as a way of artfully uniting its neoclassical building with the neighboring City Park. The new addition brings the total garden area to 11.5 acres and adds an amphitheater, stage, gallery, and pedestrian bridges to what was already one of the Big Easy's top free attractions.
Recommended: Architect Lee Ledbetter Reimagines a New Orleans Landmark in the French Quarter
Landscape architect Reed Hilderbrand, who has offices in Massachusetts and Connecticut, envisioned the grounds thriving with native flora, including southern magnolias, star anise, wax myrtle, dwarf palmetto, and buttonbush—all set amid towering 200-year-old live oaks. (Sawyer|Berson conceived the original five-acre green space.) The garden's snakelike lagoon was redrawn and stabilized during the project as a means to improve water quality and reduce the load on the municipal drainage system.
Among the artists who were commissioned to create new works for the project was New York–based Teresita Fernández, who conjured a 60-foot-long lush mosaic wall dubbed Viñales (Mayombe Mississippi), which shimmers with copper tones that swirl into a verdigris gradient. In addition, the new acreage is connected to the original garden via a 280-foot-long canal link bridge (the first in the U.S.), made by sculptor Elyn Zimmerman. The colorful glass platform dips into the lagoon, giving guests the feeling of walking on water.
Recommended: 8 Reasons You Need to Visit New Orleans This Spring
Architecture firm Lee Ledbetter & Associates created all of the new structures onsite, including a 5,000-square-foot elliptical pavilion that offers an exciting exhibition space for indoor sculpture. There's also a new amphitheater set on the edge of the lagoon that provides the perfect setting for cultural programs, with seating located on steps of gradually bermed grass.
"While the sculpture garden expansion builds on the success of the existing garden, we have worked with our design partners to incorporate architectural features that the original garden does not have," said founding patron Walda Besthoff in a statement. "The principals developing this project have worked hard and well together to achieve an imaginative and exhilarating new space."
See below for more pictures of the garden:
Next Post