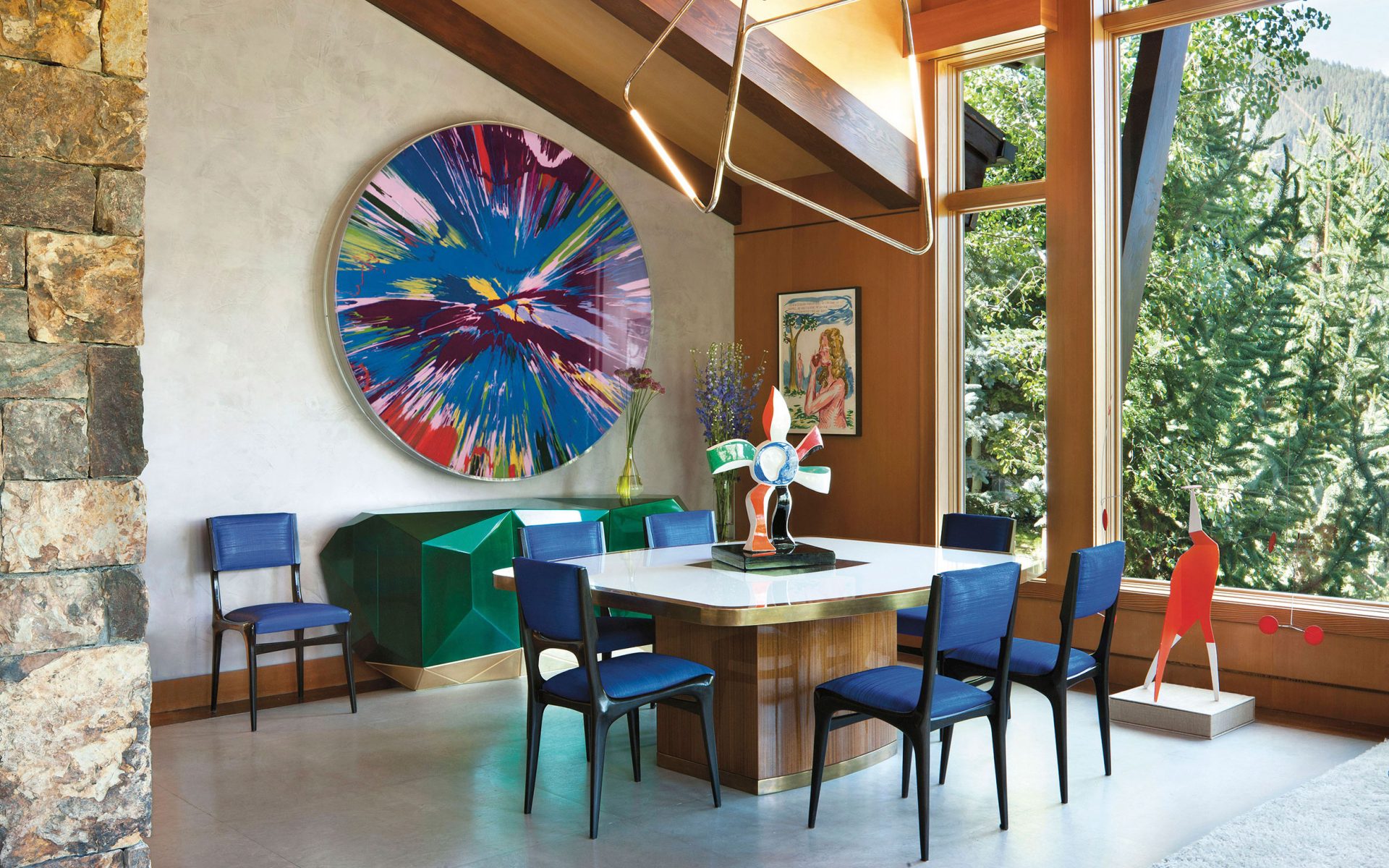 Interiors Where Damien Hirst's Provocative Works Take Center Stage
With their color and levity, the British artist's works dramatically uplift any space
Certain artists seem to have the golden touch, with each work they create becoming an overnight icon. Such is the case with YBA artist Damien Hirst, who has both shocked and delighted critics since first entering the contemporary art scene in the late 1980s. With career highlights including a Turner Prize, $100 million diamond-encrusted platinum skull, and a two-day Sotheby's auction extravaganza that achieved nearly $200 million, it's no surprise that Hirst remains of the world's most closely watched artists.
Praised for their vibrant colors and levity, Hirst's "Spin" series, butterflies, and dots have become popular in the homes of top collectors and dealers. (They are also more suited for a residential setting than, say, one of his formaldehyde-preserved animals.) Below, see how five spaces featured in Galerie's archives each uniquely incorporate the artist's stimulating canvases.
1. Tina Kim is a Korean-born Chelsea gallerist who is well known for introducing American collectors to established and emerging Korean artists. Her Upper West Side townhouse, designed by Charlap Hyman & Herrero, reflects her passion for both Eastern and Western contemporary art. Here, one of Hirst's "Spin" paintings adds a splash of color to the space's otherwise neutral palette.
Recommended: Striking Interiors with Museum-Worthy Art by Andy Warhol Prove His Enduring Appeal
2. Another Manhattan art dealer who lines her home's walls with blue-chip art is Marianne Boesky. Cool tones dominate her Chelsea residence, particularly in her dining room, where a Hirst butterfly painting hangs above a Kevin Walz daybed from Ralph Pucci. Other vintage design touches in the residence, designed by architect Deborah Berke, include 1960s Italian chairs and Gregory Rogan mercury-glass canister pendants.
3. When every object in your room is a statement piece, why not double up on pieces by Hirst to convey your admiration for his work? Jacques Grange designed collector Stacey Bronfman's Fifth Avenue home, whose entrance gallery plays with patterns and punches of color. The royal blue and violet shades of Hirst's butterfly painting perfectly complement the Mattia Bonetti bar.
Recommended: Vibrant Interiors Where George Condo's Art Takes Center Stage
4. Fashion designer Pamella Roland proves no spot is too small to display art. Her five-story, 13,000-square-foot Chicago townhouse was designed by Chicago firm Wheeler Kearns Architects, while Kadlec Architecture + Design oversaw its interiors. Roland's dressing room features a more intimately sized Hirst spots painting, illustrating how effortless tabletop art can be.
5. When art editor and author Sue Hostetler moved from New York City to Aspen, she tapped Sara Story to design a space as calming as the Rocky Mountains. Achieving the best of both worlds, Hostetler's home creates an environment where one can be fully nestled in nature and surrounded by art. Exemplifying this is her dinning room, where Hirst's "Spin" painting brings together the space's many colorful accents.
Next Post