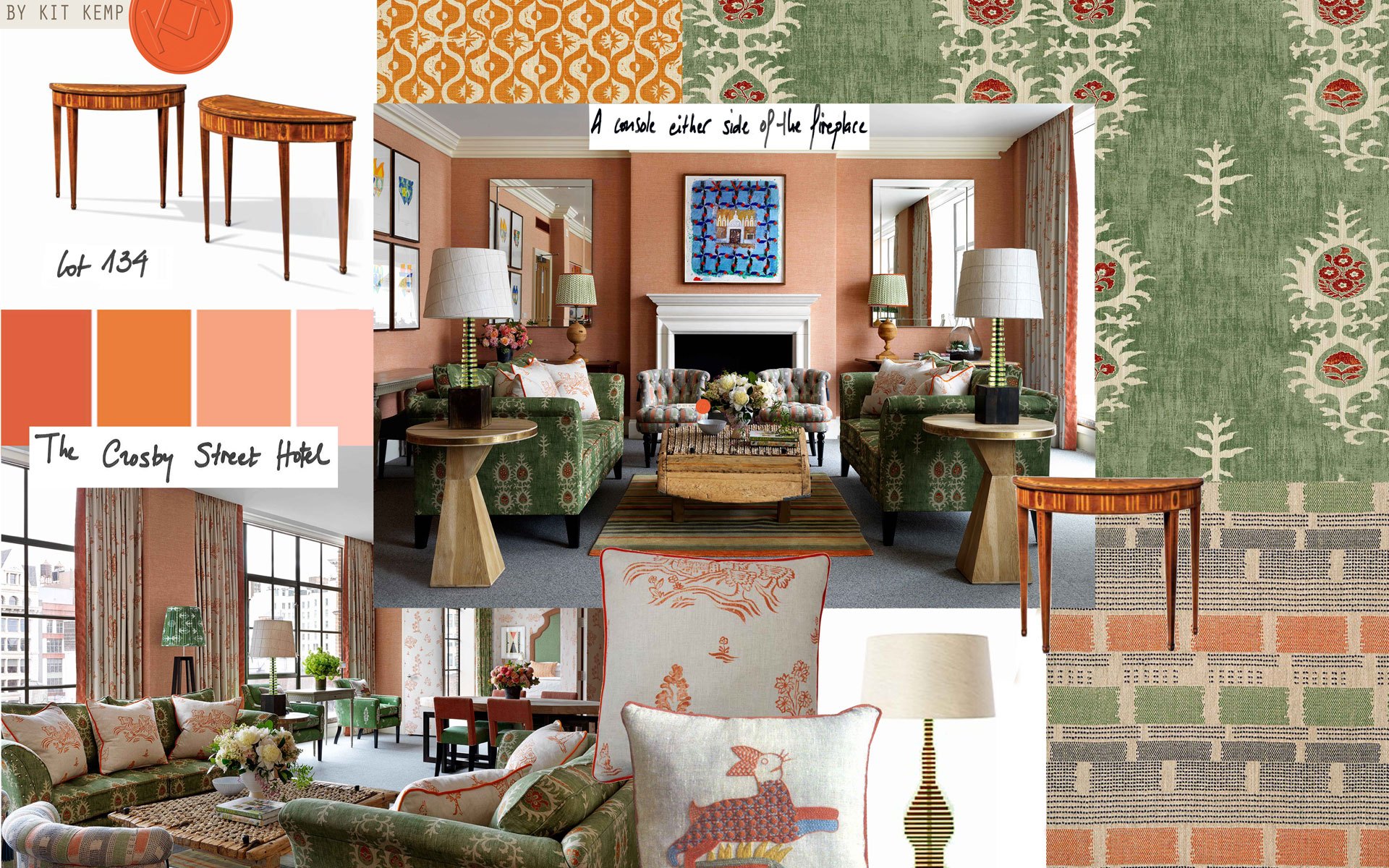 Kit Kemp Lends Her Eye for Layered Interiors to Christie's Collector Sale
Known for her eclectic hotels and textiles, the designer created mood boards incorporating treasures from the London auction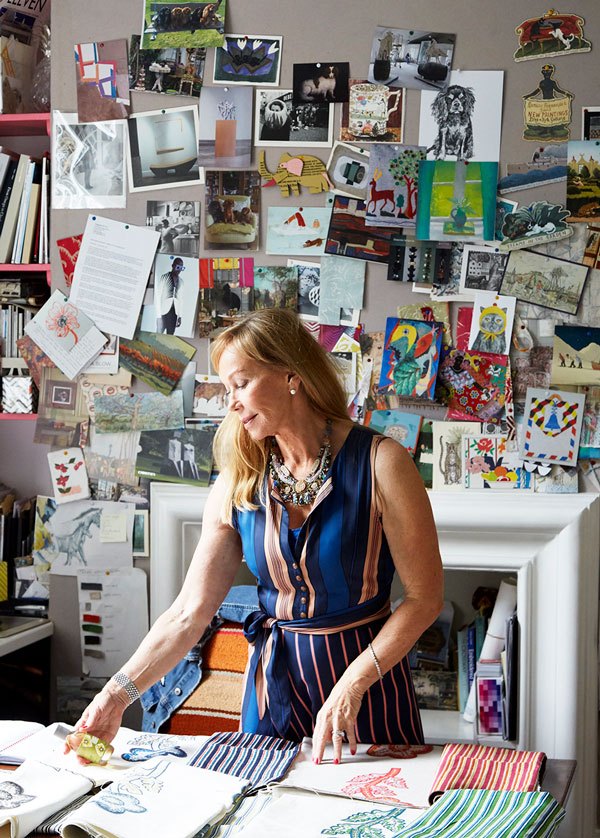 With experience as layered as her sophisticated interiors, Kit Kemp wears many hats: She is the founder and creative director of Firmdale Hotels—which include the Ham Yard and SoHo Hotels in London and the Whitby and Crosby Street Hotels in New York; she is a successful author, as well as a textile and homeware designer; and now she's also an auction-house tastemaker. Christie's has tapped the British designer for its Collector sale on July 15, one of four live auctions this month at the company's London outpost.
Kemp calls the quality and diversity of the sale's 18th- and 19th-century lots "beguiling." "A good, strong antique is like a magnet in a room," she tells Galerie. "It is the first piece that people like to touch and gravitate toward." To not only convey her passion for mixing elements from different periods but to also lend a fresh eye to Christie's Classic Week (now running throughout July), Kemp created mood boards envisioning her favorite pieces from the auction within rooms of her own design. Below, discover the lots she is coveting most and why bringing centuries-old furnishings into contemporary homes is more approachable than one may think.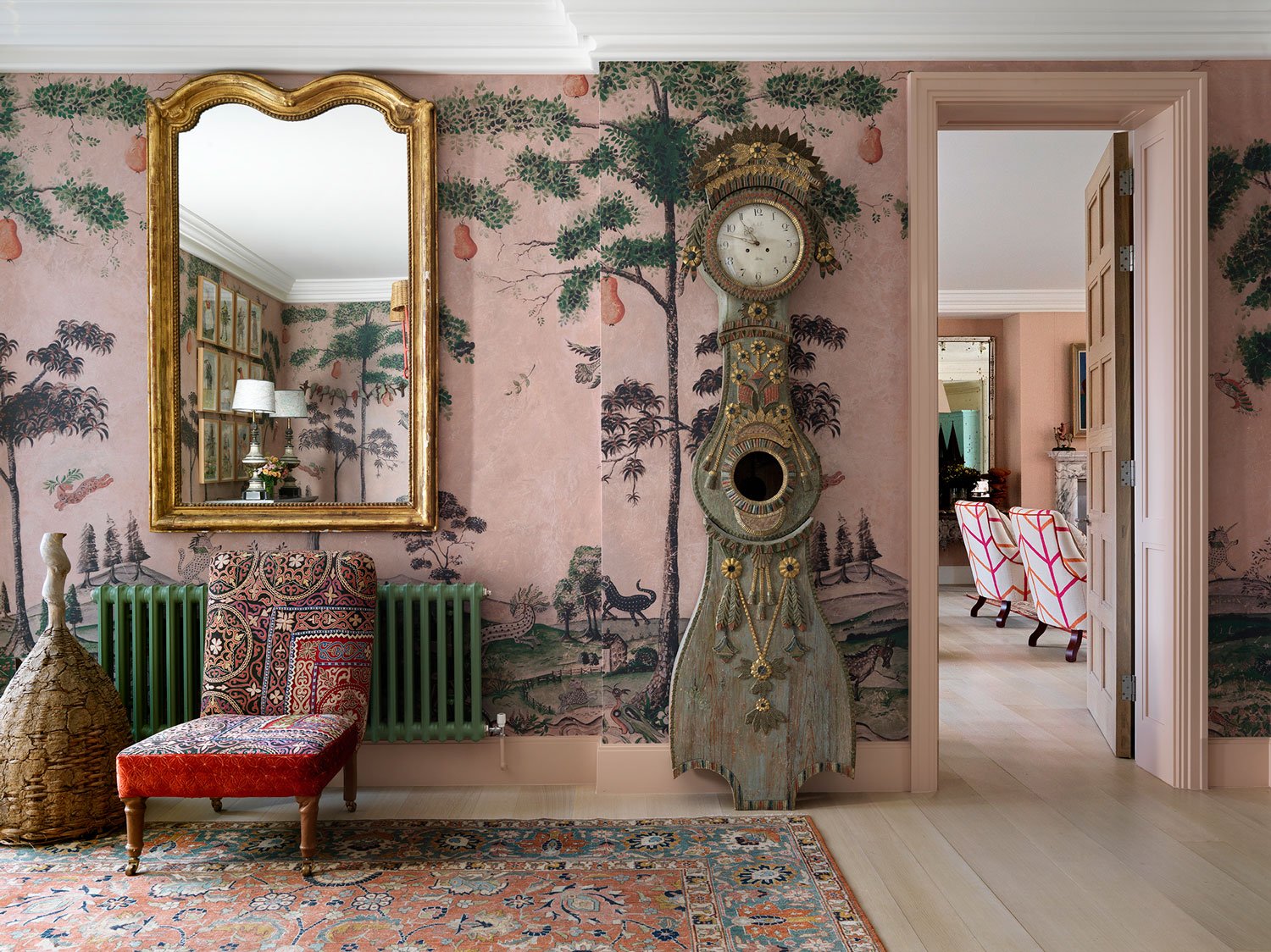 What most appeals to you about antique furniture and its power to transform a space?
I love the color and patina of fine old wood, polished and cared for over several centuries. There is nothing to replace the feeling and character of a fine antique. I like bold pieces that are often required even in the most contemporary interior to add depth and grounding to a room.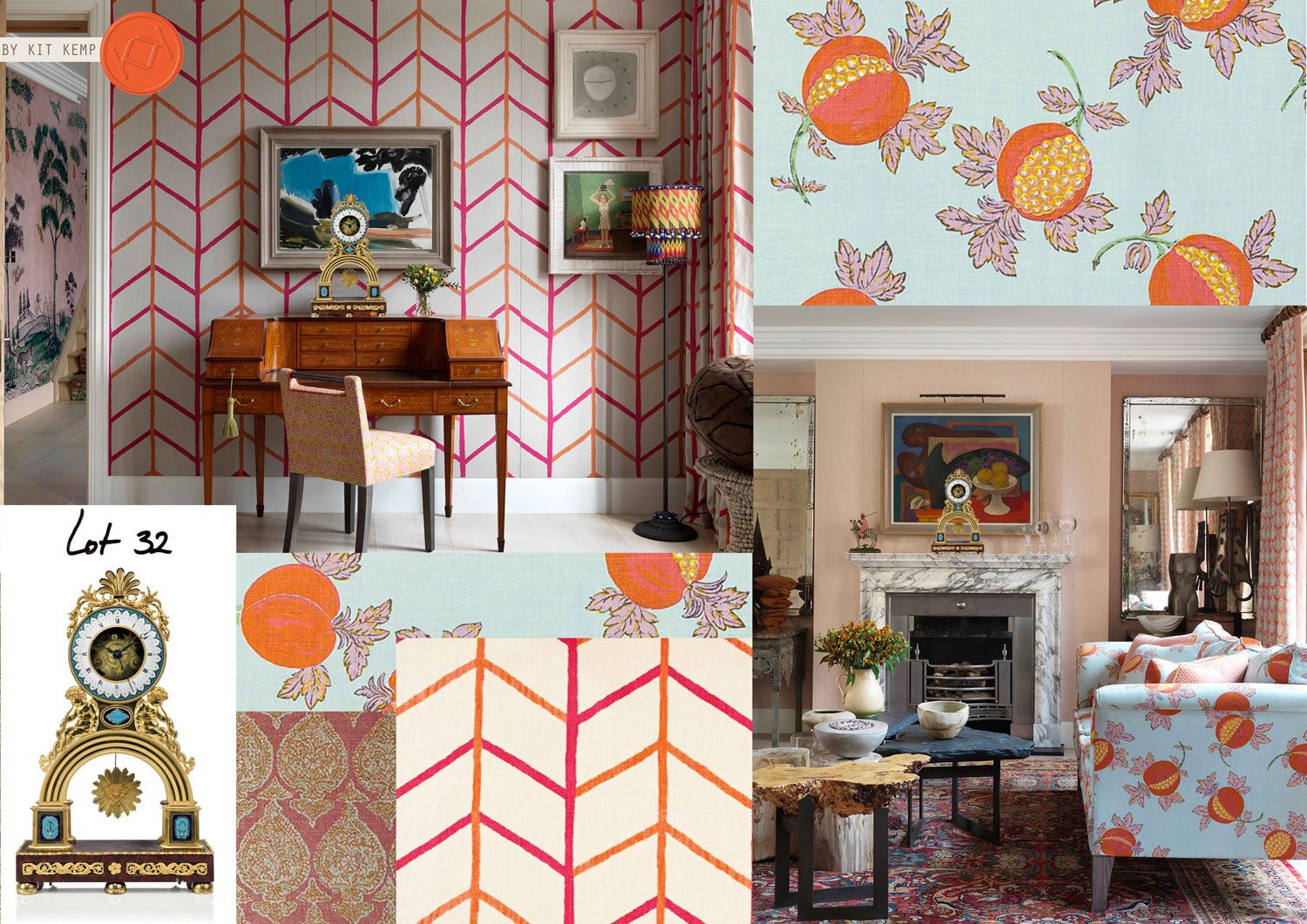 What are some of your favorite categories to collect both personally and for your clients?
Textiles and the love of the loom are what I am known for. I am fascinated by early embroideries and fragments of early needlework. There is a certain shade of peacock blue that I find in 17th- and 18th-century tapestries and embroideries that has altered over the years but is still quite beautiful. I am always trying to re-create the look and feeling of them in my rooms. Folk Art is another love, no matter where in the world.
Furniture-wise, I love the strength of character of a good William IV piece. There are sometimes elegant decorations of lion heads; also, rosewood and zebrawood veneers were first used at this time for a striking look. French polishing came into vogue and allowed for smoother and shinier surfaces. The over-mantel mirrors are striking too. I also try to collect Irish provincial furniture from the 18th and 19th centuries. There is a rustic look to the carvings on aprons of card tables and blanket chests, often with mythical creatures and scalloped-shell motifs that I find interesting.
What did you enjoy most about this Christie's collaboration and the process of making your mood boards? 
It was such fun to imagine where I would use my favorite pieces and in which kind of setting they would look best. The versatility of a fine piece of furniture, ceramics, or silver is one reason why they have been valued and treasured for several centuries. They grace so many types of interiors.
"A room should not be a pastiche on the past, but a fine antique will always draw the eye"

Kit Kemp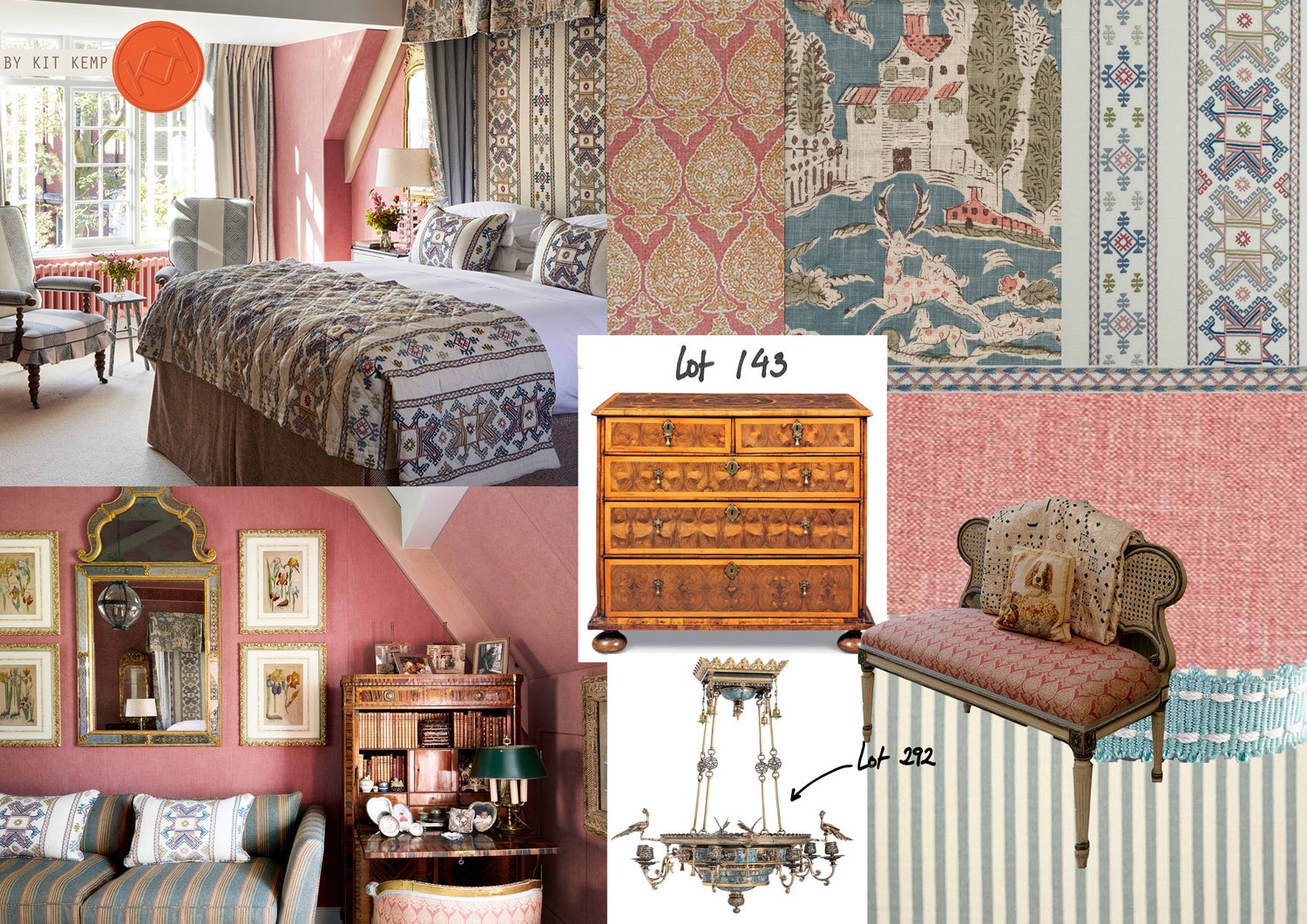 Are there one or two lots from the sale that you most covet?
The William and Mary Oyster wood chest of drawers would look fabulous in my bedroom or my study. I also absolutely adore the silver hare teapot. It would become one of my treasured possessions. I would use it every day.
Thinking of clients who want to experiment with mixing designs across periods for the first time, is there a particular lot that would seamlessly integrate into a contemporary interior?
The green marble-top console table is possibly the easiest piece to place and to use. It would look good in a hallway, dining room, or drawing room. I think a piece like that transcends time and would look good whether you live in a SoHo loft, rectory, or manor house.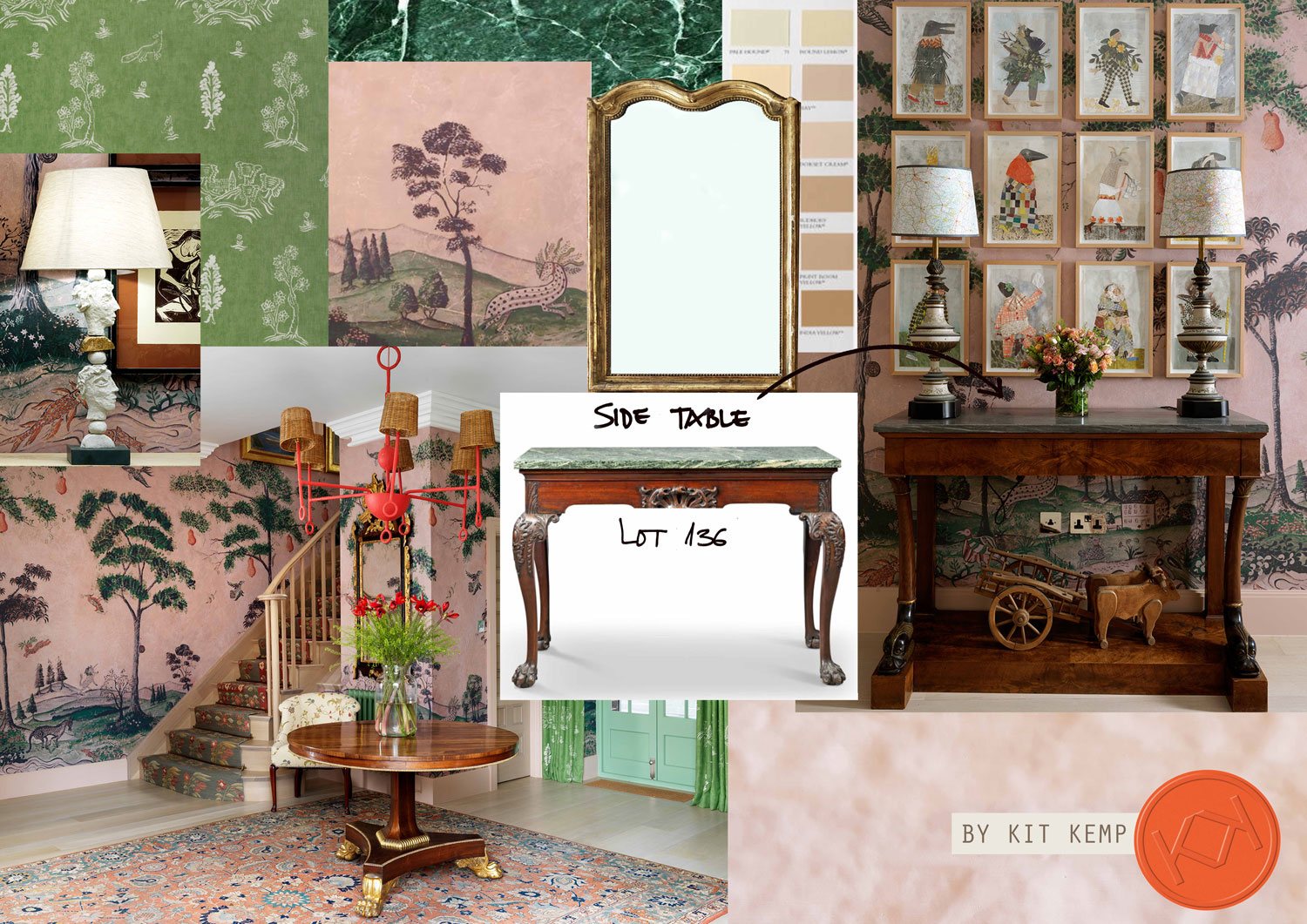 Do you feel there's a misconception around decorating with antiques?
A room should not be a pastiche on the past, but a fine antique will always draw the eye and be given a nod of appreciation in any well-designed interior. Large rooms often need a large piece of furniture to ground the space. At Covent Garden Hotel's drawing room, we have a large 19th-century Japanese marquetry desk that becomes a talking point and axis to the room.
Any other design tricks for making historic pieces more approachable in contemporary settings? 
Pairs of antique tables are highly prized and easily adapt themselves to modern interiors [when placed on] either side of a fireplace or either side of a beautiful door in a hallway.
Next Post