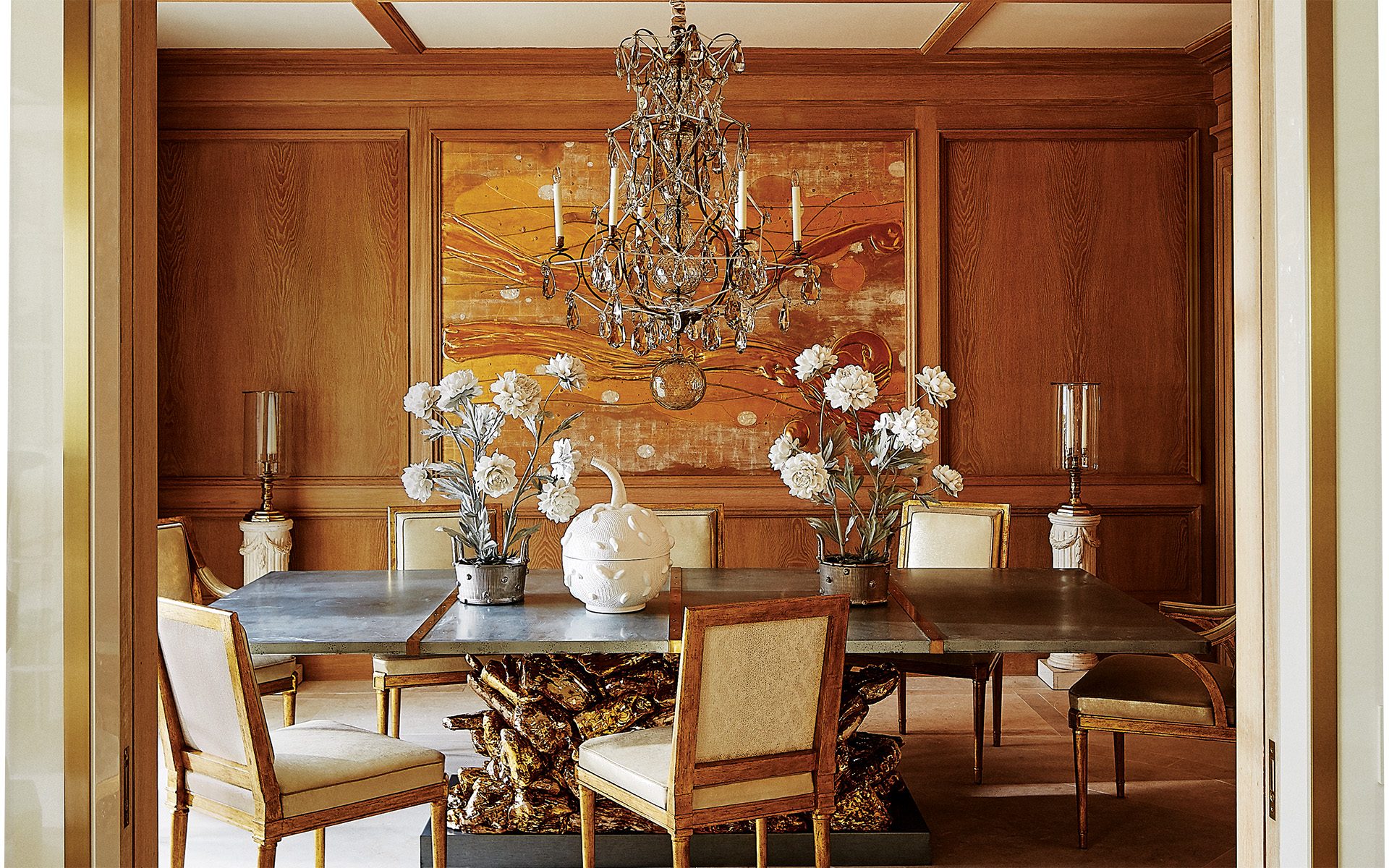 6 Top Designers Reveal How to Create the Perfect Dining Room
Crafting a memorable entertaining space means mixing periods, playing with scale, and exploring bolder palettes
Many predicted that the dining room would soon be a thing of the past. But now, with more families opting to eat in and entertain at home, there's been a resurgence of interest in inventive ways to decorate and use the space. "Dining is supposed to touch on all the senses," says Richard Mishaan, who features a variety of stylish spaces in his upcoming book, Richard Mishaan Design: Art and Interiors (Vendome Press). "Historically, designers would create these incredible themes for a dining room, so the minute you walked in, you were already seduced by the beauty."
From an amuse-bouche level of decorating to a seven-course bounty, there are myriad ways designers can cultivate a scenic setting. "There's so much room for creativity," says Alex Papachristidis, who selected an opulent Hamptons dining room for the cover of his latest tome, The Elegant Life: Rooms That Welcome and Inspire (Rizzoli). "Everybody lives in a slightly different way, and their dining room should be reflective of that."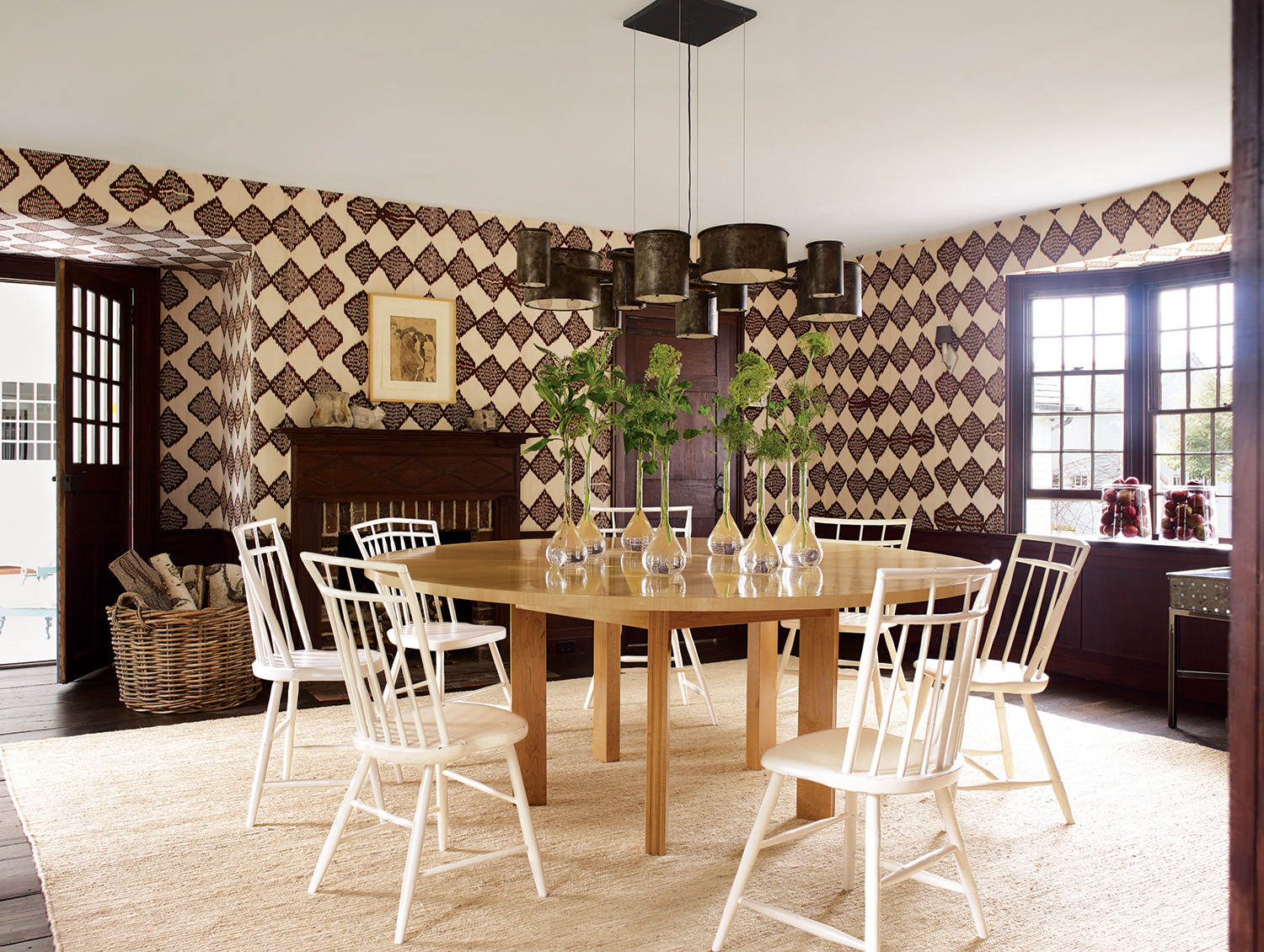 Furniture
A dining table naturally takes a starring role, with more conversational round shapes popular for smaller spaces. While the options for materials and colors are endless, many designers are finding clients returning to customary brown woods. "Every ten years, the pendulum swings back," states Stephen Sills, who recently installed an antique English mahogany table in an art collector's Fifth Avenue apartment. 
Tables that can be expanded with leaves give flexibility for party sizes; however, fashion-forward styles with sculptural bases require more creative seating and serving solutions. Designer Stewart Manger custom-made a foldable overlay for a client's circular table, while Ghislaine Viñas added a lazy Susan to a bespoke terrazzo piece. Others, such as Mishaan and Sills, will insert a secondary banquette for four. "Unless they're the Addams Family, people don't like eating in their dining rooms without guests when the table is set for 14," observes Mishaan.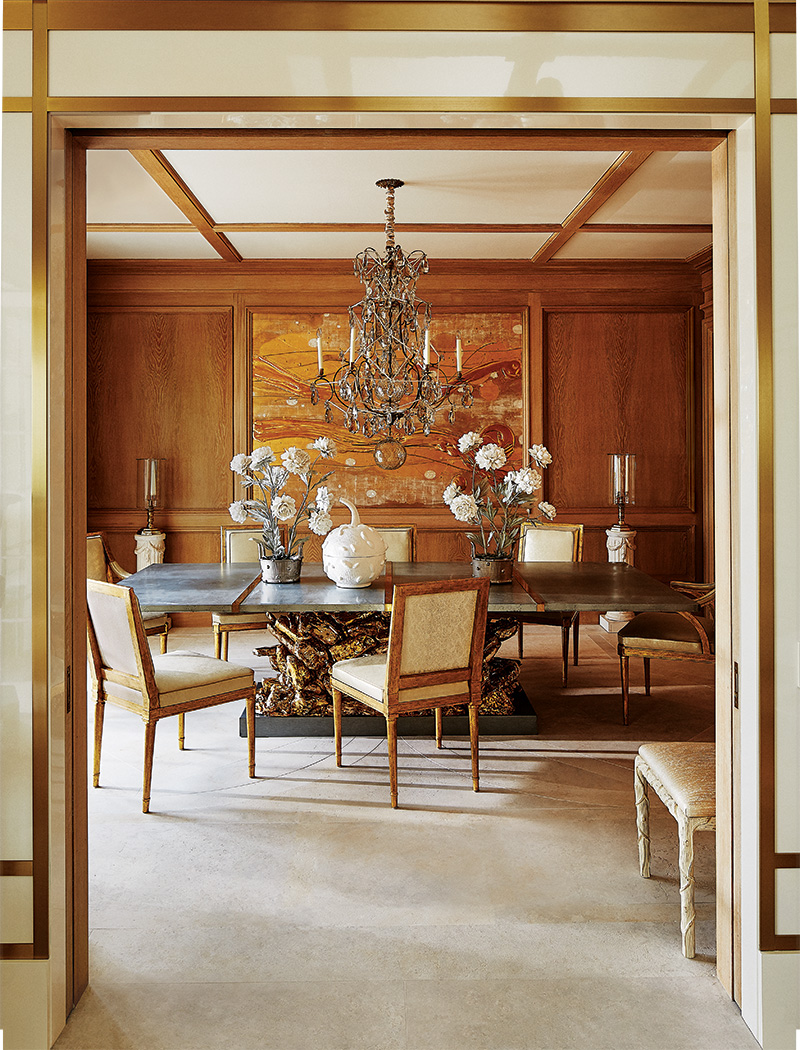 When it comes to seating, comfort is key, but designers have an open field for mixing and matching. "I tend to go more classic with my chairs and then more modern or more experimental with the dining table, artwork, and lighting," says Ryan Korban, a designer based in New York. "I find myself bringing in a mix of antique and contemporary—this is a space where I am a little bit freer."
And placing dining room chairs throughout the entire home can help keep seating for 20 from overwhelming one area. For another client, Manger created a Jean Royère–inspired chair for around the table, then made additional pieces with a different fabric for the entry hall. "They're all the same shape, so if you have more people for dinner, you can bring them in," advises the designer, whose book, Romancing the Home (Rizzoli), is out in September.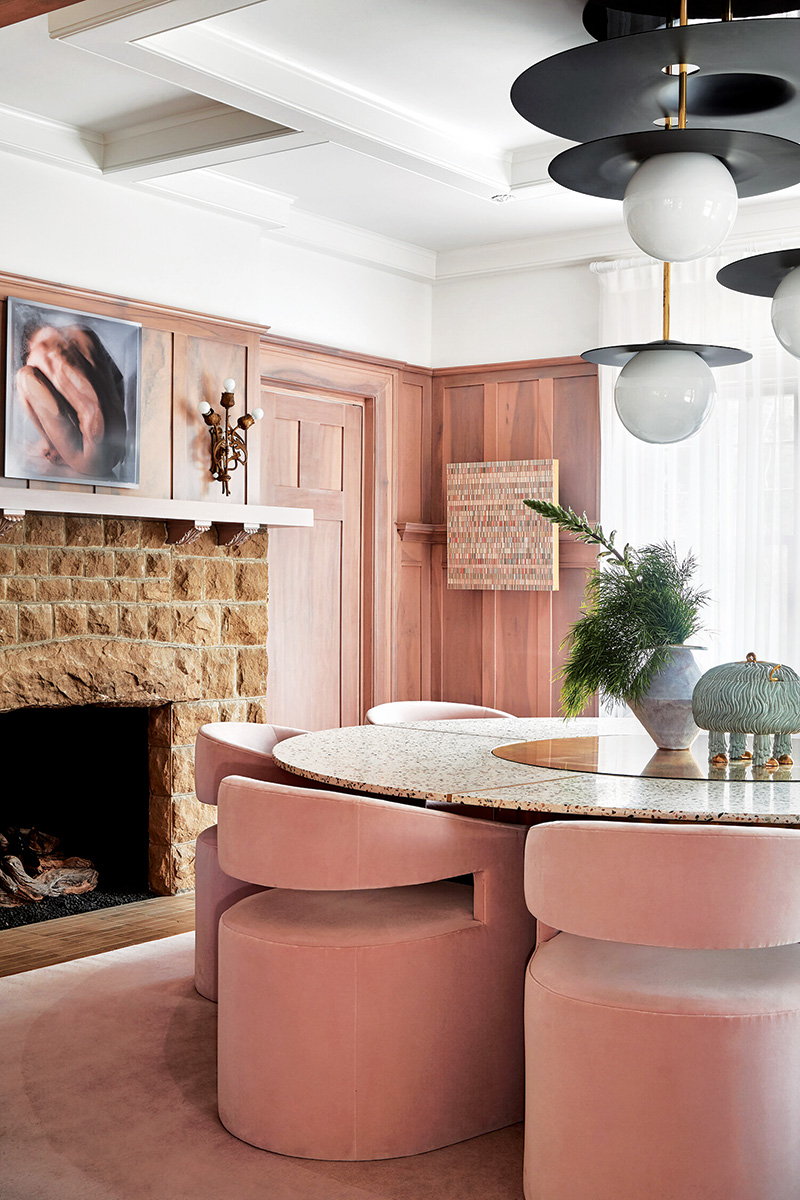 Butler's pantries and catering kitchens mitigate the need for dining room storage, but some designers see the benefit of implementing case goods, particularly as a serving or bar area. "I love to have a place to store all the things that life requires that we don't need to see," says Mishaan, "and there's room on the top to display the things we love to see." 
Others, like Korban, say less is more. "If you're doing a dining table and it needs to sit 20, it starts to feel like a lot of furniture very quickly," he says. "I incorporate storage in the millwork—clients love taking a closet and turning that into a bar; it's more of an exciting design process."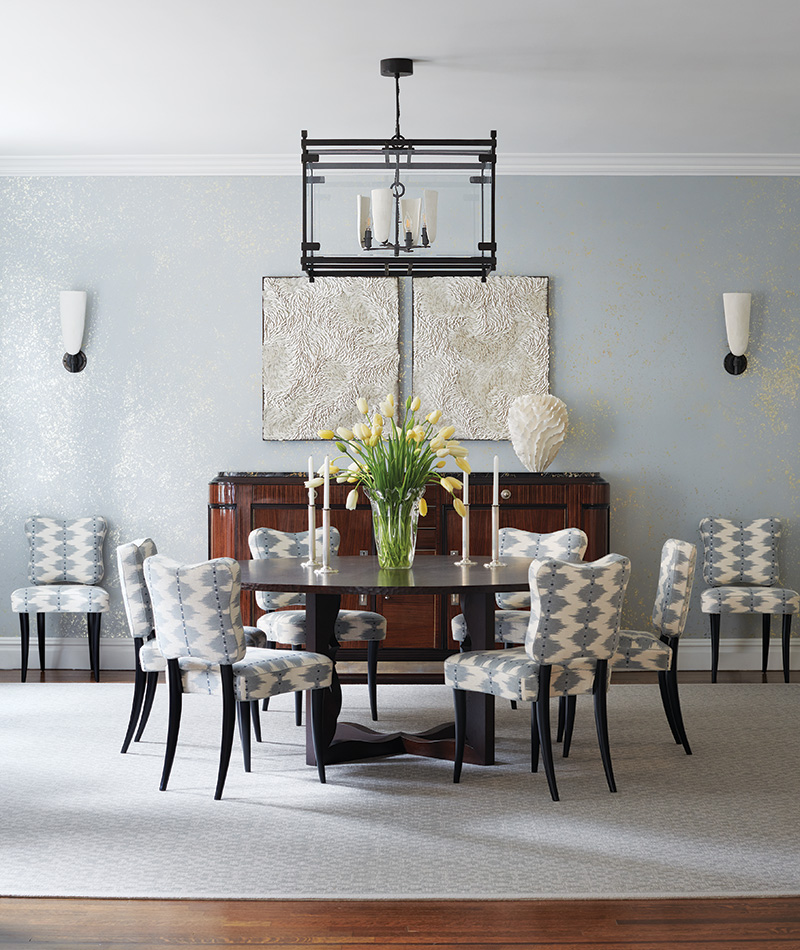 Lighting
After the table, perhaps no element defines a dining room more so than the chandelier. "Lighting over a dining table can be an incredible way to bring a unique look to a room; it's a chance to do something unexpected and dramatic," states Viñas. "Tall ceilings can be great for large pieces, often in pairs, but lower ceilings may call for something more linear that hovers over the table."
With a bold installation drawing the eye up, designers will also use the opportunity to turn the ceiling into a major moment with lacquer, wallpaper, Venetian plaster, or coffering. "Ceilings have been undertreated for years," says Papachristidis. "It's just another place to detail, and it creates interest."
"Lighting over a dining table can be an incredible way to bring a unique look to a room; it's a chance to do something unexpected and dramatic"

Ghislaine Viñas
And while it is customary to center a chandelier over a table, it's far from the rule of law. "I'd rather have it hanging in the center of the room, so the table position can be flexible," suggests Sills, whose monograph A Vision for Design (Rizzoli) is out this fall. 
No matter the style, it's essential that everything is on dimmers, points out Manger, who is also a huge fan of old-fashioned candlelight. "To create drama, I've used a beautiful silver-leaf glaze on the wall," he says. "At night, with candlelight, it's beautiful."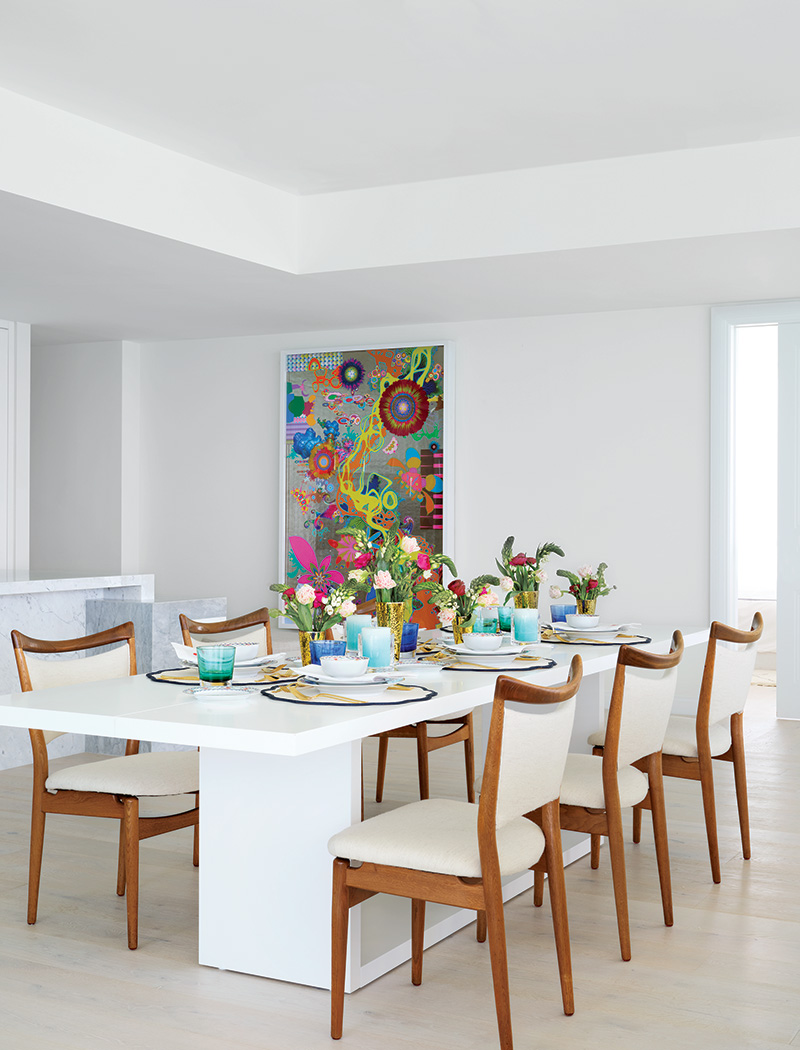 Finishing Touches
The transitory nature of a dining room makes it a welcoming place for more experimental pieces. "The dining room is always about drama, because it's about entertaining," says Manger. "Guests are intended to be in the room only for a short amount of time—that's why a lot of people use scenic papers or something that's very eye-catching."
Changing the tableware can completely transform the atmosphere. A robust selection of accessories, including china, crystal, and linens, is that final accent that can set the right tone for the meal. "The dining room should have a strong presence and an essence and elegance, but, in the end, it's all about the conversation," declares Papachristidis. "It's nice that there's something beautiful to look at, but the most important thing is the guests."
A version of this article first appeared in print in our 2022 Fall Issue under the headline "Visual Feast." Subscribe to the magazine.
Next Post